Headphones are of course used whilst on the move and so  as part of Hifi Pig's « Headphone Month » Janine Elliot takes a listen to the £190 Graham Slee Voyager headphone amplifier.
Graham Slee is renowned for putting big ideas in small packages. His large collection of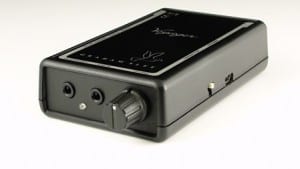 low–to–mid priced phono stages and headphone amplifiers began in 1998 and has received rave reviews in Europe and the States. Graham is always keen to advertise his products as 'Made it Britain', and his ability to get the best from the components he uses is truly inspiring. As a happy owner of the Solo headphone amp, I hoped that his battery operated Voyager would also offer an equally precise and extended audio-stage into my choice of cans.
There are, of course, a wide range of Walwart-fed headphone amplifiers around, largely introduced to extend the feeble output levels of the iPod fraternity, particularly when paired with inefficient high impedance 300ohm professional headphones such as Sennheiser HD650's. I regularly used these cans as a reference point in my last years at the BBC, but when connected to my iPod these needed to be fed at full volume to get anything approaching a nominal level of sound. By adding an extra 'oomph' via an external amplifier a reasonable 320kbps of mp3 could actually sound quite musical. But, I kept asking myself, what is the point in playing compressed audio in the home? Much as I loved my Solo, it was only ever used in the house when I was too lazy to present its parent compact disk into my main Krell CD player. No, what I needed was a portable unit I could carry around with me when I wasn't in the confines of my sofa.
In the last few years numerous portable battery operated headphone amps have appeared as we get on with our busy lives. We need our music in the streets, on the bus, train or tube, and as a teacher am often finding it playing merrily away during lessons in my students ears, until of course I confiscate it. To get that greater sound output for inefficient cans, more and more companies such as FiiO are coming out with really good looking kits and supplying proprietary Apple 30 pin – to – 3.5mm connectors which allow you to mitigate the degrading EQ section of the amplifiers via the headphone socket.
The Graham Slee Voyager is another addition to the family of portable headphone amps. What makes this unit different from many is the use of discrete components hand soldered by, as Slee puts it; "time served engineers" from premium through-hole Nichicon capacitors, to the two highly reputable op-amps from Analog Devices. Unlike most headphone amps gracing the pages of Amazon, this product oozes quality when viewed from the inside; high quality Jalco 3.5mm jacks for input and headphone output, Alps switches, and a miniature Alps "velvet" potentiometer similar to the Alps AC27/30 that is often found on expensive amplifiers, complete the work. Even a little red LED warns you when the Voyager is switched on during the conservative 50 hours battery life. As well as on/off switch there is provision for the unit to be powered by USB or mains. A contour switch (more on that later) completes the mechanics.
Quality also exudes in the audio. A velvety, almost valve-like quality of sound immediately becomes apparent, and improves the longer I listen. All tops and bottoms are there; the Sennheiser demonstrates just how good its bass end is when listening to Mars, The Planets, Karajan (Decca 417 709-2). It's not so much the double bass or kettle drums, but more the sounds of the lorries driving past the cellos outside of the Sofiensaal concert hall in Vienna, before it got burnt down in 2001. I could sense the windows, brick walls and the raised wooden flooring. Even where the microphones were placed, and when the conductor turned the page.
Top ends are very precise and not tiresome with extended listening. Indeed, that is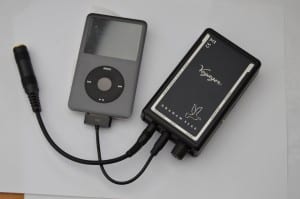 what makes this unit so much better than many I have listened to. Only the tight headband of the HP650 forced me to change to my comfortable closed-back Audio-Technica ATH-W1000 Sovereign's. The latter are unusually mid-band heavy, but the Voyager didn't make this painful at all. Indeed, the midband opened up with a clarity I had not heard from the iPod alone. This was getting fun. To check this further I played The Dave Brubeck Quartet at Carnegie Hall recording, a recording fully of mid frequency weightiness. Even the close-mic'd cymbals sounded pleasant and not out of place. Of course, I could turn on the contour switch which adds further bass and treble weight (just like those 'Loudness' controls in ancient hi-fi amplifiers), but I didn't want my £600 cans to sound like Beats by Dr Dre. That said, it wasn't at all bad when I had a go; ideal for low level listening, or when competing with traffic noise, or making a crass recording or bad headphone sound more exciting. This unit did it with aplomb and without the added distortion that a loudness control can often bring. The soundstage was powerful and it wasn't chaotic despite all that was going on in 'Repentance' (Dream Theatre; 'Systematic Chaos'). The distorted bass guitar and syncopated rhythm sounded quite natural as had the 11/4 and 5/4 time in Brubeck earlier. This was quite some kit.
It was solid but not forceful, precise but not clinical.
I mentioned earlier about the exuding quality inside the box. Unfortunately that is where it ends. The outside lets it down a tad, giving it the impression of being more of a Maplin kit; made of plastic and at 12.5 x 6.7 x 2.8 cm, whilst it matches an iPod girth it is quite deep in order to house the 9v PP3 battery, and even deeper when you sit the iPod on the top. However, an off-the-shelf box is inevitable in a budget non mass-produced product such as this, and the unit is actually very well constructed and protects the circuitry inside. A specifically designed case including a thinner lithium-ion battery would increase the cost substantially. A metal stamp on one side labelled with all the connections and company logo do give it a professional feel. It's Ironic that the Slee Solo headphone amp in its metal box is so revered in China, yet the bucket loads of Chinese-made portable headphone amps deluging Amazon at lower cost look so much better than the Voyager. BUT, and I stress but, they do not sound anything as musical or inspiring. Yes, there are better portable headphone amps around, but at £190 you get more than your money's worth with the Voyager, and if you're happy to put up with its distinctive looks, then this product certainly warrants my take on the famous statement "Never mind he width, feel the quality".
Sound Quality – 8.7/10
Value for Money – 8.2/10
Build Quality – 8/10

Overall – 8.4/10
How we carry out reviews.
Read more Hifi Review.