For this month's Classic Album, John Scott engages warp drive and blasts off into space in the company of Hawkwind and their epic Space Ritual album.
Hawkwind's Space Ritual – or  The Space Ritual Alive In Liverpool And London to give it its full title –  was recorded live  in December 1972 at two shows at the Liverpool Stadium  and London's Brixton Sundown.  The band were touring to promote their third studio album Doremi Fasol Latido which had been recorded in September and October that year.  Space Ritual pull heavily on tracks from that album but mixes them with unrecorded songs and Master Of The Universe from their In Search Of Space album to provide a loose narrative arc.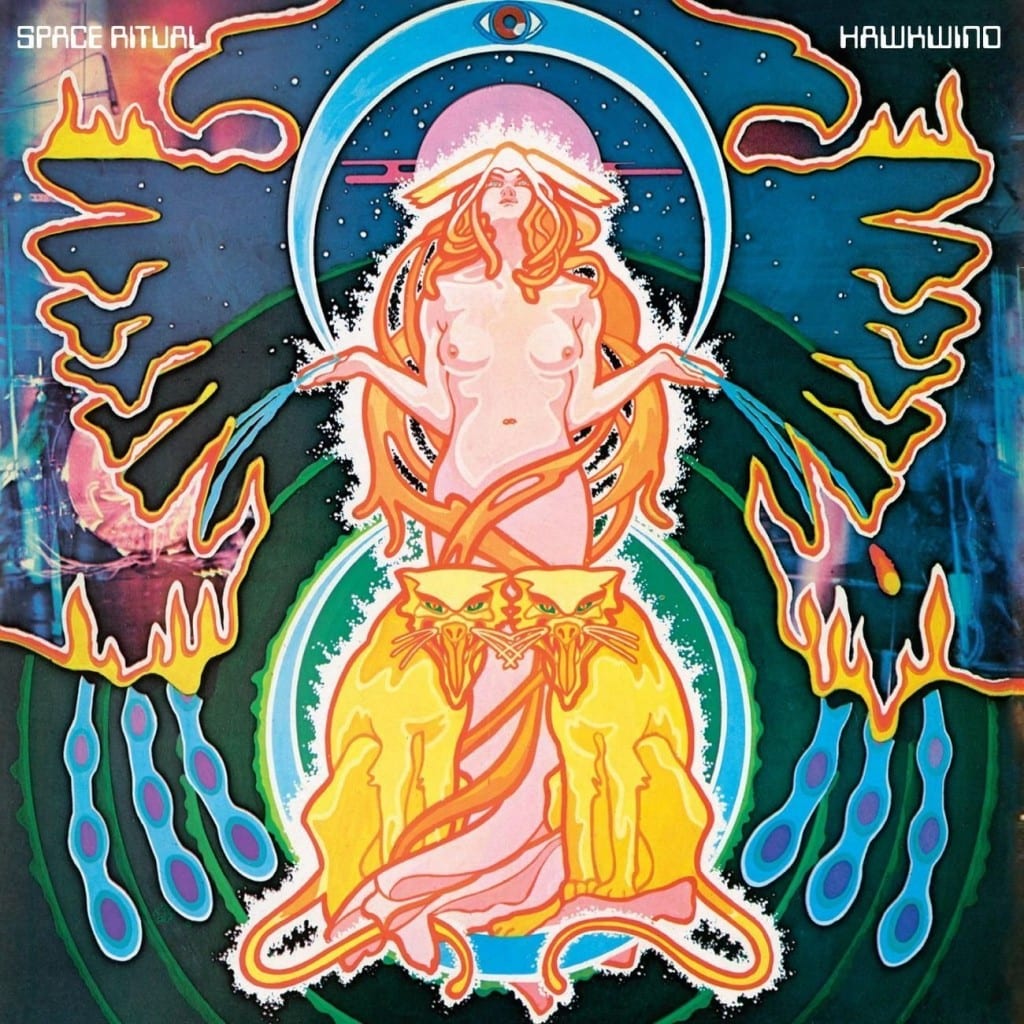 Doremi Fasol Latido was the first album to feature new members Simon King on drums and Lemmy (Ian Kilmister) on bass.  Both King and Lemmy had brought a harder rock approach to the band and their driving style was put to good use on Space Ritual's extended workouts.
Intended to be a full-on immersive audio visual experience, the show featured a stage set by designer Barney Bubbles, a Liquid Len Light show, dancers Stacia, Miss Renee, Jonathan Carney and Tony Carrera and spoken word recitations by vocalist Robert Calvert.  The audience were given a tour programme featuring a short sci-fi story by Barney Bubbles telling the story of the Starfarers and their journey back to Earth and the songs and recitations on the album roughly follow that story.
Earth Calling opens the album with a haze of electronics and indistinct vocals leading into Born To Go's thundering bass and drum powered drone.  From this point on, the album hardly stops for breath as it lurches headlong into hyperspace.  Lemmy once described himself as a failed guitarist and his determination to treat his bass as if it were a rhythm guitar provides a rock solid bass base for Dave Brock's guitar, Nik Turner's sax and flute and the electronics of Dik Mik and Del Dettmar to spread out, Simon King's relentless drumming driving the band on like the booster jets of an interstellar space craft.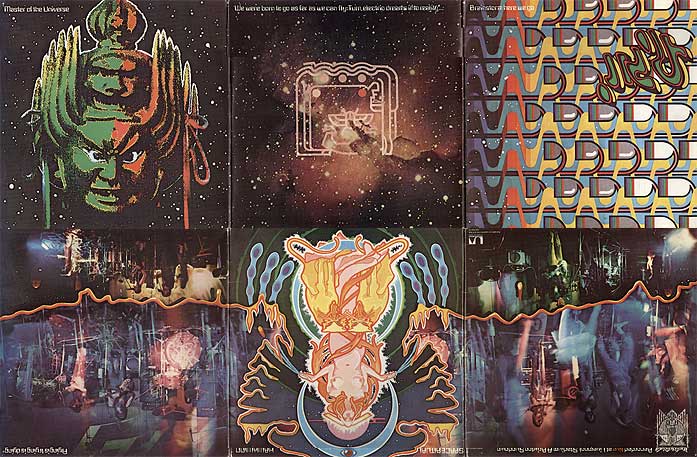 Space Ritual is best listened to as a whole piece, picking out individual tracks diminishes the overall experience but highlights certainly include Lord Of Light, the cosmic boogie of Orgone Accumulator, the proto-Motörhead thrash of Brainstorm and the mighty Master Of The Universe.  Special mention must of course go to the quite mad Sonic Attack, written by science fiction author Michael Moorcock who had performed occasionally with the band.
In a sense, Space a Ritual is the only Hawkwind album you need, it is the perfect distillation of everything that the band was, and still is, about.  But to only own Space Ritual is to deny yourself some Astounding Sounds and Amazing Music (to name one of their albums.  The band have recorded 27 studio albums, with another due shortly – look out for our esteemed editor's review – and 10 live albums. You might not need them all (oh, yes you do – Ed.) but the seven albums recorded between 1970 and 1977, plus Space Ritual of course, are all worth your time.
Lemmy would stay with the band until 1975 when he was sacked from the band for excessive drug use – quite an achievement as the rest of the band were hardly abstemious.  He went on to form Motörhead- named after a song he wrote for Hawkwind – and carved his place in rock history with a live fast die young dedication that somehow managed to avoid the die young part.  When he passed, aged 70, two days after receiving a cancer diagnosis we lost a unique figure in rock and roll but he left us two of rock's greatest live albums – Motörhead's No Sleep Till Hammersmith and Hawkwind's Space Ritual.
If you are looking for intricate story telling and subtle musical light and shade then you should probably look elsewhere, Space Ritual might not be for you.  If, however, you want to be thrilled for the best part of an hour and a half, then turn off the lights, turn up the hifi and let Space Ritual take you on an astral journey.  You might want to pack some sandwiches – it's one hell of a trip.  And remember the advice in Sonic Attack: Do Not Panic – Think only of yourself.
John Scott