Norwegian-based manufacturer Henry Audio (previously QNKTC) has announced the arrival of the upgraded USB DAC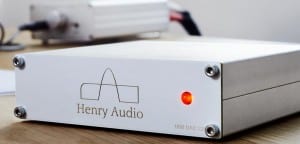 128 mkII – Hifi Pig reviewed the mk I here. The new and improved DAC adds more punch and sonic clarity to the very well received USB DAC 128 say the company.
The USB DAC 128 mkII enables playback of music stored on a computer or streamed through one. It works with Hi-Res up to 192ksps on Windows, Linux and Mac. With it, the inferior analogue output of the computer is completely bypassed.
The mkII  has improved mechanics, better RCA connectors and rubber feet.
Like its predecessors (including the QNKTC AB-1.2) the Henry Audio USB DAC 128 mkII stays true to its Open Source foundations in the Audio Widget project. The electronic schematics and source code for firmware and Windows ASIO driver remain open source and publicly available. The USB DAC 128 mkII is designed in such a way that tinkerers can easily modify it and learn from its construction though the company say that the vast majority of buyers have no intention – and absolutely no need – to ever modify the DAC.
The analogue section of the DAC design puts equal focus on three areas with fundamental influence on audio quality. The AKM4430 DAC chip comes from Asahi Kasai, the clock is made from two precision crystal oscillators from Golledge and the power supply uses low-noise regulators from Analog Devices. The improved sound quality of the mkII is primarily achieved by the addition of more and better capacitors in the power supply. Some, but not all, of these can be retrofitted to the USB DAC 128.
The Henry Audio USB DAC 128 mkII uses an asynchronous USB protocol. This minimizes jitter errors and further improves on the sound quality by making the DAC the timing reference. Asynchronous USB is available in both USB Audio Class 1 and 2.
Henry Audio is founded and operated by Børge Strand-Bergesen, a Norwegian national and an  expert on electronics filter design, circuit board layout and design for manufacturing. He believes the circuit board design contributes greatly to the sound quality of the DAC. Critical analogue signals are kept on short tracks and away from the digital section. The board design has an obsessive focus on controlled return currents and builds on Strand-Bergesen's experience with radio frequency electronics and analogue ASIC layout.
The USB DAC 128 mkII can be purchased online in various currencies. All shipments to EU countries are sent from within the EU. Shipments to all other locations (including Norway) are sent from Norway. Price is £210/270 USD/260 EUR.