We're on a bit of a journey with the infamous DJ spinner, the Technics 1210. Some have a bit of a love affair with the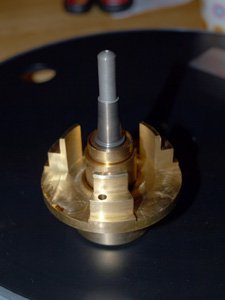 turntable whereas others loathe it. Personally I fall into the Love It camp, though in its stock form, whilst a reasonable way of getting music from the vinyl grooves, it doesn't really cut it in some company.
However, there's a growing community out there in audiophileland who are taking the humble Technics turntable and modifying it extensively and keeping only the basic chassis and motor unit.
Well, not wanting to be left behind and very much wanting to know what could be achieved with the 1210 I bought a second had one a while ago and began modifying it. First of all an external PSU, new arm, feet and platter mat were added which did indeed raise the humble Technics' performance somewhat.
In this latest tinkering exercise I procured a Mike New replacement bearing from the folks at Mains Cables R Us to see if this could rinse out any further improvements from the turntable. Included in the review are a number of photographs to show just how easy the fitting of the bearing is.