We'd read a good deal about the little Tisbury Mini Preamplifier and it was getting some good comments made about it so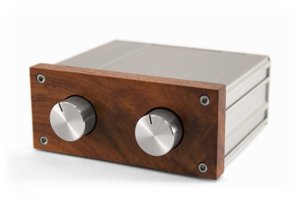 we thought it about time that we got hold of one for review.
"Tisbury are a small, UK based outfit that at the moment manufacture just the one product and sell direct. The Mini Passive Preamplifier is available in three flavours: Single Out – 3 inputs and 1 variable output. Parallel Out – 2 inputs and 2 variable outputs (for bi-amping). Tape Out – 2 inputs, 1 variable out and 1 fixed output. I went for the Tape Out option so that I could wire up the headphone amp into the system.

It's a tiny little thing but it looks very nice indeed and immediately got the thumbs up from Mrs Hifi Pig. It has an American black walnut front panel on which the input selector and the volume control are mounted and round the back are the four RCAs. It looks great and also very well built in its simple anodised aluminium box."
Read the full review of the Tisbury Audio Mini Passive Preamplifier or the rest of the hifi reviews on Hifi Pig.