As part of Hifi Pig's « Headphone Month »  Linette and Stuart Smith review the £650 HifiMan HE-560 headphones supplied  by Mark at Electromod. 
The £650 HE-560 from HifiMan open-backed, planar magnetic headphones arrive in a smart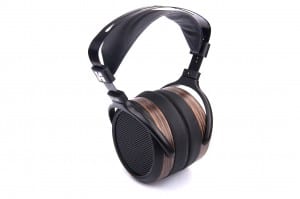 looking wooden box with a metal nameplate taking up the slide-out lid's top surface. Inside you are presented by a very nicely cut out foam insert that protects the headphones during transit, the owners manual and the detachable cables. This is a good start – first impressions count for a lot with lots of people and it's good to see another headphone manufacturer realising this.
Taking the HE-560s from their packaging it's immediately apparent that these are a relatively light weight design and they come in at 375g which is more than 100g lighter than the Final Pandora Hope VI headphones we reviewed recently but slightly heavier than the Sennheiser HD800s. I'd certainly be happy to use these whilst moving about or doing mild exercise. They look pretty cool with a wooden banding around the outer circumference of each of the cans and this looks pretty classy.
The cans are nice and big and fit over the whole of the ear (or most of it in my case) pretty comfortably- they aren't as big as the Sennheisers but should be good for most folk. The headband is simple band of plastic material and not actually part of the metal "headband" making it very comfortable indeed and it can be adjusted by sliding little black plastic blocks located on each side of the headband. This adjustment is a bit fiddly, but once it's set you're done unless you share your headphones with your family. They fit pretty firmly to your head too so you can move about quite freely which is a good thing!
The actual earpads themselves are made of what looks like faux leather with the surface that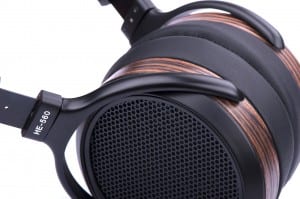 touches your head being a smoothish velour fabric. The earpads are thicker at the back of the ear than they are at the front which positions them correctly over your ears.
The cables are a decent 2m length and terminate at one end with a good quality Neutrik quarter inch jack and on the other with faffy little things that screw onto the bottom of each of the cans' – I personally didn't like these at all, but again, once they're in… they're in. Cable enthusiasts on the other hand will be pleased with the non-captive design so they can play with cables from other manufacturers.
Overall I really like the sleek design of these and the finish looks to be pretty good, though I wouldn't like to be altering the headband overly often due to the nature of the mechanism.
As a departure from previous Hifi Man models the drivers have their magnet at only one side of the driver's membrane which is good for weight and means there's nothing between the driver membrane and your ear, but it does mean that they are pretty inefficient at 90dB and have an impedence of 35 Ohms. The output from the Coffman pre didn't really drive the HifiMan HE560s and I'd suggest that a dedicated amp with a more healthy output is the order of the day. Fortunately I own a reference of a prototype solid state design from Epiphany Acoustics that pumps out a healthy 2W should you need that much. Plugging into the Studio portable player from HiSound means having to crank the volume a fair bit, but I'd suggest you'd be better off with a decent quality portable headphone amplifier.
The Sound
First listen straight from the box weren't very impressive at all with the HE-560s sounding a little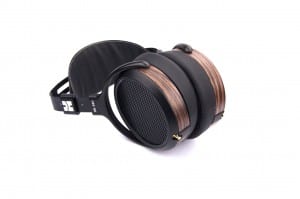 brash and yet closed in…but then to be fair the user guide does suggest 150 hours of breaking them in so there they sat for a few days playing along to themselves, which made me realise just how little these open backed designs bleed sound into their surroundings. I'd be cautious on public transport, but I reckon you'd get away with it if you sat at the back of the bus and kept yourself to yourself.
After a suitable running in period the sound does change pretty dramatically and very much for the better. I'd been listening to the "Kings of Oblivion" from Pink Fairies on the Sennheiser HD800s and noticed that the bass on the HifiMan headphones seemed to be a little tighter and more akin to a real bass guitar and if anything I'd say they were even better in this department which is surprising as I liked the bass on the Sennheisers a lot! A very brief introduction but very positive none the less.
Natalie Merchants eponymous album is a bit of favourite with me at the moment and I just love the opening track "Ladybird". Here her vocal is really quite beautifully rendered. It's silky smooth and projects from the background instrumentation as nicely as I've heard it on headphones. Bass is punchy, tight and dynamic. I don't think the HifiMans go as low as the Sennheisers but there is a quality to it that is really pleasing to listen to and which appeals to me. There seems to be a slightly warm presentation overall, but there's equally tons of detail with these headphones. The soundstage is difficult for me to express in words – it's not as wide or deep as the Sennheiser HD800 or the Final Pandora Hope VIs, but there does seem to be a better forward to back sensation if that makes sense.
On to some electronic music, which I actually really enjoy on a good set of headphones, and VCMG's "SSSS". To enjoy this kind of music I think you need headphones that do speed and dynamics really well and the HE560s don't disappoint. Whilst they don't go mega low (or as low as the Sennheiser HD800s) they do that start and stop thing on the bass that is essential for me and there is bags and bags of information in the higher frequencies making this album in particular come alive with all the little synthesised bleeps and twitters in the mix.
Nolwenn Leroy's "Brettone" album emphasise the nice balance these headphones have, but also highlight the fact that you need to drive them pretty hard to get the very best from them. There's snap and impact from the drums and the traditional Breton instruments, which tend to be pretty highly pitched, cut through the mix without being over emphasised and taking over. Given their speed you are presented an accurate and realistic impression of the overall mix with no overhang of sounds and with each instrument having its place on the stage. Leroy's version of "Greensleeves" is naturally a simple rendition and the HE560s perform this tune really beautifully with the simple instrumentation layered in the mix to accentuate her voice. She is singing in a language that is not her own (she's Breton/French) and it is quite easy to pick out slight American inflections in her voice.
Comfort
Over the top of the head the HifiMan HE560s are the most comfortable we have in for review and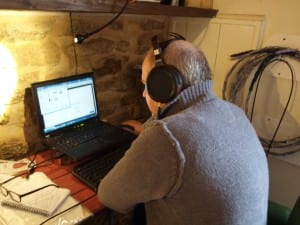 this is down to the simple headband arrangement – in this respect you are hardly aware you are wearing them at all.
The cans themselves are pretty large but don't cover the whole of my lugs and this can become evident, if not actually uncomfortable, after long sessions with them.
They clamp quite tightly to your head which I reckon would make them useable when doing light exercise, but the velour covering to the earpads did get pretty warm and a little itchy after long periods of use – perhaps an alternative could be included in the future.
Conclusion
There's a quality to the sound of the HifiMan HE560s that really draws you in and makes you sit up and listen. They are balanced and detailed in the top end and, whilst the bass doesn't go as low as some others in for review (notably the Sennheiser HD800s), I do think there's a punchy quality to the bass that is in balance with the rest of the frequency range they convey and it's really quite endearing.
That upper frequency detail isn't at all over done and many will actually prefer this quality of the HifiMans over the Sennheisers.
Mids and vocals are really nicely done and overall there is a hint of warmth to the HE560s which many who listen to headphones for extended periods will enjoy a geat deal.
The out-of-the-head experience isn't as defined as the Final Hope VI and there is a feeling of them being slightly closed in left to right, whilst on the flipside there's a feeling of front to back space. Although I feel the soundstage is quite narrow the instruments in the mix do have position and a degree of space around them.
Overall the sound the HE560s make is really rather special and they play a wide variety of genres without issue and they don't demand anything from the listener.
I personally found them a little uncomfortable on the ears after a long session and they do need a decent headphone amp to get the very best out of them. That said, they are light, relatively portable and the box they come in is of a size you can pop in large hand luggage when traveling. I do worry that the little clips for adjusting the headband will not be robust enough over time if used a lot.
At £650 the HifiMan HE560s come in at £100 more than the Pandoras and I believe this is justifiable as they do offer, for my tastes, a more coherent and less "audiophile" sound. At almost £350 less than Sennheisers and £849 less than the Audeze LCD – XC they are a serious contender that will surely get a lot of attention from headphone enthusiasts and serious listeners looking for a more cost effective alternative.
Sound – 8.5
Comfort – 8.0
Fit and finish – 8.0
Value – 8.5
Overall – 8.25
Recommended for those looking for a lightweight headphone with a high quality, detailed sound throughout the frequency range and at a price-point that is attractive to those not wanting to spend mega-bucks.
And now Linette Smith takes a listen to the HifiMan HE-560 headphones
I was expecting good things when the Hifiman headphones arrived in their very stylish and sturdy box. Well constructed wooden box with a slide off lid that comes with an aluminium panel on the front…very stylish indeed and the headphones are perfectly protected in transit.
Taking them out of the box was a bit déjà vu…….these headphones seemed to have a touch of the Audeze to them looks wise, was I getting a cheaper interpretation from China? I hoped not!
The first thing that strikes me is the weight; these are actually a pretty light set of 'phones at 375g.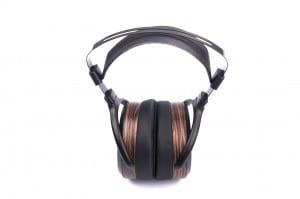 Despite the lightness they feel well built and durable with a definite solidity to them, these are no cheeky rip off, they are a well made set of headphones.
I really like the suspended head band. Slipping them on they feel very, very comfortable, with just the soft band on my head I can only actually feel the earcups, sure, the metal frame of the headband does make me look a bit like a cyber man….but I like the design.
The earcups themselves fit my ears perfectly and feel supremely comfortable. Not as big as the Audeze and not as heavy so they don't need as much padding.
They are definitely cocooning and even though these are open backed I get the isolation from the outside world that I look for in a pair of headphones.
They even work well with my glasses, no conflict at all……..I have to say I am pretty impressed by Hifiman so far!
I'm really excited to actually hear these so I put on Blondie's 'Parallel Lines'.
'Hanging on the telephone' is rocky and lively and slips nicely into 'One way or another' with Debbie Harry growling seductively in my ears.
The soundstage is big and I get all the detail that I want to hear….drums sounding particularly good, everything is tight and well balanced and I am drawn in to listen more….actually I forget that I'm supposed to be writing a review and just enjoy listening!
I switch back to Primal Scream's 'Screamadelica' which I last listened to with the Sennheisers that I reviewed a few days ago.
Wow! This is great, the bass is much deeper and all the little nuances in the rhythm are clean and detailed with nothing lost from the mid and top.
I'm getting the 'lost in music' feeling that marks out a great pair of headphones for me….a lot of fun!
I am very impressed that Hifiman have got such a great balance with the HE-560s.
Comfort, lightness and a great sound and all for around £650 ….not a cheap pair of headphones by any stretch….but they are coming across as very good value for money.
It's Hardfloor test time again so on goes 'Once again back'. Driving basslines with lots of sub…..what's not to love? Tight and detailed…..perfect, the Hifiman 'cans pass with flying colours, I think someone will have to prise them from my head when it's time to send them back, I am hooked!
I was impressed right from opening the box, but if you buy these headphones they will spend a lot more time on your head than in the box! Thoroughly enjoyable.
Linette Smith
Sound – 8.75/10

Comfort – 9.25/10
Fit and finish – 8/10
Value – 9/10
Overall – 8.75 /10
Excellent sounding, comfortable headphones that give much more expensive headphones a run for their money. Definitely recommended.
How we carry out reviews.
Read more Hifi Review.
Review system: Ami MUSIK DDH – 1 DAC and Headphone amp, The Chord Company USB cable and laptop running Foobar 200.