Lampizator, Skogrand, Emmespeakers, Analog Design, Kronos, Stacore, SoundKaos, SOtM, Bauta, Ayon,; Fischer & Fischer, Mudr Akustik, AVM and Elac
The High End Show at Munich is an absolutely gargantuan task for anyone to undertake but it always ends up been worth the effort of trying to see absolutely ever room you can as you come across some real gems that you just weren't expecting…and of course some that you perhaps expected would be great anyway.
The vast majority of exhibitors go to an extraordinary amount of effort to make their rooms the very best they can be and all credit must go to them. As always though there are the rooms and stands that really leap out at you and remain in your memory for the whole of the show and a long time afterwards.
So, here are some of what I considered to be the real gems of this years show. They're in no particular order and are likely to be in the order we happened across them.
Lampizator, Skogrand, Emmespeakers, Analog Domain, Kronos and Stacore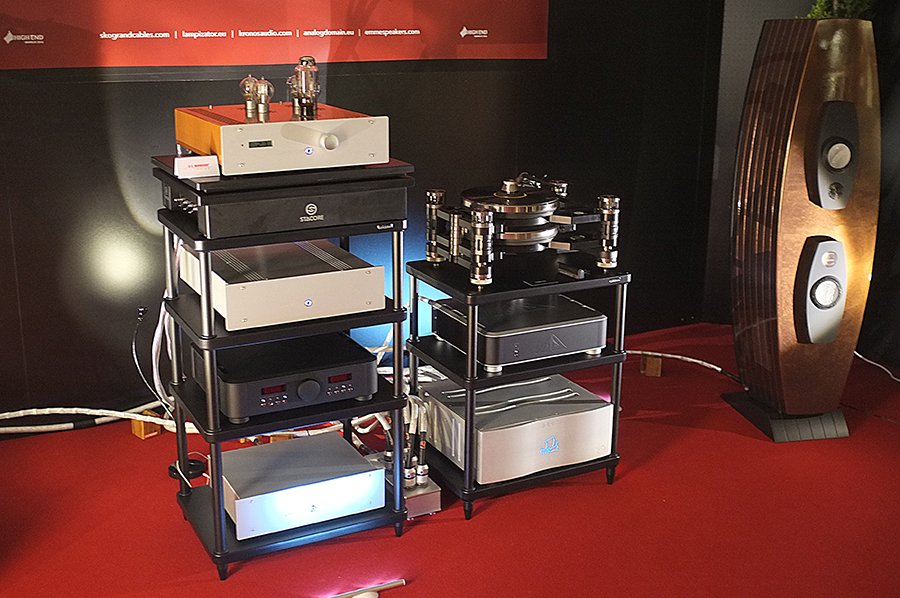 This was one of the first rooms we found our way to as it was close to someone we had an early appointment with. I know Lampizator very well indeed as we use their Big 7 as our reference DAC and we have used Skogrand speaker cables too. I've heard the Emmespeakers at Munich in the past and the Kronos turntable too, but the rest was all new to me. When we got back to Hifi Pig Towers I phoned Ian Ringstead who writes for Hifi Pig and asked him to choose his favourite three rooms and all but one coincided with our choices  – the first one he mentioned was this one.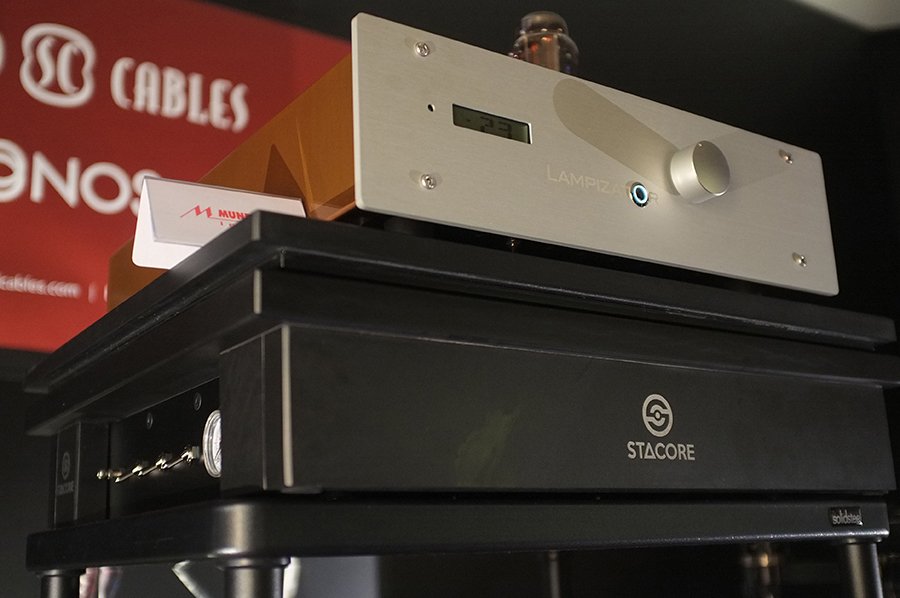 The sound was great as you'd expect, but the folk were friendly and accommodating too. One interesting product in the room that i'd not happened across before was by Stacore who have created an air sprung platform that uses damped slate as its main body material. The people in this room were friendly and accommodating which is really what folk should be like when exhibiting at a show of this stature!
SoundKaos & SOtM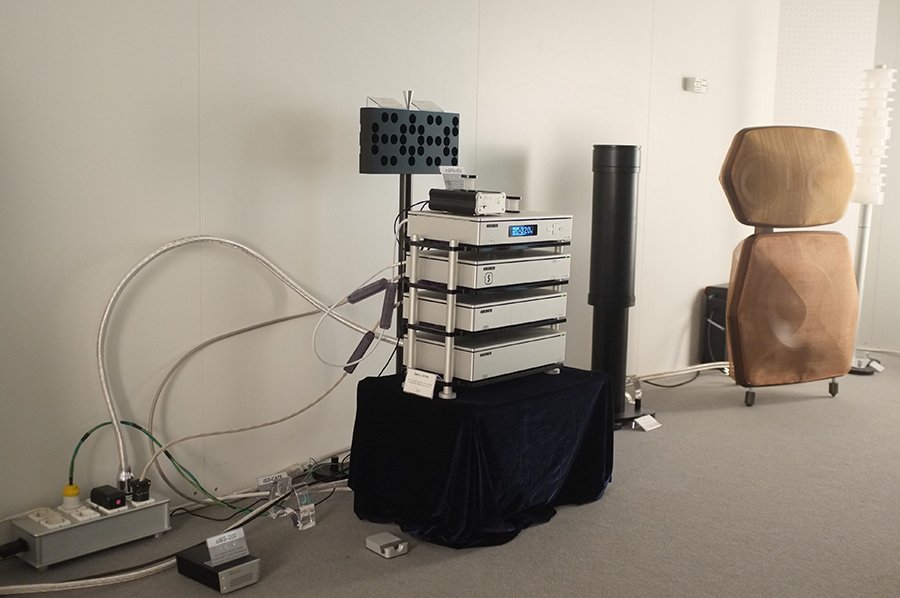 SoundKaos were last years winners of the "Hifi Pig Loves You Award" at Munich and this year they were making some very nice noises with their (launched at High-End) LIBéRATION loudspeakers with South Korean company SOtM providing the electronics (sDP-100EX (dual battery powered DAC), sMS-100sq (network player), sPS-1000 (power supply) and sPA-1000).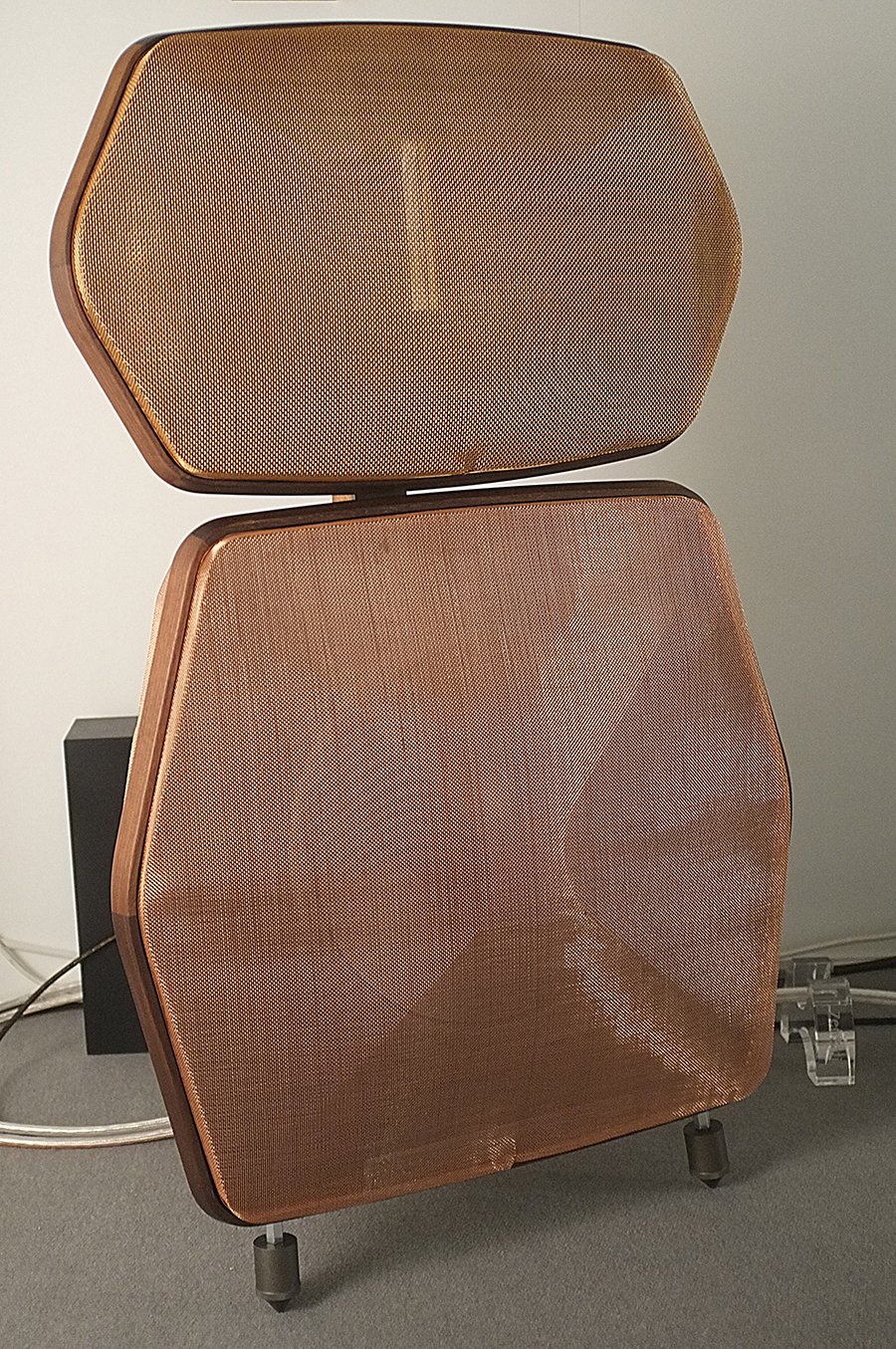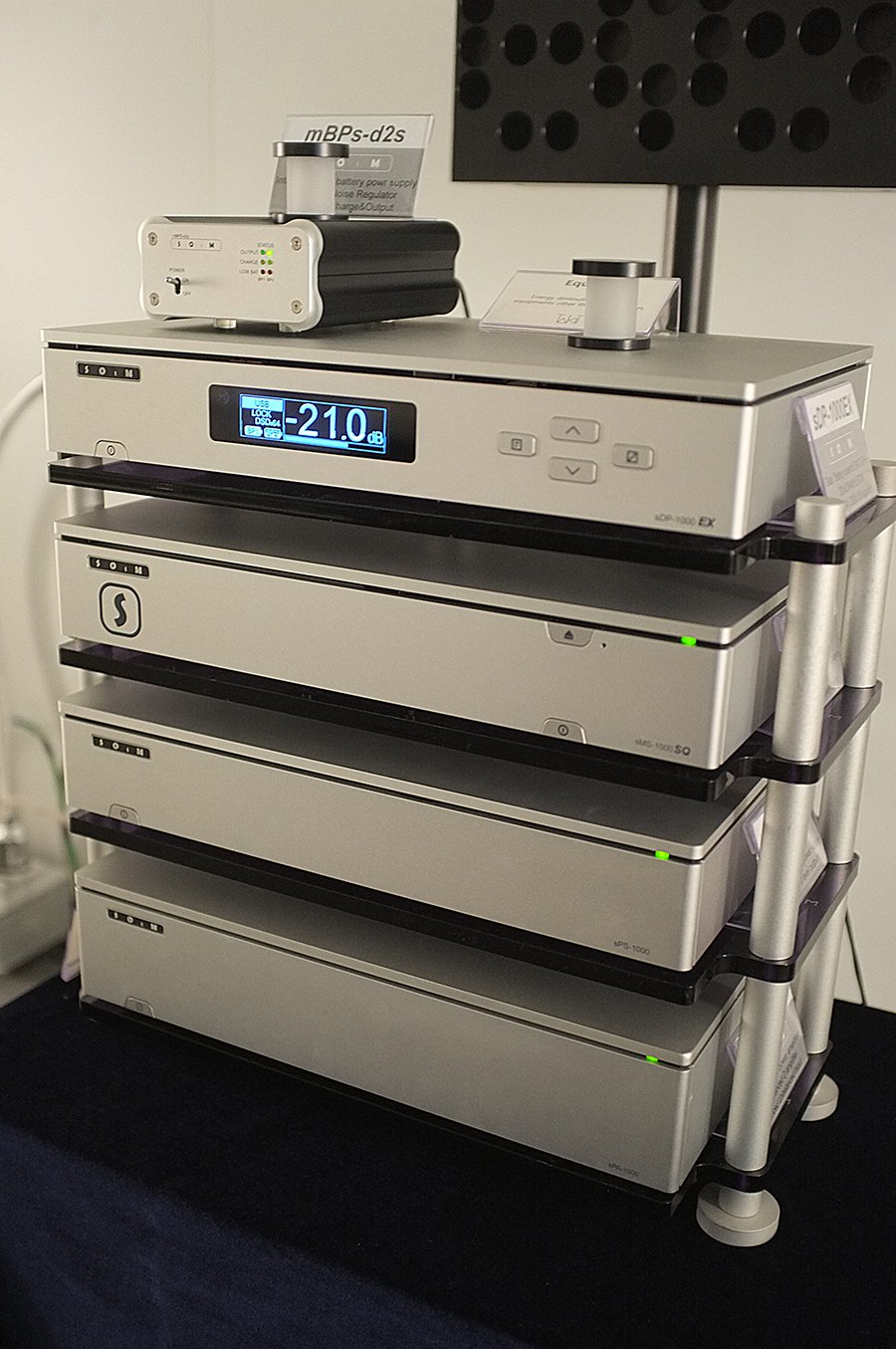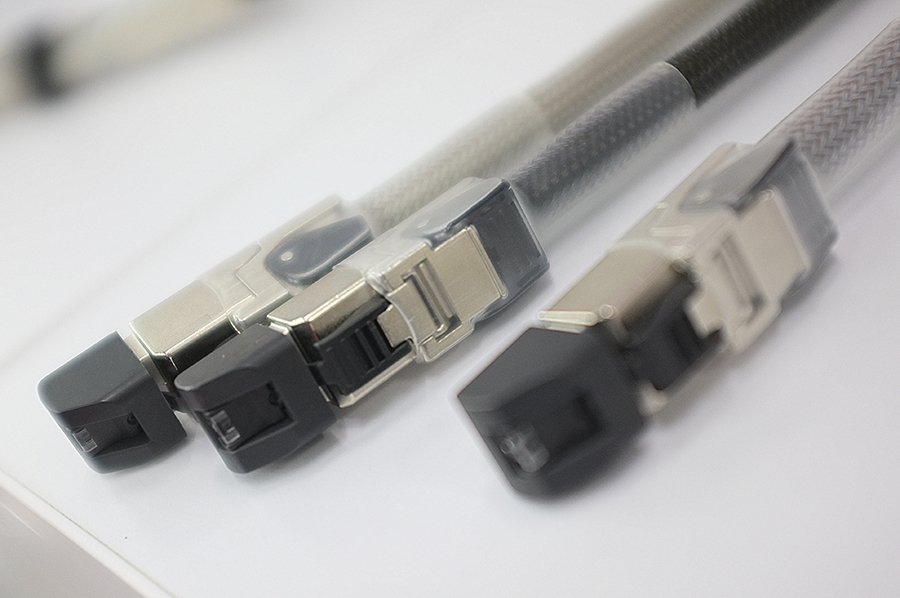 Bauta 
The Bauta loudspeaker is nothing if not impressive looking. It's a three way passive design with heavily braced sealed enclosures. It's made up of three parts consisting of the subwoofer at the bottom, the C-shaped part for the bass frequencies and the top satellite that handles mids and highs.
Jacek Gawłowski is the guy behind Bauta and he is a Grammy award winning audio engineer with 25 years experience so really ought to know a thing about loudspeaker design and how they should sound.
Ayon 
It really doesn't take very long in a room before you either 'get it' or not. Ayons room was one of those that immediately grabbed our attention and demanded we sit a little longer to enjoy the tunes.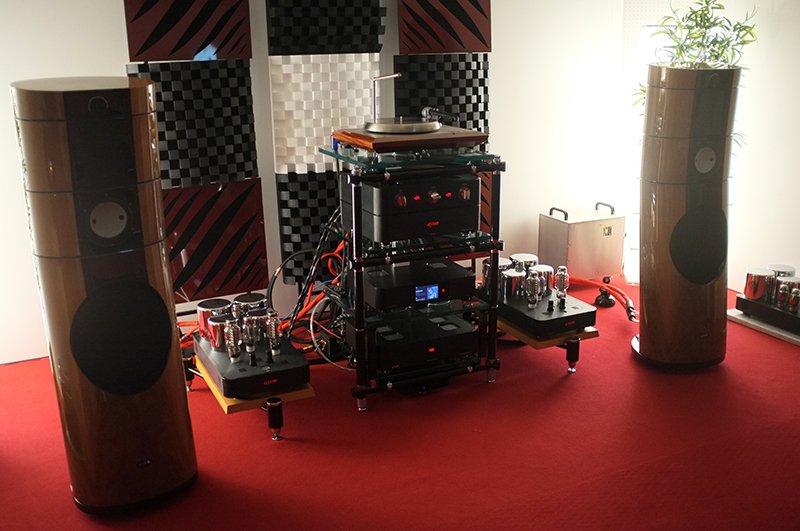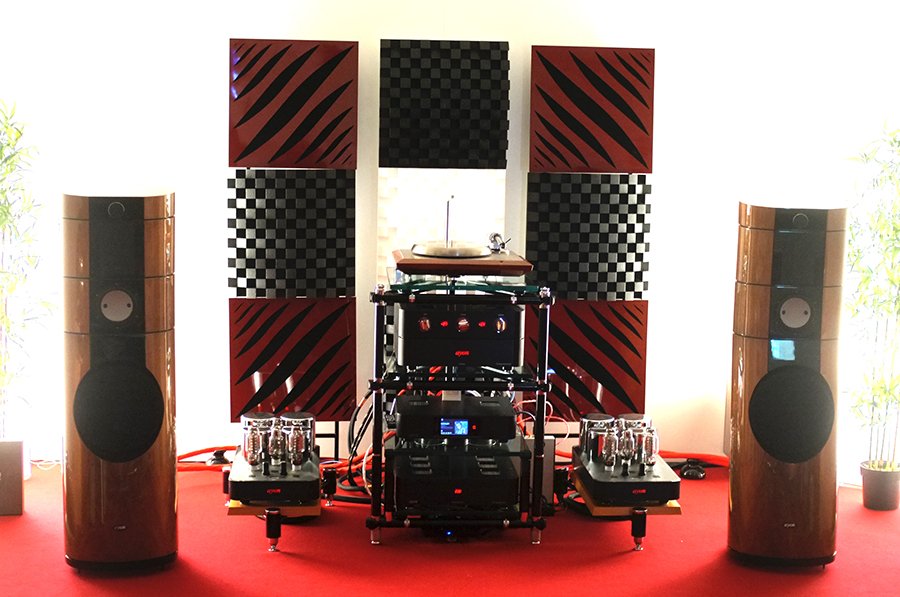 Some may say this is all down to synergy in this room as all the kit bar the turntable was from Ayon themselves. Black Fire loudspeakers, Vulcan Evo power amps, Conquistador Linestage, S-10 network player and Pearl Cables. And the turntable… that was a direct drive, air bearing number from Lumen White called the Mystere. The big silver box you can see in the back right is the air supply for the turntable. A lovely looking system that sounded great on the day and definitely something we'd look to get in for review at some point.
Fischer & Fischer, Mudr Akustik and AVM 
The Fischer and Fischer loudspeakers shown (the SN1000.1) are new for the High End and are, like other speakers from the German brand made of natural slate. Mudr Akustik make the power distribution and power filtration whilst AVM take care of the electronics. Heavily high-end and undeniably cool.
ELAC
ELAC always do a great job at shows, whether it's showing off their really simple but effective active systems aimed at those wanting a hassle free and stylish home system, or, as they are today showing us their flagship Concerto speaker which celebrates the company's 90th anniversary.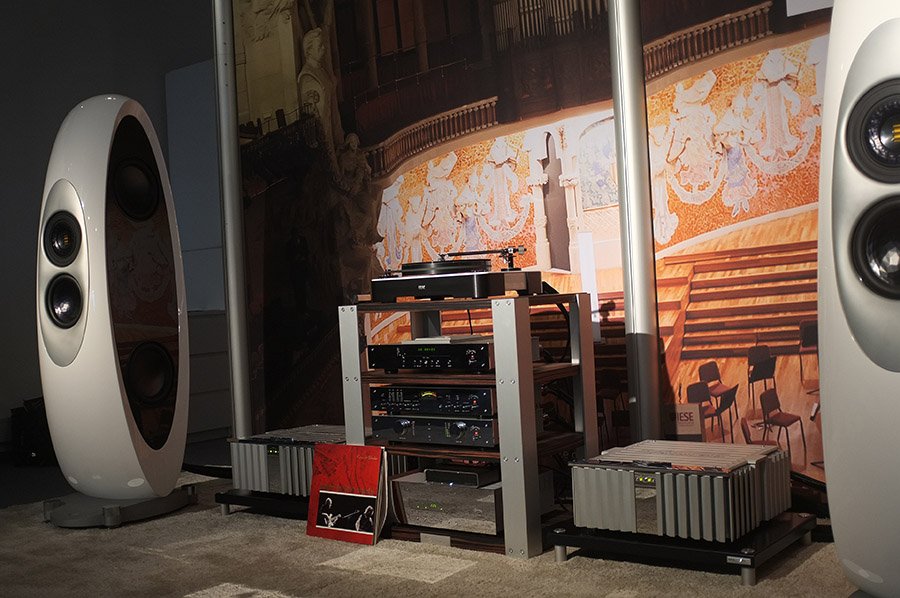 I'd seen photographs of the speakers but in the flesh they are absolutely beautifully finished and sound very nice too. Their turntable Miracord 90th Anniversary is a really beauty too. It's belt drive, good and heavy, comes with an arm and a cartridge and all for a very reasonable price. What's more they come in interesting colours including a rather fetching Hifi Pig Pink colour.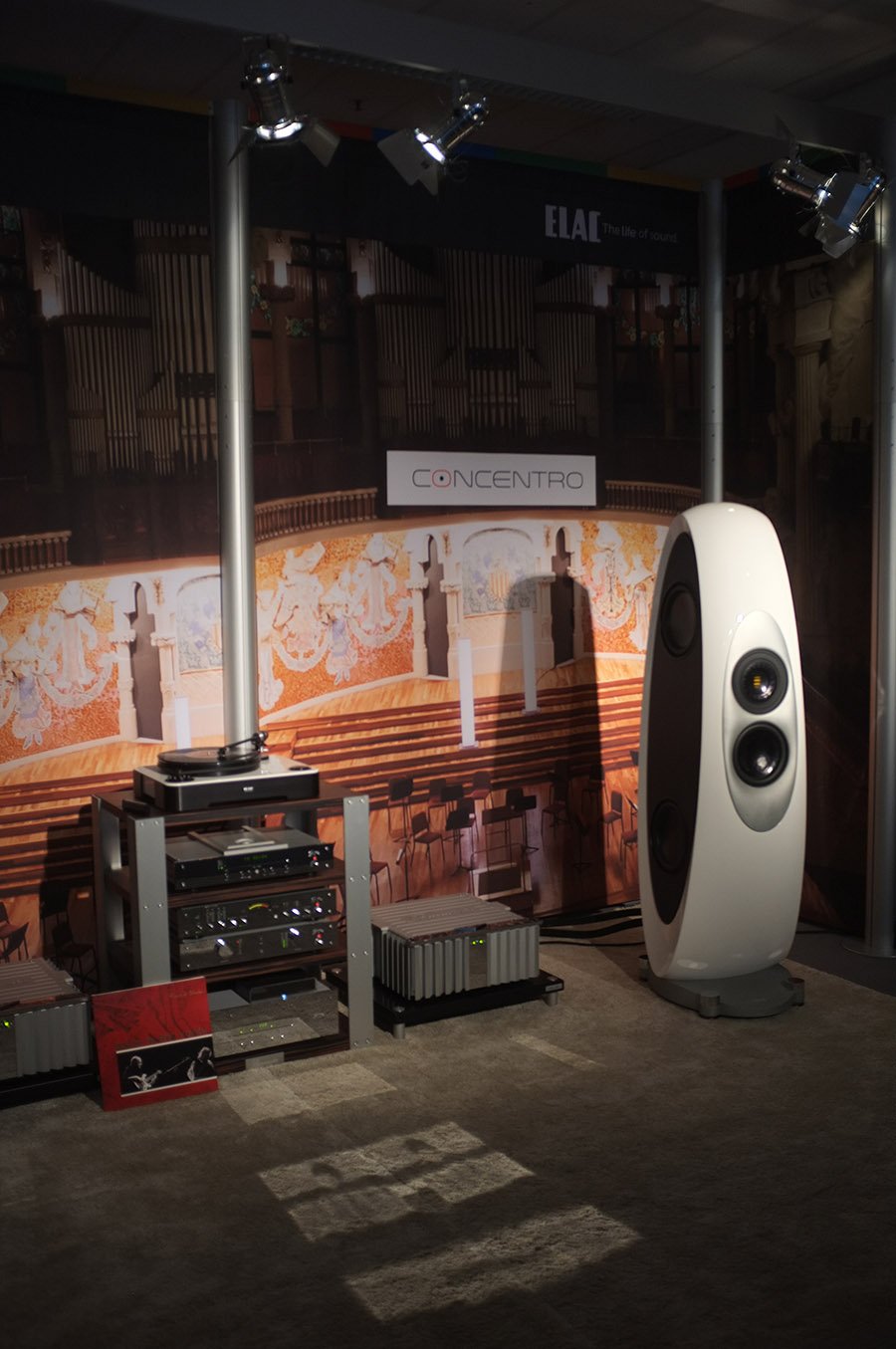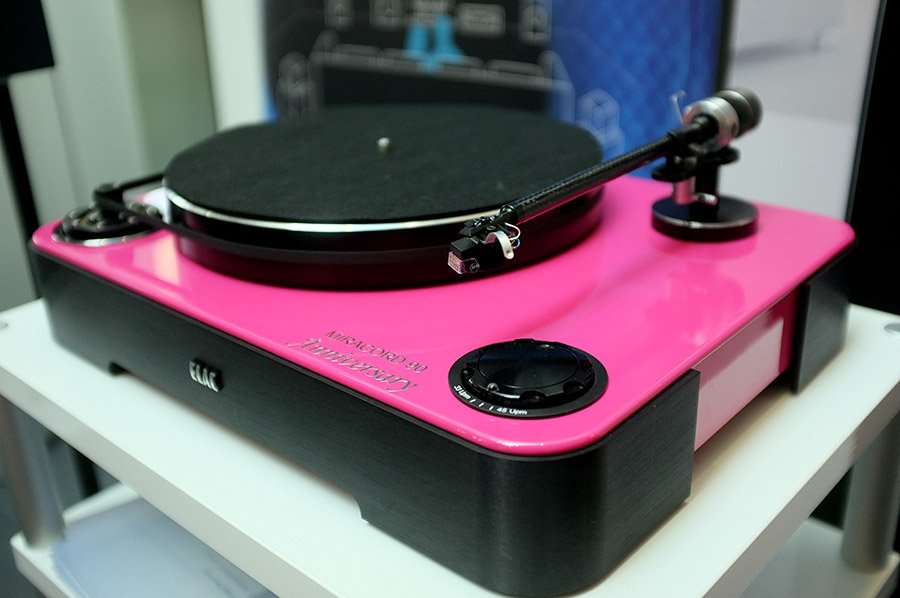 More High End New and reports right here.