Part three of Hifi Pig's highlights of this year's high end show in Munich. Featuring: Mark Levinson, Harbeth, R Dacoustic, 440 Audio and KR Audio, IAG, Nagra, dCS, Rogue, Eggleston Works and Analogueworks, Totem, Trinnov, Mola Mola and Vivid Audio, hORNS, Credo, Graditech, Lansche Audio, Meitner Emm Labs, Daudio, Grimm, Marantz, McIntosh Labs, Volya Audio. 
Mark Levinson
When Harman International invite a small group of journos along to the launch of a couple of new Mark Levinson products it would be churlish to decline. So along we popped for a look at the new № 534 Dual-Monaural Amplifier and its accompanying  № 523 Preamplifier.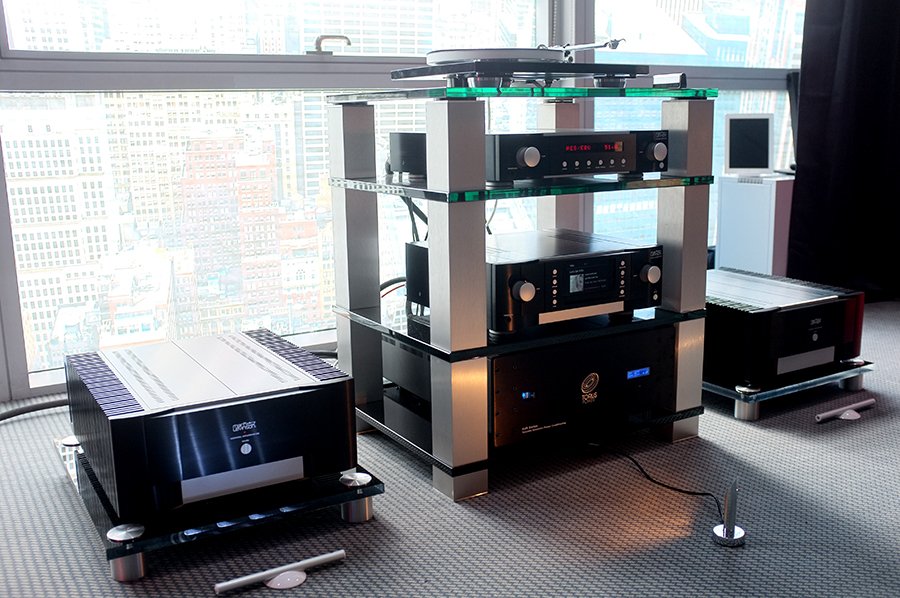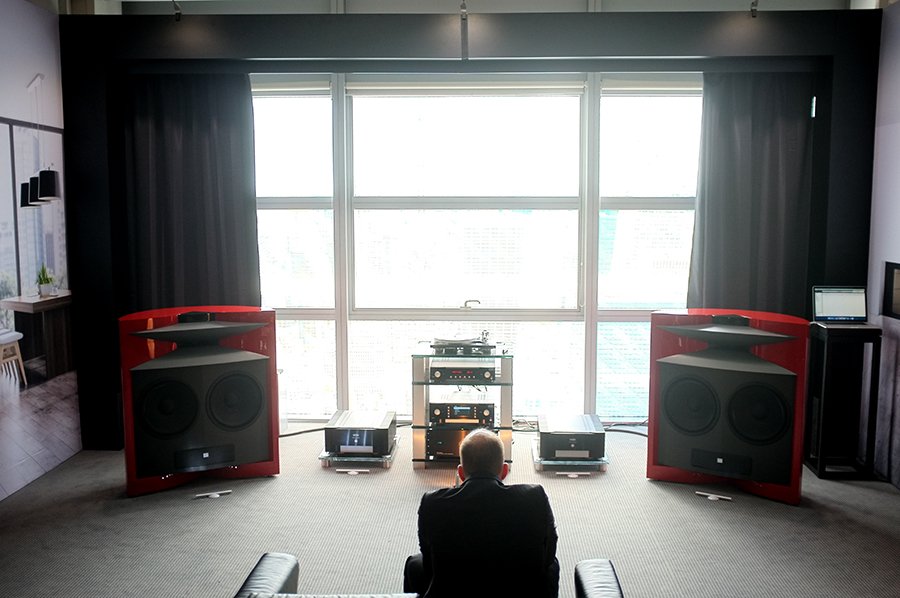 Of course these are luxury audio components and whilst no one spoke about the prices you can expect these beasts to be a pretty penny.
We had the opportunity to hear a trio of tracks with the new pre and amps feeding a pair of JBL Everest loudspeakers. Impressive stuff indeed, particularly the very last drum track, with huge dynamics being the order of the day.
Harbeth
Keeping up the British end, Harbeth were making some lovely noises in their room with the fantastic sounding Monitor 40.2 loudspeakers taking centre stage. If you don't know this speaker it's inspired by the original BBC designs, as are all Harbeth loudspeakers, and is a 3 way ported box with a 300mm bass driver, 200mm mid and a 25mm ferro-cooled soft dome tweeter. It's a big bow and the specs say it will go from 35Hz to 20kHz and I don't doubt it!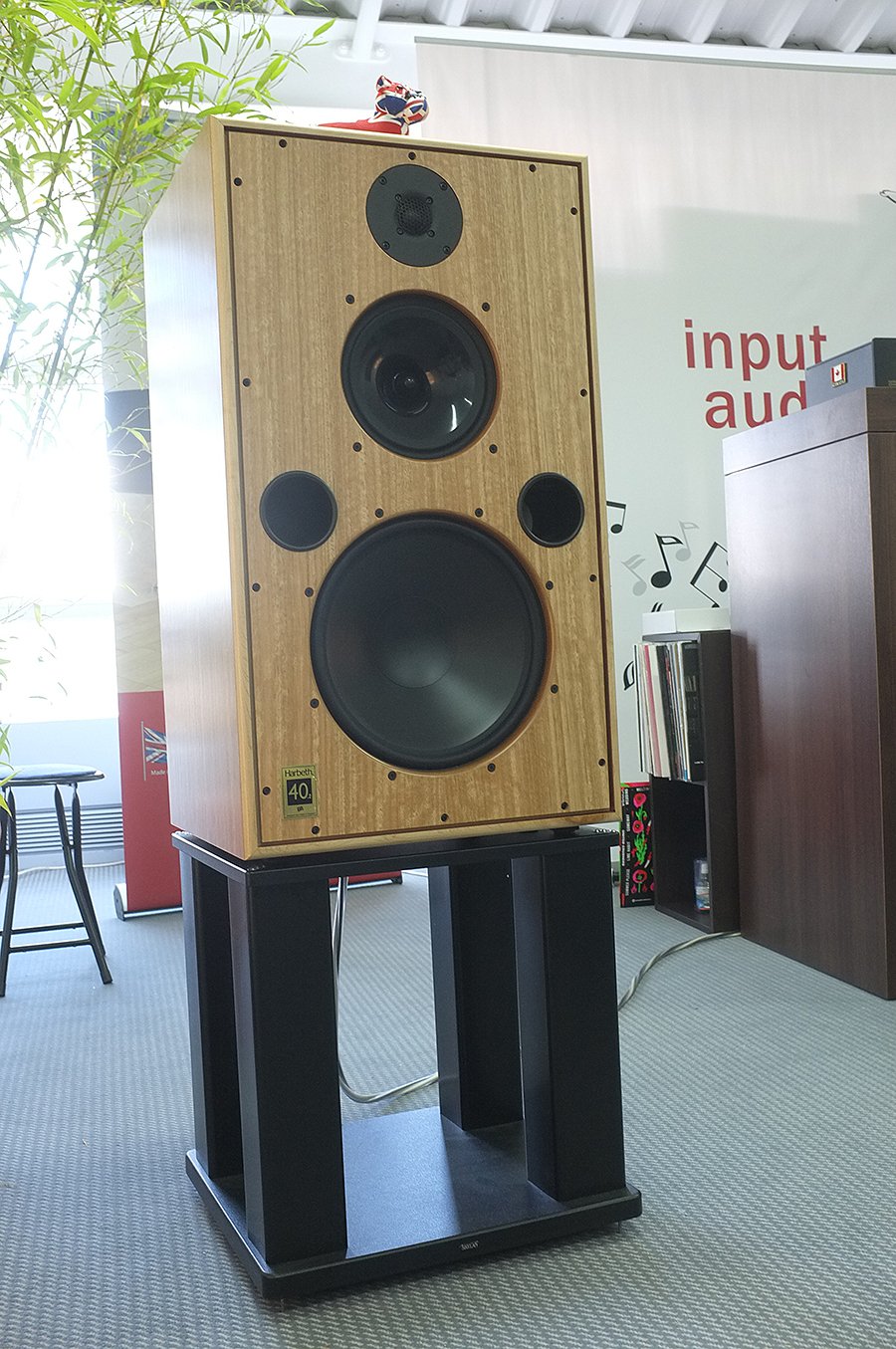 R Dacoustic, 440 Audio and KR Audio
Whilst Linette was having a chat with the lovely Eunice from Czech amp manufacturer KR Audio I thought I'd pop into the listening booth alongside the static display and I was very pleased I did because in there was a 440 Audio turntable, a KR Audio Kronzilla amp (look at those tubes folks!) playing through a pair of R Dacoustic Evolution horns. Ok, this set up isn't going to be to everybody's taste but I really enjoyed my short time in the room.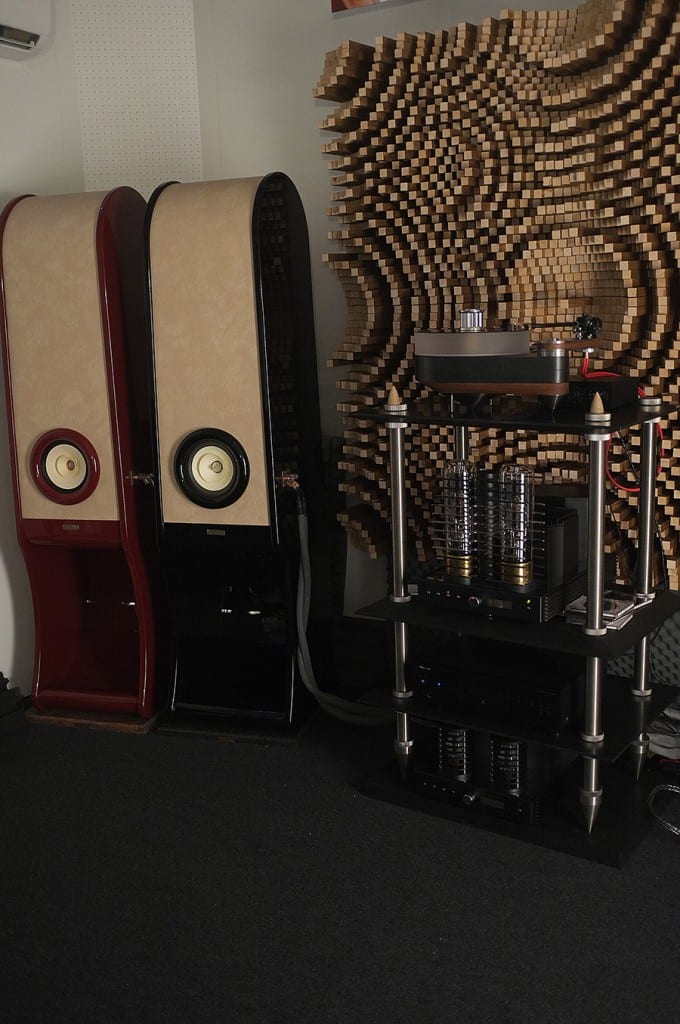 IAG
Even if you don't know the company IAG you will certainly know the brands they have in their portfolio. Audiolab, Quad, Luxman, Wharfedale, Castle, Mission are all brands I remember fondly from my teenage years poring over the hifi rags of the day. Today's demo was an odd one with a pair of guys stood at the front playing tunes through a nice pile of Luxman kit and Quad speakers. Sounded very nice but I haven't a clue what they were on about! Perhaps learning a third language would be in order, though even the English rep in the room was a bit perplexed as to what was going on. Visitors seemed to enjoy it though!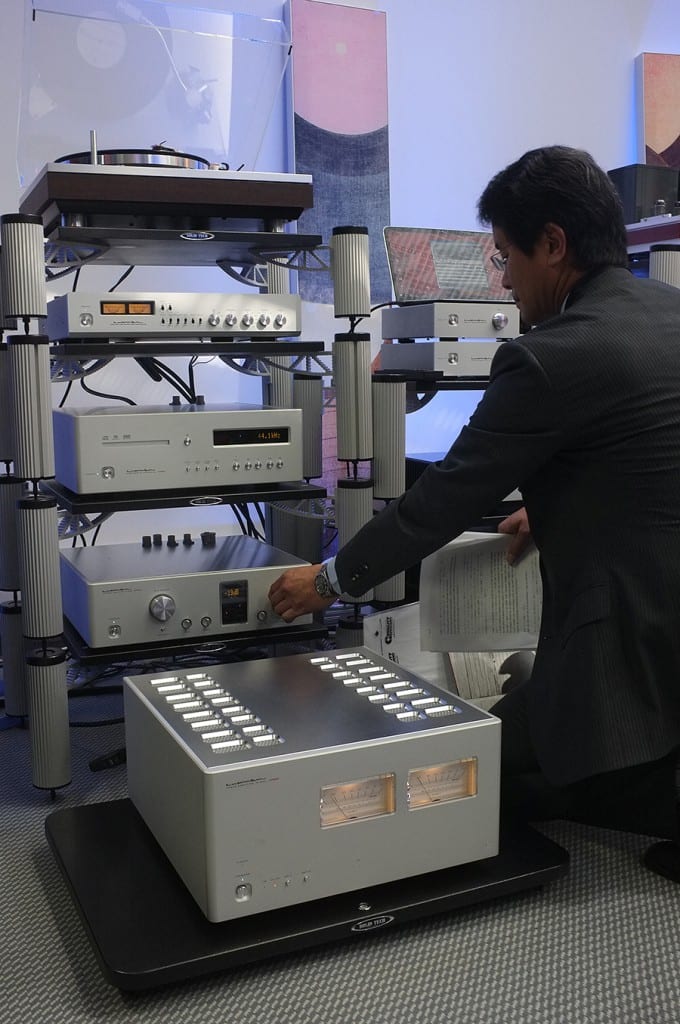 Nagra
I absolutely love the styling of Nagra gear and this year's set up looked and sounded pretty amazing through the Wilson loudspeakers. Sadly the room proved a real pig to photograph but you get an idea of what is going on. Very nice as you would expect.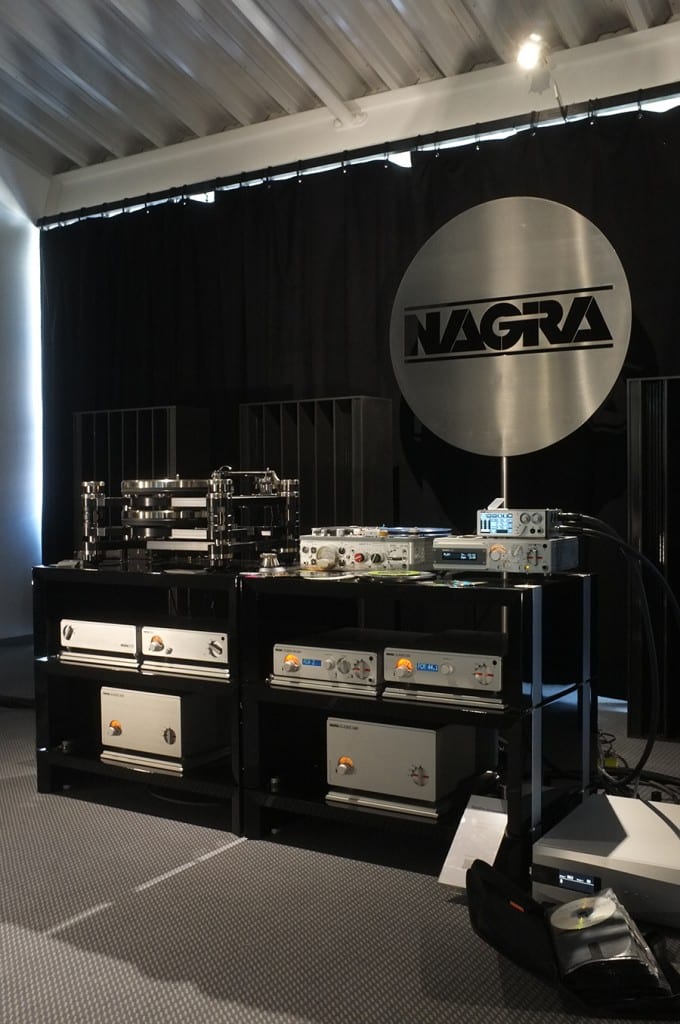 dCS
We were lucky enough to be invited recently to KJ West One where we were treated to a listen to the new ChordMusic cables with a front end consisting of a full dCS set up through the Naim Statement pre and amps and it was an impressive listen. Today the digital signals are feeding into D'Agastino amps which in turn fed a pair of Wilson Audio Alexia speakers. Rather pleasant!
Rogue, Eggleston Works and Analogueworks
The bigger of the two speakers in this room are the EgglestonWorks Savoy Signatures costing a whopping $63 250 a pair, whilst the smaller are the company's Andra III. Preamplifiers are the Rogue Audio RP 5 and Ares phono tube preamplifier with the monoblocks you see being the $15 000 Apollo Darks. Sources are the AnalogueWorks TT One (the turntable we use at home) with the Wave Mechanic Power supply, Nottingham Analogue Ace Space tonearm and he London SuperGold MM Cartridge with Decca Pod. There's also the TT One 12 using an SMEm2-12R arm with the Audio Technica MC ART9 cartridge.
Totem
An absolutely stonking sound coming from the Element Fire standmmounters. Really, a sound that belies the relatively diminutive stature of these speakers. The speakers are multi-angles with no parallel lines and having a 7 inch hand assembled driver that is fully rear damped and has no passive or active cross over parts connected to it. Interesting design and a great sound. INTERVIEW WITH VINCE BRUZZESE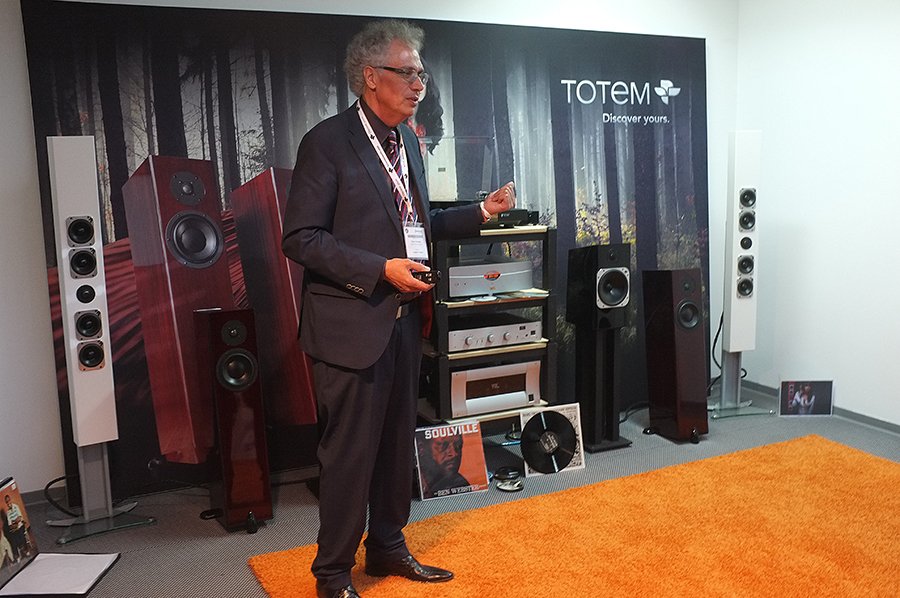 Trinnov, Mola Mola and Vivid Audio
One of the sounds of the show for me and proof that room correction in the digital domain is a great tool for audiophiles. Here the Trinnov Altitude preamp was connected Class D amps in the shape of the Mola Mola Kaluga, which in turn fed the stunning Vivid Audio Giya loudspeakers which made for a sound that was clean and pure…which was reflected in the coolness of the predominantly white room.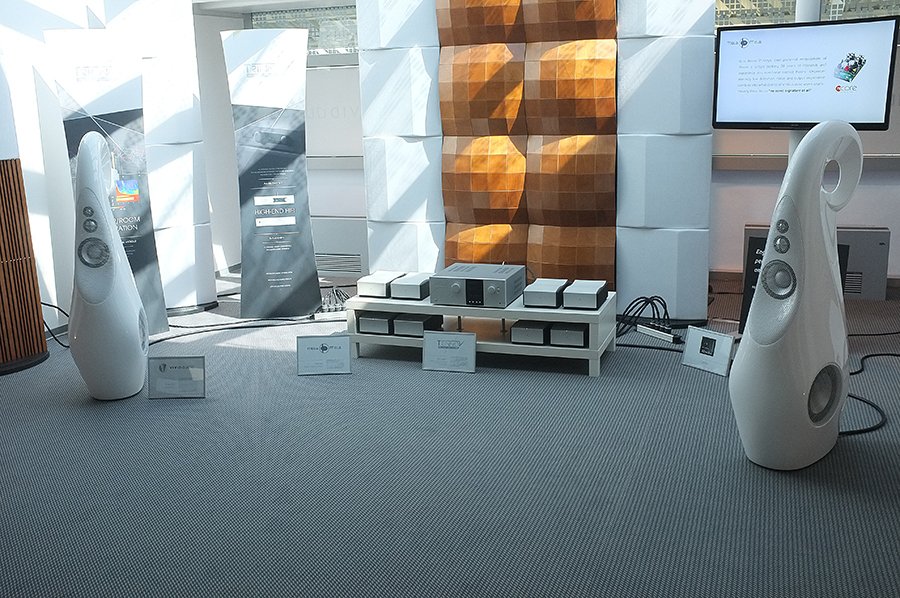 hORNS
The speakers you see here are from Polish manufacturer hORNS and are called Universum. I'm a fan of the brand and have owned their Mummy loudspeakers in the past so I was pleased to see the room busy and people asking lots of questions. However, I think the brand deserve a bigger space to really get the best from these speakers for future shows.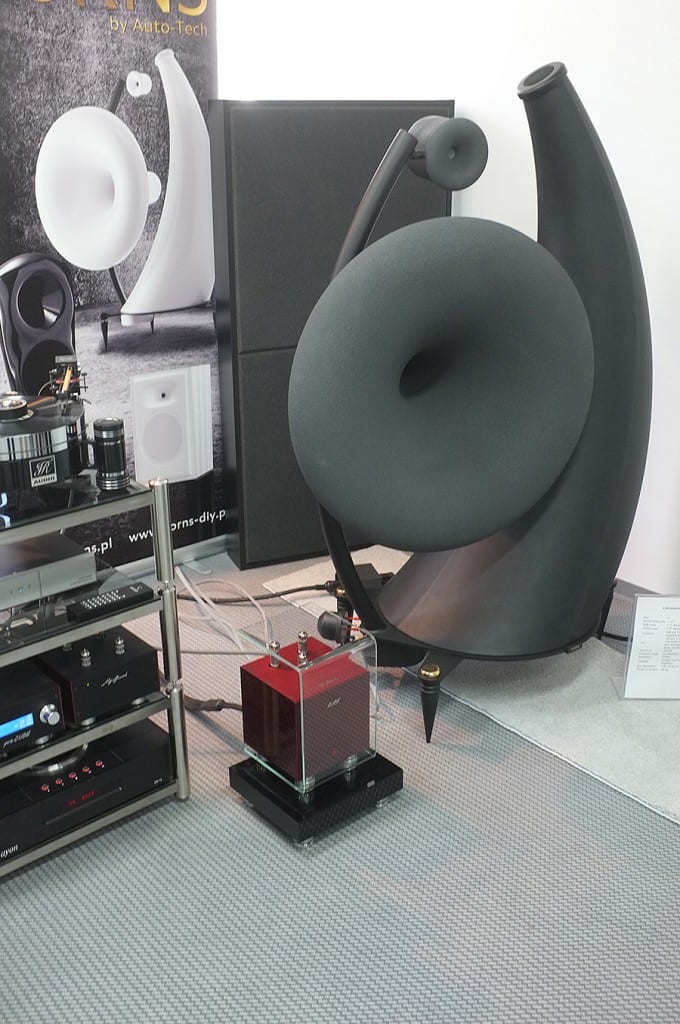 Credo
Eye-wateringly expensive (around €400 000 if memory serves) but sounded awesome when playing Daft Punk's Contact. Hugely dynamic and exciting sound that got the hairs on my neck standing on end. Stayed in this room a good deal longer than I anticipated. Not pretty speakers by any stretch of the imagination. The speaker is the Cinema Reference with a quoed frequency range of 32Hz to 32kHz.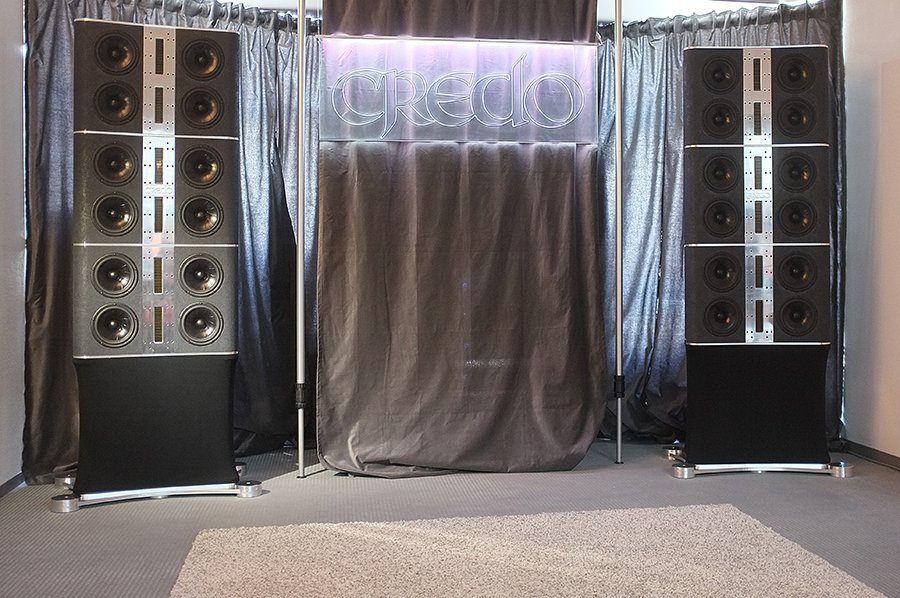 Graditech, Lansche Audio, Meitner Emm Labs
Meitner Emm Labs new DA2 DAC, Pre 2 and limited edition TX2 CD/SACD transport were feeding the signal into the company's MTRX2 mono amps which in turn fed Lansche Audio massive Cubus Mk II loudspeakers. Interesting speakers these as they have the company's Corona plasma tweeter and a midrange horn utilising a 2" compression driver. Bass is dealt with by the huge 18" woofer that deals with everything up to 400Hz.
Speaker cables were from the Finnish company Graditech which is in itself very interesting as it is adjustable.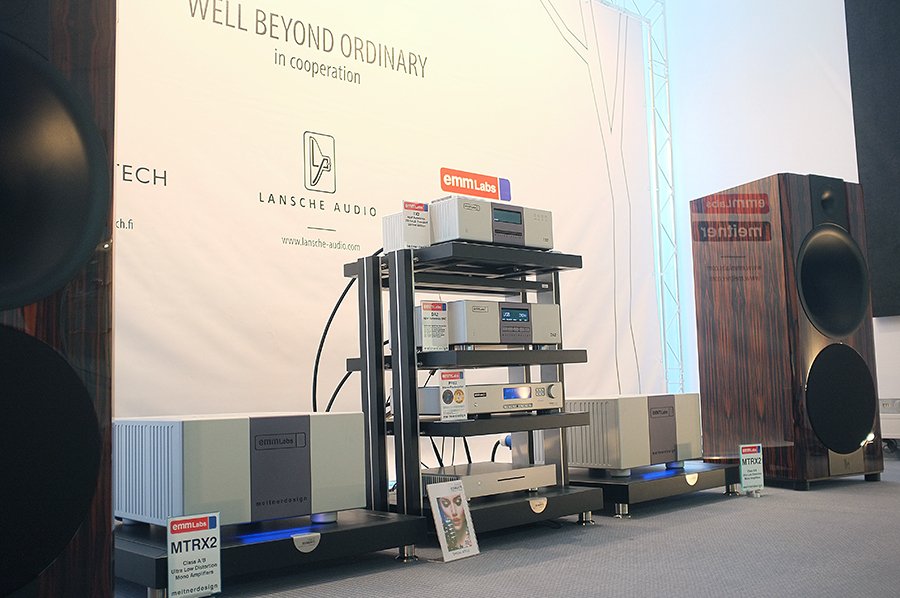 Daudio
More interesting speakers and this time hailing from the Netherlands. The speakers in question are the company's W1 3-way dipole design which has a passive filter for the mid-high section and an active crossover between the bass and mid-high section. Your eyes aren't deceiving you there are really three loudspeakers in use in this set up. The speakers are €17500 a pair. Amps are Daudio asp/amps that have an active filter and give out 250 Watts a channel. The amps are specifically designed with the W1 speakers in mind.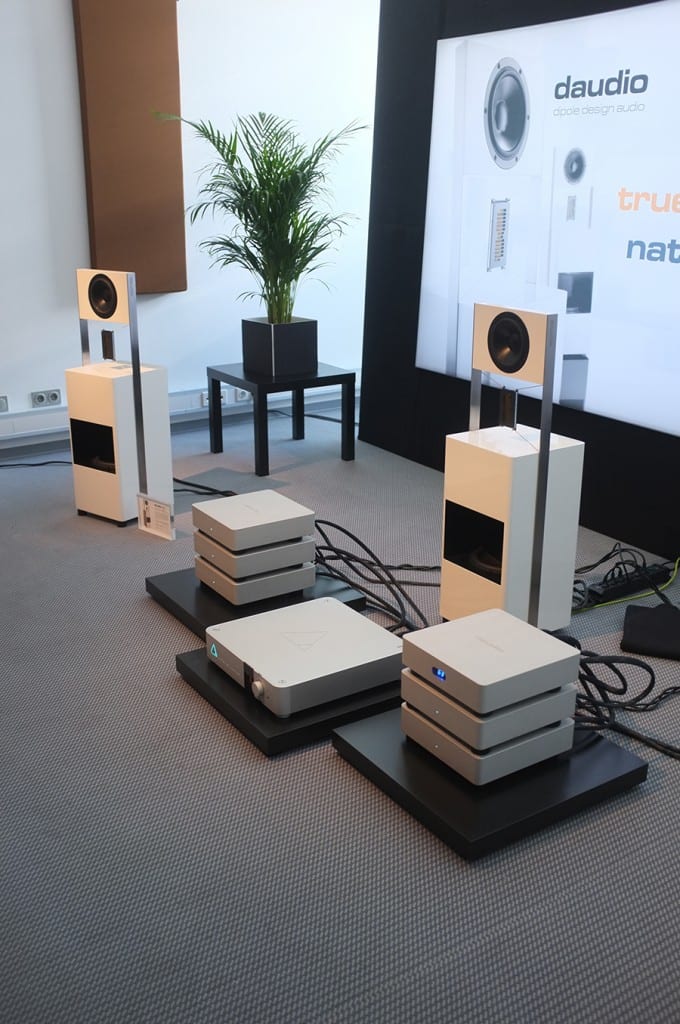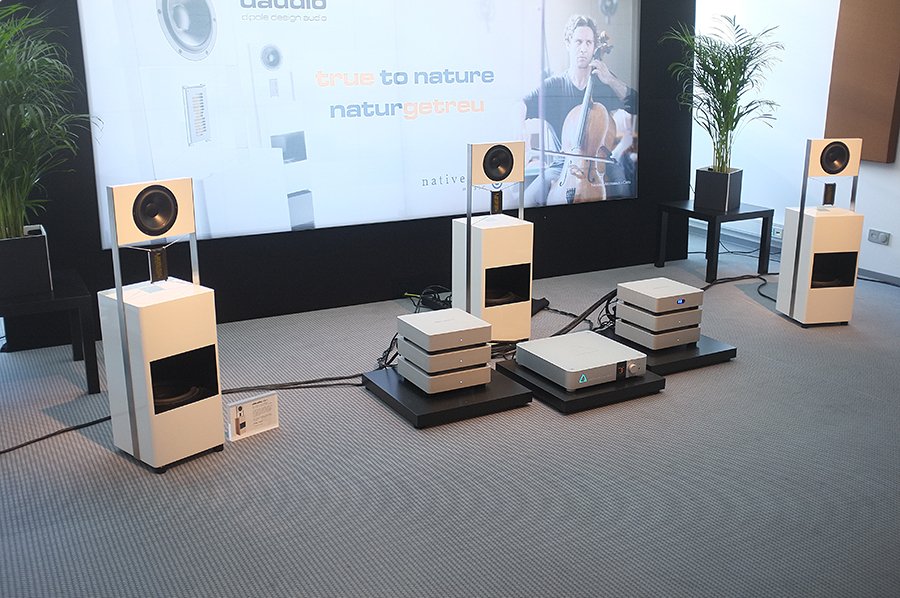 Grimm
Grimm speakers always intrigue me at shows as the amount of toe in the speakers are given sort of defies logic, but they always seem to sound really rather nice. For this year's munich show the Dutch company introduced its LS1be loudspeaker featuring a new Berylium tweeter with a CNC milled aluminium waveguide that has been jointly developed by SEAS and Grimm themselves. The speakers also feature a new LS1s-dmf subwoofer.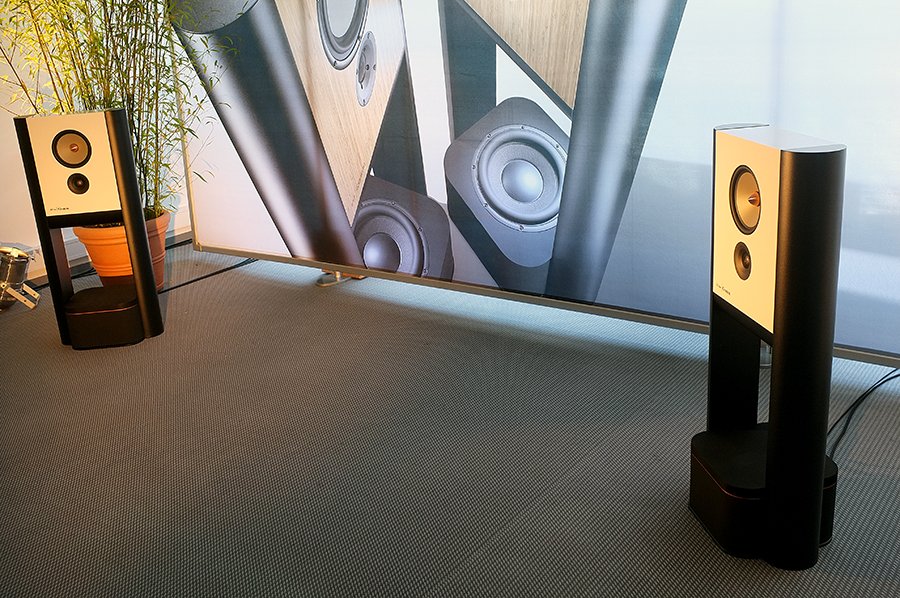 Marantz
Let's face facts, Marantz isn't the first name that jumps to mind when considering high-end audio but this room sounded very nice indeed. On show in the room were the SA-10 SACD player and the PM-10 amplifier, both of which were making their world premier. Didn't get a chance to find out what the loudspeakers were sadly but look very interesting.
McIntosh Labs
About as iconic a brand as you can get in audio McIntosh is pretty much unmistakable. Today we were treated to a whole load of the company's high-end gear including the MX122 AV processor, the MCD1100 SACD/CD player, the C1100 controller and their MT5 turntable. The humungous amps on the floor are the MC601 monos that are capable of pumping out 600 Watts each into 2, 4 or 8 Ohm speakers. In this case the speakers were once again from Wilson.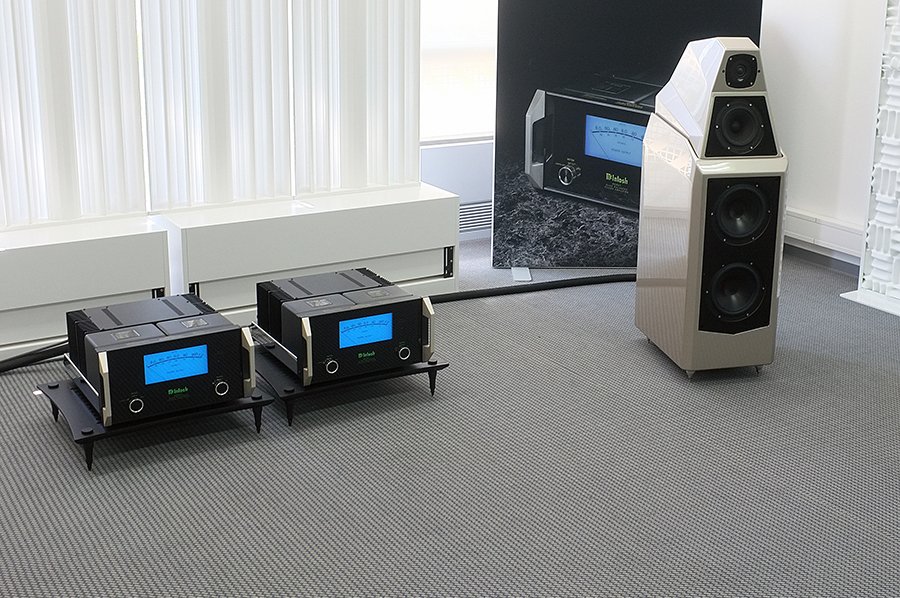 Volya Audio
Now these really aren't going to be to everyone's taste but I really loved the Volya Audio's styling. The speaker cabs are hand-painted by Lyudmila Gorbulya who is a master of Petrikovsky painting which is unique to Ukraine. The speakers themselves are designed and assembled by Yevhen Kozhushko and feature (from top to bottm) an 8" ceramic driver, a 2" diamond driver, a 1" diamond driver and two 11" ceramic and Kevlar sandwich drivers. The enclosure itself is made from MDF with variable wall thicknesses from 35mm to 50mm and uses internal ribbed stiffeners.
I thoroughly enjoyed their laidback and effortless presentation and went back for a second listen on the Sunday. Price is around €120 000 which along with the unique nature of these speakers will limit their appeal somewhat.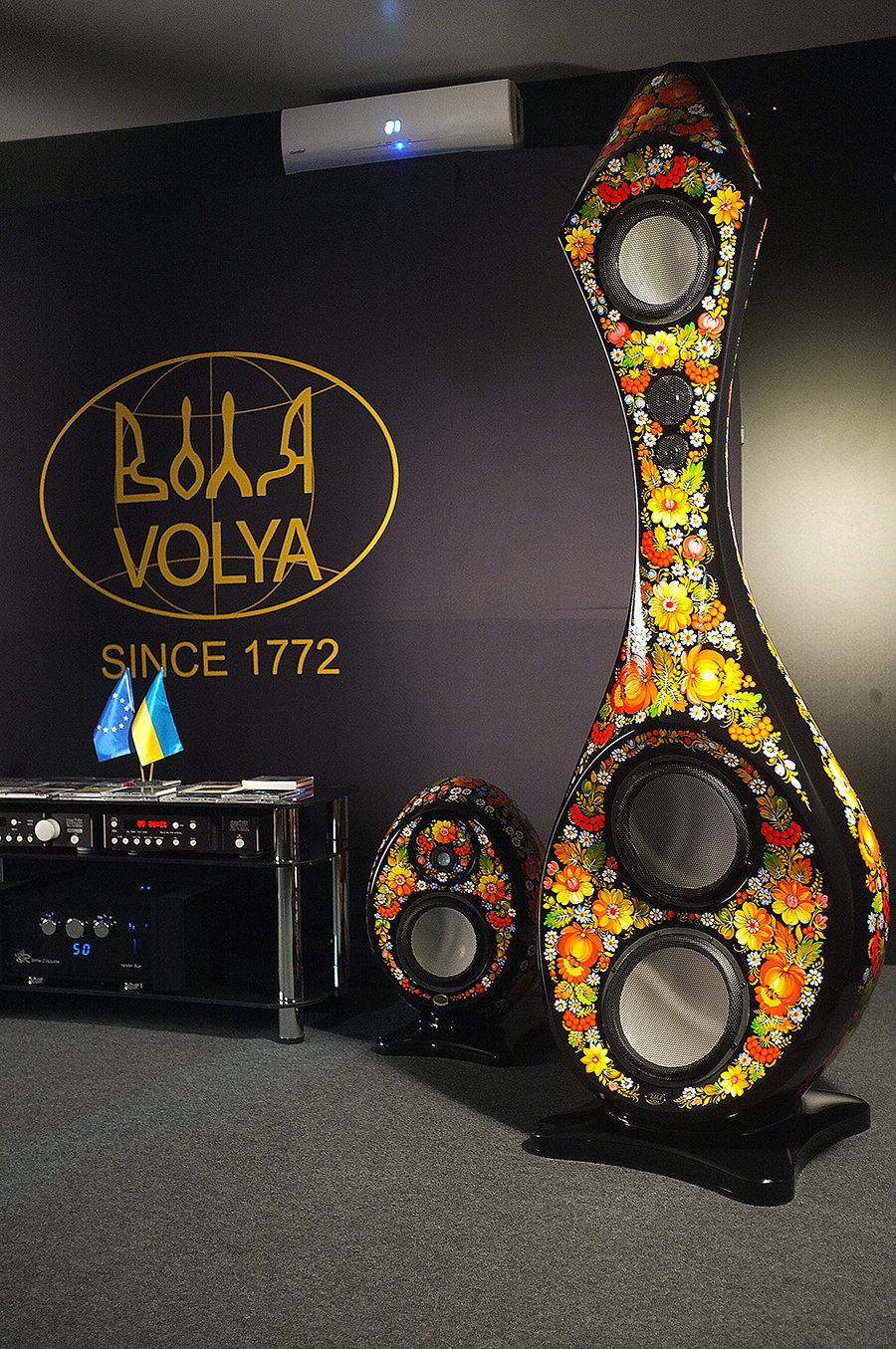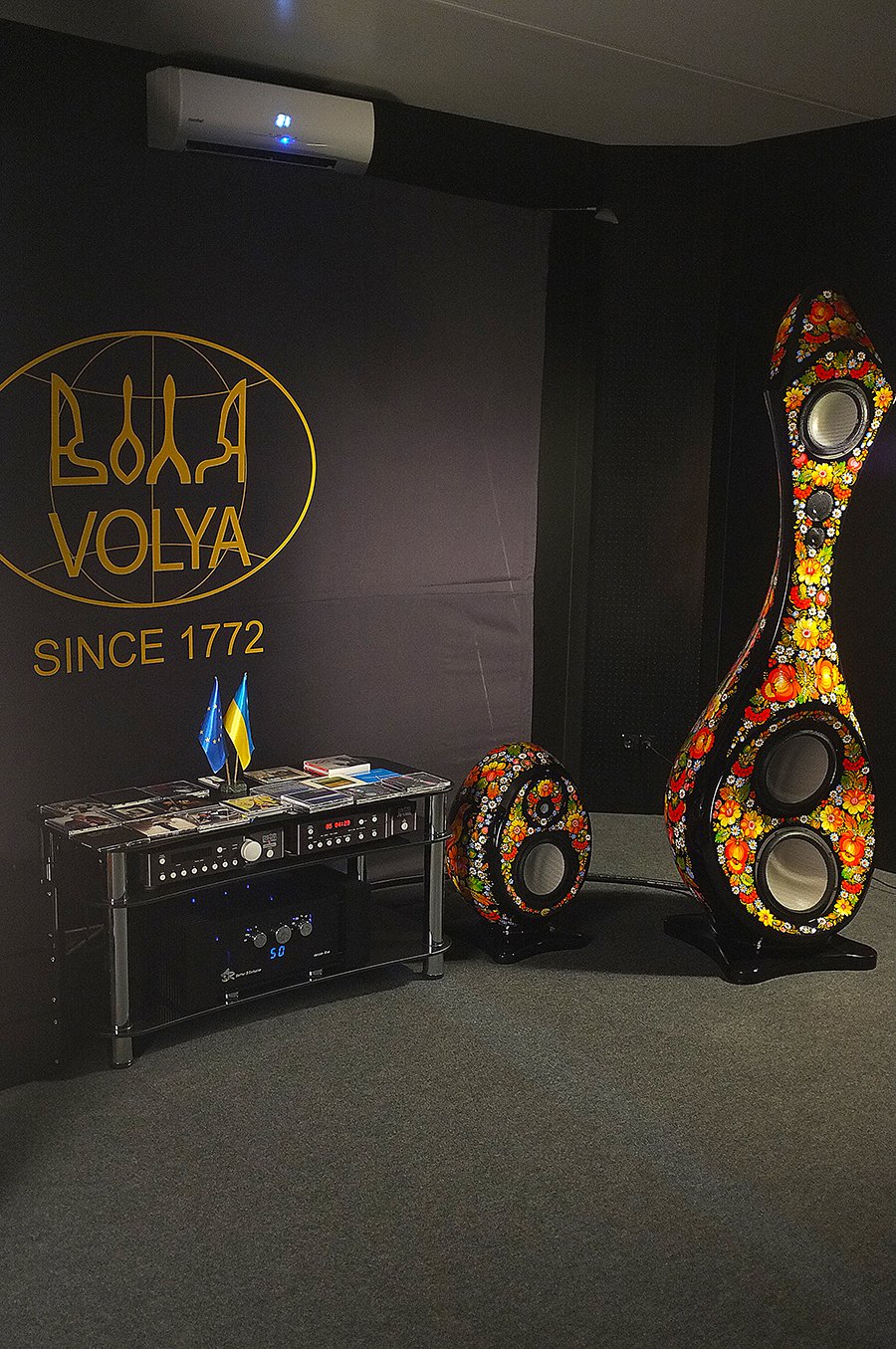 More High End News and reports right here.