Part four of Hifi Pig's coverage of High End Munich 2016 featuring: Neodio, Audio Hungary, Bang And Olufsen, Terrastrato Typ 1 Standard, Estelon, Blumenhofer Acoustics and Cammino, Indiana Line, TW Acustic, Constellation and Martin Logan, TAD, D'Agostino, Wadia, Krell, Audio Research, Meridian, EAT, Sonus Faber
Neodio
I've seen Neodio at lots of shows, but from memory only ever heard them playing music the once which is a shame as they are reported to be very good and my limited experience was certainly positive. Come on guys, less chatter and more music!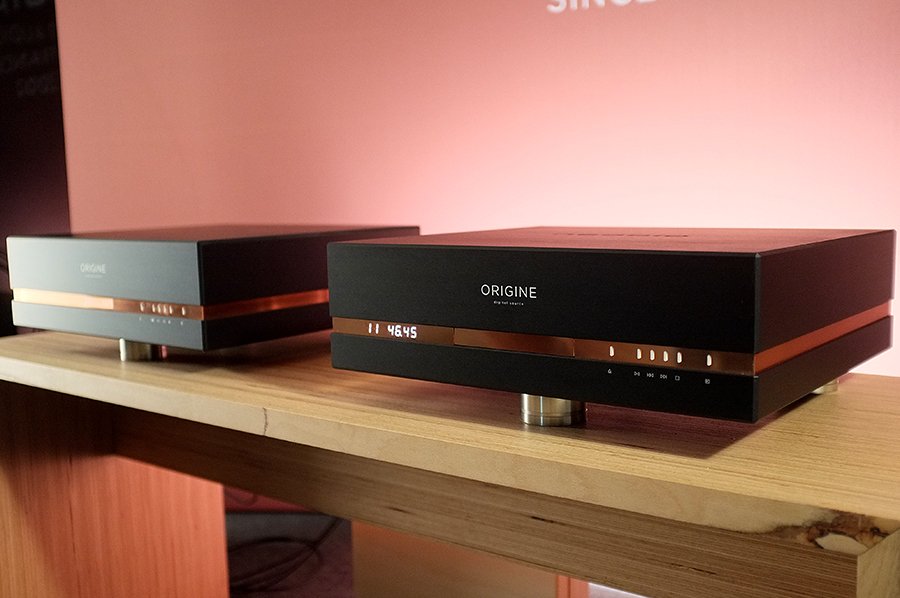 Audio Hungary
New name to me but the Audio Hungary kit looks incredibly well made. The company has two distinct lines with the first being aimed at the mid-end marketplace. This includes a compact, Class A stereo amp, a pair of monoblocks using C33C-V tubes, a phono stage and an MC stage. The second line looks equally stylish in their retro cases but are aimed at those looking for more power. There's also a valve pre in this line.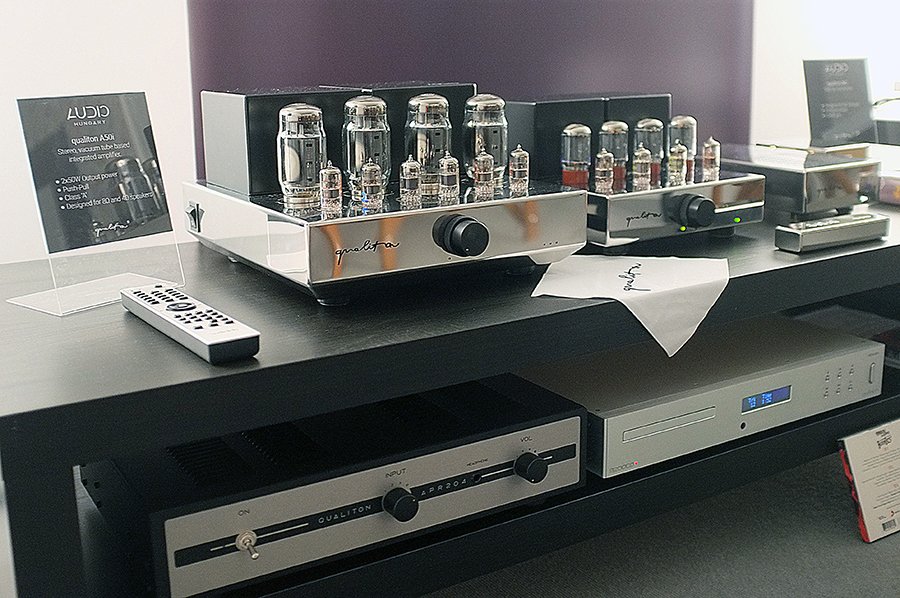 Bang And Olufsen
I was really looking forward to hearing these after running a news item on the Bang and Olufsen Beolab 90s way back in October. The BeoLab 90 celebrates 90years of the company and will cost a whopping £54 000  if reports are correct. They have an eye-watering 8200 watts per speaker (supplied by 14 channels of ICEpower amps….plus another 4 Class D amps) and weigh in at a back-breaking 137 kilos each with the solid aluminium structure accounting for 65 kilos of this. However, on the day and in the room they were in I found the speakers a little lack lustre and definitely lacking in bass heft. They're also a lot smaller than you would imagine.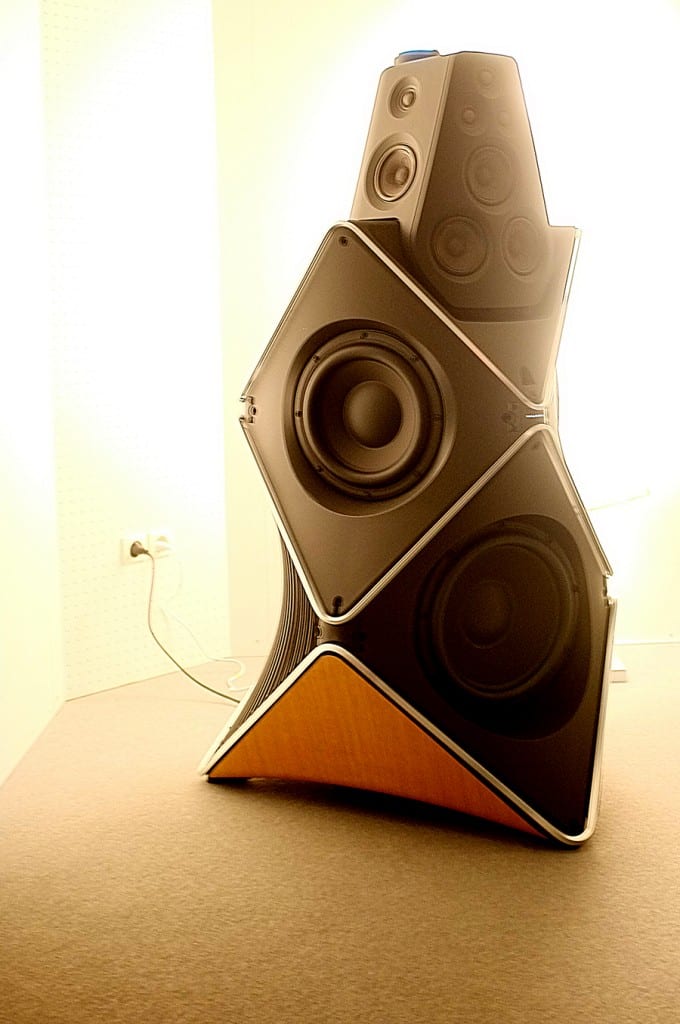 Terrastrato Typ 1 Standard
We didn't get a chance to listen to this as it was a static display but we were drawn to its unusual and distinctive styling. It's single ended triode running in Class A1 with zero global feedback and using 2 x 6F3P, 2x 6M70 and a 6N1P tubes to produce 2 x 25 Watts into 4, 8 or 16 Ohms. Chatting to the designer Andreas Lohse (pictured) he said it was basically two mono amps built into a single chassis using many Burklin parts (he was on the Burklin stand) with everything being hand wired on cotton-phenolic boards. Remote is a wired affair! The designer was a bit cagey when we asked price but hinted it would be "Audio Note territory!"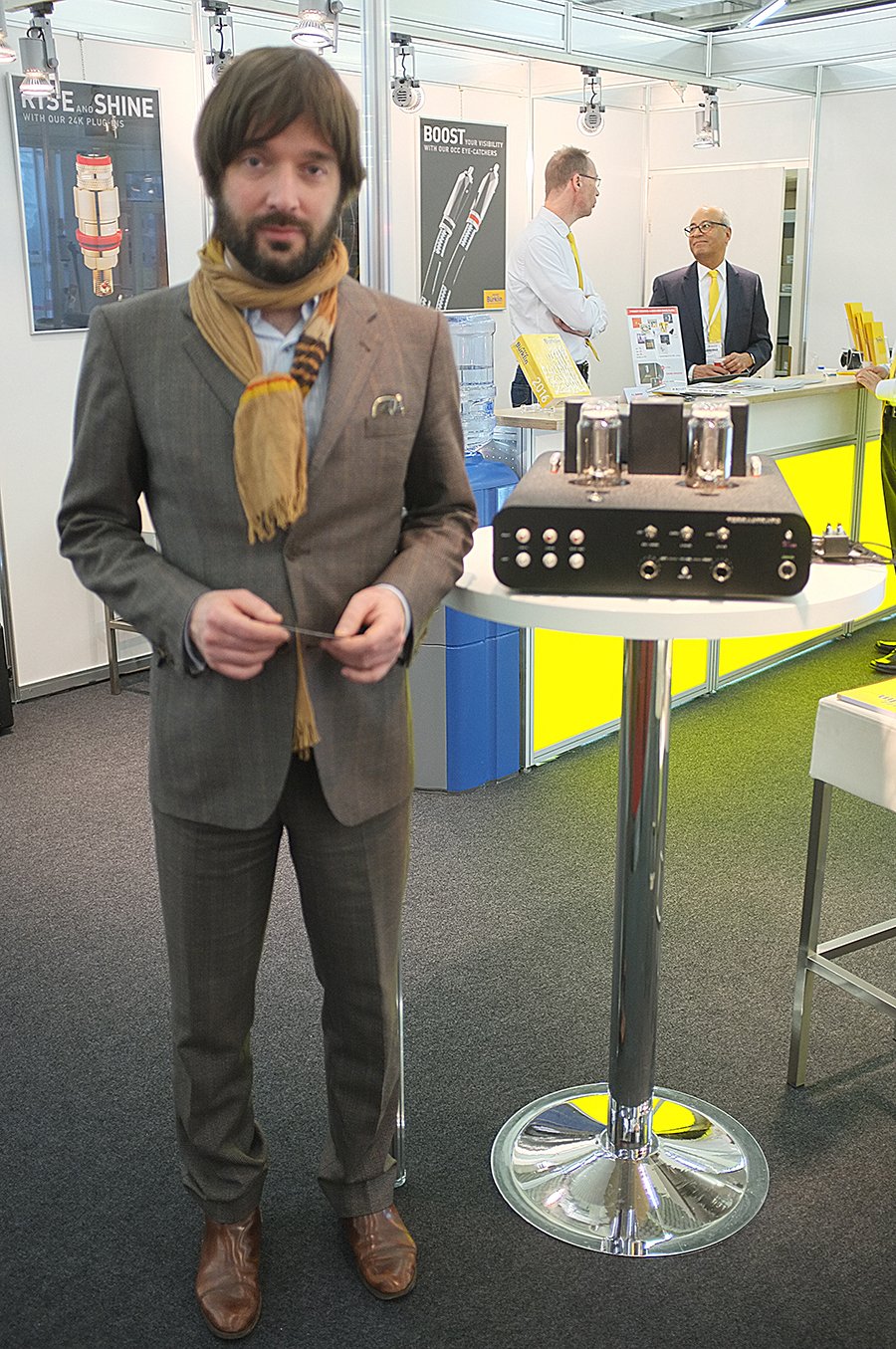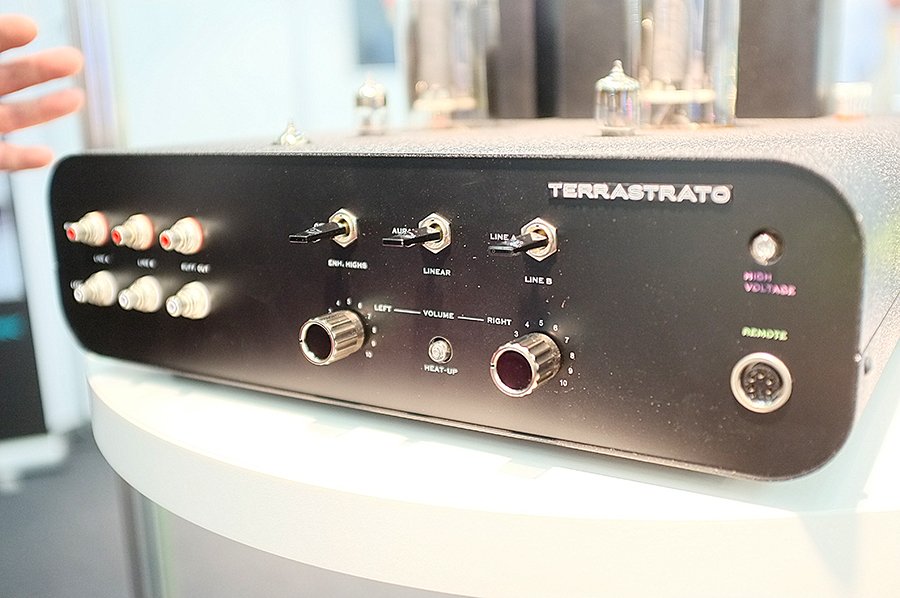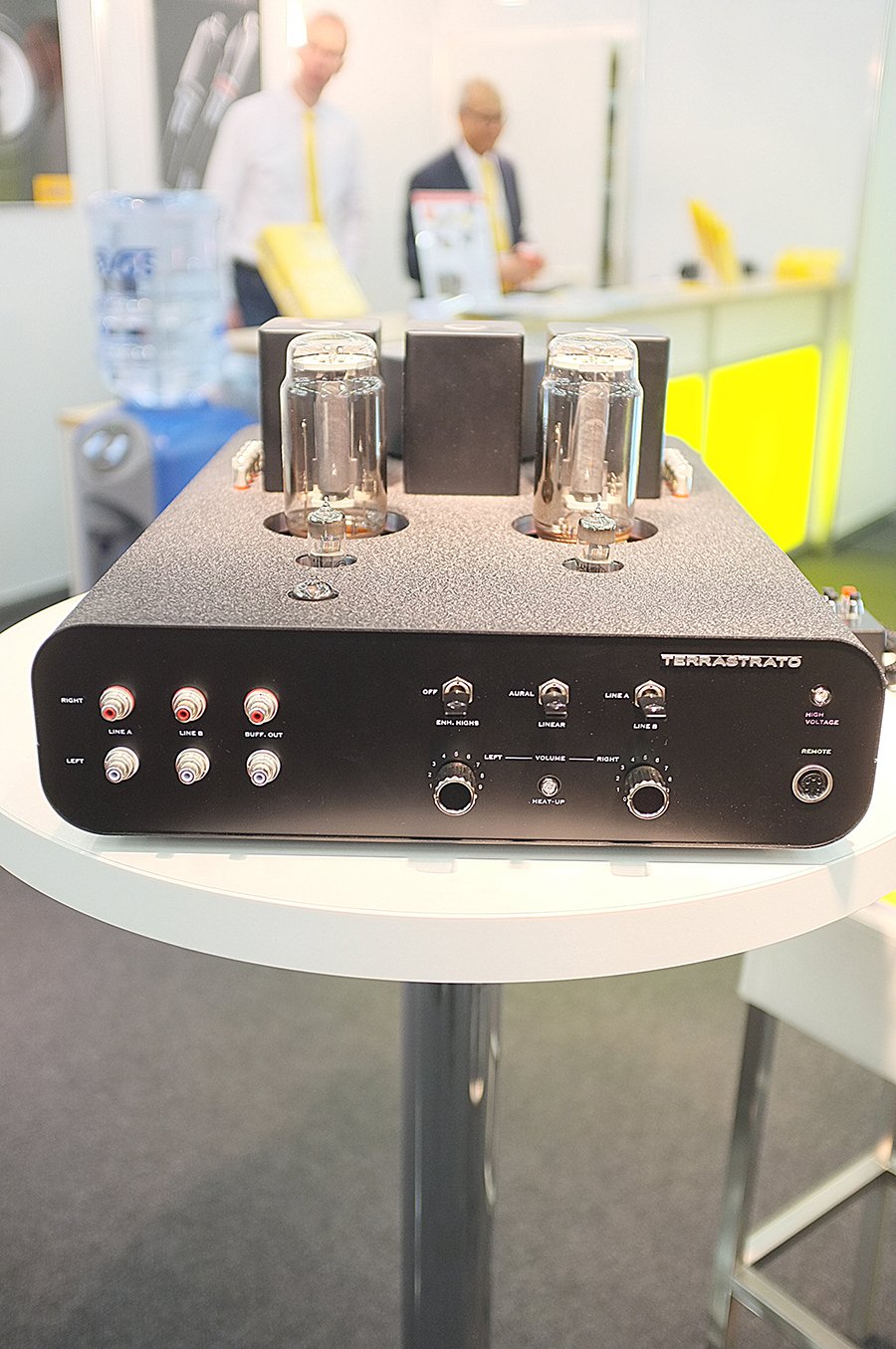 Estelon
Last year Alfred Vassilkov and Estelon introduced the epic extreme loudspeaker at Munich High End. It was a tour-de-force in engineering terms but most definitely extreme and very high-end. This year the Estonian company introduced the YB to visitors to the show and it's a much more low key affair…though still very striking and very good sounding.
The 8" woofer has an aluminium cone and there's a 5.25" mid woofer with a sliced paper cone where the slices are filled with damping glue. The 1" tweeter is a beryllium membrane whilst the internal wiring is all Kubala-Sosna.
Blumenhofer Acoustics and Cammino 
Interesting room this, with most of the gear being placed on trolleys that looked like they had come out of a Victorian mill. The turntable was a Pluto Audio 10A Reference whilst the speakers were Blumenhofer's Genuin FS1-2, a two way model featuring a 1,4" compression driver in a horn and a 16" paper woofer and is ported to the floor. Also in the room were cables by Cammino and a host of "harmonizing" devices.
Indiana Line
Indiana Line are an Italian loudspeaker brand that make no secret of the fact that their loudspeaker range is made in China. They have a huge range from floorstanders to bookshelf speakers with prices that are jaw-droppingly low. They also do a small range of electronics (Puro) which includes an integrated amp, a DAC stereo amp and a CD Player.
TW Acustic
German turntable manufacturer TW Acustic certainly pulled out all the stops with their system. The heart of the system was the company's Raven Black Night turntable playing though their RPS 100 phono stage. Speakers were Cessaro Gamma horns. Power amps were unknown but looked exotic…Kondo perhaps?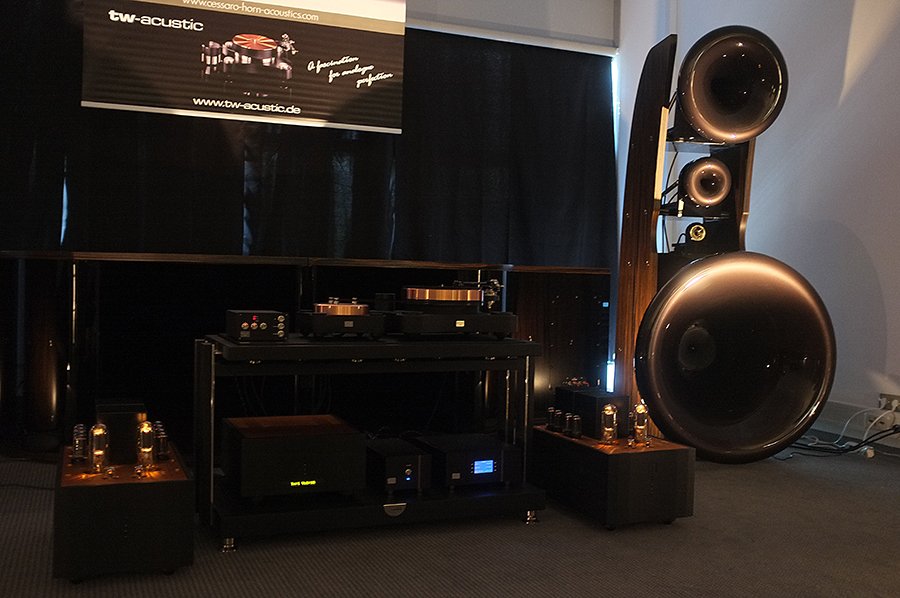 Constellation and Martin Logan
I thoroughly enjoyed the Constellation and Martin Logan at last year's high-end show and wanted to have the opportunity to spend a little more time in there this year. We walked into the room and did as we always do – find a place to listen inconspicuously. We wee then spotted and invited to take a seat which was rather nice and to choose the music…which was even better. This system rocks! Dynamic and up front sound that is nimble and delicate when it needs to be.
Amps were the Hercules II monos with their Altair II line stage. Also on the rack were the Perseus phono preamplifier and the Cygnus Digital file player and DAC. The Martin Logan Neoliths are a big speaker in every sense of the word and played brilliantly to this system's strengths.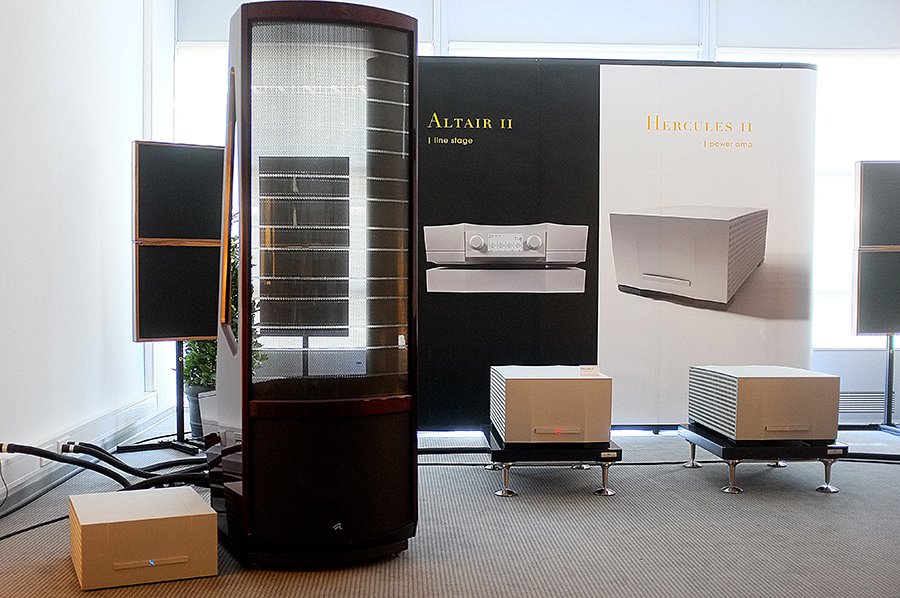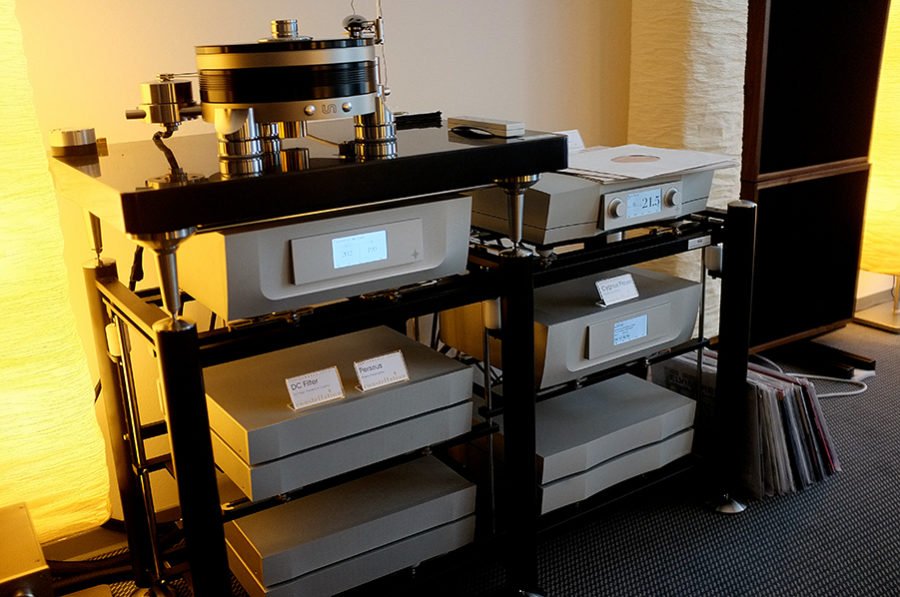 TAD
The TAD room at whatever show you go to is always absolutely rammed and Munich High End was no exception.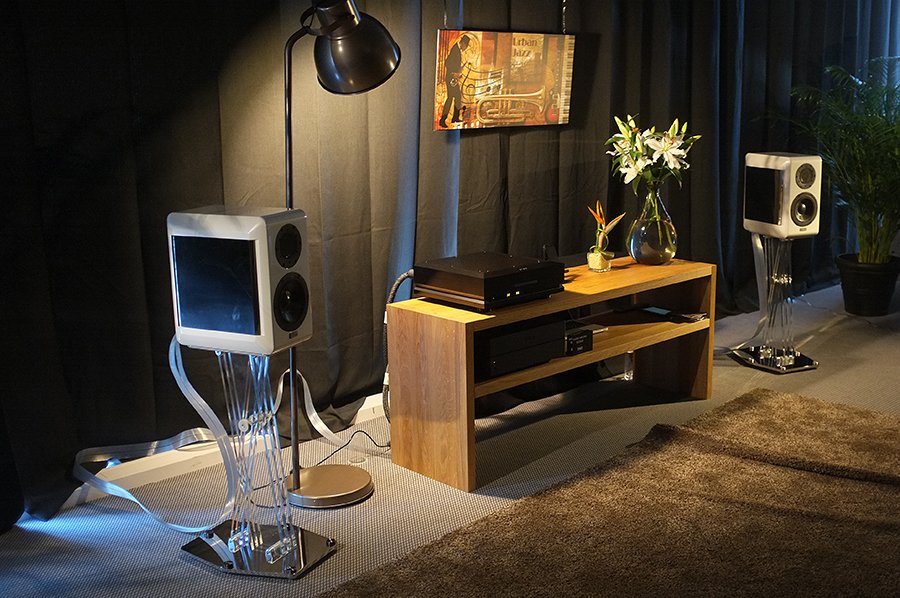 Audio Reference (D'Agostino, Wadia, Krell, Audio Research, Meridian, EAT, Sonus Faber)
Audio Reference is a German distributor based in Hamburg and they always have the same huge corner room at High End Munich. Their room is a veritable Aladdin's cave of high-end treasure including: D'Agostino, Wadia, Krell, Audio Research, Meridian, EAT, Sonus Faber…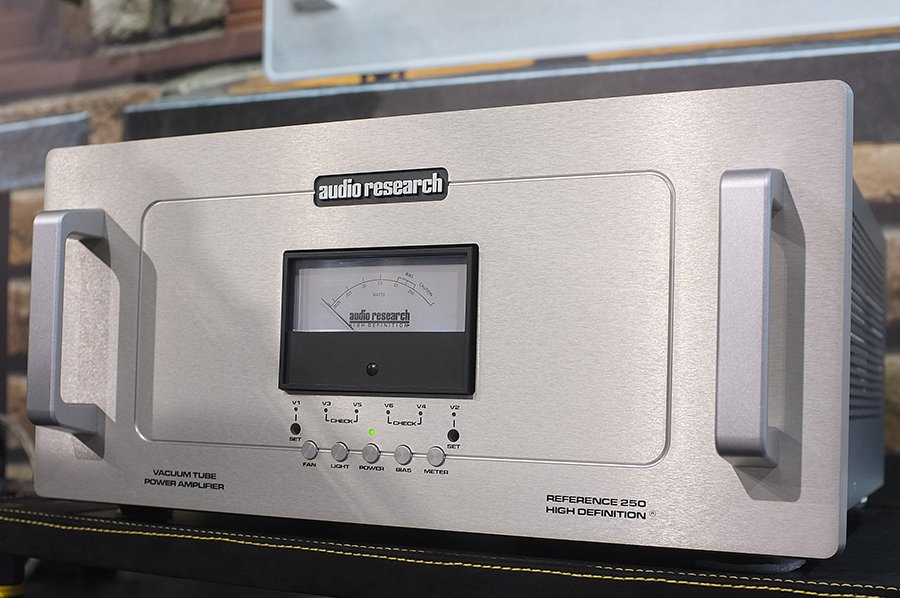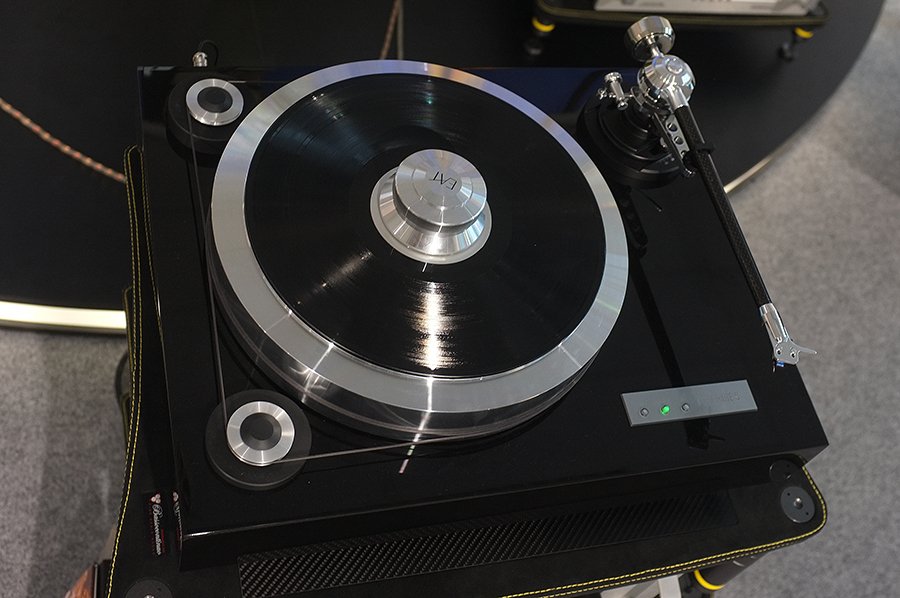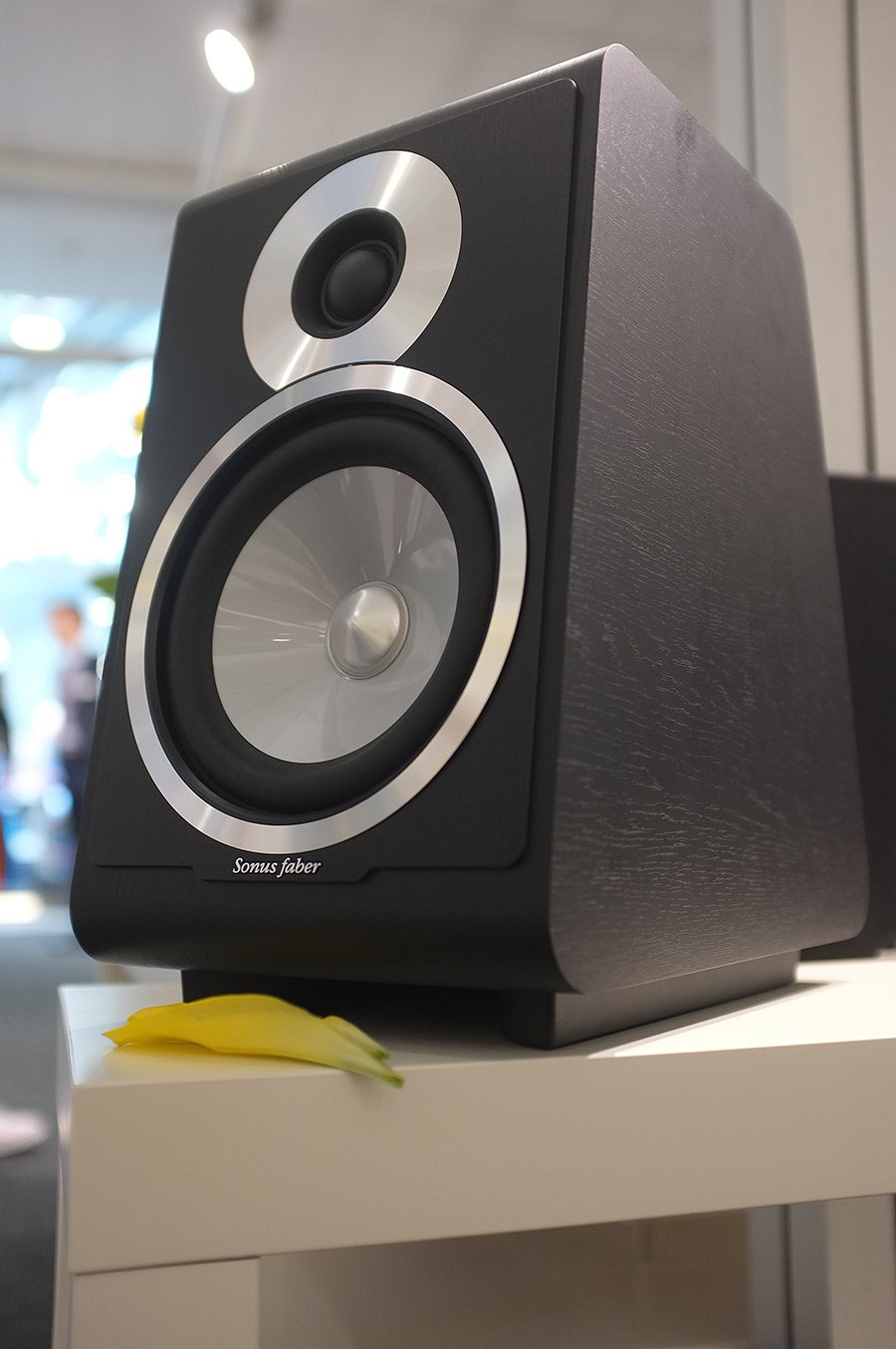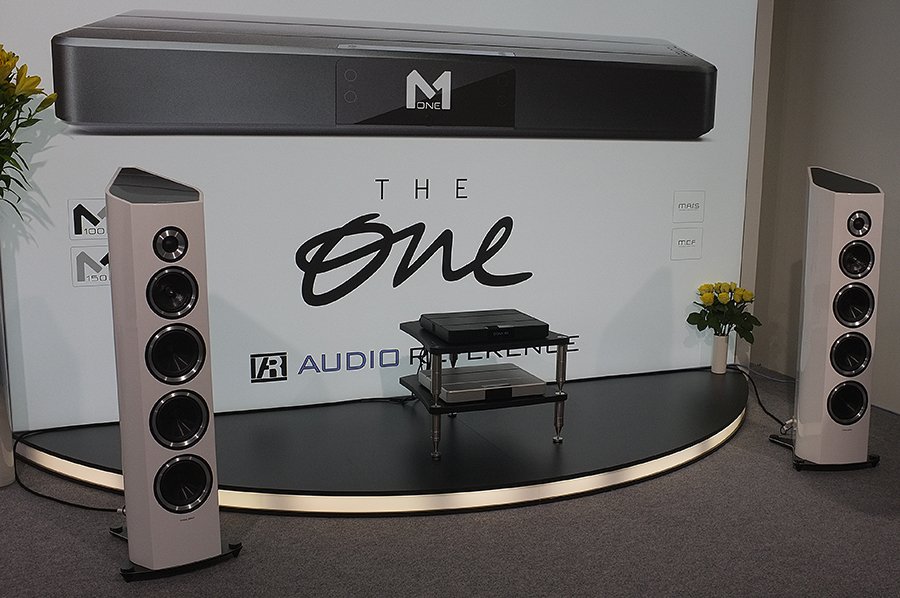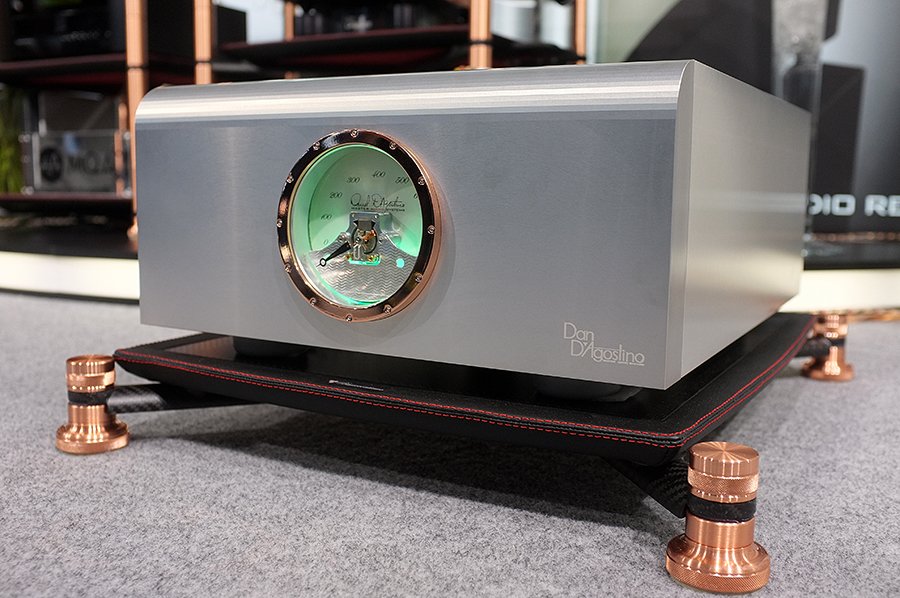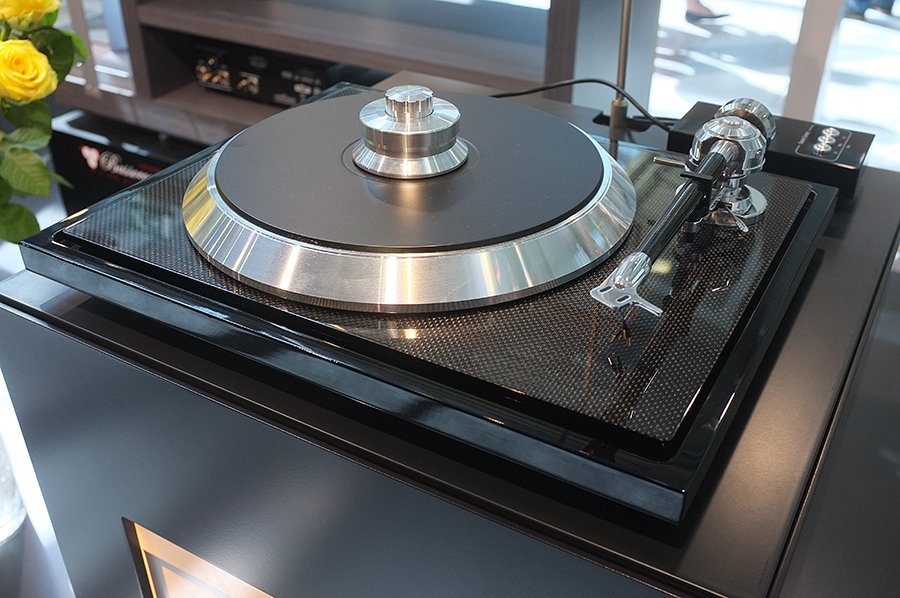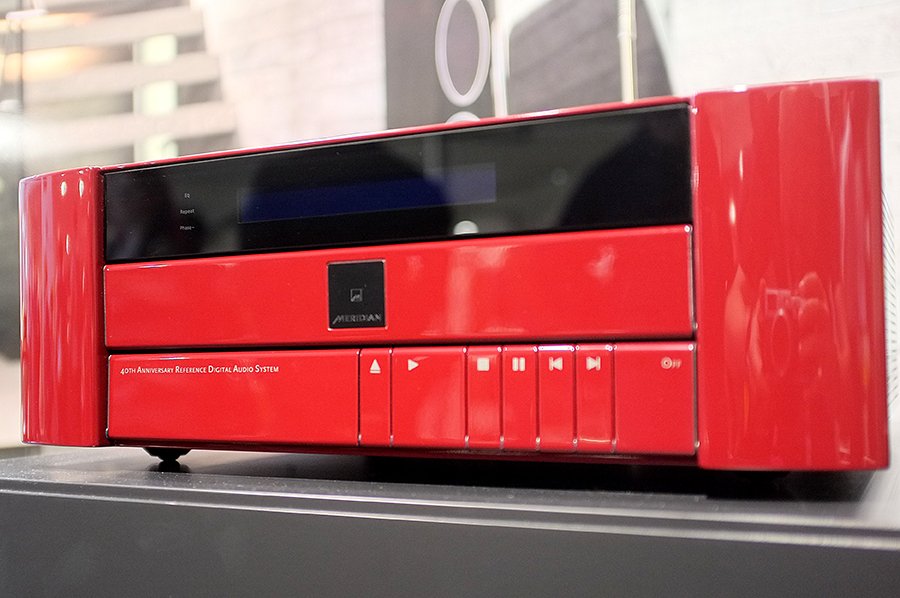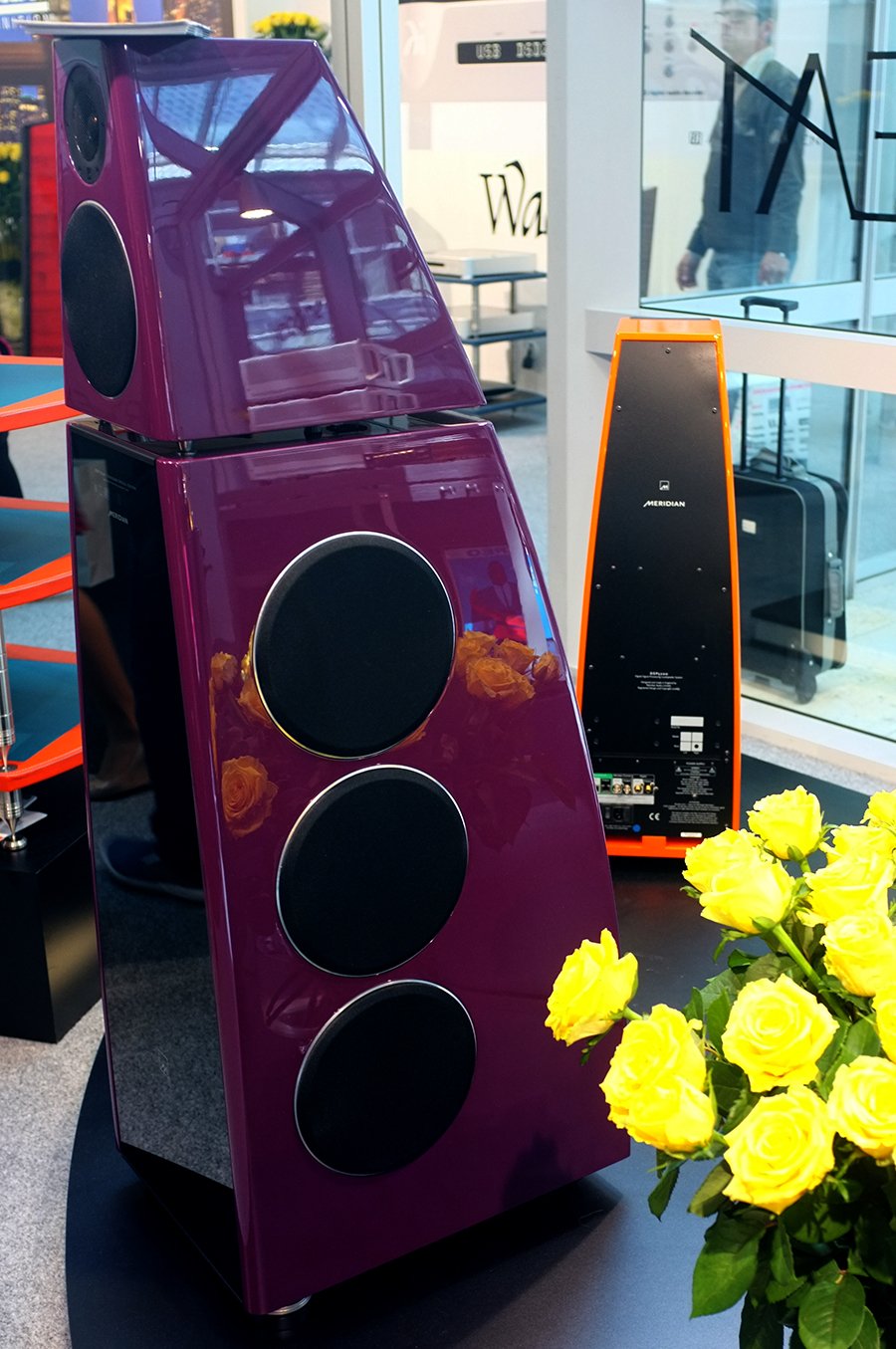 More High End News and reports right here.