Part five of Hifi Pig's coverage of High End Munich 2016 featuring: Innuos and Leema, Telos Audio Design, Geometric Harmony, Audium & Atoll, Moon By Simaudio, Naim and Focal, Audioquest, Graham Audio, Genelec, Ear Yoshino Tim De Paravicini, Absolare and Rockport Technologies, Van den Hul, Heco
Innuos and Leema
Innuos are a relatively new company that make a series of Music servers.
The Zen play is for those who already have their music digitally stored and it will hold 5000 Cds or 1250 hi rez albums. You can connect to the likes of Sonos or other UPnP streamers or connect it directly to your DAC. You can link to your smartphone and it will connect to internet streaming services. There is a larger version called the Zen Play XL that increases storage capacity.
The Innuos Zen Mini has a CD slot for automatic ripping of your CD collection and you can use it to store your existing digital files too. The Zen Mini will support files for 32bit/384 and DSD 256, gapless playback, bit perfect output via USB. The Zen and Zen XL are similar in function to the Mini but have larger capacity storage.
Innuos also launched their Zen Mk 2 at High End and partnered it with Welsh company Leema Acoustics' Libra and Hydra II. Hydra II is a bridgeable stereo amp that ca be used in a whole number of "modes" for great flexibility. Libra is the company's top end DAC dealing with DSD up to 128, DXD and 384 kHz files via USB as well as having SPDIF (coax and optical) and AES/EBU inputs. Full balanced operation is offered too and it offers loads of other features too.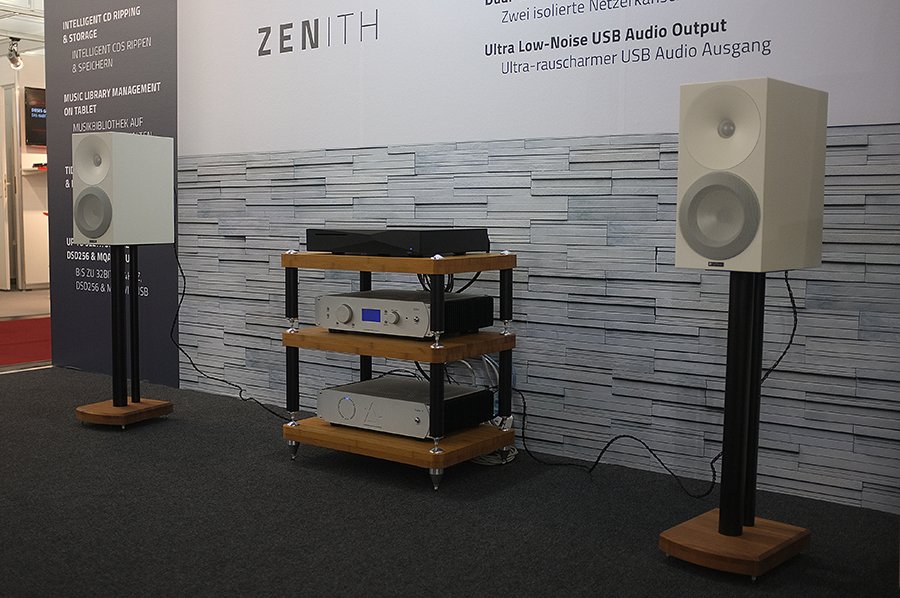 Telos Audio Design
Formed in Taiwan in 2006 Telos Audio Design makes lots of products including fuses, stickers and lots of things with "quantum" in the title. This Quantum Resonator Condtioner caught our eye, though we have no idea of what it is supposed to do. It was quite pricey though!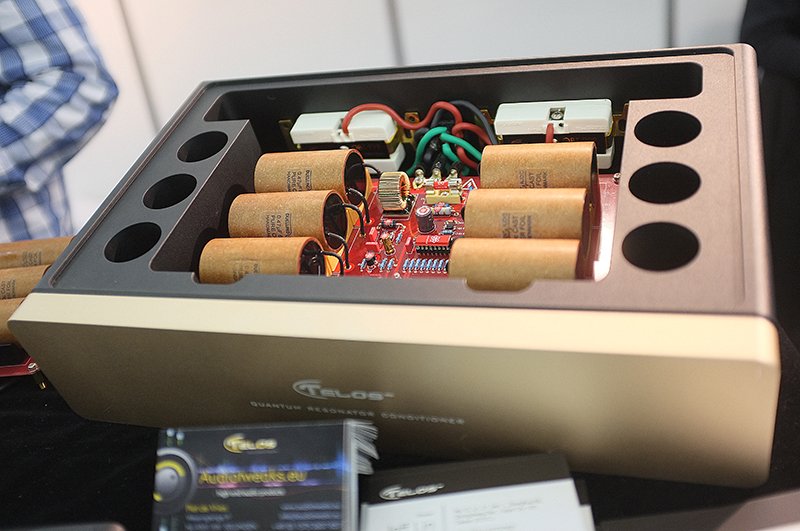 Geometric Harmony
Most of the speakers on this Greek company's stand looked pretty outlandish and interesting but they do make more conventional looking loudspeakers. The most conventional of these two here are the T Line Towers which are a transmission line with a 6.5" mid-woofer and a 1/2 " soft dome tweeter. Claimed frequency response is 35Hz to 22kHz. The less conventional of the to is also from the company's T Line series of speakers and is called The Congas. It too is a transmission line designed to be floorstanding, go on a bookshelf or on the ceiling. It has a 5.5" full range driver.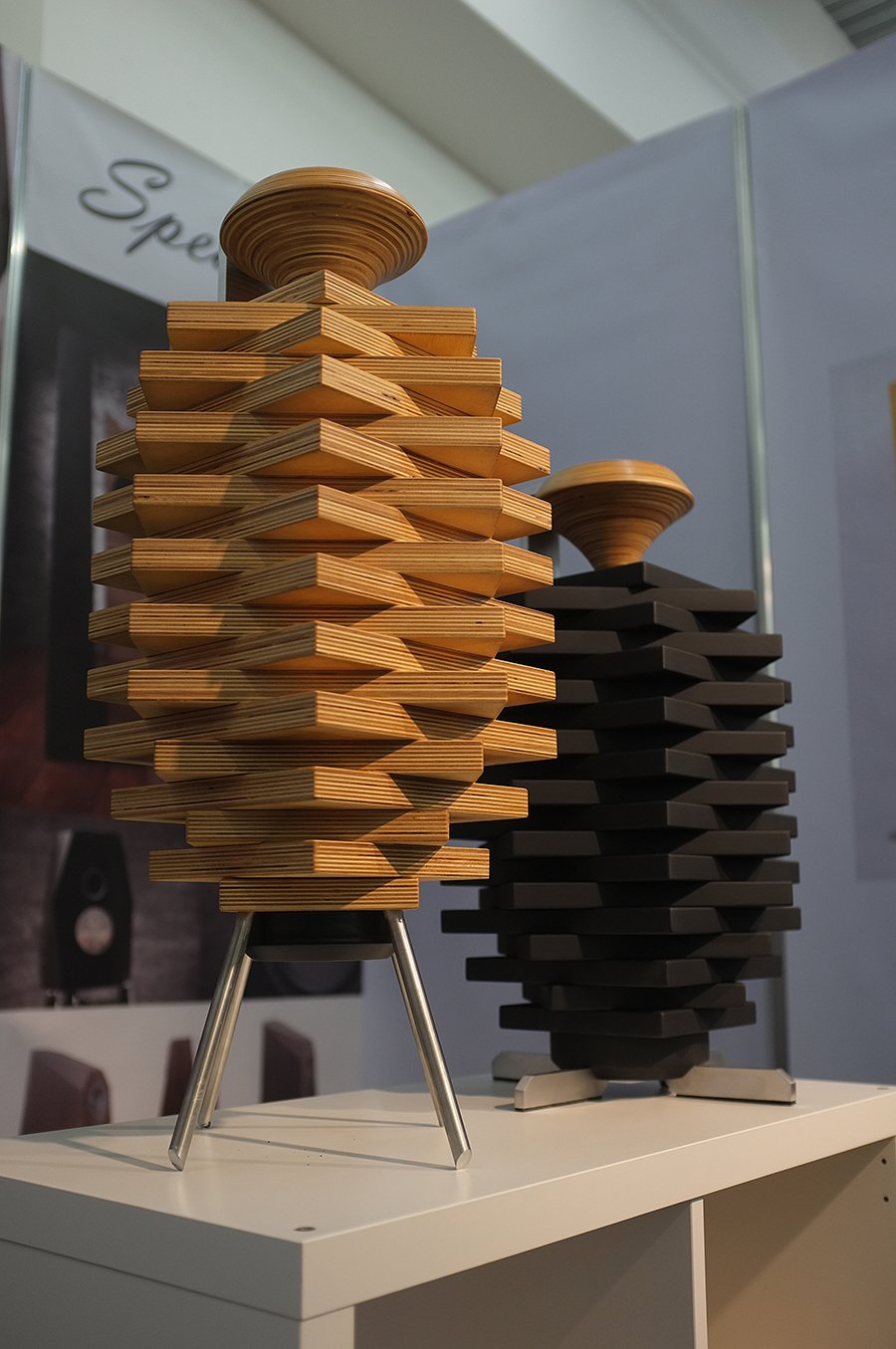 Audium & Atoll
Audium had loads of stuff on display but this compact little system using Atoll electronics caught our eye.
Moon By Simaudio
Nice cool room with an unhurried feel to it. The photograph is of the 340i Neo-class Integrated amplifier which has the flexibility of options that you can add when you buy it (nifty) such as a DAC or a MC/MM phono stage.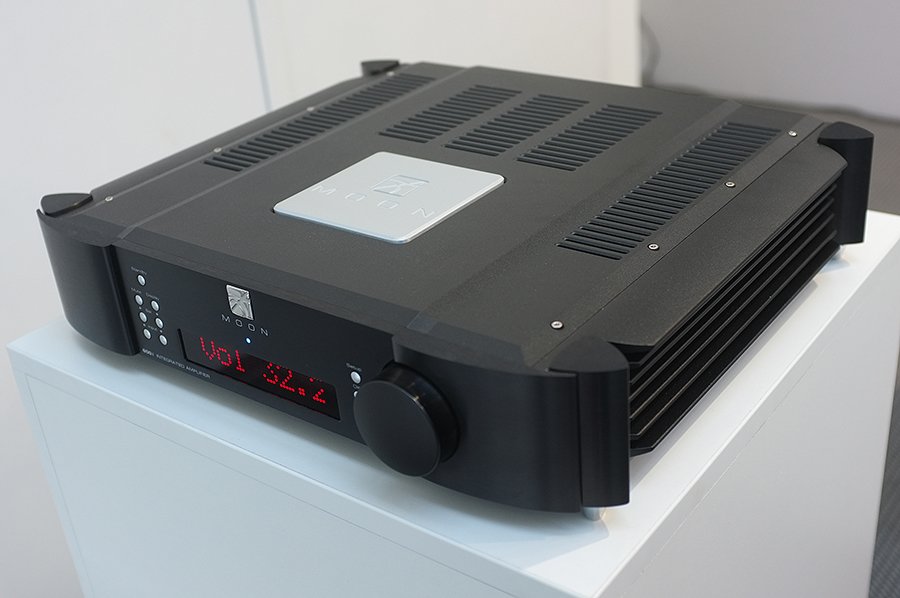 Naim and Focal
Sadly we missed the press conference this year but we just had to go a long and have a look at the Naim and Focal room which was buzzing as it always is.
Naim Uniti All In One player which sits in the centre of the Uniti range is a streamer, amp, headphone amp and ripper all in one nice looking unit.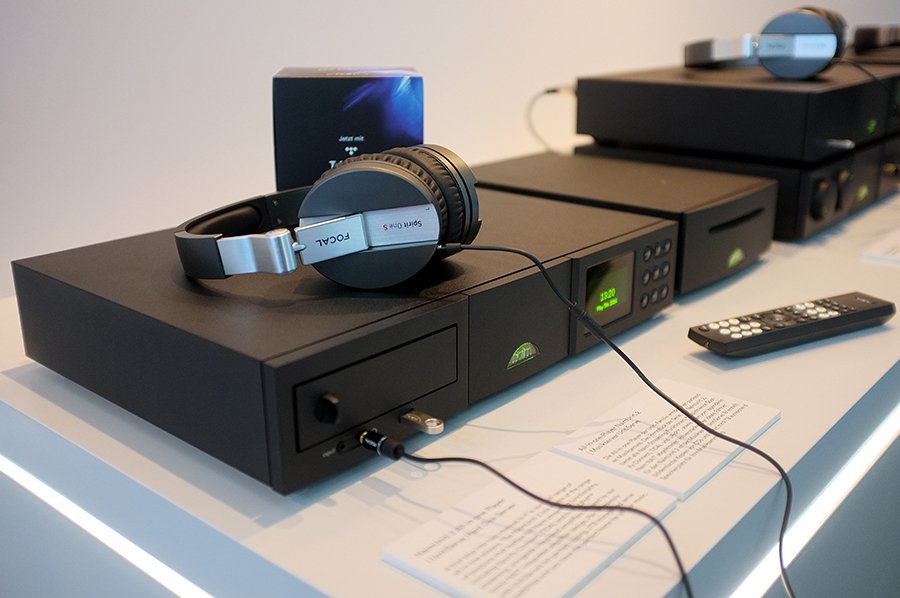 The Focal Sopra was introduced last year and sounded great at the press conference and still looks absolutely beautiful.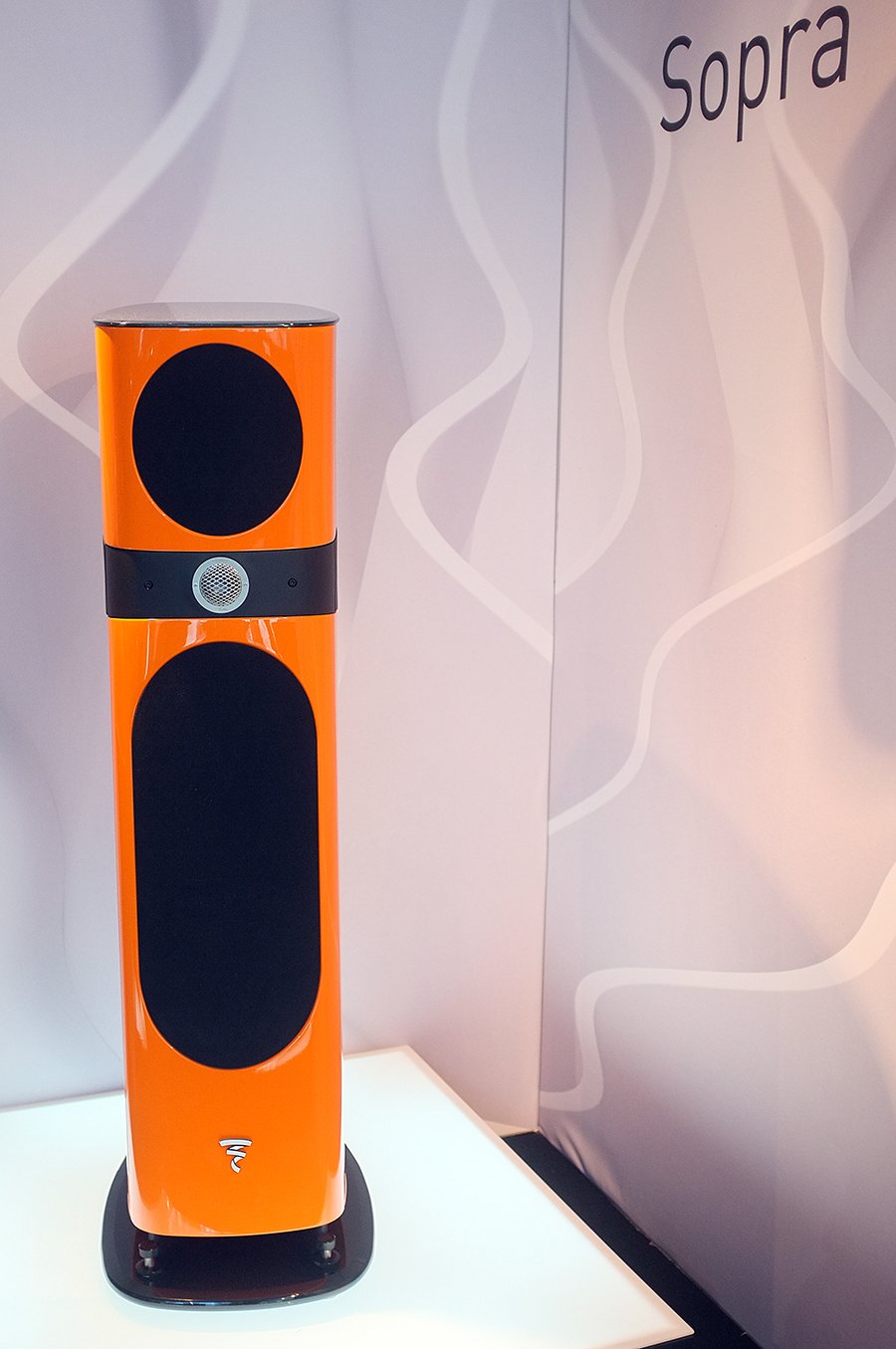 The Utopias are the pinnacle of what Focal do and no coverage of their room would be complete without just one sneaky picture of the gargantuan beast.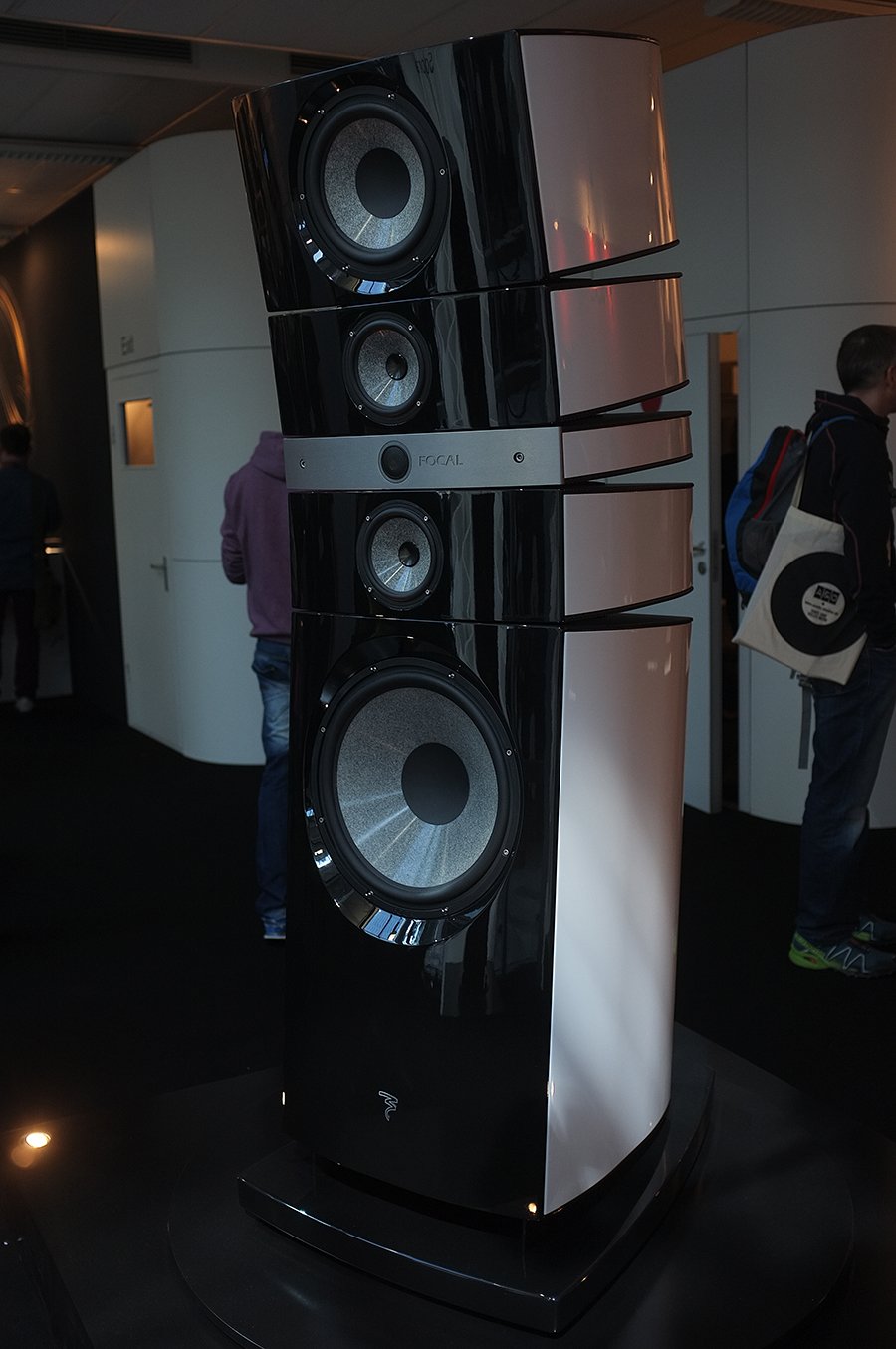 Audioquest
Another room that is invariably rammed at whatever show they are at is Audioquest. Stars of this years show for the company was the Dragonfly Red and Dragonfly Black USB DACs that will work with Apple and Android™ phones!
AudioQuest worked alongside Microchip Technology to develop a new high-performance, full-speed USB microcontroller (a DAC's input processor) that delivers improved signal-to-noise ratio and significantly lower power consumption. Drawing 77% less current than the DragonFly v1.2's microcontroller, the new Microchip  MX microcontroller enables compatibility with Apple and Android smartphones and tablets. For use with Apple iOS devices, Apple's Lightning-to-USB Camera Adaptor is required; for use with Android devices, a Made for Android (OTG) adaptor, such as our DragonTail USB Adaptor For Android Devices, is required.
The new DragonFly models also incorporate improved 32-bit ESS Sabre DAC chips—the 9010 in Black and the higher-performance 9016 in Red—both of which  employ  minimum-phase  filtering. While DragonFly Black uses the same high-quality headphone amp and analogue volume control found in the DragonFly  1.2, DragonFly Red includes the latest ESS headphone amp and a bit-perfect digital volume control that resides on the  9016 DAC chip itself.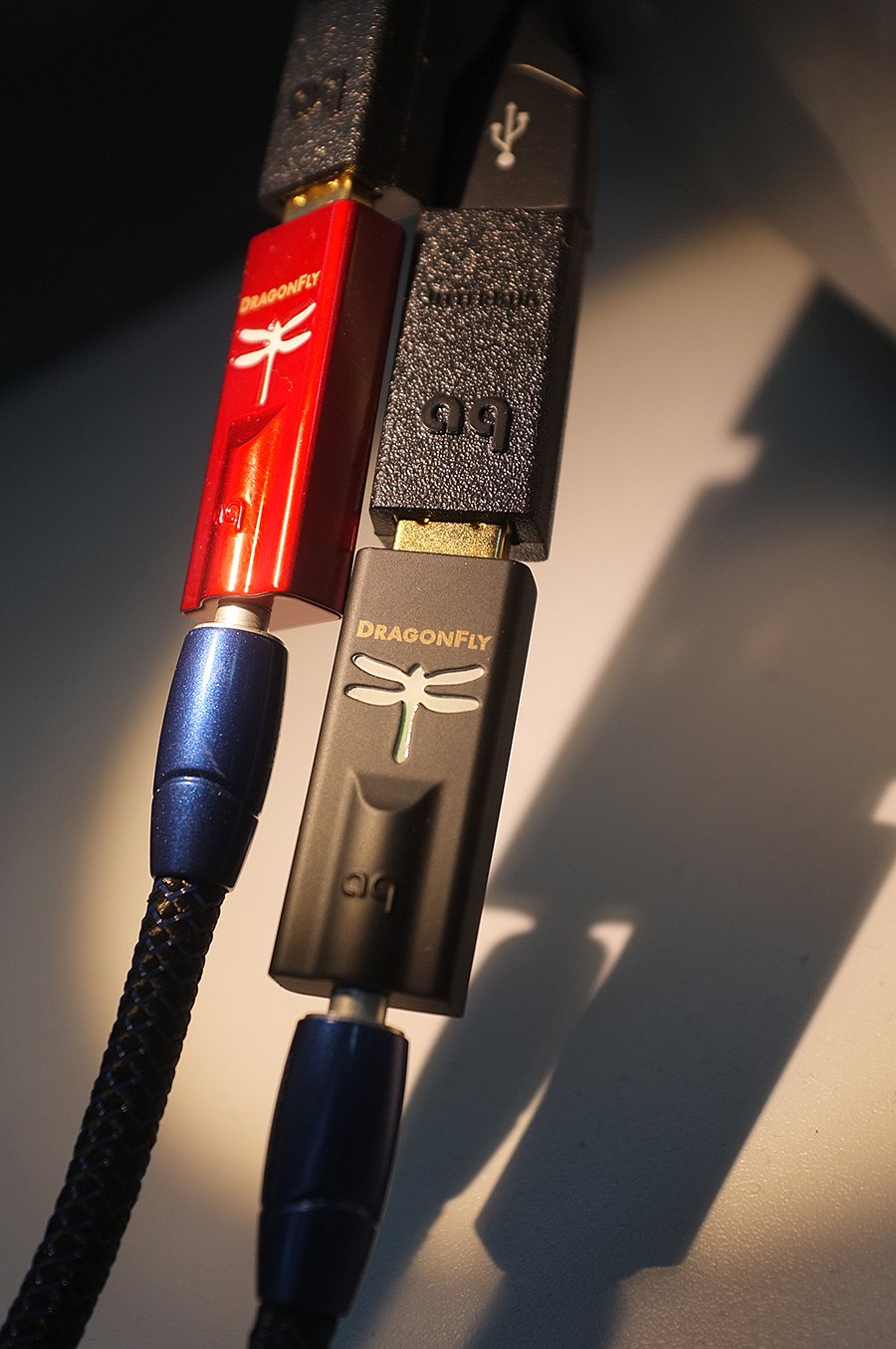 Graham Audio
Another UK based company making BBC licensed loudspeakers is Graham Audio. Their display was particularly patriotic as you can see with their LS5/9 speaker adorned in the Union Jack.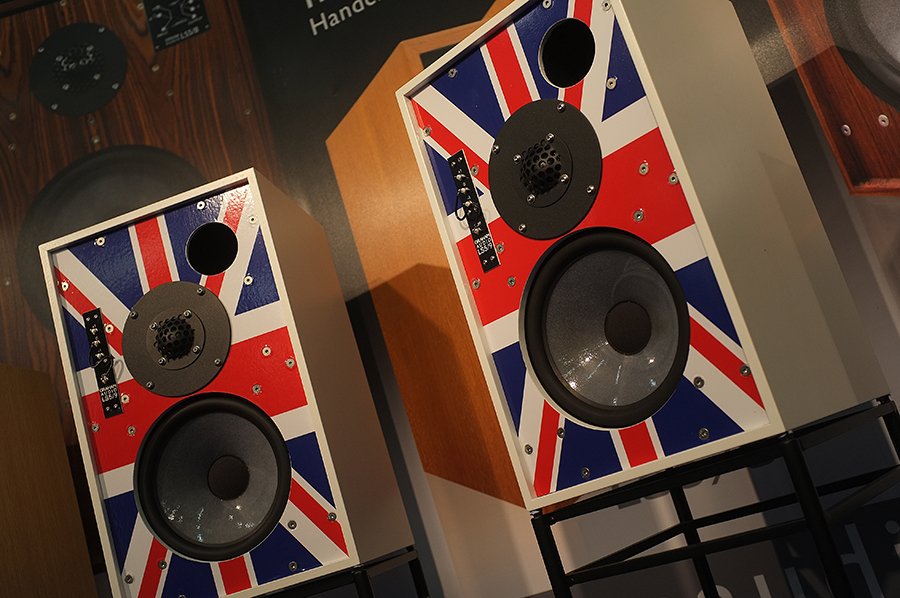 Genelec
If you've ever spent time in a recording studio then you'll know the name Genelec but for a few years now they have been making good headway into the home audio market. They do have a series of speakers specifically for the home market but it appears that the model on dem here is the 1234A SAM™ Studio Monitor.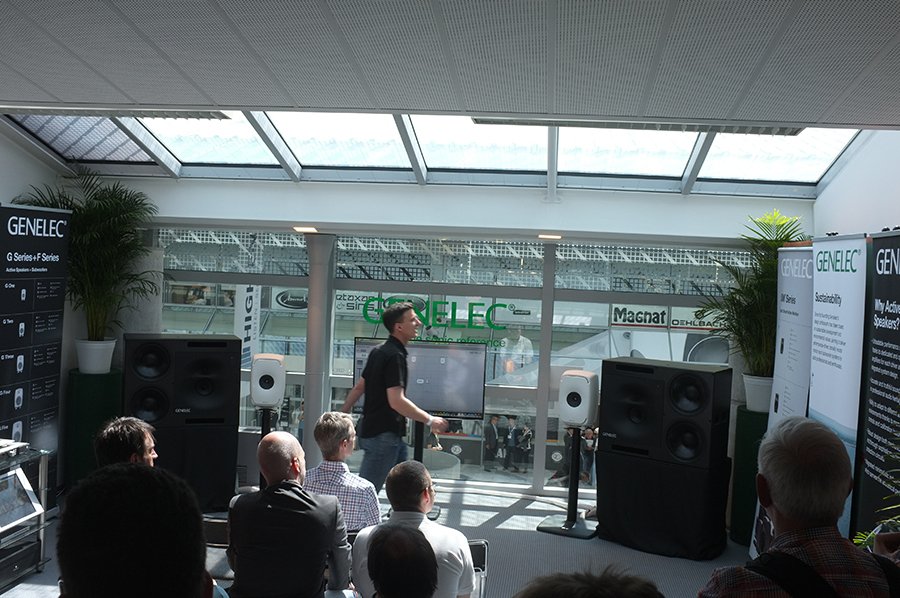 Ear Yoshino Tim De Paravicini
This was a great sounding room. The reel to reel looks like a Denon DH-710F but we suspect it had been heavily modified by Tim De Paravicini. The speakers are Rockport Technologies Atria and the turntable is the EAR Disc Master. The preamp is the EAR 912 which uses five PCC88 valves with two being for the line level stage and three for the phonostage. It uses six output transformers and allows connection of four line, two balanced and two phono inputs and two line and two balanced outputs. Amps in use appear to be EAR 509s.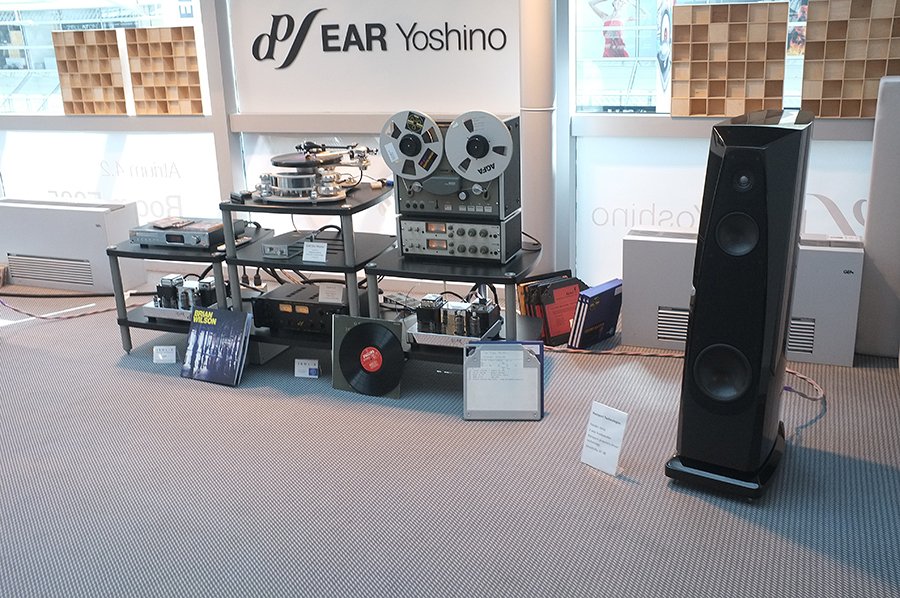 Absolare and Rockport Technologies
Absolare were showing off their new integrated amp that uses a tube in put stage matched with a solid state output and with the Rockport Technologies Altair loudspeakers and the Kronos Pro turntable it made for an absolutely stunning sound.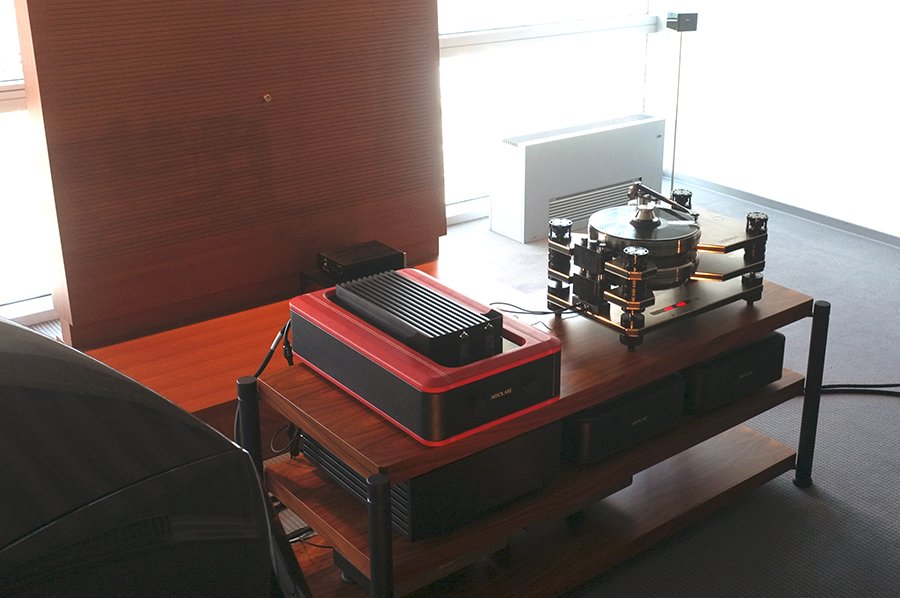 Van den Hul
When you think of Van den Hul your mind would naturally turn to cables. However, the company also do a nice range of electronics including The Excalibur mono power amplifiers you see here and which were making their debut. They are feeding a pair of Diapason Dynamis loudspeakers from Italy. A clever twist on a common theme in this room was the "We demonstrate with van den Hul electronics" cards in the room.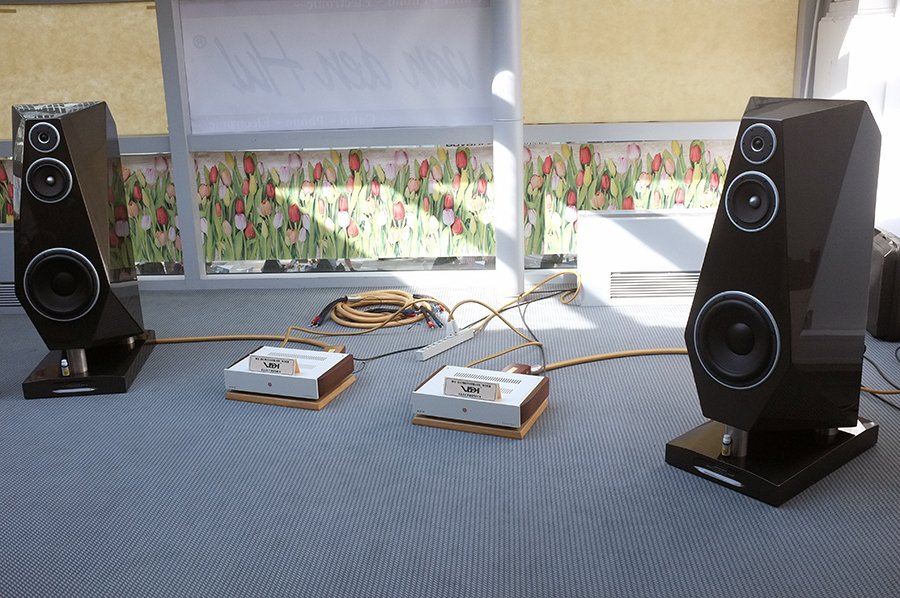 Heco
Heco have been making loudspeakers in Germany since 1949 and their brand is causing a bit of a stir in the UK at the moment. The smaller speaker in white is the Heco Direkt, a two way bass reflex design using a 275mm bass/mid driver and 30mm tweeter but sadly this wasn't playing on the day. What was playing was a bigger three way version but the name is unknown. Nice sounding room.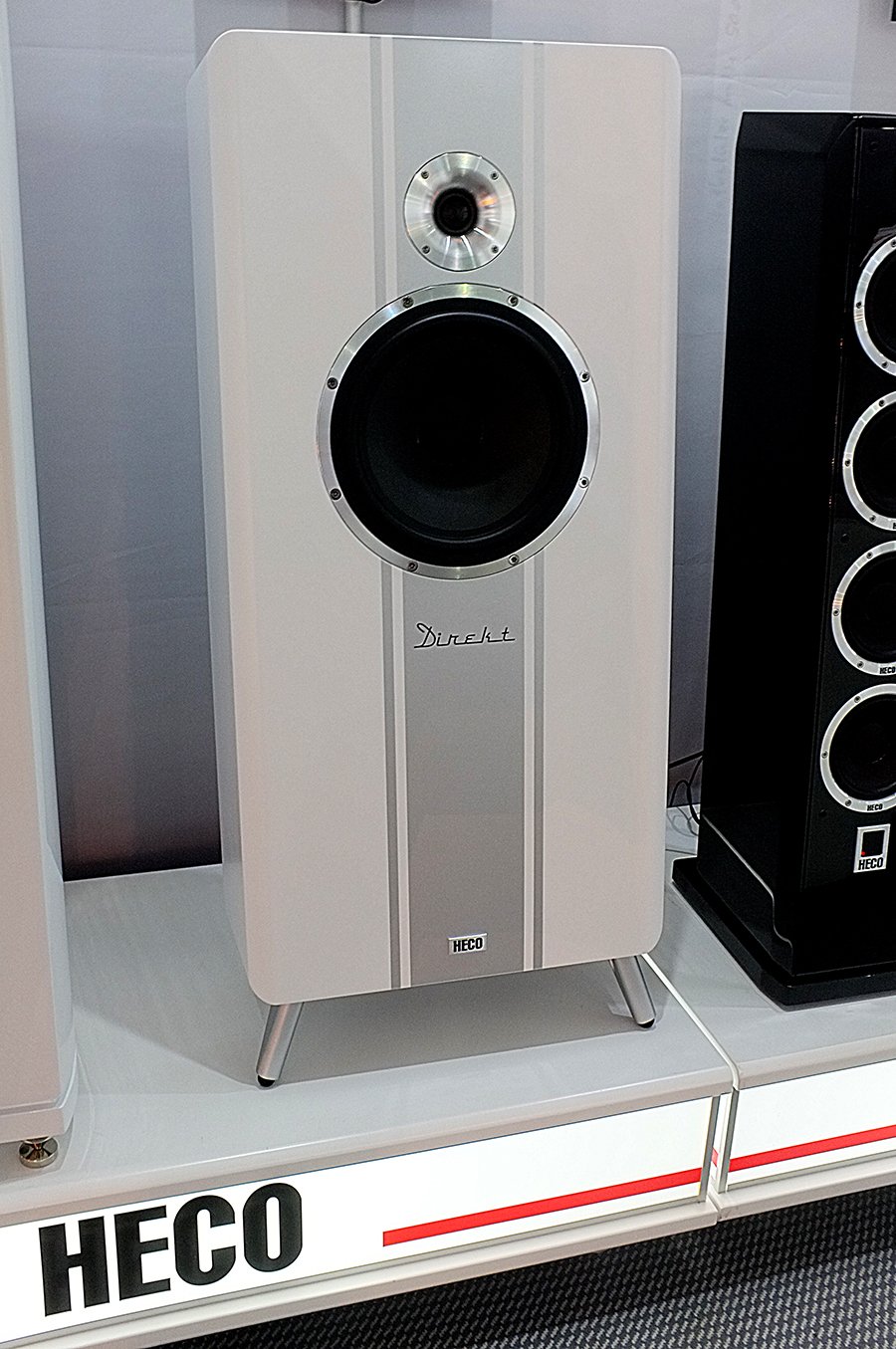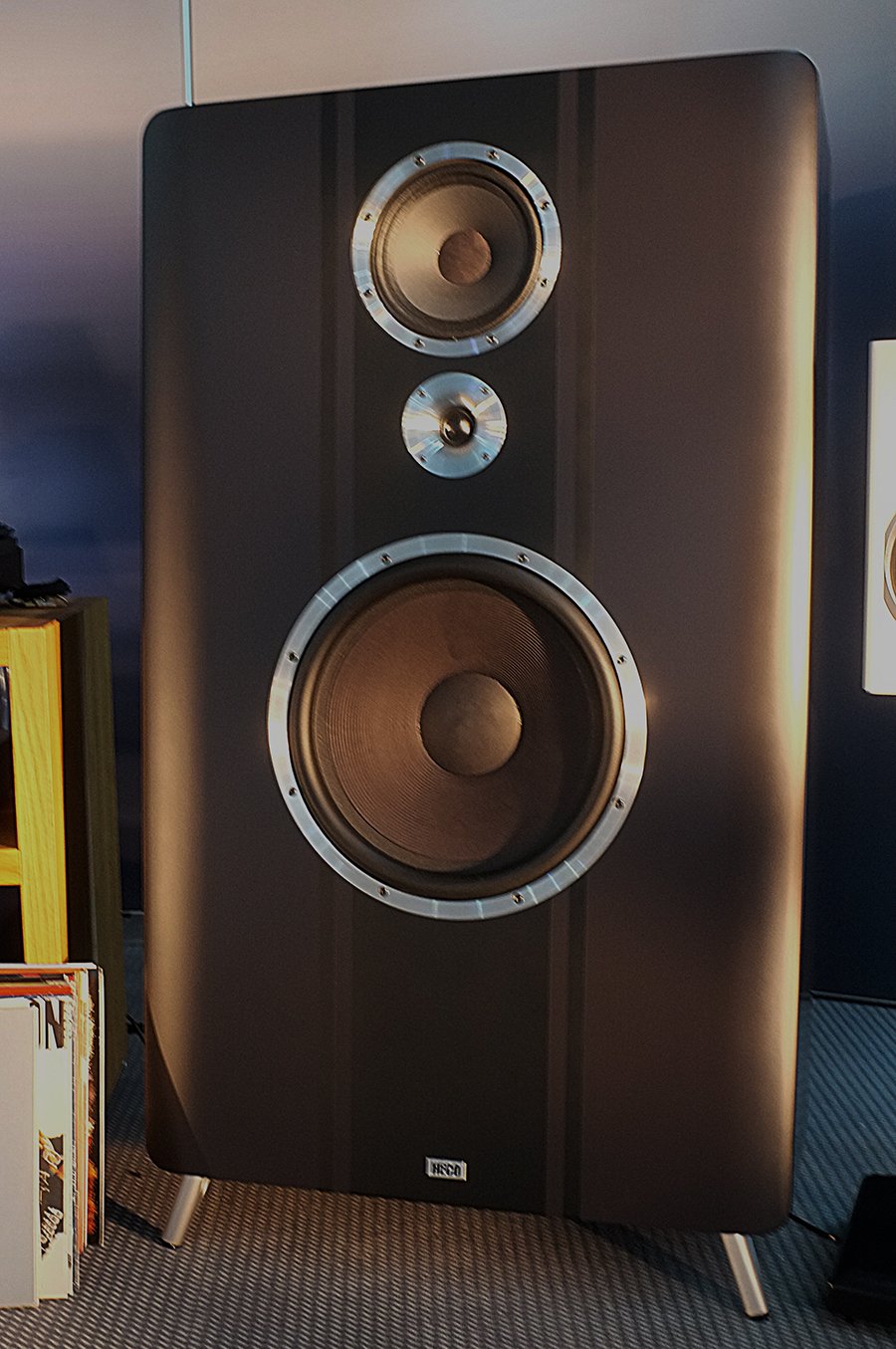 More High End News and reports right here.