Chord, Cabasse, Octave, Brodmann, Hifi Racks & Cyrus, Leedh & Swissonor, Hornfabrik, Absolare, Backes and Muller, German Physiks, Estelon
CHORD
I'd been looking forward to hearing Chord at this year's Munich High End and I wasn't disappointed. Despite being only at low volume the Reference Series preamplifier, SM 1400 MKII monoblock amplifiers drove the huge PMC BB5 SE loudspeakers really nicely to give a lovely dynamic and clean sound. The company's little Hugo DAC was much in evidence and was getting a good deal of attention from audiophiles in the room.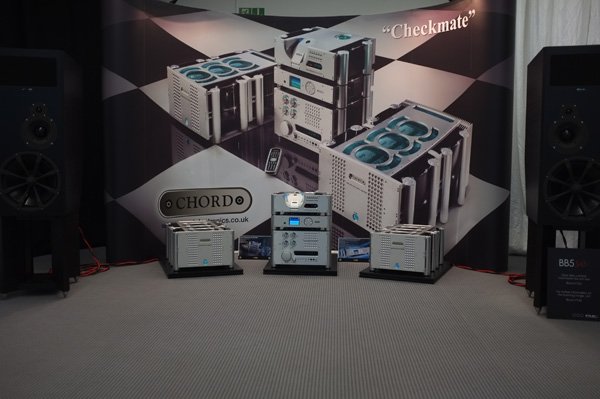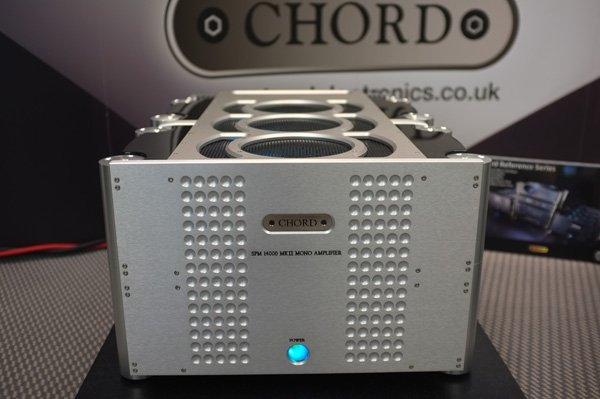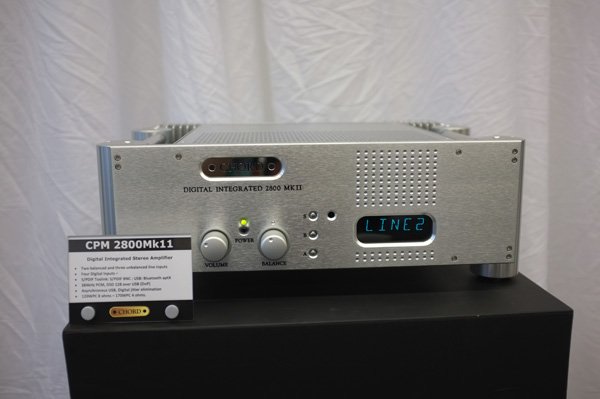 CABASSE
It was good to see Christophe Cabasse again after our visit to their Brest headquarters a few months ago and he reckoned I looked like I'd lost weight so he's all good in my book!
If you haven't heard the Sphere speakers by Cabasse then you really do need to search them out at next years show as they are hugely impressive. You can see from the pictures how great they look but it's when they are playing music that they really come into their own. They're hugely dynamic and on drum tracks in particular they have to be the reference by which all others are measured! This year they were sporting their new processor and vocals in particular were really beautifully rendered and the guitar track they played whilst we were in the room was as near to having the performer in front of me as I've heard.
Of course the Sphere is a hugely expensive speaker at €125 000 but you get a lot of speaker for your money in a stunning design plus you get all the amps to actively drive the speakers. Another of my "must own" loudspeakers…eventually!
OCTAVE
Octave were using Triangle Signature loudspeakers but weren't really driving them hard enough for my liking and the VERY odd German music that was playing didn't really make me want to stay in the room. The sound the system was making wasn't at all offensive and really quite nice but it could have done with turning up a bit .
There was a Transrotor Fat Bob Plus turntable in the room but sadly this wasn't playing when we were in there.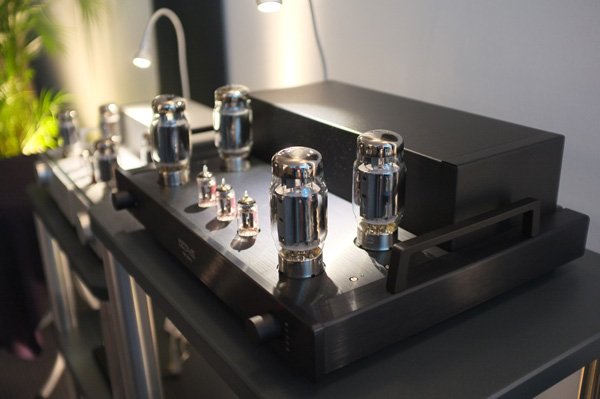 BRODMANN
I really enjoy Brodmann speakers whenever I hear them and they're certainly a treat for the eyes as well as the ears with their beautifully crafted cabinets. They sound really effortless in the way they make music and do that hifi thing of not sounding at all like hifi…if you get my drift. The Eagles' "Waiting in the Weeds" sounded fab!
We were given a sneaky peek of their prototype desktop system comprising two baby Brodmanns (they really are just miniature versions of their bigger siblings) and a little sub that sat under the desk. Immediately this was a really impressive sound with its 2" side firing driver and front firing tweeter. I'd expect anyone who owns a pair of Brodmann loudspeakers to be beating the company's door down to get hold of a set of these when they become available. There's no time given for a launch date yet so watch this space!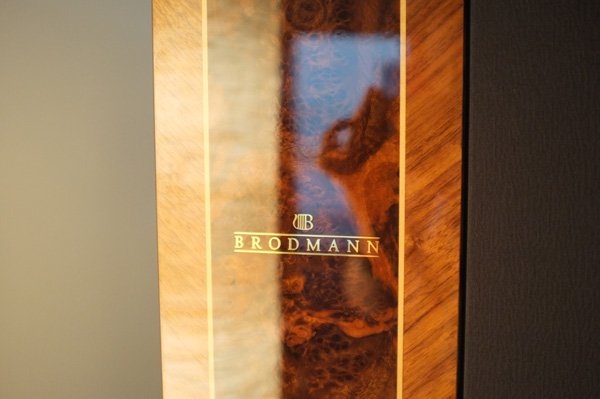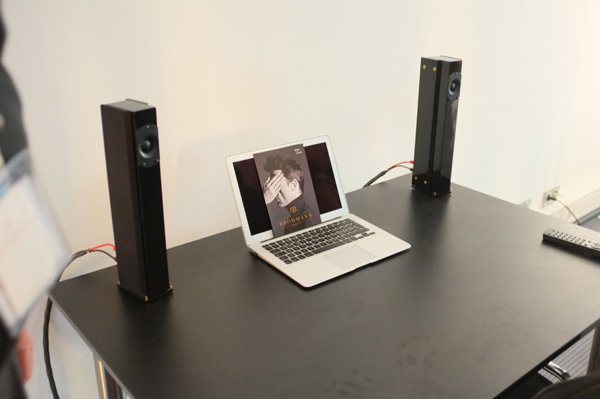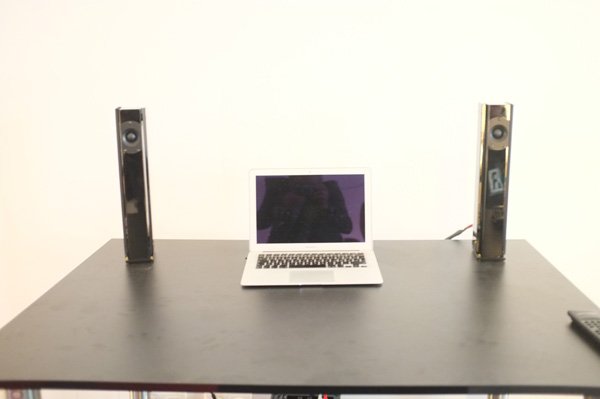 HIFI RACKS & CYRUS

Hifi Racks are a British company headed up by the charming Bradley Walters who builds these lovely looking racks in Leicester. There's a good few different designs and configurations and the workmanship in them is really first rate…and not massively expensive either given the quality. You get to choose the type of wood your rack is made out of and I had my eye on a very nice low rack made from Oak…though the walnut rack with its in built isolation looked rather tasty too!
Hifi Racks were sharing a room with Cyrus, whose Lyric all in one unit you can see in the photos below, and they do a version of their racks made specifically for the Cyrus kit's shoebox proportions.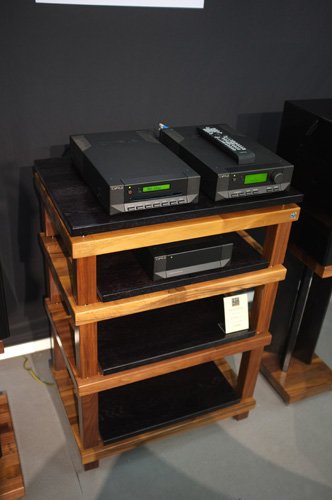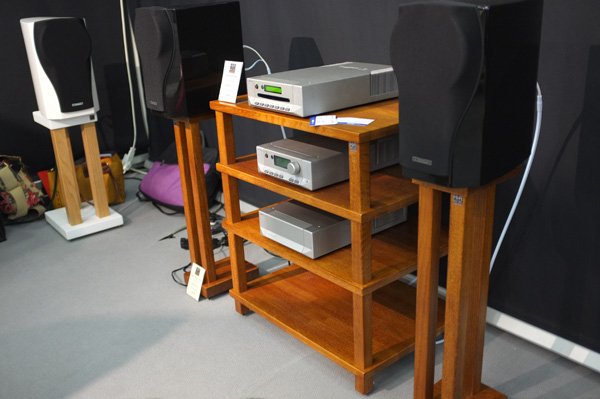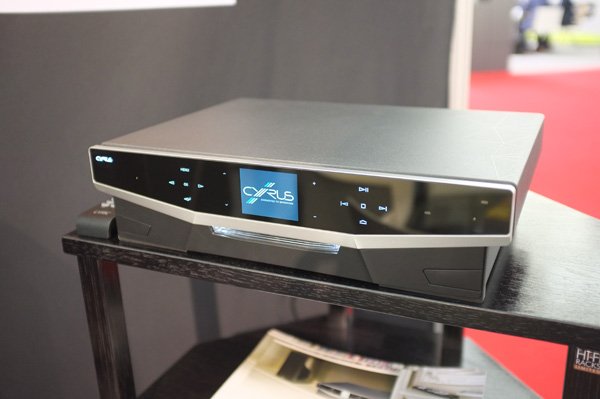 LEEDH & SWISSONOR
Leedh are an advertiser of ours and we've reviewed their quirky looking E2 loudspeakers and sub only recently and I'd absolutely love a pair to carry out reviews – as I say in the review, if you change anything upstream of them in your system you hear it immediately.
Today they were partnered with 3D Labs 1000 watt mono amplifiers along with a Swissonor preamplifier playing "Stairway To Heaven". Now, Led Zeppelin are not really my favourite band by any stretch of the imagination, but towards the end of the track I felt a real connection to the music and had one of those spine tingling sensations you get every once in a while. Really a very good system they have here and if you can get over the look of the speakers (and have the necessary cash) then they warrant serious consideration.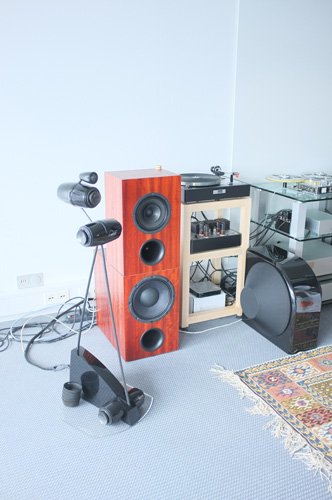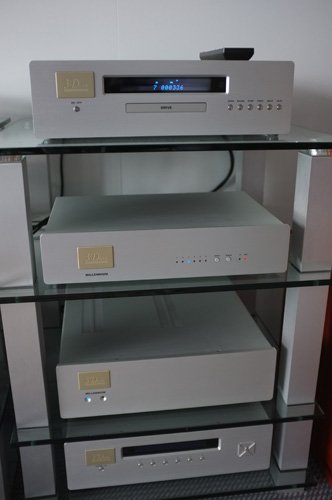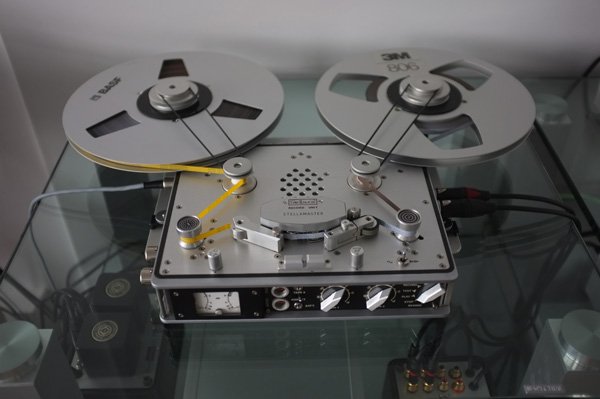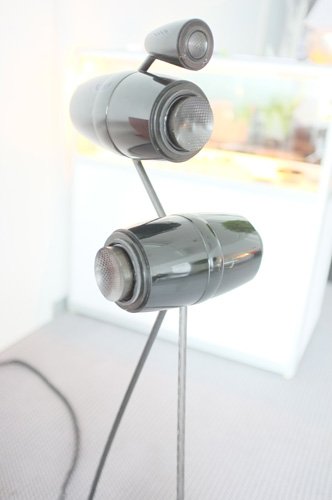 HORNFABRIK & ATMA-SPHERE
I'd not come across German horn loudspeaker manufacturer Hornfabrik before but I was certainly quite chuffed to have had the good sense to pop into their room for a bit of a listen.
Playing when we went in were a pair of their Papageno horns which are wooden bodied with fibre glass (I'm assuming) horns. They're a three way affair with an additional basshorn and today they were being powered by some really nice looking amplifiers from Atma-Sphere, an American company making OTL amps.
Soundwise there was a very "live" feel and there were really great dynamics as you'd expect from this kind of speaker. 
We liked the chairs in this room a great deal and were tempted to steel a few for Hifi Pig Towers!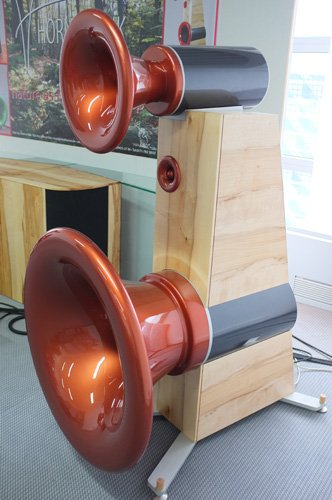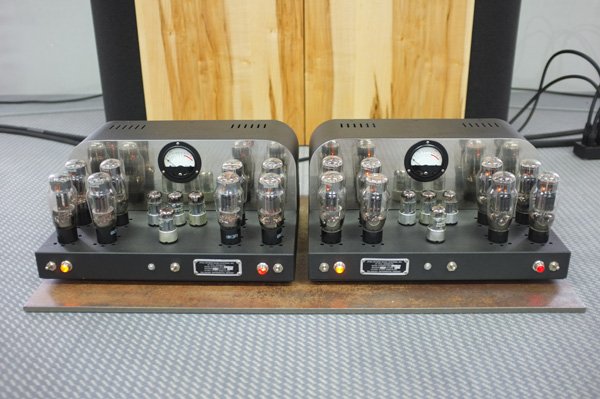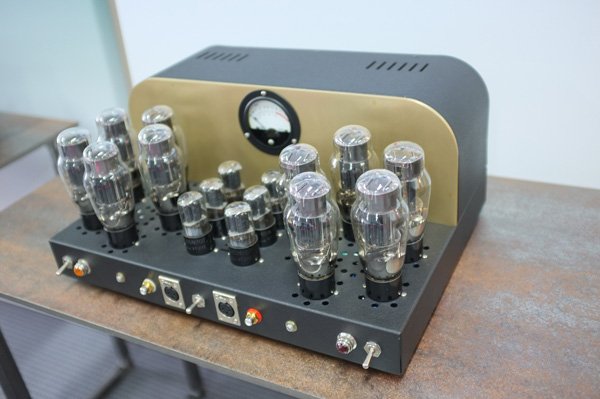 ABSOLARE
I said in last year's Munich High-End show report that these were really beautifully finished bits of kit and I can only reaffirm that they are stunning to behold in the flesh.
The company, based in New Hampshire only make four products and all were on display today – the Passion linestage preamplifier, the Passion 845 power amplifier, the Bybee purifier and Bullets. Speakers on the day were from Rockport.
Reading my notes I have written "possibly the most unforced and natural sounding amplifiers I've heard!" and I reckon that's not far off the mark. They were playing some jazz when we were in the room and I found it very difficult to tear myself away. Beautiful to look at and equally beautiful to hear and even at high volumes you get a really non-hifi sound that delivers music in spades, though I'd suggest they're going to make your bank manager weep when it comes to paying for them!!!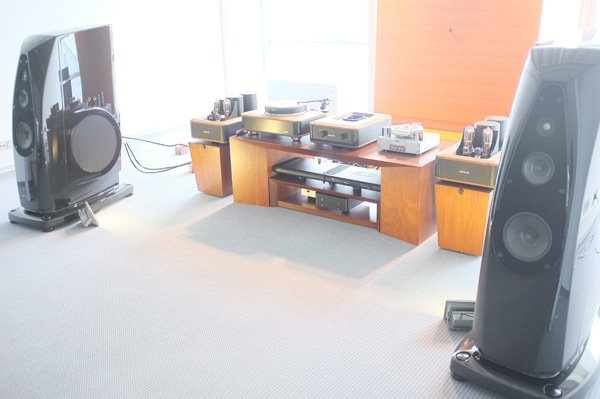 BACKES AND MULLER
BIG speakers with (I suspect) and equally big price tag. These were playing a great drum solo when we went in towards the end of the demo and I have to say it was mightily impressive sounding. There's a very live and dynamic feel with drum hits sounding as they were in the room with us. We looked around for the amplifier that was driving these expecting a huge behemoth of a thing, but were surprised to find a relatively modest Consonence model on duty. Really stunning performance and with a dynamic feel that I think is close to the Cabasse Spheres I mentioned earlier in this piece.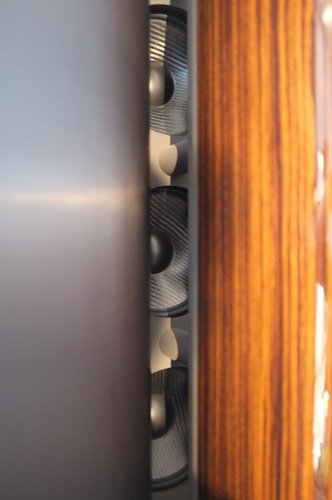 GERMAN PHYSIKS
I really enjoyed the German Physiks room last year when we heard the HRS omni directional speakers last year so was really quite excited about hearing their bigger brothers the PQS 302s along with an Esoteric Grandioso M1 amplifier.
As you'd expect from omnis the sound had a huge amount of air around instruments and they are very much like the HRS but with more of the same if that makes sense.
However, for me the room was spoiled somewhat by the coffee machine whirring away in the background that was really irritating.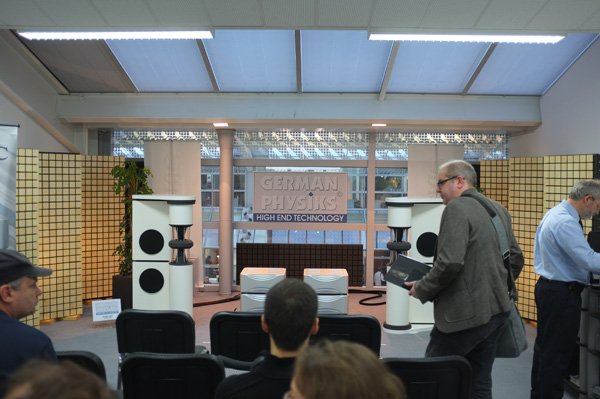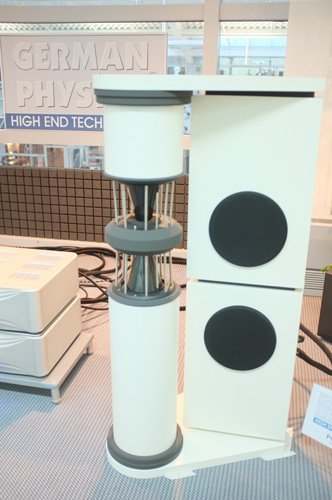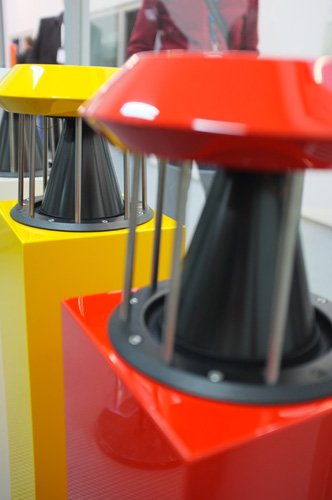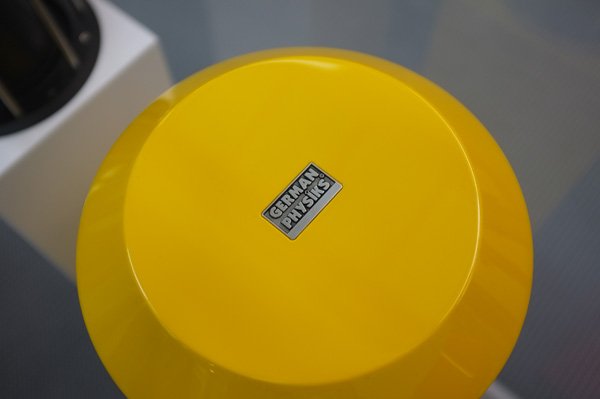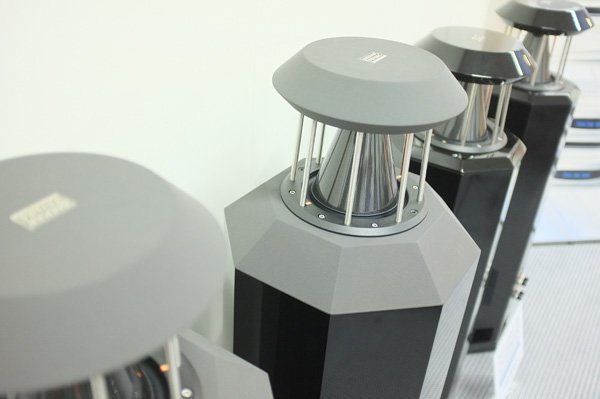 ESTELON
We like Estelon here at Hifi Pig and were really excited to hear that their Extreme loudspeaker system would be making its debut at Munich High-End. Visually this is a stunning looking pair of loudspeakers and I defy anyone not to be impressed with their looks…but they also sound rather nice too with some very clever technology on hand.
They're made of a marble based composite with automotive finishes and are actually two cabinets. The idea here (in part) being that the bass cabinet cannot interfere with the mid and tweeter drivers.
They first played some electronic music and the effect was like being in front of a great set of studio monitors with really (REALLY) deep bass and pinpoint imaging. The deep bass wasn't at all domineering but it was a little bloomy in this less than ideal setting.
Now, the Estelon Extreme have a bit of a party piece and very clever it is too. Sit in your listening position, pick up the remote and you can move the mid and top section in a vertical arc so that you can get the very best sound for your room and its height. This is very clever engineering and the effect on the mids and tops is clearly heard with the sound coming in and out of focus as it moves up and down.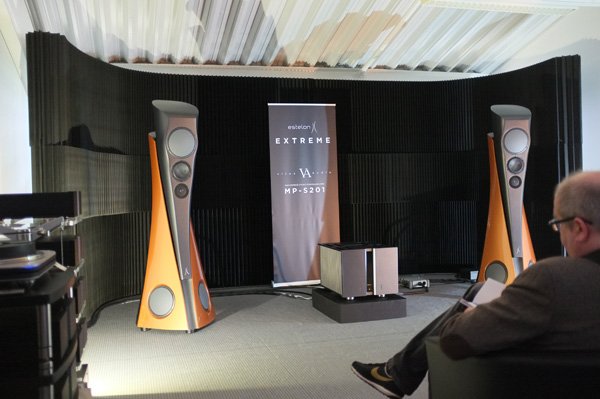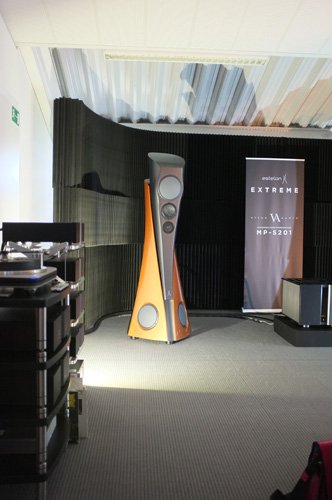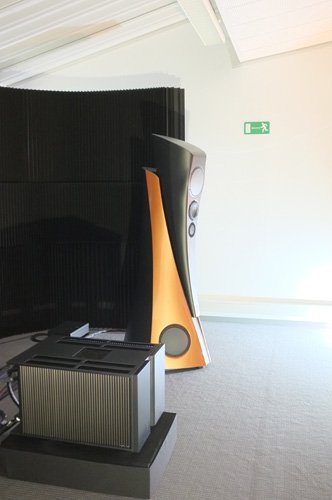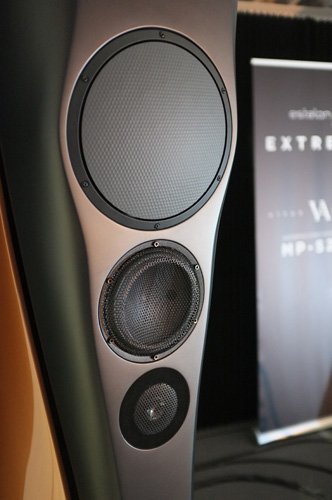 You can read all Hifi Pig's coverage and news from Munich High-End here.