Continuing Hifi Pig's coverage of the recent Munich High End Show Stuart Smith brings you more information and thoughts from the event, this time including horn loudspeakers from Odeon Audio, new products from Auralic which were showcased using Spendor loudspeakers, more horn loudspeakers of gargantuan proportions from Stein, from the UK Harbeth and finally a listen to the latest Elysian loudspeakers from Wharfedale. 
Odeon Audio
In the late 1970s, Odeon's founder and CEO Axel Gersdorff started to develop loudspeaker systems, because he couldn't find the right loudspeakers for himself and then in 1987, he founded ARS-Elektroakustik to professionally design and manufacture studio and high-end audio products. In 1990 he developed spherical horns which were made out of plywood and with a unique horn curve. This was the Beginning of the Odeon product line.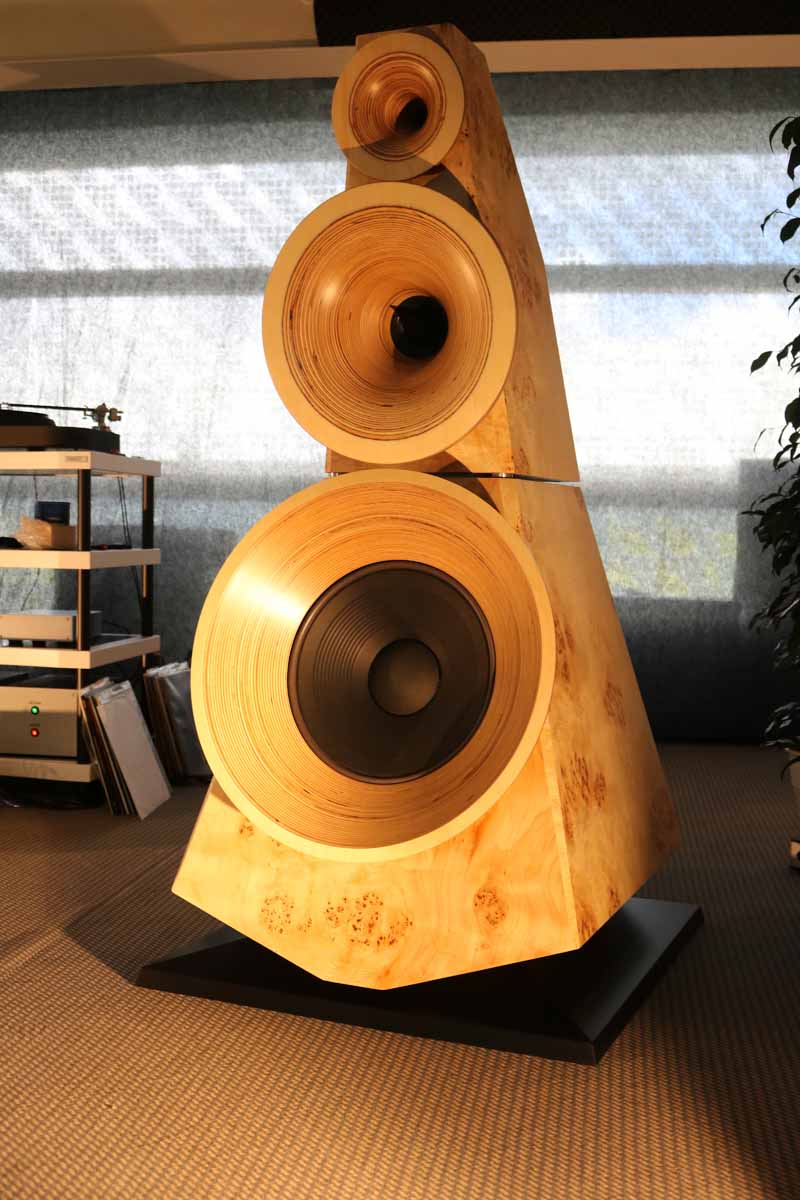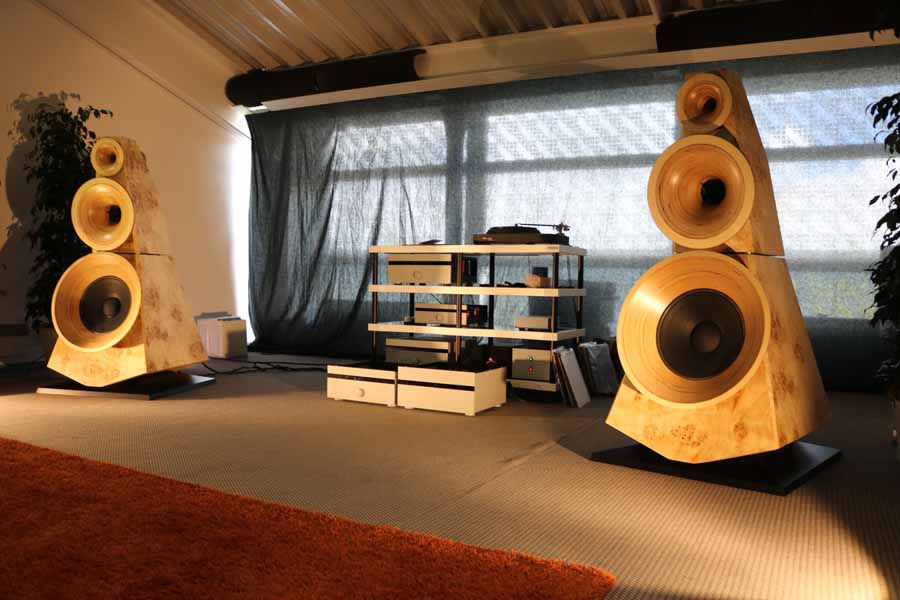 At Munich High End the Odeon Audio Team were playing with the loudspeakers you see here and boy they were good, with dynamics to die for.
Vertere and Kudos
Vertere were joined by UK loudspeaker manufacturer, Kudos Audio, and its Titan series of isobaric-loading loudspeakers. The main unveiling by industry legend Touraj Moghaddam was of his entry level Dynamic Groove turntable, or as Vertere like to call them, record players.
The new DG-1 Dynamic Groove Record Player is aimed at a less demanding client than Vertere customers who buy their high-end offerings costing up to £200K but one who want great performance but needs almost Plug and Play setup.
Price of the DG-1 is £2850 (€3350) including cartridge. From the plinth to the arm and its bearings, everything has been redesigned and re-engineered, developing some of the basic principles of a record-playing system while completely rethinking others.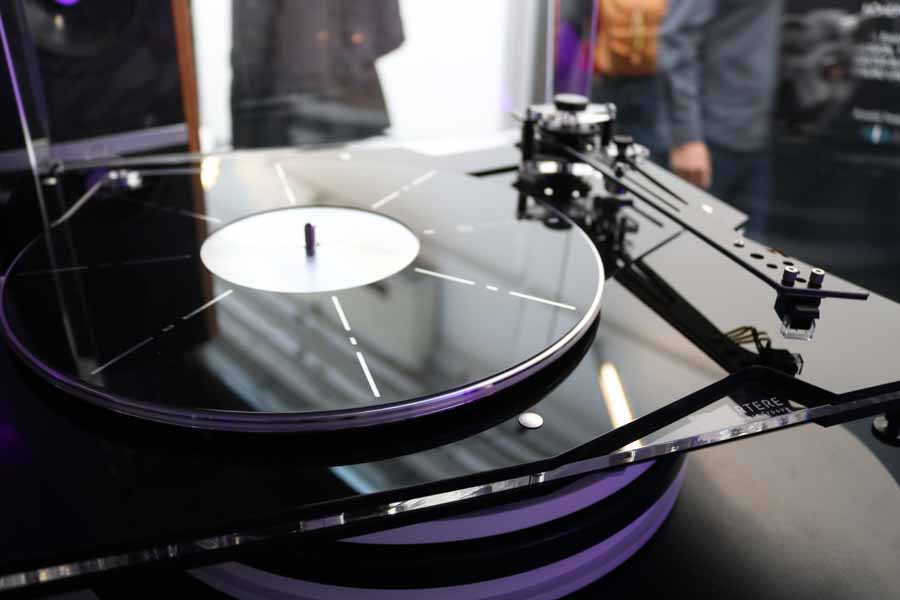 "The job of a record player is very simple and very linear" says Touraj Moghaddam "the most accurate measurement of something going past the stylus and throwing it from side to side over 1000 times every centimetre."
Advanced microprocessor generated electronic motor drive that as a fully programmable and copper/stainless steel shielded motor drive PCB which allows for future upgrades. It has a low voltage 24 pole synchronous motor, with its dedicated power supply and a polished stainless steel, high aspect ratio, main bearing spindle and main bearing housing with tungsten carbide super-precision ball. The drive pulley is CNC machined aluminium alloy and the platter is also an aluminium alloy platter with bonded PETG record interface mat and cork/neoprene/nitrile bonded underside resonance control disk.  The nylon thread tonearm bearings are each made up of hundreds of 3 microns thick twined Nylon 6.6/6 strands and the flat tonearm is made up of a two layer aluminium alloy / polymer sandwich. Tonearm wiring is a one piece, gold plated flexible PCB wire and the counterbalance is stainless steel. The main and sub-plinths are a non-resonant cast acrylic and there are three adjustable feet. Isolation is provided by low frequency compliant, tuned silicone rubber and the belt is also made of silicone rubber and is round. DG-1 has a programmable standby light. Has a 33/45 touch button speed selector and comes with an acrylic dust cover. The multi-voltage mains plug power adapter is suitable for most regions.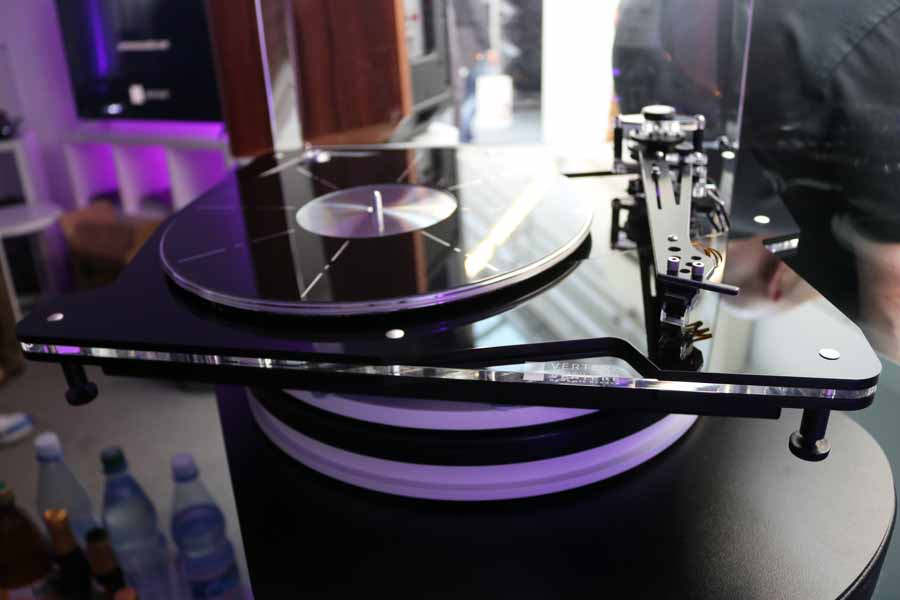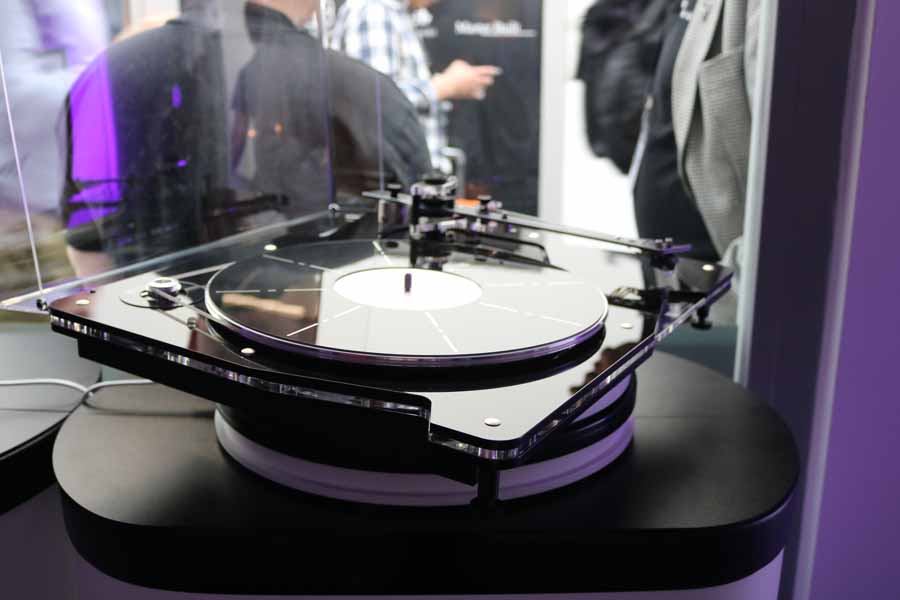 What's great about Touraj is he clearly LOVES his music and simply put on tune after tune for the audience to enjoy in their entirety. I have to say that this room sounded fabulous with the partnering electronics and Kudos 505 isobaric loudspeakers (you can see them hiding just behind Linette below) that were launched at the Bristol Show earlier this year and cost £7750 with their dedicated stands in standard finishes and £8450 with stands in special finishes.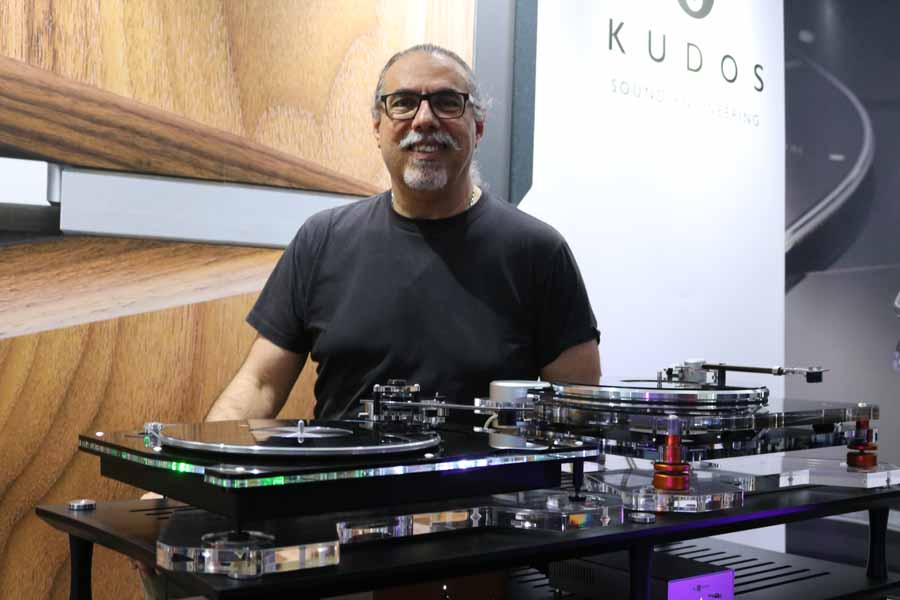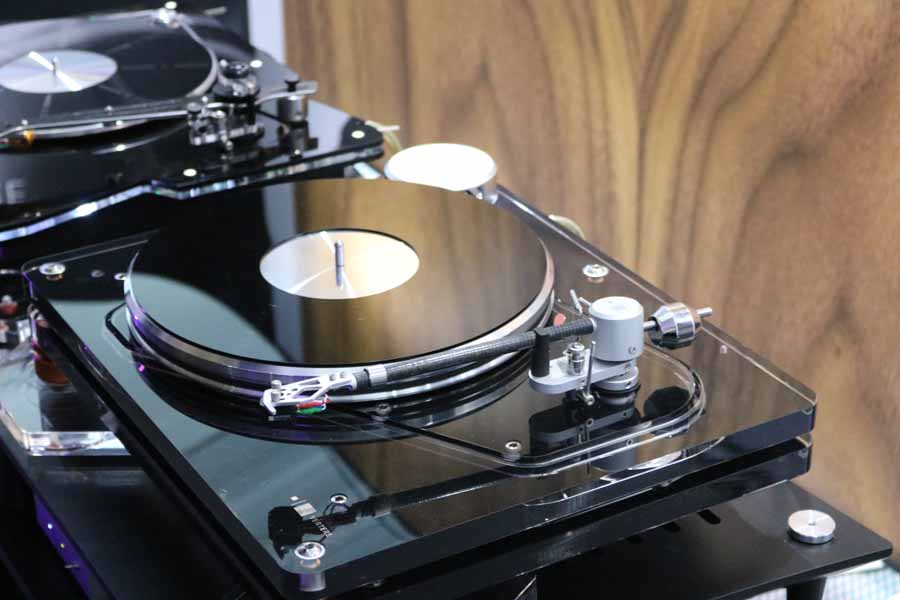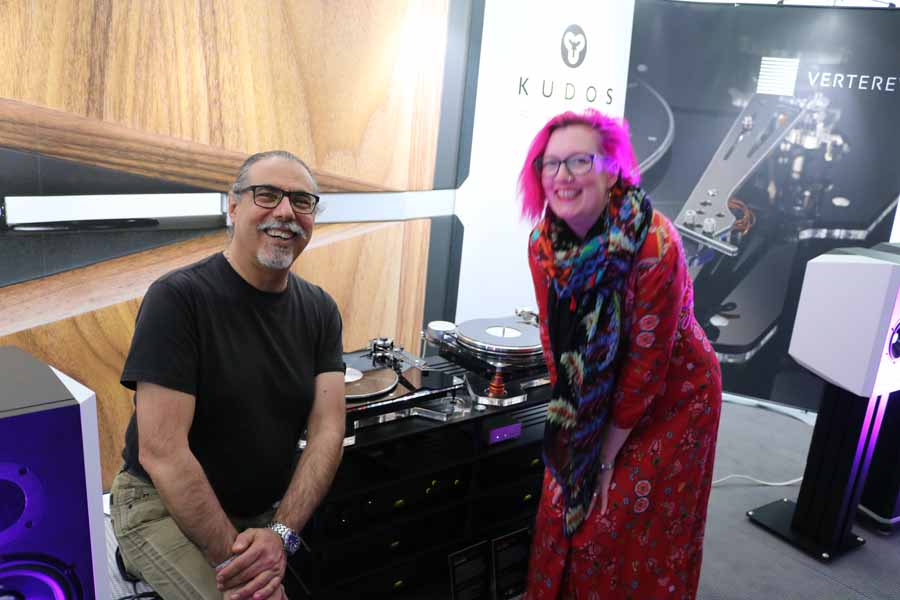 Auralic and Spendor
Auralic used the High End Munich show to unveil a couple of new products to add to their G range of products and partnered with the Spendor speakers they were sounding absolutely brilliant. Both Linette and I could have stayed in this room MUCH longer than we had time for and thoroughly enjoyed what time we had in there.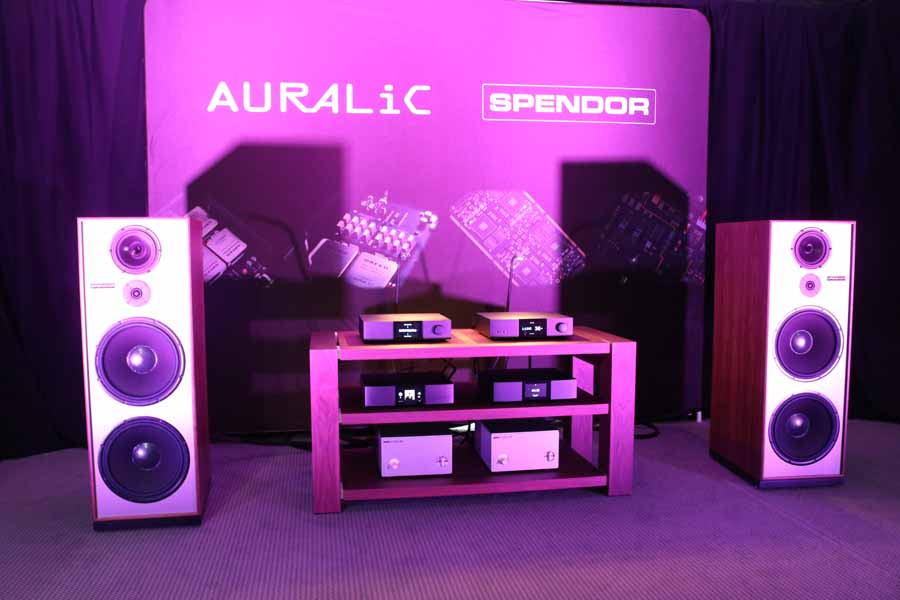 The first product from Auralic was the Altair G-1 Digital Audio Streamer functions in much the same way as the original ALTAIR and is able to act as a preamp, a DAC, a streamer, and an all-in-one digital source, but is also now fitted with the G1 chassis, providing a matching 4-inch color display and Smart IR feature.
As a digital audio streamer, ALTAIR G1 has received several updates from both the G1 and G2 series of products, the first being that it now uses the ESS 9038Q2M conversion chip. The processor platform has been upgraded to Tesla G2 from Tesla G1, featuring 2GB of system memory. An internal storage option remains, and for a fee an upgrade kit can be provided to the dealer or the customer, allowing for storage of large music collections in any number of formats and resolutions.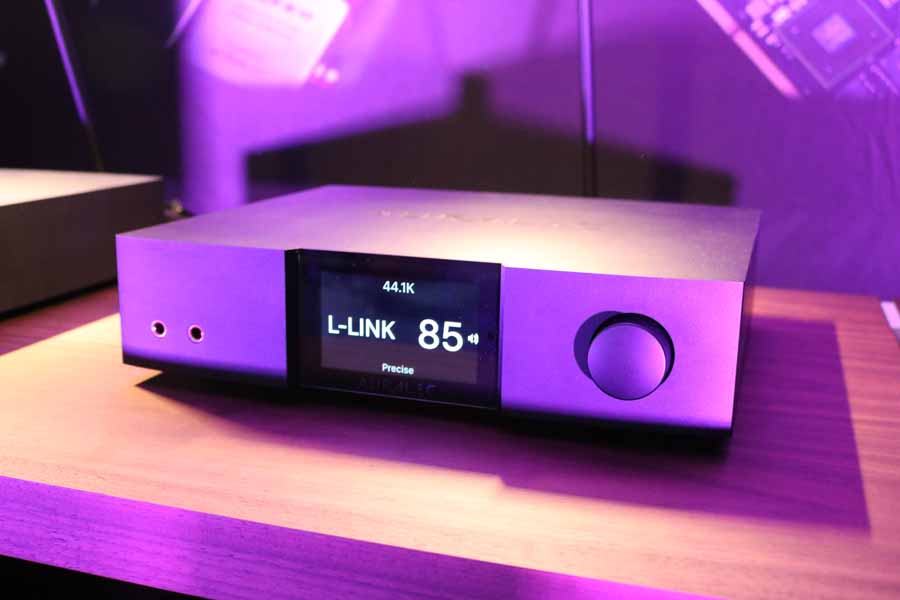 As a digital hub, the ALTAIR G1 still functions as a Roon Endpoint, can stream subscription music services such as Tidal, Qobuz and Spotify Connect, and offers Bluetooth, Airplay, and SongCast.
ALTAIR EU Retail will be €2,199, UK Retail will be £1,899, US Retail will be $2,499, and will be available for purchase in July/August 2019.
The second launch at High End from Auralic was the SIRIUS G2 Upsampling Processor. SIRIUS G2 operates on an open standard, allowing users to upgrade both the processing power and the original performance envelope of their Digital-to-Analog Converters (DACs), whether they're using an AURALiC branded DAC, or one developed by another manufacturer.
SIRIUS G2 delivers to the DAC a wide variety of resolutions and formats and can accept any input data with sampling rates from 44.1 kHz to 384 kHz in PCM, or DSD64 to DSD512 and can output USB, in any format, including PCM in 384 kHz and DSD51.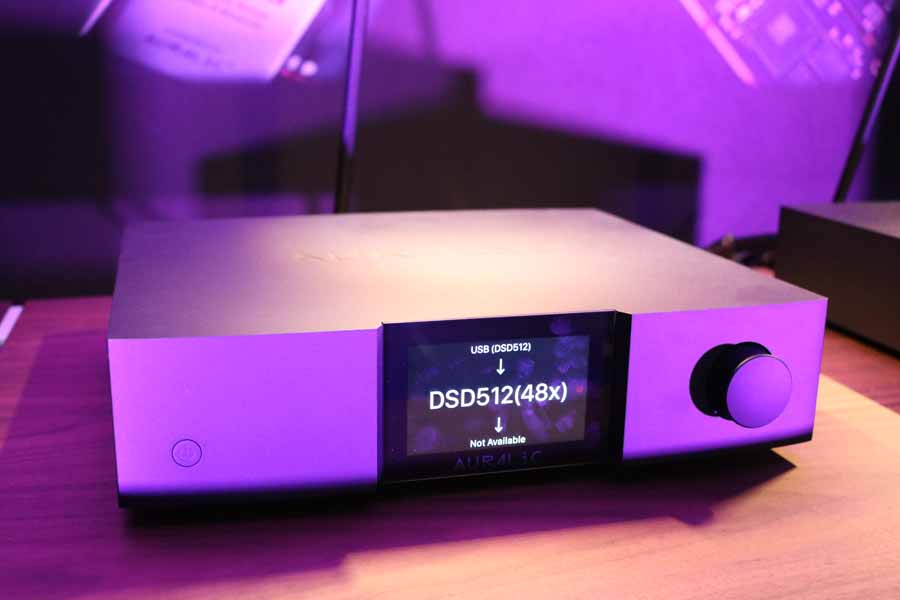 Richard Bates from Auralic EU says that the G2's has state of the art AURALiC Proteus G2 Co-Processing Platform; which harnesses a Xilinx XC7A200T FPGA chip at its heart, bolstered by 512 MB of DDR3 memory. This FPGA chip contains more than 200,000 logic cells and 740 DSP slices, all combining to provide unparalleled levels of data processing capability. USB and other digital outputs are protected by Dual Galvanic Isolation. Dual Femto clocks are employed for the USB and other digital outputs. SIRIUS G2 also utilises a triple-channel Purer-Power Supply, where discrete power supplies are used for the Proteus G2 FPGA co-processing platform, the general data processing circuit, and the audio circuit. Flexible Filter Mode is also included, allowing the user to select from four different digital filters, providing four different sound characteristics based on the listener's personal taste.
SIRIUS G2 EU Retail will be €6,299, UK Retail will be £5,499, US Retail will be $5,999, and will be available for purchase in July/August 2019.
Using Nagra amps the whole was fed through a pair of Spendor SP 200s, part of the company's Classic line of loudspeakers. They are a three-way sealed floorstanding speakers using 2 x 300mm woofers to deal with bass, a 180mm mid an a 22mm tweeter. They're an impressive looking proposition standing almost 1.2 metres in height and will go as low as 20Hz, which I can well believe given the performance in the room at the show. They are 89dB sensitive and offer a load of 8 Ohms.
STEIN
Changing the mood completely, the next room we ventured into was Stein's from Germany who were playing their TopLine Loudspeaker XL…and yes it really did deserve the XL part of that. The two boxes, one handling sub-bass (Bob XL) and the other with the very eye-catching horns, both stand 2.3 metres in height.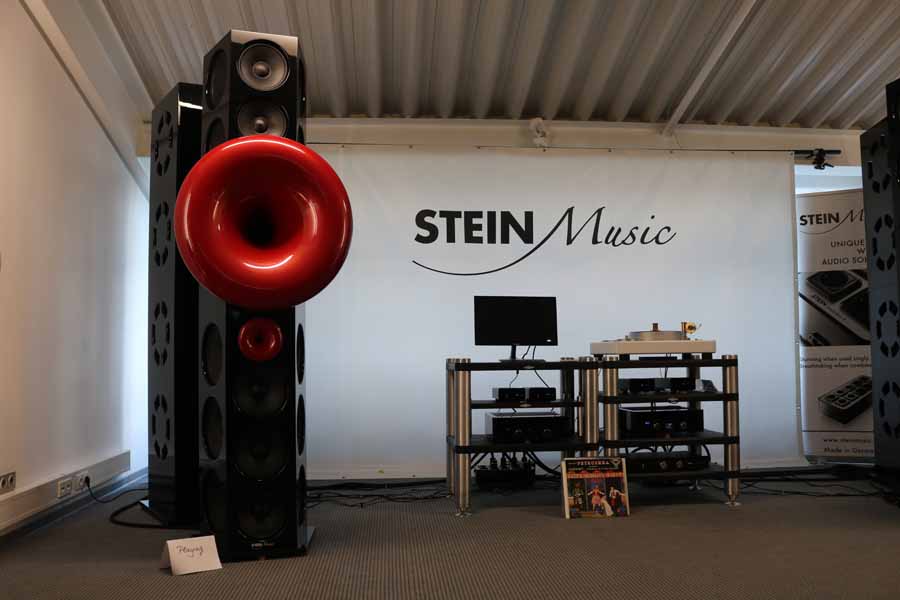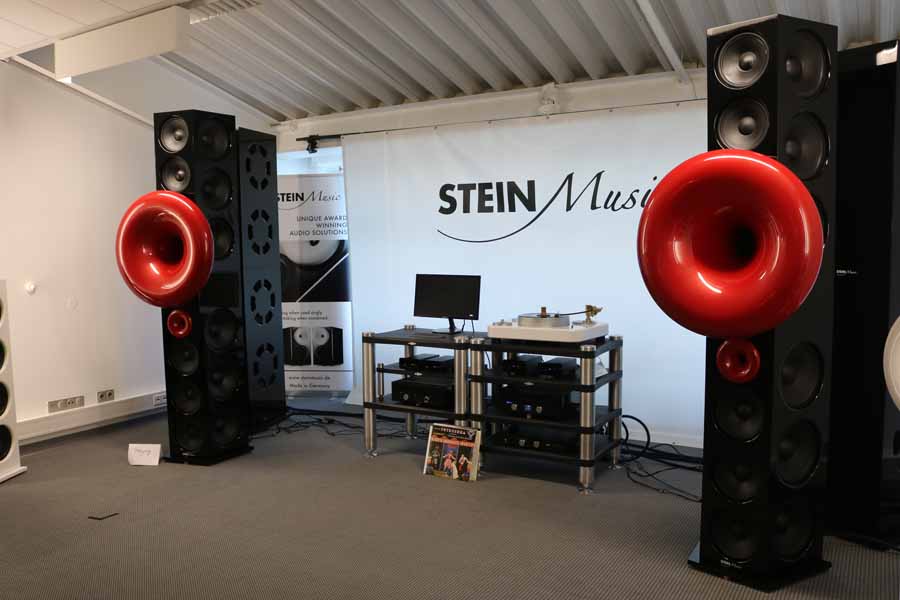 Harbeth
Well loved British brand Harbeth were demonstrating their Monitor 40.2 loudspeakers priced at around €9000. These are a three-way design using Harbeths own 300mm bass unit, 200mm Radial2 mid and 25mm ferro-cooled soft dome tweeter to give a frequency response going down to 35Hz (+/- 3dB) and an easy 6-8 ohm load. My apologies for the poor photographs to all at Harbeth!!!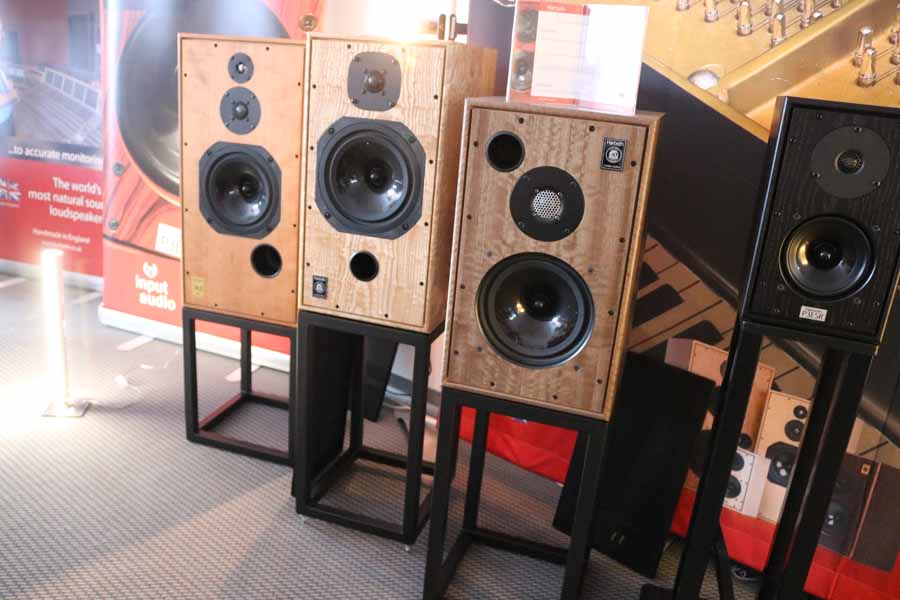 Wharfedale
I'm a longtime lover of Wharfedale's loudspeakers with my first proper speakers being the brands origina Diamond series speaker. More recently we chose to put Wharfedale's D320s in our budget review system and I can't see them going anywhere soon (we gave them an outstanding product award when we reviewed them)…our youngest also bought a pair on the back of hearing them in our system.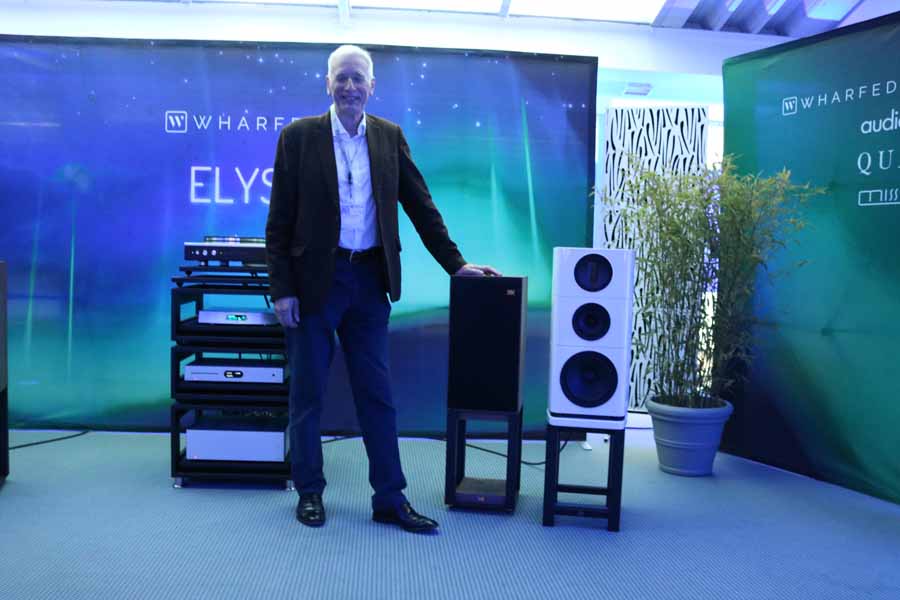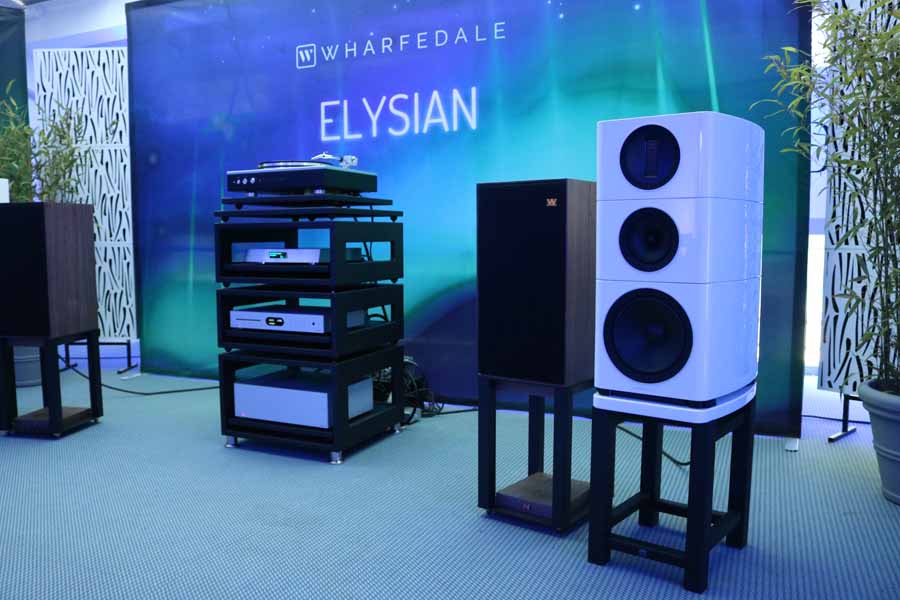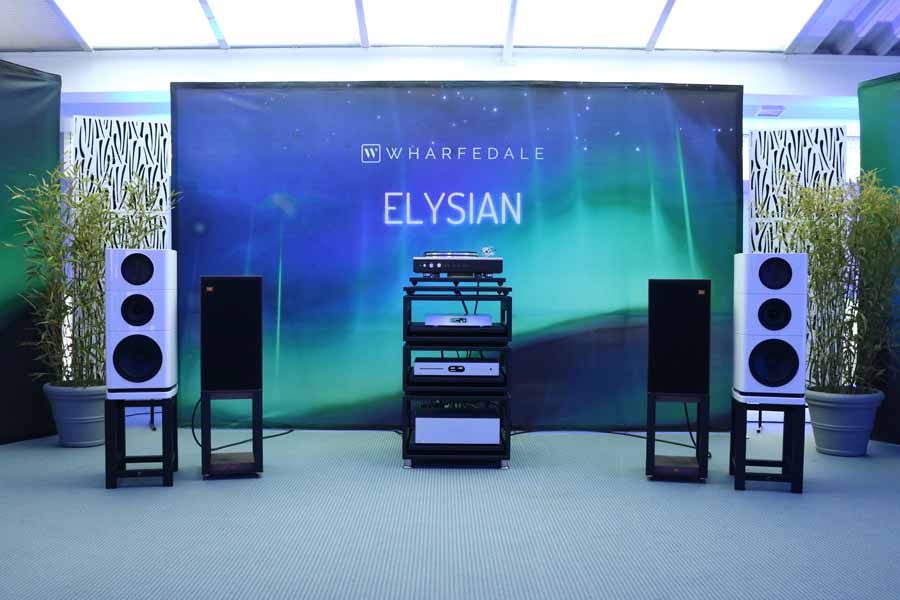 At High End Peter Comeau gave us a listen to the Elysian speakers (the ones in white) which were on static display earlier in the year at the Bristol Show and expected for proper release in late Summer of this year with a price-tag of around £4500 – there will be a floorstanding model too that will tip the scales at around £7500.
I thoroughly enjoyed the sound in this room but then the Elysian 2 speakers use an AMT  (Air Motion Transformer) tweeter which I am particularly fond of. Amplification on the day was from Audiolab.
Stuart Smith