hORNS, the Polish loudspeaker manufacturer whose Mummy loudspeakers we reviewed recently, have expanded the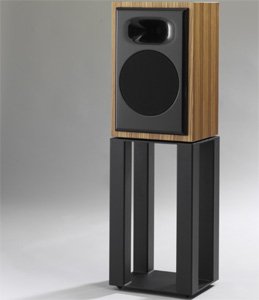 finish of their SEOS FP- 10 from 8 standard and RAAL colors into some lovely looking veneered finishes, G Point-Audio, the company's UK distributor, tells us . Pretty much any wood is available on request and a handful of standard finishes will be available too.
We think the new finishes look excellent and are sure to be a hit WAF-wise and the new matching stand certainly set the loudspeakers off very nicely indeed! The stands come in a standard black finish but on request can be built and finished in the same colour as the loudspeakers front panel. Having hollow legs the loudspeaker stands can be filled with your choice of dampening material (lead shot/sand)  which is said to add more gravity to the bottom octave.
Stands are £ 300 and the veneered SEOS FP-10 cost £3000 a pair from.