The iFi ZEN Blue is a wireless Bluetooth DAC costing just £129. Janine Elliot gives it a whirl.
I love iFi. You just know you can get totally up-to-date technology, excellent audio quality, diminutive size boxes and at an equally diminutive price. That should mean that this review is done and dusted before it has begun, but you should know that I like to take great time and care listening before putting fingers on my keyboard. This is very important because many audiophiles are still not yet converts to Bluetooth as a purveyor of hi-end music. iFi are aware of that and so the Zen Blue is the most advanced allowing all types of Bluetooth including aptX HD. At £129 I wanted to see if this is the very best value streamer out there.  iFi is a "British" company I have watched with great interest since their beginnings in 2012. I say British somewhat loosely;  iFi manufacture all their products in China at their wholly-owned factory, hence keeping prices very competitive, and have a head office in Southport (where the company was founded) with a team of designers, marketers, sales, training and customer services from around the world. This includes the head of the in-house technical design team, German Thorsten Loesch, plus French and American input (the legendary amp designer John Curl working as a technical consultant). iFi is an offshoot from the high-end manufacturer AMR (Abbingdon Music Research) with both companies designing and manufacturing portable, desktop and hi-end HiFi components. iFi's audio products are aimed particularly at those with digital leanings; whether DACs, Bluetooth, wifi or headphone amps. Despite the size of the products they claim Class A analogue circuitry and being all "Bit Perfect". iFi is also conscious of the environment using recyclable materials in construction and packaging. This is a lot of product for very little money.
CONSTRUCTION
Weighing in at £129, the Zen Blue is one of a pair of products, the other being the Zen DAC, a USB 3.0 input DAC, both being art-deco in looks but with a gorgeous curvy matt grey finish top and bottom and brushed aluminium front and rear. The Blue is diminutive in size at 158mm width, so easily placed just about anywhere you wish. The front is spartan, with a pairing button and two large LEDs evenly spaced. The first button should be pressed when seeking a new device and when searching the right-hand large LED will go from a flashing blue light (as it searches for previously installed devices) to a blue/red flashing indicator (as it hunts out for new devices). Interestingly the instruction manual, a book-marker-sized card, suggests the middle "iFi" labelled LED indicates the searching and pairing. Generally, though, the instruction card is very detailed and easy to follow. Once connected, the middle LED indicated the format, whether that be AAC or aptX, for example, and the LED on the right indicates the kHz (44/48 Blue; 88/96 White). The rear is where all the work can begin; Balanced 4.4mm TRRS and single-ended RCA analogue outputs, plus coax and optical digital outputs should you need them. A digital/analogue switch in between them selects either the analogue or digital output, so only one is active at a time, and completing the back is the socket for the supplied screw-in antenna in order to pick up signals from my DAP and Phone. All current and future Bluetooth® audio formats are supported. This includes Qualcomm's aptX and aptX HD, LDAC (from Sony) and HWA (Huawei) hi-res Bluetooth® codecs, AAC (Apple's favoured format) and SBC (the standard Bluetooth® codec), the unit receiving up to 24bit/96kHz. The unit can store up to 7 Bluetooth devices, so more than enough for me then. A Qualcomm 5110 chip processes all the Bluetooth side and the DAC is handled by an ESS Sabre chip.  Analogue outputs are 2V and 4V for RCA and Balanced, respectively, more than enough for today's hi-fi or studio applications. Supplied in the box is the mains adaptor, the aerial, and even a basic RCA lead just in case your expensive interconnect isn't available. The mains unit can be updated with improved low-noise adaptors such as the iPower or iPower2 if you so wish.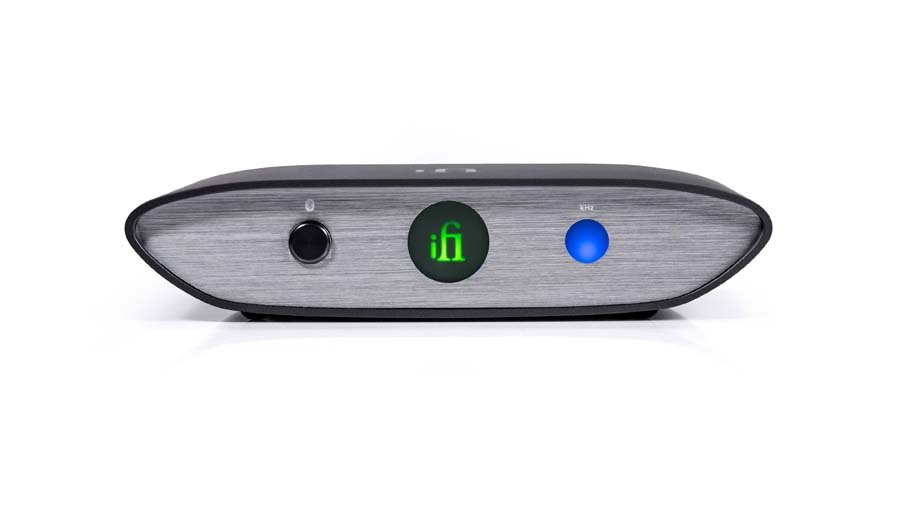 THE MUSIC
Connecting up and pairing the unit with my DAP and Sony phone was not an issue. The middle "iFi" labelled indicator shows the file format is being received, for example aptX (Blue) or SBC (green).  My Sony phone lit up LDAC (Cyan). The right indicator shone blue to show that I am playing 44.1kHz audio.
My first listening was to break me in gently; Vaughan Williams 'Fantasy on a Theme by Thomas Tallis' (Adrian Boult – London Philharmonic orchestra). This album has some superb playing and recording, considering its age. The Zen was exceptionally quiet and with a superb soundstage capturing this dreamy and beautiful work with passion and detail. Up next was Vivaldi's 'Guitar Concerto' second movement (Binaural Baroque, Chasing the Dragon), which is an equally beautiful piece of music and written almost 200 years earlier.  The binaural recording particularly worked well on my speakers on this movement, though of course is best served on headphones. Output from the 4.4mm balanced jack could then be fed into the balanced inputs of my Music First Audio preamp, just to take the quality and level even higher than from the RCA outputs. Taking things musically up a level or three I turned to Curved Air and the album 'Air Cut'. This is a 1970's progressive rock band but with a twist. A loud rock first track is replaced by a Joan Baez style voice in the second track with acoustic guitar and a quiet monophonic synthesiser, then to be followed in track three with a classical piano introduction. Quite an unorthodox mix of ideas all on one album. No wonder, the band members history included classical training and experiments in folk music and electronic music. I hadn't played this album for a while and chose it now due to the clarity and openness of the music, plus being such a wide source of ideas all on one album.  The Zen carried it off brilliantly, bringing out each instrument clearly and better than I had obtained from any "portable" Bluetooth receiver in the past.  Turning to Johnny Cash 'American IV – the man comes Around', whilst I think his voice is overrated he has a masterful way of mating the words with the music. I guess selling over 90 million records he must be pretty good.  American IV was the last album he put together, released in 2002, a year before he died. In the performance of "Hurt" the Zen not only displayed an amazing amount of detail from lowest bass to the tops of cymbals and the detailed strumming of the strings on the acoustic guitar, but its timing was equally honest, giving an openness to the music that simply pulled the listener into the music. This is a highly depressing album though; track three "Give My Love to Rose" is all about someone dying and track 5 "I Hung my Head" is about shooting someone. So depressing, thank goodness I didn't have a tape editing razor blade nearby. Time, perhaps, to move on to something a little happier.
Time then for a novel solo violin performance of Bach's Toccata and Fugue BWV 545, played by Paxlo Beznosiuk. A brilliant performance and a chance for those mid and upper frequencies to shine in this ambient 24/96 recording. This is a brilliant performance from the Ukrainian/Irish violinist. His performance was full of warmth that the Zen gave the top frequencies a musical sheen that was contagious. I wanted to listen to more. To check out even more of that excellent midrange I turned to the voice of Diana Krall in "All or Nothing at All". This song begins with excellent double bass. Bass frequencies from this little box were excellently clear and accurate, as was her voice; Precise and musical. Ricky Lee Jones "Spring can Really Hang you up the Most" is another favourite for me and my next choice. Her voice is very distinctive, often sounding like she is yawning; she often doesn't quite finish the ends of words or she suddenly gets more animated with her top notes. The performance was highly spectacular; a silky-smooth rendering that still had all the detail from the very low to higher frequencies. The amplifier had an excellent mid-range frequency, creating excellent vocals, as well as the strings in the classical music I played. Hard to believe this all came from such a cost-efficient product, especially the balanced-out option. Finally, I turned to Brunette Models "Autarky" an experimental electronic music group from Poland combining different effects and bells and tonal musique concrete with lots of "3rds". All delivered with a massive dynamic range and covering the very lowest to highest frequencies. The Blue handled it all significantly well with a solid and fluid silky performance that often made you forget you were listening to digits.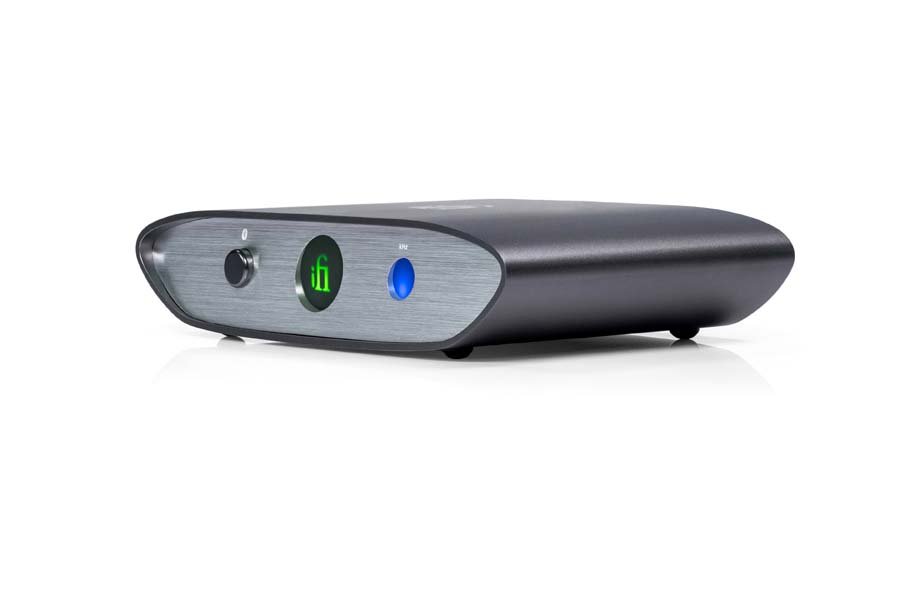 CONCLUSION
Those who think there is no future in Bluetooth audio need to take this little beauty out for a ride.  Not only is it so simple to use (you don't actually need an instruction manual) but the audio quality – whether you choose basic aptX or HD – is equally capable, with detail at all frequencies and an excellent noise floor. The bass end is particularly clear and extended and that mid-band was very musical. The Balanced output is great if you can get a 4.4mm to XLR cable. Where other more expensive streamers have no HD streaming or balanced output facility somehow iFi can do it all for £129. Others please take note.
AT A GLANCE
Build Quality: Very professional finish and placement of plugs
Sound Quality:  Very good amplification built-in including excellent signal to noise and wide frequency response.
Value for Money: £129 is not much money for heaps of features.
Pros:
Gets the very best out of your Bluetooth
Excellent bass end and mid-band
Detailed and exciting presentation
Balanced output facility
Cons:
Not at £129
Price: £129
Janine Elliot
Review Equipment:
Fiio DAP and Sony XA2 Ultra phone; Krell KAV250a, Music First Audio Baby Reference (amplifier, pre-amplifier); Graham Audio LS5/9 plus Townshend Supertweeter (speakers);  Townshend, Tellurium Q, Ecosse (cables)
Specifications:
Power Source: DC 5V
Chipset: Qualcomm QCC 5100 Series
Input: Bluetooth 5.0 with AAC, aptX, aptX HD, LDAC*, HWA* Codec (* available via future update)
Output: Optical/Coaxial, Audio RCA L/R, 4.4 Balanced Lineout
Frequency Response: 20Hz – 20kHz <+0/-0.5dB (44.1kHz) // 1Hz – 44khz <+0/-3.0dB (>= 88.2kHz)
Output Voltage @ 0dBFS: 2.05V (+/-0.05V)
Dynamic Range: 109dB (A)
Signal/Noise ratio: 109dB (A) @ 0dBFS
THD & N @ 0dBFS: < 0.0015% 10k Load
Output Impedance: < 50Ω
Power Consumption: < 2.5W
Dimensions: 158 (l) x 100 (w) x 35 (h) mm
Weight: 476g (1.05 lbs)
Warranty period: 12 months