After making its debut at RMAF and the Tokyo Headphone Festival, the nano iDSD from ifi is now almost ready for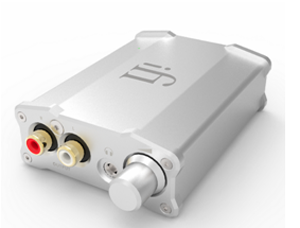 shipping.
The portable battery powered DAC (with headphone amp) plays ALL hi-rez formats including PCM (44.1-384kHz, DSD (5.6/6.2MHz) and DXD (352.8/384kHz) on pretty much any pad, iphone or computer operating system you can mention.
"Its 1400mAh lithium-polymer battery and powerful headphone outputs transform Smartphones as well as computers into fully-fledged, high end digital sources in a palm sized package" say ifi.
It has a digital output (PCM only, up to 192kHz), a pair of audio outputs and a 3.5mm headphone output.
Price is $189 (ex tax) or €189/£165 (including VAT)