The interest in the High End 2014 in Munich has been unprecedented: "Every day we are receiving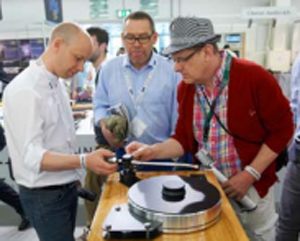 new applications from exhibitors worldwide working in all areas of the industry", said Managing Director Branko Glisovic. Due to the high demand – 434 exhibitors have already registered – all of hall 2 will now be used as presentation and exhibition space in addition to hall 3 and 4, resulting in a 15% double-digit increase in floor space. However, the High End show is by no means focused on attracting simply "more and more exhibitors". All applications will continue to be approved to ensure that they meet the eligibility criteria and this will ensure that the exhibition continues to attract a high-quality portfolio of exhibitors as well as showcase a wide range of products to  visitors, providing them with a comprehensive overview of the market say the organisers of High End 2014.
In addition to the strong international contingent, German companies have a particularly strong presence. The exhibition industry is booming – in the age of social media and cloud computing, many firms have realised that there is no substitute for personal contact with potential clients at a fair. "With its convincing concept, the High End Munich  has successfully established itself in the international exhibition market for high-quality home entertainment technology. The show is used by many exhibitors as a global platform to showcase their new products for the first time", explains Kurt Hecker, Chairman of the Executive Board forHigh End society .It is mainly foreign companies from Europe and elsewhere that have been driving growth. They have realised that the High End Munich event has without doubt become the most important exhibitions in the audio industry. With 258 foreign exhibitors currently expected to attend, the proportion of foreign companies has risen 7% to 60%. The High End Munich show provides a wide and international range of products and serves as a showcase for the innovative strength of the entire industry. After Germany, the second largest contingent is the US, with 38 firms currently registered. The US is followed by Italy, the UK, Denmark and France. This signifies the ever increasing international significance of the High End Munich show and is a strong acknowledgement of the quality of the event. "We appreciate the trust that the exhibitors place in us – evident from their participation", said Branko Glisovic, Managing Director of High End Society.With its top-notch display of domestic and international products, fascinating music performances and exciting presentations, daily live music and tasty cuisine, the High End show in Munich will once again be the largest event in the whole industry in 2014.
Of course Hifi Pig will be there to bring yu all the news and pictures from this years High End in Munich.