HiFi Pig caught up with Gabi this summer and asked her a few questions about her life in the HiFi Industry, music, working with her family and much more…
GABI RYNVELD OF CRYSTAL CONNECT
Gabi Rynveld is a professional concert pianist, born in Budapest, Hungary, she has performed in famous concert halls worldwide since she was nine years old. Later in life, while raising five children, she led sales and marketing for International Audio Holding, the company behind Siltech and Crystal Cable. She also founded Crystal Cable in 2004. Gabi is happily married to IAH's CEO Edwin Rynveld, sharing the love and passion for making and listening to music.
THE INTERVIEW
HP: What has been your biggest challenge during your HiFi career?
Gabi Rynveld (GR): My mission, and my biggest challenge at the same time, is to get the HiFi industry closer to live music. This sounds like the biggest cliché, but the mission still is not accomplished…
From the early 2000s I started to join my husband Edwin, visiting HiFi shows and events, distributors and stores. One thing has struck me was that at most of those events, the equipment was what people cared about. "How is the stereo image? Are the speakers not too close to the wall? What is better, SACD or LP?" I missed music. Nobody talked about music, how all that equipment could reproduce the magic I used to be part of in a concert hall, jazz bar or festival. In the past 20 years, things have changed a bit, for the better, but my mission is still there – and I am here again to continue.
HP: How has your training as a classical musician affected how you work in the HiFi Industry?
GR: I don't think that many HiFi brands have a professional musician on board. Just as I have been busy with studying, performing, teaching and recording music throughout my entire life, that is the way how I now work in our company. Listening tests, helping the engineers and designers to improve the sound of our products constantly, and talking about music to customers, press and visitors is my work. It feels like a second skin, and it is never "done" …
HP: How hard is it to take that step back and take a sabbatical from a company that you have built?
GR: It was a hard decision to take, but it worked out very well. Suddenly I had time for playing piano every day, to be there for our children when needed, work on my health, and cope with the challenges Covid brought us…
HP: What is the product that you have been involved with that you are most proud of?
GR: Crystal Cable Arabesque Glass Master (glass floorstanding loudspeakers) and the Piccolo Series cables.
HP: What HiFi product, designed and made by somebody else, do you wish you had been involved with?
GR: Meze headphones. Beautifully designed, musical-sounding and innovative technology.
HP: What do you see as the future of the HiFi Industry?
GR: Real quality, real engineering and real high end materials will always be appreciated, as those values bring HiFi to almost live-like music reproduction.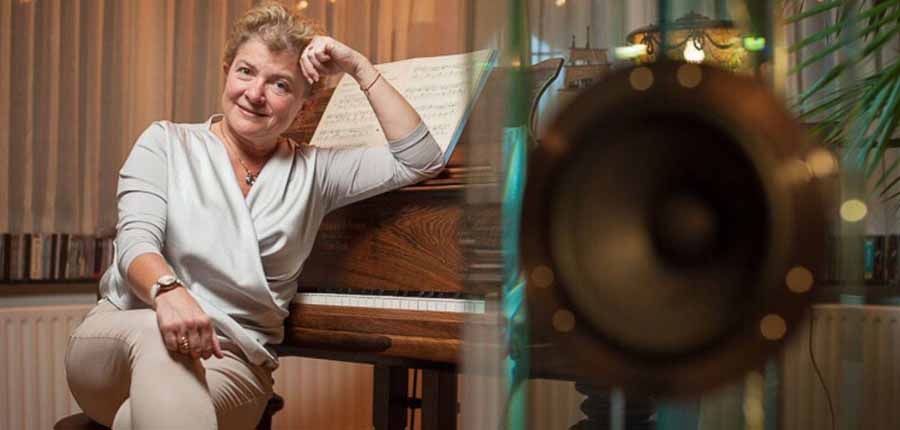 HP: How did you come to take up piano as a professional musician? Was this a choice, did you try many instruments before choosing the piano, or did it choose you?
GR: More or less both. Let me explain – I was born in Hungary, where after the monarchy, in the 20th century it was natural that in families with a daughter, you had a piano in house. So in the time of WW2, my mom was a little girl, her parents were not really wealthy, but they had a grand piano at home. When I was born, that piano was there in the living room, and at the age of three I started to explore what you could do with those beautiful ivory keys. That's how it started, obviously I had talent and an enormous drive to discover and make music. So, at that point, the piano found me.
But I also love classical ballet – started at the age of three as well. I danced in the opera in Budapest as a little swan in Tchaikovsky's Swan Lake but gave the very first concert at the age of nine as well – so at a certain time a choice had to be made. I still remember the dilemma – I loved both playing the piano and dancing … I figured that as a dancer, your career is shorter than of the big pianists I knew and adored: Horowitz or Rubinstein for example. So I made a surprisingly wise decision and went on with the piano – but I still love ballet and every time we are enjoying a performance I hardly can keep my legs and body quiet…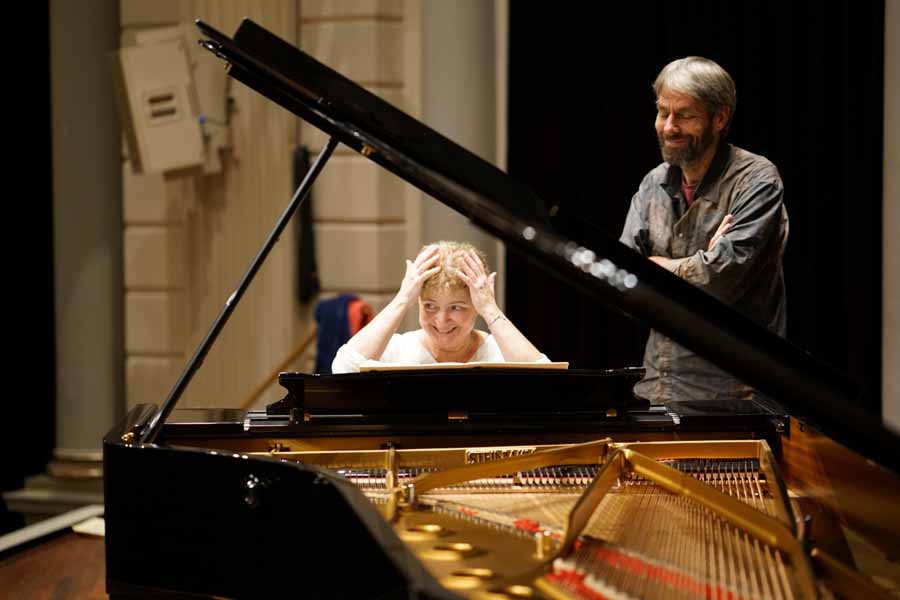 HP: Who has been your biggest influence throughout your career?
GR: I can name a few, like Annie Fischer, Antal Dorati, Sir Gyorgy Solti, Zoltan Kocsis from the musical scene – and my husband, Edwin Rynveld, if we are talking about HiFi.
HP: How do you deal with the "cables are just snake oil" opinion that some people have?
GR: I look at other manufacturers as colleagues, not as competitors. This might come from my past as a musician – you are not competing but make music together… this way, I don't need to spend time to discuss with people believing in the snake oil theories – everybody has the right to think and argue differently. I do regret the name "snake oil" getting a negative taste – if you read Jim Austin's article published in Stereophile a couple of years ago, you understand the contradiction…
HP: What are the highs and lows of working with your family?
GR: The question is set quite right – it has highs and lows. If you work with your partner, it's a matter of taking care of having things you DON'T do together. This part went pretty well, as having five children gives every couple a lot of practical and physical things you need to separate. Being in the same industry helps to understand each other, you only need the first word of a sentence to know the rest. Having two of our sons in the company is a different piece of cake – you need to take another role than being a parent. The biggest "high" is trust – you know that all faces are in the same direction.
Young professionals are the cornerstone of the future growth of a company. Our knowledge, experience and drive flows together with professional management, business administration and potential future plans. The "low" is experiencing errors, unexpectedly different visions from your own kids – which are easier to discuss and solve though…
HP: What is your approach to HiFi, are you 'all about the measurements' or do you trust your ears…or a mixture of the two?
GR: My maxim: the difference our products make in a high-end system is measurable, audible and explainable. Obviously, I came into the HiFi industry as a musician, so started with the ears for sure. Learning the technological side, metallurgy, construction, acoustics and all other aspects of high-end audio, the measurements became more and more important and cumulated in a third component: when you can hear and measure significant differences, you can also substantially explain them. In this way, we can take away the myth of snake-oil stories and prove the results of real engineering and the use of precious materials.
HP: Everyone has had to find new ways to cope with stress throughout the Covid19 pandemic, what have you found most helpful?
GR: To see the positives. Of course, it took some time to get there – the first and obvious effects were, and are, devastating, unpractical and made life difficult. After a while, we started to see more and more positives: appreciating things usually were "normal" – like being allowed to see family and friends. Being thankful for small improvements coming along – like going to a restaurant, even socially distanced. Discovering new creative ways to make music together – from balconies or via Zoom. And last but not least, having more time to make music, spend precious time with our semi-grown-up children at home, which would not happen when life would have been "normal". Even when we are heading to a "new normal" now, we cherish these surprising additions and keep them in our life.
HP: Do you see the HiFi Industry as a place where men and women can be equal? Tell us some of your experiences as a woman working in the industry, have things changed over the years?
GR: I certainly believe that men and women can be equal working with HiFi and with music. We have plenty of examples of amazing women in the industry – proving that music is for everybody. Most people know that women have a better, more refined hearing than men, being able to hear more high frequencies and more details. This comes from nature, a biological fact. We have some brilliant female engineers among us, but also women responsible for the design, making equipment fitting all kinds of tastes and preferences. This changed a lot in the past twenty years – I vividly remember the years I started to work actively in our industry… When answering the phone, people often asked the question "can I speak to your boss please" or challenged my technical knowledge to be surprised when I happened to explain things correctly.
I think I was the first active woman attending shows and events with a baby in the stroller – during the last couple of years we see more and more families with kids coming to events, taking part in discussions and being the one who makes the choice when it comes to buying HiFi equipment. I think, as the world changes and get more and more diverse and equal, our industry must and will follow.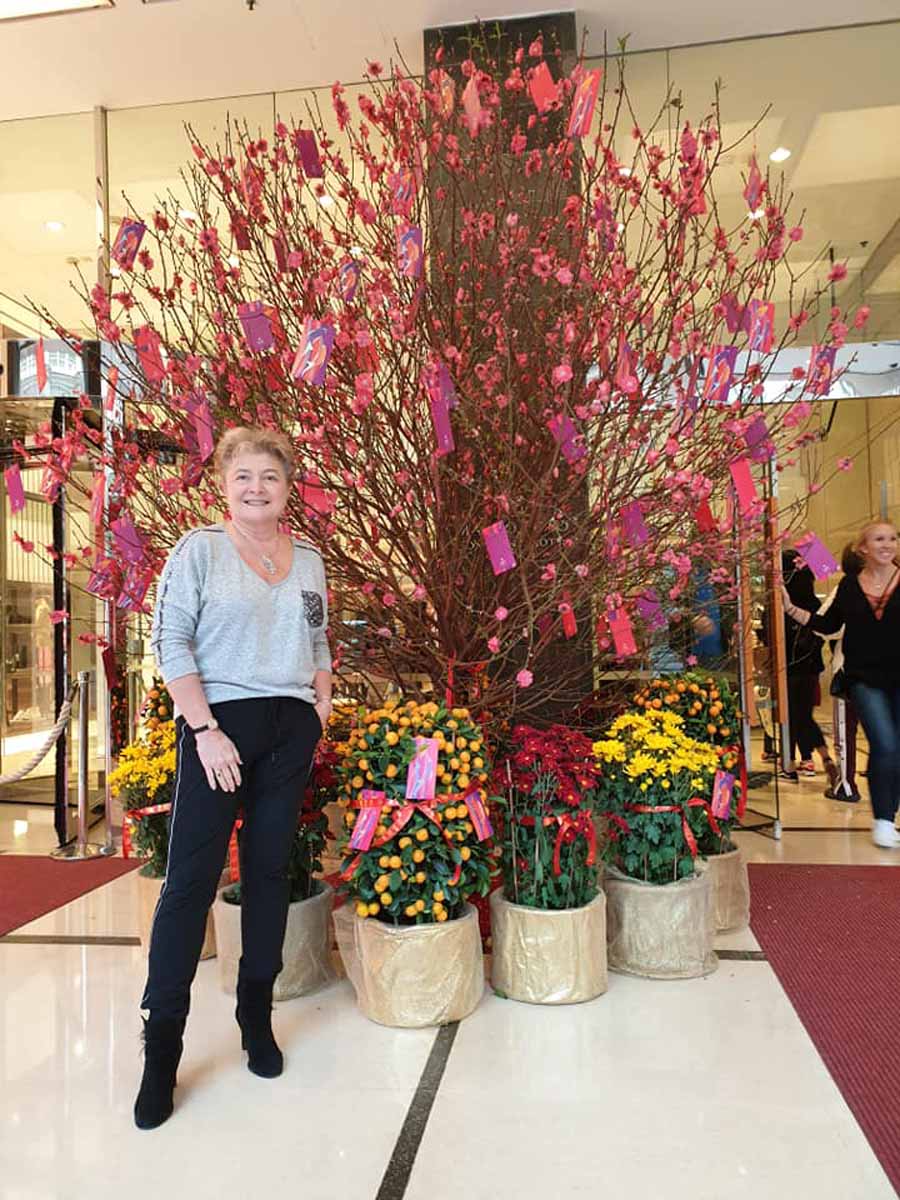 HP: What is the most enjoyable thing about working in the HiFi Industry?
GR: I feel really blessed to call "work" what I like to do most: play music, listen to music and get people connected to music through our products.
Interview by Linette Smith