Iota Audio Design, who we last saw at The North West Audio Show at Cranage Hall, have developed the iota V-R-S vinyl record stabiliser, this is CNC machined from billet stainless steel, and is the correct size to fit onto the recessed label area of a vinyl LP record. For ease of use the top of the stabiliser has a turned "stadium" shaped handle faced with their logo. The underside of the stabiliser has a constrained layer of carbon fibre.
Iota told us: "The combination of the mass of the stainless steel and the damping effect of the constrained layer of carbon fibre act upon vibrations within the vinyl record, both from the action of the styli on the record surface as well as any structural noise derived from a turntable, the stabiliser also ensures the LP record has even contact with the platter".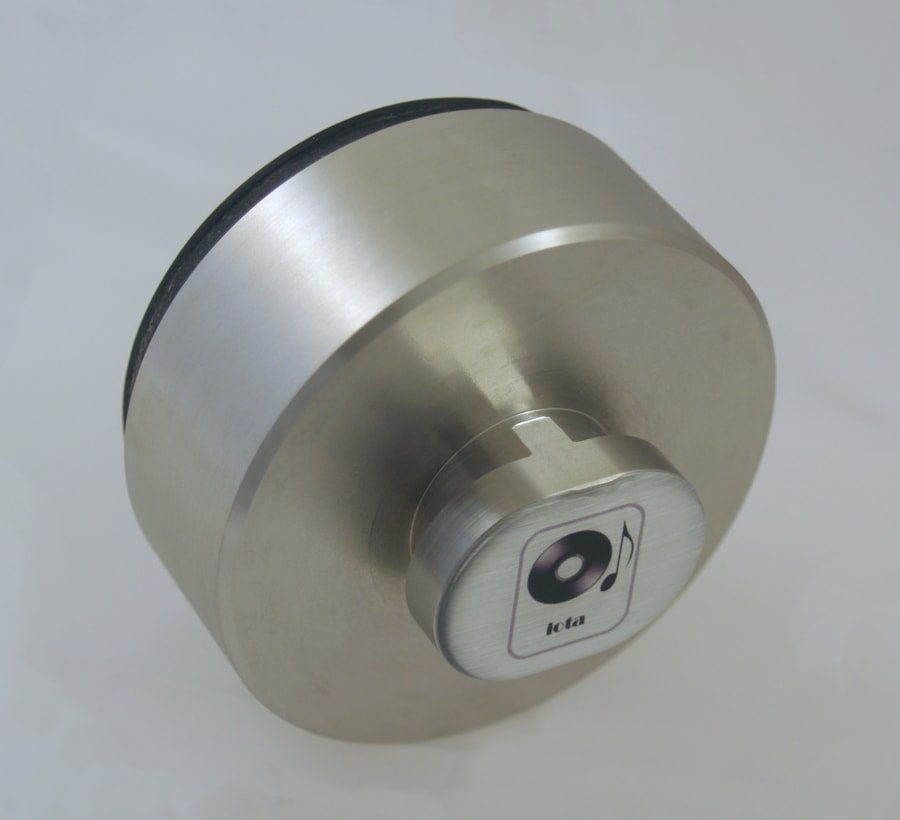 "The iota V-R-S stabiliser with a mass of 800 grams (1lb.12oz) does not apply an excessive bearing load to any well engineered turntable. For example with any of our turntable designs our standard bearing uses a polished stainless steel shaft running in a bronze sleeve set in a substantial Acetal outer sleeve. The bearing shaft runs on a Grade 5, Silicon Nitride (Si3N4) ceramic ball, which in turn is in contact with a bottom thrust pad made from the ultra high performance PEEK polymer (Polyether ether ketone). The bearing assembly is also lubricated with a fully synthetic bearing oil that also ensures a long noise free bearing life".
If the iota V-R-S stabiliser is to be used on other manufactures turntables Iota advise confirming suitability prior to use, plus many suspended turntable designs may require adjustments to the suspension to account for the additional mass of the stabiliser.
Supplied with all Iota's current turntables, and also available separately for use on other suitable equipment. Price £75.00