As a bit of a departure for Hifi Pig Janine Elliot checks out this unusual and innovative personal surround-sound set up called the JBL Soundgear BTA and costing just shy of £200.
I love my 5.1 set up. Small speakers darted around the room, but it does have all those horrible cables that make the living room look like the remnants of a tin of spaghetti. Sound-bars can make the room that much more tidy but they don't sound as good. Their sound still appears at the telly, despite phasing or any other wizardry, or they did in the past.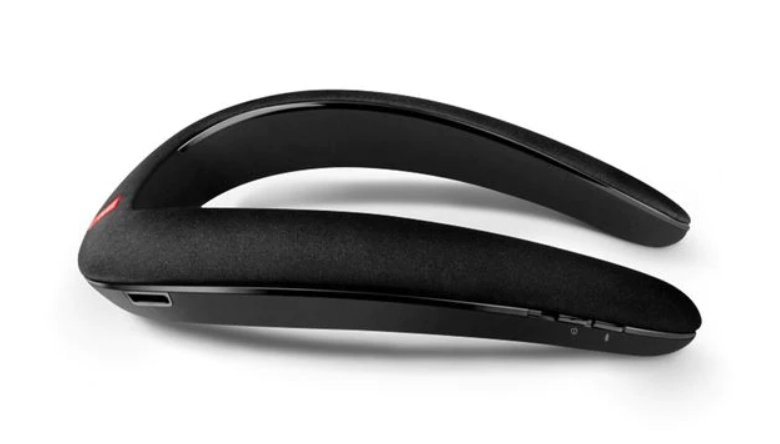 At the Bristol Show this year my eyes and ears lit up with a product that was not just very clever but so original, and an obvious idea that no one had thought of before; a surround sound system you wear as a necklace. I was quick to give it a listen and so impressed I asked to do a review. In today's fad for "personal" audio and watching TV on laptops or tablets, this product could perhaps be the future of watching films on your own.
JBL is a company I have very much admired since a being teenager, having a male friend with a pair of JBL speakers powered by Quad 405/44, with Thorens TD160/SME3 and Revox B77 reel-to-reel sources. I was jealous of him as all I could afford at the time was a JVC JA-S11G playing into Audiomaster speakers with Trio KB1033 turntable and Akai 4000D reel to reel. I always liked the tight and exciting sound from the JBLs, and their speakers have made their way into a lot of studios. The company is part of the Harman Group, itself becoming a subsidiary of South Korean Samsung in the $8Billion acquisition in March 2017. With a workforce of around 25,000 people across the Americas, Europe, and Asia the group includes big names in the domestic and professional markets including AKG, Harman/Kardon, Infinity, Lexicon, Revel, Mark Levinson, Soundcraft and Studer. Quite some list. I even almost got a job working for the professional digital side of the group when I left the BBC, but that's a story for another day. JBL, best known for their loudspeakers in the domestic and professional world, are a force to be reckoned with. JBL was set up by James Bullough Lansing, who was the ninth of fourteen children and born as James Martini in Illinois, but who lived for a short time with the Bullough family after his dad died, adding their name. As well as setting up JBL he previously created Altec Lansing in 1941, a company born as Altec Services Corporation set up in 1927 producing loudspeaker drivers, another name well known to the more senior and serious hi-fi buff.
CONSTRUCTION
The Soundgear BTA is a wireless-operated piece of audio jewelry controlled by a petite Bluetooth® wireless audio transmitter connected to your TV with digital Toslink or 3.5mm analogue audio, the device a sibling of their BTA-10  BlueTooth Adaptor, from a few years previous. The Soundgear is a large and relatively heavy (350g )but comfortable half-circular rubber-edged construction available in a choice of grey and black cloth finish and rubber surround with four 31mm speakers placed around the listener's neck to give a sense of surround sound without the need for masses of wire or watts. Wearing it around my neck was never fatiguing, and those with large necks can 'bend' the necklace gently to put it on if they need to (their instruction "pulling with excessive force will result in product failure" is a posh way of saying "careful you don't break it"), though my petite shape left it needing no persuading. The two 3W amplifiers on board are enough to fill your ears with your own personal sound zone, if you are happy to watch movies or listen to music on your own, making the new Soundgear BTA a totally unique way of enjoying movies or music, and perhaps an ideal tool for the hard of hearing without the need to turn up the telly too loud for everyone else. The front two speakers tend to give a brighter sound with lower and mid at the rear, largely due to the "bass-boost", rectangular shaped micro-port enabling you to feel all those explosions and car crashes evident in most films these days without the need for a massive sub-woofer.
For my tests I connected to my TV and to my Virgin box via the Toslink connection and, since the unit has AptX also Bluetoothed' it to my Sony Xperia 6" display phone or Fiio DAP. For the latter two I also listened to music, perhaps creating a new idea on the theme of Ghetto Blasters, though I didn't decide to walk around the town sharing my music.  The Soundgear also allows you, whilst connected to your mobile phone, to receive phone-calls hands and ear free, which it does with two microphones, meaning you can look around the room without anyone losing the sound of your voice. The microphone has an echo-canceling microphone system to allow for what they claim as "crystal clear calls". The unit allows 6 hours of audio between recharging, with a 2-hour charge, enough for you to watch around 3 films. The Soundgear stores two BT connections; ideally the BTA and one other BT source, like your Tablet or phone.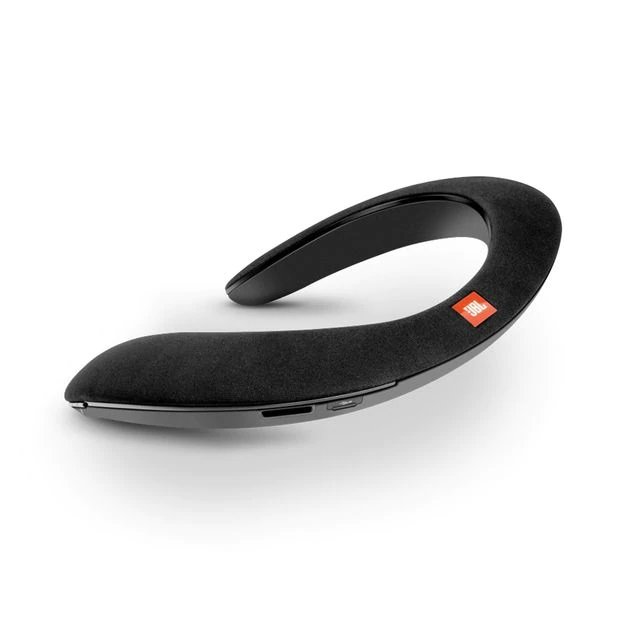 The unit comes supplied in a standard boxed package allowing easy access to the unit and accessories including the wireless transmitter plus USB charging, optical and 3.5mm cables. It relies on you supplying your own USB mains plug to operate the transmitter. Only the instruction manual is a little on the weak side in terms of following set-up instructions, though once you find the correct language to read anyone should be able to follow it in a few minutes.  At £199.99 you may consider this piece of jewelry not cheap, but as a complete personal surround sound that is quite fun to use, I believe it is the correct price for such a well spec'd and sounding unit.
SOUND QUALITY
Turning on and off the unit was spectacular with its distinctive welcome, sounding like Lewis Hamilton's Mercedes F1 car clearing its' throat. Whilst this is a portable unit with two pairs of 31mm drivers placed under and behind your ears, it makes for a distinctive surround sound experience, and in keeping with JBL's impressive background in small speaker setups, starting last century with their docking stations for iPod players, this is a mightily impressive performance, even with a limited bass-end at 100Hz. Indeed that vibration around your neck is more than just massage, giving you a sense of full audio range, all made possible by their plentiful bass-boost. The top end goes to 20,000Hz (-6dB). Watching "The Wrong House", a film confusingly also known as "House Hunting" (Eric Hurt, 2013), has frightening scenes of constantly returning to the same house wherever they ran away, written long after Groundhog Day, a performance with the JBLs that was encapsulating and clear with no latency issues, largely due to the use of AptX BT. Eric Hurt is currently working on "The Machinery of Dreams", due for release in 2019, a film with car crashes and fairies and typical of his style of surprise and action and ideal for a device like the Soundgear.  "The Wrong House" has a good sense of surprise and the night-time dark visual action is similarly combined with dark music timbres. There might not be much spatial effect in the soundtrack, and indeed I chose this film to watch in order to ascertain just how much depth I could get from the Soundbar. Many films do rely on hard left and right and phasing.  Turning to The Exorcist gave me that full-on audiovisual experience. The large echoes and water dripping from the walls underground was more gripping, as were the sudden yells and heartbeats vibrating around my neck. At 49 minutes into the movie a swarm of wasps escape through a crack in the rocks; very effectively running around my head in 3D VR.  Cue "The Secret Life of Bees" a film with some effectively recorded guitar melodies and cars moving between my ears, as well as all the bees.
Music listening started with a David Gilmour video, and only then did I sense the lack of that deep bass, though the two rectangular ports did their best to fill my neck with the lowest of the lows. This Soundbar necklace was definitely best for video and films. "Systematic Chaos" from American progressive metal band 'Dream Theater' certainly lives up to its name with some chaotic heavy rock guitar and drum riffs and the music was less clear around my neck than I would experience plugged into my ears, though my favourite and more reticent track "Repentance" was effective and with excellent ride cymbals around my head, with bass guitar and drums able to vibrate quite nicely. Of course, you can also choose to place the unit on a tabletop and use it very effectively as a Bluetooth speaker in its own right.
CONCLUSION
This is a unique and exciting product to fit around your neck. Considering it saves the purchase of multi-loudspeaker system, this is a cheaper, petite and tidier alternative. You won't get a full 5.1+ sound, though, so don't expect too much. Perhaps a GPS built-in to change balance of sound when you move your head or when using VR would be the next model, but as a first go this really is a great toy, and at £200 can probably save you that much in wiring alone.
AT A GLANCE
Build Quality: Well-built with rubber and cloth surround. Package is not very exciting in iitself, but it's only the packaging.
Sound Quality: Good bass boost even with that limited bass end, though the vibrations around neck make for a unique listening experience giving a greater sense of "explosions" than a speaker system may. Good surround sound, but wish it could have had more speakers further to the front to emulate 5.1 more effectively. Even so, its originality and effective audio experience warrant being "Highly Recommended".
Value for Money: This is a unique product so hard to compare with others, but a very satisfying experience and excellent x-factor for the price. Worth investing in for those quiet evenings at home on your own!
Pros: Excellent clarity. No noticeable latency issues. Easy set-up. A lovely alternative to headphones.
Cons: Limited surround sound environment
Price: £199.99
Janine Elliot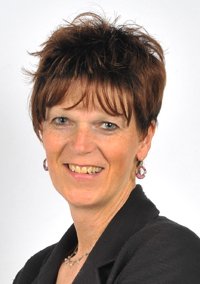 Review Equipment: LG TV, Virgin Media box and Sony projector, Sony Xperia XA2 Ultra, Fiio X1ii
General Specifications
Driver size 4 x 31mm
Dynamic frequency response range 100Hz – 20kHz (-6dB)
Sensitivity 96dB
Maximum SPL 111dB
Microphone sensitivity @1kHz dB v/pa-42
Impedance32 ohm
Weight350g
Control and Connection Specifications
Bluetooth transmitter power0-4dBm
Bluetooth transmitter modulation GFSK, π/4DQPSK, 8DPSK
Bluetooth transmitter frequency 2.402GHz-2.48GHz
Bluetooth® profiles HFP V1.6, HSP V1.2, A2DP V1.3, AVRCP V1.5
Bluetooth® versionV4.0
Powering Output
Charging time: 2 hours
Music Play time with BT on 6 hours; Talk time with BT on 6 hours
Battery
Rated power2 x 3W
Battery type Polymer Li-ion battery (3.7V, 800mAh)