JCAT has introduced NET Card FEMTO, which they say is the first high-end ethernet adapter for noiseless and jitterless data transfer from your PC media server.
JCAT told us: "Setting up a media server on a PC or using a computer as a network audio renderer (endpoint) is easy nowadays. But the problem with computers is that they were never designed with audio in mind. While there are improvements for USB-based playback available, the network controller part of a PC remains noisy".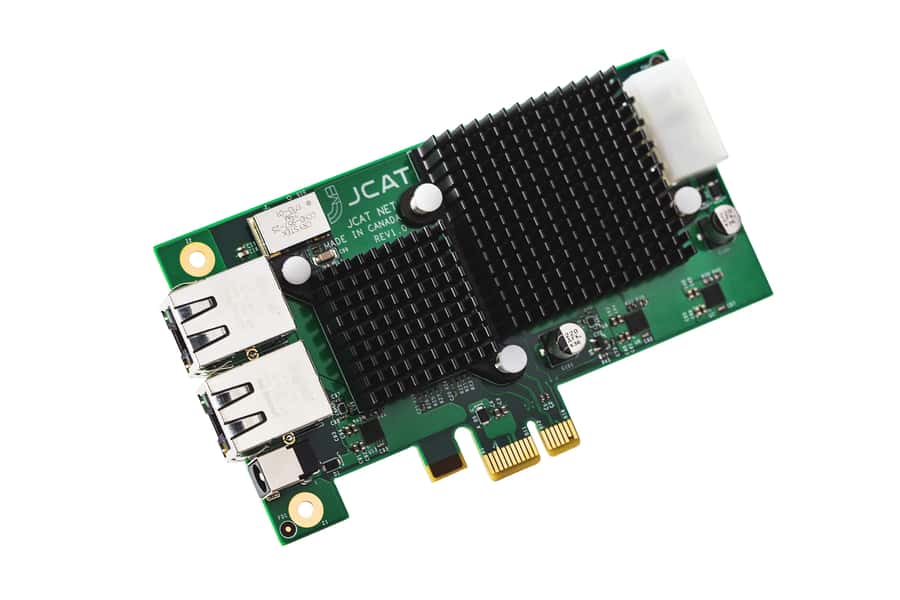 They went on to explain further: "JCAT puts an end to imperfections of network playback with NET Card FEMTO – the ultimate network interface designed specifically for transferring high-quality audio over LAN. By using ultra-low noise linear power supplies and FEMTO Clock Technology combined with enterprise level Ethernet controller from Intel, the JCAT NET Card FEMTO ensures maximum network transmission quality. Connect a network audio player, media server (NAS) or a broadband router to JCAT NET Card FEMTO and enjoy vast sound quality improvement when streaming audio data".
Specification:
• Audiophile PCI Express GbE LAN adapter
• Ultra-low noise linear regulators and filters eliminate noise interferences from PC
• No switching power supplies anywhere
• FEMTO Clock Technology (Crystek CCHD-957) lowers jitter
• Industrial grade components with operating temperature range from -400 to +850
• Enterprise level Intel i350 Ethernet controller
• Gold plated high durability EMI shielded RJ-45 connectors
• Two LAN ports supporting up to 1Gbit connection speeds
• LED-off feature to counteract noise
• Requirements for optional PSU: 5V/1.5A min
• PSU can be supplied from computer PSU via LP4 connector or from an external PSU via 2.1/5mm center positive DC jack connector
• Low-profile & full-height laser cut PCIe brackets included
• All x1-x16 lane PCI Express 2.0 slots supported
• Supported operating systems: Windows (all editions) and Linux
The JCAT NET Card FEMTO is available now for 422€