JCAT OPTIMO S ATX 100% LINEAR COMPUTER POWER SUPPLY RELEASED
The JCAT Optimo S ATX is an audiophile power source unit dedicated to quality audio playback from PC-based transports.
JCAT was founded in 2013 by Marcin Ostapowicz, one of the pioneers of the computer audio movement and the creator of JPLAY software.
JPLAY AND JCAT
Marcin, the JPLAY & JCAT Founder, told us: "The market lacked a genuine audiophile-grade power supply capable of driving high-performance computer-based audio transports. Most of the available solutions were designed with general-purpose usages in mind, such as office work and gaming".
JCAT OPTIMO S ATX
With the introduction of the JCAT Optimo S ATX, Marcin says that computer HiFi enthusiasts can remove switching or partially linear power source units from their system and have a "truly 100% linear, audiophile-dedicated power source".
JCAT claims that the Optimo S ATX is the only 100% linear computer-audio dedicated power supply on the market.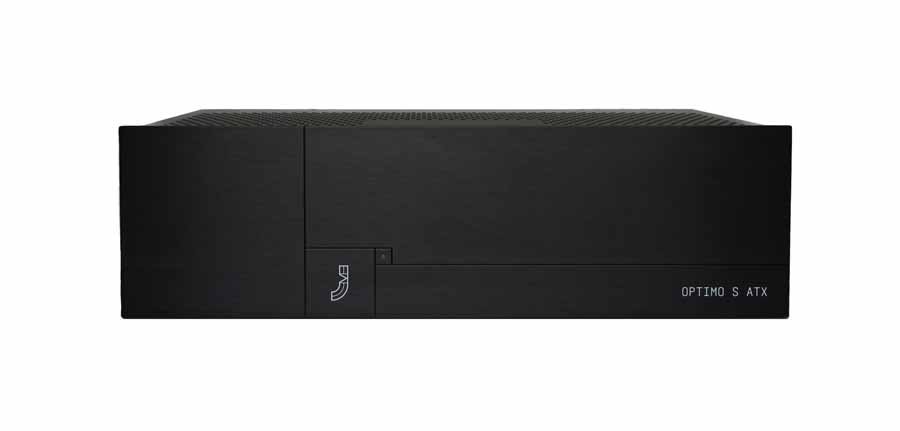 TRANSFORMERS
JCAT use custom-designed transformers made exclusively for the JCAT Optimo S ATX. The magnetically and electrically shielded transformers operate with reduced induction in an entirely linear core magnetization characteristic. They are mechanically decoupled from the device housing with high-quality vibration isolators that are used in medical devices.
JCAT OPTIMO S ATX CAPACITORS
Eleven high-end low impedance, 105°C, capacitors per rail (of a total 110mF (110.000 uF) ensure the performance of the JCAT Optimo S ATX.
COMPATIBILITY
The JCAT Optimo S ATX meets rigorous ATX 2.2 norms, so it can be used with any computer motherboard equipped with an ATX connector. There are audiophile-quality cables included for powering the PC motherboard, CPU, drives, and expansion cards (e.g., JCAT USB & NET Cards).
JCAT OPTIMO S ATX SPECIFICATIONS
100% linear, audiophile power source unit dedicated for HiFi systems
Extremely low noise <25uV RMS
Passively cooled
Compatible with up to TDP 95W processors
450W, 23A @ EVERY MAIN RAIL
Protections against: short-circuiting, overloads, overheating, output voltage jumps, and power grid interferences.
Cable power drop compensation.
27kg  weight
Dimensions: 43x13x50cm
ATX 2.2 compatible.
Included cables: 1.5m shielded silver-plated copper (18AWG) for motherboard, CPU, HDD  (2xLP4 Molex + 2xSATA). Original connectors from MOLEX with gold-plated pins.
115V and 230V versions are available.
JCAT OPTIMO S ATX PRICE
Shipping now at 4500€
Optional cables:  5V DC AUX +170 €,  12V DC AUX +170 €,  PCI-E +250 €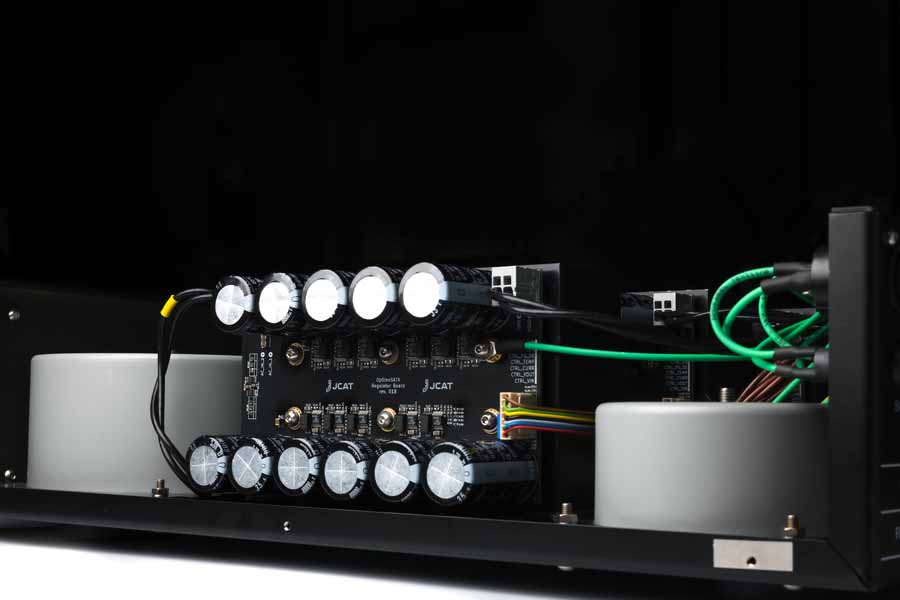 HiFi Pig Says: Computer Audio has come a long way in recent years with dedicated products meaning audiophiles don't need to just make do with what they can find from non-specialist suppliers.