John K. Samson has released a new video for "Alpha Adept", a song from his latest full-length album, Winter Wheat, which was released in October last year, on Anti-.
The video was made by John K. Samson's good friend and musician/artist Shotgun Jimmie, who made the video for John as a present.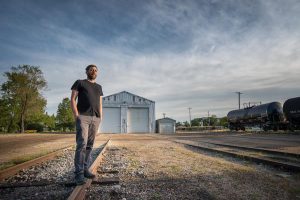 John K. Samson will be touring in Europe and UK in May this year. Please see below for a full list of dates.
May 5th, 2017 – Bremen, Tower (DE)
May 6th, 2017 – Hamburg, Knust (DE)
May 7th, 2017 – Hannover, Lux (DE)
May 9th, 2017 – Berlin, BiNuu (DE)
May 10th, 2017 – Munich, Ampere (DE)
May 11th, 2017 – Graz, Orpheum Extra (A)
May 12th, 2017 – Wien, Szene (A)
May 13th, 2017 – Aarau, Kiff (CH)
May 14th, 2017 – Luzern, Schüür(CH)
May 15th, 2017 – Heidelberg, Halle 02 (DE)
May 17th, 2017 – Köln, Gebäude 9 (DE)
May 18th, 2017 – London, O2 Islington Academy (UK)
May 19th, 2017 – Manchester, Soup Kitchen (UK)
May 20th, 2017 – Brighton, The Great Escape (UK)
May 23rd, 2017 – Düsseldorf, Zakk (DE)
May 24th, 2017 – Münster, Gleis 22 (DE)
May 25th, 2017 – Wiesbaden, Schlachthof (DE)
May 26th, 2017 – Reutlingen, FranzK  (DE)