John Otway used to base much of his act around being a one-hit-wonder.  Until he became a two-hit-wonder.  But we are getting ahead of ourselves.
In the the early Seventies Otway and his on-off musical partner Wild Willie Barrett were carving a rut in the road to obscurity until a legendary moment of TV history turned Otway into the pop star that he was always destined to be.  In 1977, Otway and Barrett's decidedly DIY approach to music meshed well with the punk aesthetic and led to them being asked to perform a couple of numbers on BBC Television's Old Grey Whistle Test.  During one of these, Really Free, Otway jumped onto Barrett's guitar amplifier which was balanced on a chair.  In one of those slow motion moments, Otway teetered briefly before landing astride the amp and almost emasculating himself in the process.  Check it out on YouTube, it's well worth a look.   The happy result of Otway's misfortune was that Really Free shot to number 27 in the UK singles chart and gave Otway and Barrett a Top Of The Pops appearance, a five-album record deal and a sizeable advance.  Otway bought a Rolls Royce, unhampered by the fact that he didn't know how to drive and threw the kitchen sink, in the form of a massive orchestra and an epic guitar solo, into a follow up single, Geneve.  "Let's make this the big one for Otway" read the inscription on the single's run out groove, but it was not to be.  I told Otway a few years ago that I had bought the single; "Ah, you were the one" he replied ruefully.
Further chart success may have been elusive but Otway, with and without Barrett, built up a loyal fan base, attracted by Otway's gymnastically enthusiastic live performances where the possibility of serious and possibly permanent physical injury was never far away. In the early eighties, Bono was fond of climbing up PA stacks and waving a flag from the top.  Otway was equally fond of PA climbing but generally fell off before he got anywhere near the top.
Otway opens tonight's show with The Hit, replacing Wild Willie Barrett with a distortion pedal, then going on to play the B-side Beware Of The Flowers (Cos I'm Sure They're Going To Get You Yeah) which, as he points out, was released in the same year and sold just as many copies.  The song also has the distinction of having been voted the seventh best song lyric in an online poll conducted by the BBC in 1999, making it not quite as good as Yesterday by Paul McCartney but better than anything by Bob Dylan, Paul Simon or Leonard Cohen.
Otway soon realised that exhausting his supply of hits after the first song was putting his shows at a bit of a disadvantage compared to some other artists and so a 25-year search for a second hit began, eventually coming to fruition in 2002 with Bunsen Burner, a song inspired by his daughter's chemistry  homework, which reached number 9 in the chart, increasing the number of Hits that Otway could now play in his shows by 100%.  We are, of course, treated to both hits tonight.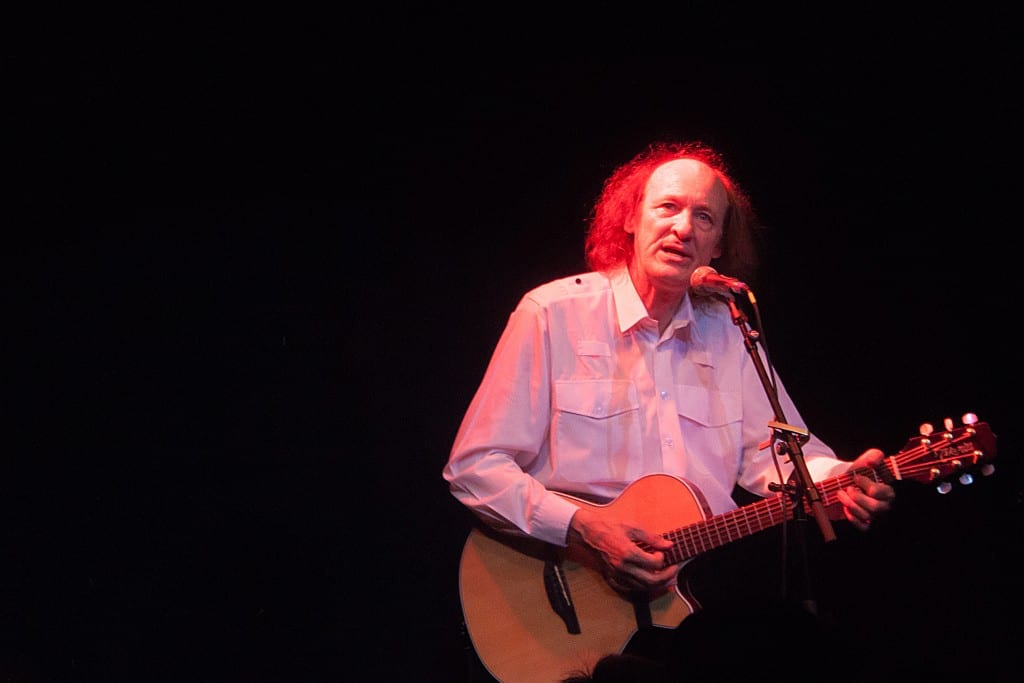 Demonstrating the talent that we would expect from a multi-hit producing pop star, Otway breaks out his 12 string guitar to give us a rendition of The Sweet's Blockbuster.  Unlike most other 12 string guitars, Otway's is actually two six string guitars joined together by, frankly, a big rubber band. Apparently, being left handed but having been forced to carry out most tasks right handed as a child, Otway realised that he could not only play guitar right handed but could also play left handed just as badly. Another epiphany on the Otway road to stardom came at the age of nine when his sister brought home a Bob Dylan record. "Ooh" thought Otway, "I could  do that ".  He proves this by giving us an uncannily accurate impression of Dylan singing Gloria Gaynor's I Will Survive. Uncannily accurate , that is, had Dylan been born in Aylesbury rather than Minnesota. Otway comes slightly undone at this point when a pitch perfect Dylanesque harmonica solo by Deadly The Roadie steals the show. Otway's career-spanning set ends with his version of Bob Lind's Cheryl's Going Home, featuring another cameo from Deadly who surely can't be too far away from a Top Of The Pops appearance of his own.
John Otway is a pop star, a two-hit-wonder and a national treasure. Last year's campaign to provide him with a third hit in the form of a Christmas number one didn't quite  gain the traction it needed.  Let's make this Christmas the big one for Otway.
John Scott