SYD by Kanto is a standalone speaker that you can connect a turntable, CD Player, TV and even by bluetooth. It costs £289.99 and here Harry Smith puts it through its paces.
The world of Hifi is an expensive one to get into, of that there is no doubt. There are a load of different components to buy in order to build your first setup: speakers, amplifier, pre-amplifier, DAC, streamer, the list goes on. All this can seem a little overwhelming and expensive for someone looking to improve their home-listening experience with one purchase.
Kanto is aiming the SYD at people looking for a one-stop solution for all their musical needs. And at for a penny under £290 it seems like a very low cost one at that.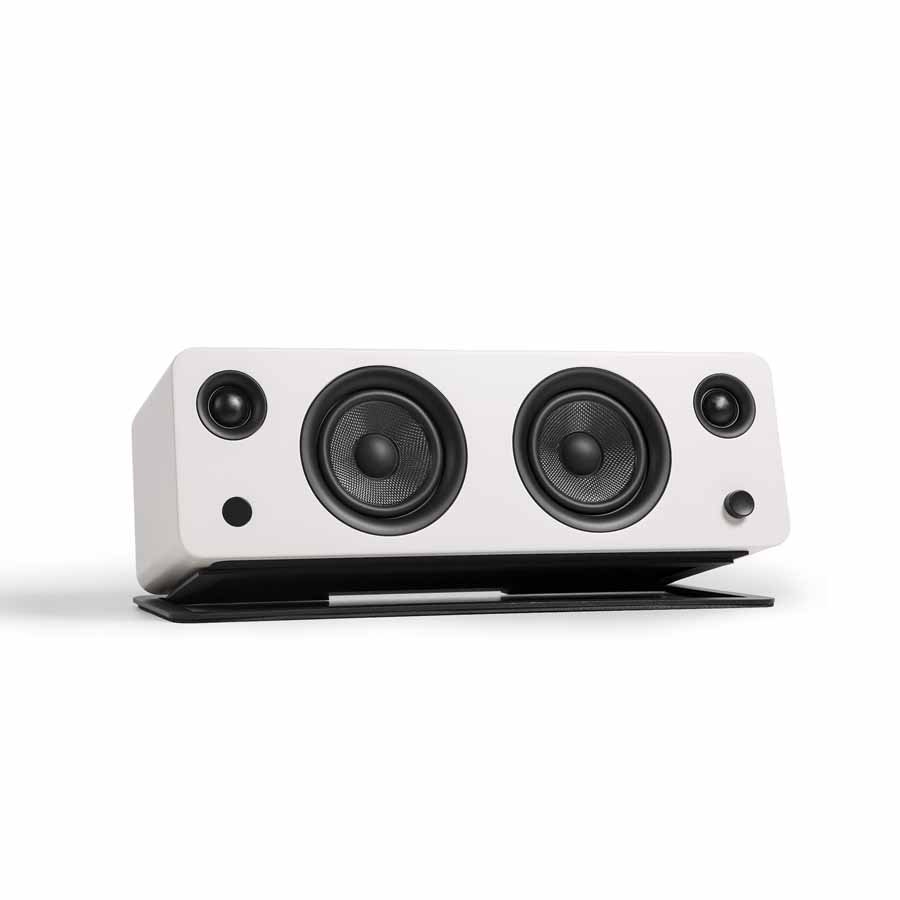 BUILD AND FEATURES
The SYD is built like a tank, it is quite heavy (4.5 kg) considering its size (17.5'' x 6.9'' x 5.7'') and comes with a robust metal speaker stand that puts it facing up at an angle.
I like the look of the SYD, it kind of looks like Kanto have taken two of their YU4 speakers and fused them together after putting the tweeters slightly off-centre.
On the left-hand side is an LED indicator to tell you what input you are using and on the right-hand side is a volume knob that also works as a button to cycle through the different inputs. (which is useful if you manage to lose the remote like did on a couple of occasions)
They're definitely built for purpose and don't try to be anything they're not in the sense that there are no unnecessary frills when it comes to the design.
The matte finish is done well but unfortunately is only available in four colours (burgundy, pink, black and white). It's a bit of a shame none of the more striking colour options carried over from their other speakers (for example, the Kanto YU4 are available in 8 finishes). It features 4' Kevlar drivers and silk dome tweeters that definitely seem durable. (However, there is no speaker grille provided). It has an integrated class D amplifier with an output of 140W at peak power and has a frequency response of 60 Hz to 20 kHz.
The remote is surprisingly well built, it is quite chunky and the buttons have a nice "clickiness". I'm not a fan of the glossy plastic on the top as it is a bit of a fingerprint magnet but that is more of personal preference. You are also able to control the levels of bass, treble and balance from the remote which is a handy addition although there aren't any visual cues to either of these.
The SYD has a plethora of inputs (3.5mm jack AUX, RCA with Phono Switch, Optical, and Bluetooth 4.0 with Qualcomm aptX technology) meaning that you can run pretty much anything through it. I had it set up to my TV, turntable and connected to my phone via Bluetooth all at once. There is also the option of adding a subwoofer and you are able to charge your phone via a 5V 1A USB port on the back of the speaker.
SOUND QUALITY
I decided to test the Kanto SYD with TIDAL over Bluetooth, with my ProJect Essential 2 turntable and also though my TV as a "soundbar".
For music, I was very impressed with the performance of the SYD. The first track I tested was "Around the World" by the Red Hot Chili Peppers. The very apparent bassline sounded surprising clean and played nicely off the bright Fender Stratocaster guitar tones throughout.
"Them Changes" by Thundercat was another highlight as the bassline took centre stage again with a bit more of a funky edge with help of what sounded like a wah-pedal. The bottom line is that on tracks where you wanted to hear the bass guitar, Kanto's speaker was able to deliver.
For rock fans out there it performs very well. Fast drum beats and distorted guitars are at home here. "Old Yellow Bricks" and "Dancing Shoes" by Arctic Monkeys shone as they are pretty fast and heavy compared to their more recent music. The experience was definitely improved with the addition of more volume. In fact, I found myself using them at high volumes for most of the time as they were very easy to listen to. I only felt the need to adjust the levels of bass and treble at lower volumes.
Hooking up my turntable gave me the chance to test out a track that many speakers struggle with, "Contact" by Daft Punk. Although they performed admirably for the first 3 minutes of the track, they fell a little short as the track grew in complexity and didn't bring the same oomph that my main setup is able to. But then again, I had to keep on reminding myself that these cost a lot less than my main setup. However, the rest of the album "Random Access Memories" sounded great. The more funky tracks like "Get Lucky" and "Give Life Back To Music" were definite highlights.
"We've Got To Try" by the Chemical Brothers was able to showcase the strengths of the system when paired with electronic music and how easy it was to fill a room with sound. The Motown style vocals paired well with the drum and bass backing track as the speakers were able to provide plenty of bassy notes at higher volumes.
Watching movies with the SYD was a great experience. Voices sounded clear and although they were not as impressive as they would be with a subwoofer for more action movies. (however, there is the option to upgrade the setup with the SUB6 by Kanto that costs around £220). It was no mind-bending Dolby Atmos setup, but it performed better than I expected and is a worthwhile improvement over most TV's integrated speakers.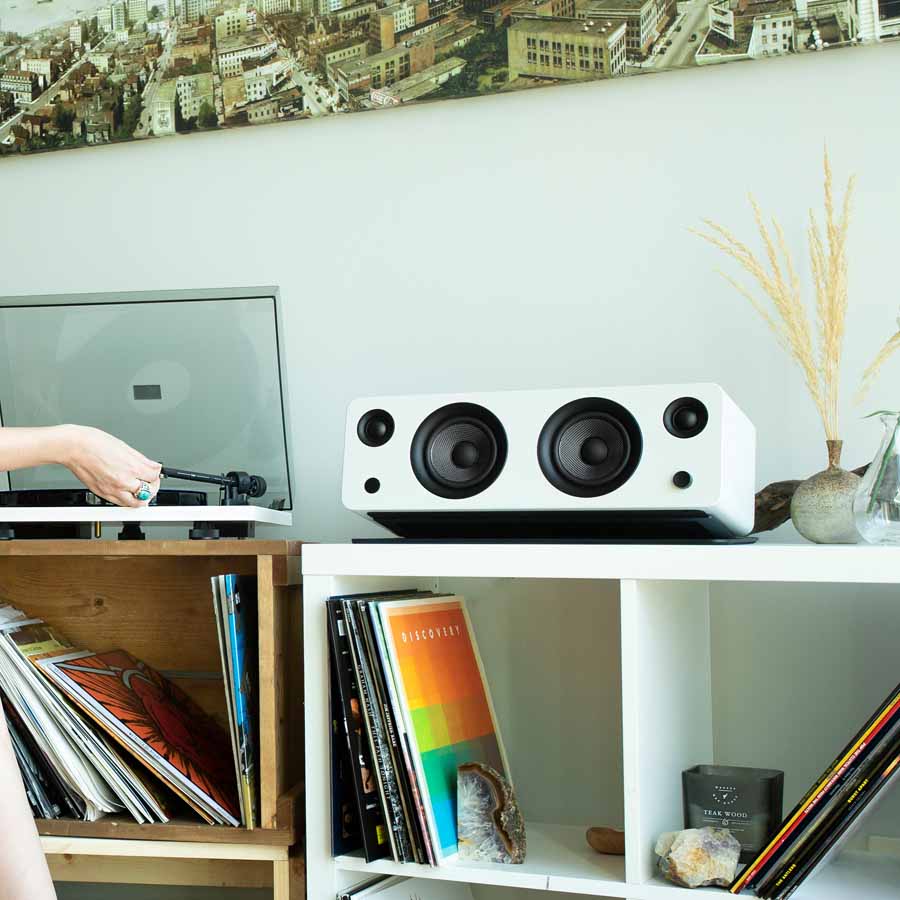 CONCLUSION
I think the Kanto SYD is perfect for students, it's relatively cheap and delivers more than decent sound quality in a compact package. It is a one-stop solution and is unapologetically basic in its design. A great all-rounder and for the price provides a good listening experience across the board for music and movie lovers alike.
It is fantastic for electronic music and although it falls short when you compare it to a traditional setup that costs almost four times as much it is able to deliver a crowd-pleasing sound across many different genres.
AT A GLANCE
Build Quality: Very solid and I'm a big fan of the included speaker stand. The remote is a bit of a fingerprint magnet but is well-built overall.
Sound Quality: Fills a medium/large room easily and delivers a crowd-pleasing bassy sound.
Value for Money: Incredible value for money considering they cost less than most budget passive speakers.
Pros: A very versatile bit of kit that sounds great with music and movies alike for a very competitive price.
Cons: Struggles with some more complex tracks.
Price: £289.99
Harry Smith