KEF has been awarded a Dolby Atmos Award, in recognition of the company's "Leadership in introducing Dolby Atmos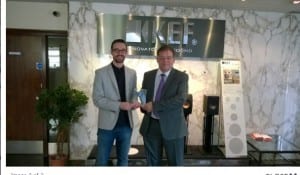 for the home".
As a key launch partner for Dolby's introduction of Atmos for the home last autumn, KEF developed a high-performance Dolby Atmos-enabled speaker, the R50. The R50 has received much critical acclaim, and has been subsequently installed, along with compatible KEF R Series speakers, at several Dolby offices around the world to demonstrate the "incredible sonic benefits of Atmos, the innovative new surround sound format".
In addition, many audio dealer showrooms around the world have chosen KEF loudspeakers as the optimum way of demonstrating Dolby Atmos, and in recognition of this, Stephen Auld of Dolby Europe Ltd this week this week visited KEF UK, to present managing director Steve Halsall with the award.