KEF has announced the launch of its new, 8th iteration, Q Series loudspeakers. We were lucky enough to hear these first at High End Munich trade day yesterday, and we were very impressed.
KEF told us: "The Q Series has won countless accolades in the past for offering consumers a highly sophisticated and accomplished sound performance for a 'mid-price' outlay. This new Q Series boasts an incredible raft of new features and improvements that will enhance the Q Series' reputation still further".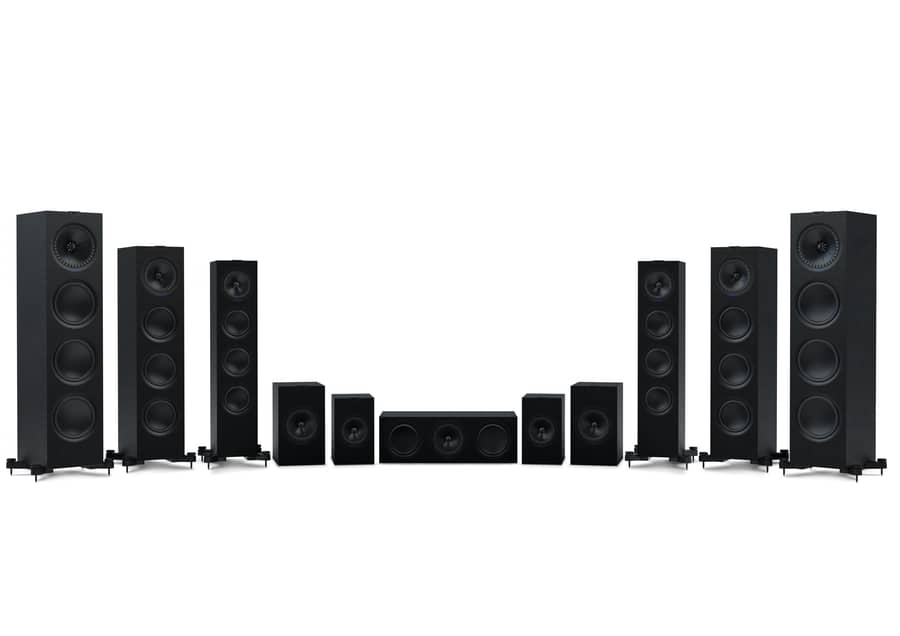 The new Q Series consists of two bookshelf speakers (Q150 and Q350), three floorstanding speakers (Q550, Q750 and Q950), and a centre speaker (Q650c). The series boasts a number of acoustic innovations and enhancements to make it "the most accomplished Q Series range yet". KEF's signature Uni-Q driver has been enhanced by adding a new Damped Tweeter Loading Tube, "significantly enhancing performance in the lower treble. A new, low-distortion inductor on the crossover provides the new Q Series speakers with even cleaner bass".
"The new range's two bookshelf speakers – the Q150 and the Q350 – benefit from a CFD (Computational Fluid Dynamic) port design. This port has also been moved to the rear of the speaker, a move that improves clarity by reducing the audibility of midrange leakage through the port. The Uni-Q driver in the Q150 and Q350 has also been moved to the middle of the cabinet, reducing unwanted internal resonances, and improving sonic clarity and detail still further. The new Q Series floorstanders (the Q550, Q750 and Q950) are also the beneficiaries of a huge raft of acoustic enhancements. Their low-frequency drivers have a larger roll surround, and new spiders – both for a cleaner bass response at high volumes – while a new paper cone improves midrange clarity. In addition, the floorstanders' ABR (Auxiliary Bass Radiator) has been enhanced by a new surround and a new rear suspension, significantly delivering more controlled and potent bass, even at high volumes".
"The new Q Series floorstanders also benefit from a new closed box midrange cabinet: this reduces the load on the Uni-Q midrange cone, increasing clarity and detail, as well as delivering a cleaner, punchier bass. Performance has benefited significantly as a result of improvements to the mid-bass driver, which have also facilitated the removal of a DC blocking capacitor, improving even further the speakers' midrange clarity and a more natural bass roll-off between drivers. The Q650c centre speaker also benefits from the closed-box midrange cabinet, reducing midrange excursion at low frequencies, thus elimination distortions. The Q650c is also enhanced by the new crossover component it shares with the new Q Series floorstanders".
Available in both black and white finishes, the design of KEF's new Q Series is both "elegant and modern", including a contemporary matt satin finish that gives the speakers an elegant presence as well as referencing the design world's latest trends. They also boast a seamless baffle, and magnetic grilles.
Prices:
Q150 Bookshelf: £430 per pair
Q350 Bookshelf: £530 per pair
Q550 Floorstand: £850 per pair
Q750 Floorstand: £1,150 per pair
Q950 Floorstand: £1,430 per pair
Q650c Centre: £550 per piece