Linette Smith gets into the groove with the Keith Monks Prodigy Record Cleaning Machine which promises to be a compact, quiet and home-friendly solution to keeping your vinyl in pristine condition.
BACKGROUND
Keith Monks has been " making records sound better" since 1969, indeed the company is famous for their machines being used by the BBC. From 1970 onwards the BBC's main Central Record Libraries, the BBC Archives Library, the BBC World Service, the BBC Transcription Service, as well as regional and overseas stations with sizeable collections all took delivery of a Keith Monks RCM, with an instruction that every record kept by the BBC was to be cleaned on the Monks prior to broadcast, Many other archives and organisations around the world use Keith Monks RCMs and a silver machine was delivered to Buckingham Palace in 1977 for the Queen's silver jubilee.
After Keith's death in 2005, son Jonathon Monks relaunched the company and continued to innovate, the latest product being the Keith Monks Prodigy Record Cleaning Machine, a compact machine designed to fit better into the home environment than the larger models.
All Keith Monks machines still adhere to the same basic principles – an effective liquid and applicator to wet wash the record, then a "point suction" suction arm moving from the inside out (following the centrifugal fluid movement) and vacuuming away all contaminated fluids, one turn at a time. A teaspoon of fluid is only used once, and the system ensures zero recontamination, however many records you clean.
The point suction system has traditionally used a reel of nylon thread to act as a buffer between machine and disc, cushioning the nozzle tip off the record, protecting the surface, and creating an air space to allow the precision suction to function. Thread would reel out a little at a time, so the piece touching the record was always clean and uncontaminated.
The idea and its execution are not without their drawbacks. Wet thread, often covered in surfactants to help remove pressing oils and aerated by the concentrated suction, would cling to the tube inner walls. The resulting thread accumulation would restrict the suction and eventually cause blockages with trying to find and unblock them a challenge in itself.
Many found re-threading the arm a worry, and for new prospective customers compared with simple push-button new technologies, fears about the complicated appearance of the Monks became more of a purchasing consideration than the cleaning results.
Meanwhile, Jonathan Monks's sights were firmly set on making Prodigy, his "new baby," as simple and inclusive as possible, in aesthetics as much as function, operation and performance, so after 50 years, the thread had to go.
Two years of work involved trying different thread substitutes, shapes, materials, then adding air breather holes to replace the former air space at the tip. After numerous trials, a blend of four polymers was approved to create a new nozzle tip, fine-tuning its shape and softness to perfect its ability to vacuum all traces of discOvery fluid away, while ensuring direct contact would not affect the record surface. Finally, at the suggestion of Brian Berdan of the high-end audio store Audio Element in Pasadena, CA, the air breather holes were finally replaced with a single adjustable air regulator.
The latest machine now has double the width of fluid removal than was previously possible. A simple air valve regulator helps to create just the right amount of suction to remove all fluid while ensuring the force of vacuum didn't slow or stop the suction arm.
Threadless Point Suction was born and is now rolling out across the entire Keith Monks RCM range. R/Evolution sets are now available as an easy user retrofit kit for all Monks machines going back to 1969.
BUILD QUALITY
The Prodigy is made of bamboo, chosen for its strength and ecological credentials. To carry on these principles, it arrives simply boxed in brown paper with eggbox padding. When not in use there is a lid that covers up the business end of the machine and it sits tidily on a shelf or piece of furniture, we put the review model on an IKEA Kallax unit.
You have the option to light it up which is pretty cool and adds to the disguise of the unit. All in all, it is very 'home-friendly' and did not look out of place in our lounge rather than the listening room. When the lights are on the glow emits from a strip around the Prodigy's middle and also from the bottle storage compartment on top. I would actually like the option of a clear perspex lid so that you could see the glowing parts under the lid.
The Keith Monks Prodigy comes with a couple of bottles of discOvery cleaning fluid, a bamboo roller, power pack, light remote control and some spares like nozzle tip. I had an issue with the roller detaching from its bamboo case but its issue has been fixed since ours was sent over, with the roller now screwing onto a threaded pole in the case.
Overall it is a very different looking machine to usual record cleaners and looks good and feels well built.
EASE OF USE
Firstly, the Keith Monks Prodigy doesn't come with any written instructions, but I watched the very well done Youtube video a couple of times and made a few notes.  All in all the process is very simple and it doesn't take long to get the hang of it.
It is a bit more involved than the Degritter machine that we recently reviewed  and though you can leave it while it is suctioning off the liquid, this takes under 2 minutes 30 seconds per side so you don't want to go far. I found it a little messy dripping liquid onto the roller and then wiping it onto the record so kept some tissue handy to wipe up drips. The record is clamped in place with a little screw on clamp and once you have applied the liquid the arm neatly moves over the record from the centre sucking up liquid and whatever filth has been festering in your grooves. You have to get involved again to manually make sure the edge is dry but it is a very simple process. Liquid and groove filth is suctioned into a waste jar which is easy to remove for emptying,, though the process uses so little fluid that you don't need to do this often.
The air valve on the top can be adjusted but comes factory set and I had no need to tinker with it.
You can also put CDs on the machine, something I hadn't done before with an RCM, they clamp on slightly differently but the process is the same and they take just a few seconds to clean.
DOES IT WORK?
In a word, yes. The Keith Monks Prodigy Record Cleaning Machine does exactly what it says on the tin…it gets you records clean, very, very clean. What's more the records are able to be played straight away. I was really impressed by how clean it got records and CDs, throwing some second had finds and rather dirty discs onto it that had all sorts of gunk on them. It is hard to tell from the photos but in the flesh and to your ear the difference was exceptional. Records were left without surface noise and looked and sounded better than new.
The Prodigy has claims of being the quietest Record Cleaning Machine on the market, is it? Well yes, there's some noise but is significantly quieter than other machines. You can easily have a conversation while it is running, unlike some machines where you have to shout.  And it doesn't spoil things when listening to music whilst cleaning.
CONCLUSION
The Keith Monks Prodigy is a neat and practical solution to the age-old problem of cleaning vinyl. With a lot of history behind them, the brand has refined their techniques and the Prodigy is a functional machine that does its job whilst not looking out of place in your home.
I would say it is for audiophiles who like to be quite involved with the cleaning process but want their machine to look nice too and not sound like an aeroplane taking off whenever they use it.
AT A  GLANCE
Build Quality: Nicely made and with good consideration to how it looks, fits and performs in the modern home.

Ease Of Use: Very easy to use, would like some written instructions though for clarity
Value For Money: At just under £800 it isn't cheap but it does the job and has the weight of a lot of experience and knowledge behind it.
Pros:
Quiet
Fast
Effective clean and dry, record is ready to play straight after cleaning
Stores neatly on a shelf and doesn't take up too much room, looks cool
No lugging baths of water around or mixing solutions
Cons:
Can be a little messy dripping the liquid on
No written instructions
Quite involved process
Price: £795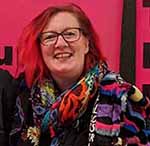 Linette Smith