The Klipsch R5 Neckband is now on-sale in the UK. Priced at £115.00 the Klipsch R5 features a hand-stitched, edge-treated leather neckband. Combined with the R5's light weight, this design enables the Klipsch neckband earphones to rest against your skin or be tucked under the collar of your shirt. The R5 Neckband vibrates to notify you of incoming calls.
Though compact, the R5 carries, say American brand Klipsch, "an impressive level of technology". Equipped with Bluetooth, the R5 wirelessly connects with smartphones and music devices.

The Klipsch R5 Neckband is compatible with both aptX and AAC high-definition Bluetooth streaming. The R5's built-in, rechargeable battery lasts for over eight hours of listening to music and taking calls. For calls it has an integrated cVc® microphone.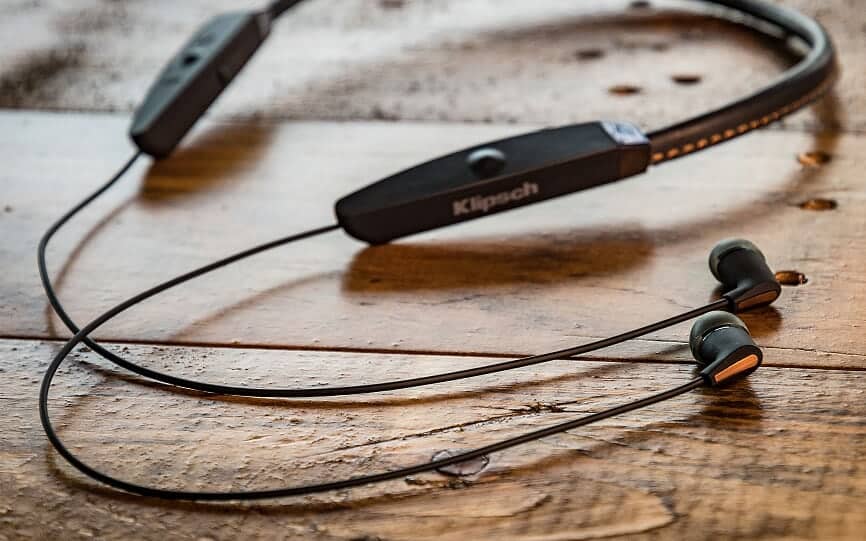 The R5 vibrates when you receive a call and its raised controls let you answer, as well as adjust volume and, when listening to music, skip tracks. The Klipsch R5 is rated IPX4, meaning it can cope with the likes of rain and spray. The R5 features Klipsch's 5mm micro-driver. The little acoustic modules help ensure a deeper fit and hold, the R5 features its maker's patented contour ear tips, anatomically designed to accurately sit inside the ear canal.
READ MORE HIFI NEWS WITH HIFI PIG