The melto2 from Lab12 has different equalisation curves, mono and stereo options, three inputs, balanced outputs and on paper at least looks like an interesting proposition. But does this flexibility come at the expense of great sonics? Stuart Smith finds out when he listens to this €3750 phono-preamplifier.
Lab12 are a Greek company headed up by Stratos Vichos and based in Athens. I first became aware of their products a few years ago whilst attending the Munich High End show where I got to have a look at their products and subsequently we've reviewed a couple of their products. Indeed, their gordian power conditioner and pre 1 pre-amplifier are key components in our mid-priced system. Most of their products (obviously not the power conditioner) are valve based and feature a distinctive and attractive retro look to them. The retro look, however, belies the complexity and usability of their products. Adding to the appeal of the Lab2 products, they come with a full five-year guarantee, which to me suggests that Stratos and his team have a good deal of confidence in their designs and the longevity of their products.
What we have here with the Lab12 melto2 is a fully adjustable phono-preamplifier that will handle up to three cartridges of either MM or MC design. Adjustments can be made on the fly and you can choose to change cartridge type, gain, impedance, capacitance, equalisation curve and whether you want mono or stereo output. So, a pretty flexible unit on the face of it, it would seem. One of the features mentioned here that will interest collectors is the ability to change the equalisation curve and you get the normal RIAA curve, but in addition both Decca and Columbia curves. Most readers will be aware of the RIAA (Recording Industry Association of America) curve that has been the industry standard since the mid-1950s. Before this standardisation it was standard practice for different record companies would use their own equalisation – obviously something of a problem for collectors and radio stations. It's not the purpose of this review to go into the technical side of the curves, suffice to say that different curves have different pre-emphasis on certain frequencies at recording and de-emphasis on playback, with the RIAA curve the recording made with low frequencies being reduced and high frequencies boosted, whereas on playback the phonostage does the opposite and boosts low frequencies and reduces the high frequencies. So, with that in mind, the melto2 will be an interesting proposition for serious collectors of vinyl whose collections span many decades and different labels. Here's a link we published explaining the different EQs.
I mentioned also that input impedance can be adjusted and we have a range of 50 ohm to 47Kohm available with input capacitance being adjustable from 0 to 300pF. Gain for Moving Magnet is 38dB and for Moving Coil cartridges 64dB. This would suggest then that the target market for the melto2 is not only the serious record collector but also vinyl aficionados who use more than one cartridge for playing different records, something that seems to becoming increasingly popular amongst audiophiles.
I mentioned this a valve/tube design and the complement inside the melto2 is 2x E88CC dual triodes and 2x 6n2p-EV dual triodes. The design of the circuit is a no feedback design and Lab12 use two proprietary implementations – SRSG and Fine Symmetry. The step-up transformer inside the unit is by Lundahl who have been making transformers in Sweden since 1958.
Build-wise the unit continues the high standards of other Lab12 products I've had the pleasure to review and the front panel is made of 5mm Aluminium which is available in matt black or frozen silver – the review unit arrived in frozen silver. On this panel you have a large and easy to read OLED display, a knob for turning the unit on (or to mute it) and another knob that allows you to navigate the different settings. The latter sounds pretty complex, but, like their gordian power conditioner, it's all pretty straightforward and you can do it all from the comfort of your armchair with the simple but effective remote control. All in all, the melto2 looks very attractive on the rack and certainly has a retro feel to its design.
Dimensions of the melto2 are 43x11x29cm (WHD) and it weighs in at a reasonable 8Kg. It arrives in simple but well-done packaging.
Round the back of the melto2 you have a total of three RCA inputs with each having its own grounding post. Output to your pre-amplifier of choice is either by RCA (unbalanced) or the increasingly popular balanced XLR. This is a nice touch and from a marketing perspective a sensible decision on the part of Lab12. Other than the AC mains IEC input and the master on/off switch that is your lot. Everything is well spaced and there is plenty of room for your cabling – some products seem to space their sockets so close together as to make it all but impossible to get all your cables in there.
So that's the physical aspects of the melto2 taken care of but what about the sonics – expectations are high given the features and build so let's hope it delivers!
IN USE AND SOUND QUALITY
OK, I'm not a serious collector of older vinyl and I use only MC cartridges, having given my only MM away some time ago and so for the purposes of this review I'll be using just the Gold Note Tuscany Red that is bolted onto the Origin Live Zephyr tonearm mounted on their Resolution record deck. This vinyl front-end has been our reference for a good while now and takes pride of place in our main system which comprises Merrill Audio Thor power amps along with a Music First Baby Reference II pre-amplifier. Cabling for the purposes of this review is all Tellurium Q, other than power which is by Atlas and Tellurium Q. Speakers are our Avantgarde Duo XDs but, as these have active bass, I also auditioned the melto2 using a pair of Xavian Perla stand-mounters with Franc Audio Accessories slim footers added.
Switch the melto2 on and you are presented with a screen that says "melto is warming up" and a countdown from sixty seconds. The screen is clearly legible from my sitting position about 3 or so metres away which is a good thing. You can then scroll through the settings using the remote. First up, set the input you will be using, then the cartridge type, then high or low gain, then the equalisation curve, capacitance is locked at low, impedance is set to 25ohms (you can scroll through 25, 27, 34, 40, 60, 66, 73, 79, 88, 100 and High Impedance) and you can set whether you want a mono or stereo output. Finally, you can change the contrast of the OLED display but I kept it on full brightness as it made it easier to read. All this set up took a matter of a couple of minutes and, as I said, was all achievable from the comfort of my listening chair – I like this. I'm a bit of a prat when it comes to remote controls and never seem to get the hang of them with Linette being the guardian of remotes for television, satellite box etc, but this experience was hassle free and very intuitive. Good work Lab12 as I really hate the whole having to learn a new product thing – In a world of plug and play (and let's face it laziness) there's no excuse for over complicating things.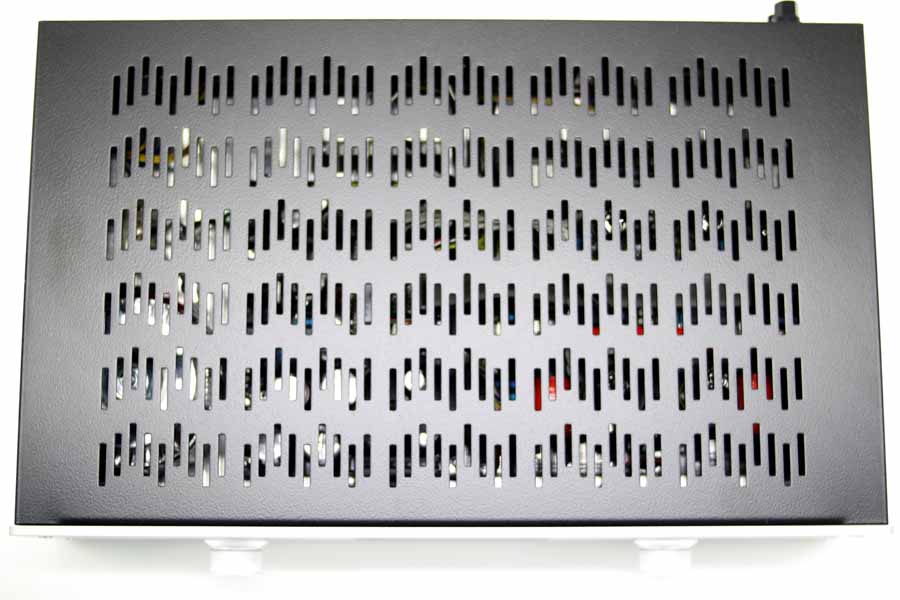 First up, and it was the first record that I came to, was John Martyn's Solid Air (Half Speed Master) which regular readers of my reviews will know I reckon to be one of the finest recordings out there. The first thing I notice is the that there is absolutely no noise that I can hear being put into the system by the melto2 – it is silent between tracks other than the odd crackle and pop that are on this very well-played record. The second thing I note is the width of the soundstage, which I'm aware is a characteristic most influenced by the speakers, but it is wider than it was previously for sure. Thirdly I note the clarity and purity of tone in Martyn's voice and instruments. First impressions of this phono are VERY encouraging and I find myself sat listening to the whole record, only pausing to take the odd note and to turn the record over at the end of side one. Imaging also feels somewhat sharper than I'm used to, again a characteristic influenced mostly by speakers, but the melto2 is definitely doing something positive to the whole and I'm liking it…a lot!
Next up I dig out a copy of Handels Messiah (Decca LXT 2921), a mono recording from 1954 giving me the opportunity to switch between RIAA curve and Decca and mono and stereo outputs, again from the comfort of my listening position. Now I don't know this record particularly well but switching to the Decca curve and mono did seem to bring the recording to life a little more, with a perceived improvement in top-end and low-end definition when switching to the Decca curve. I'm in no way an aficionado of this style of music and it is pure coincidence I picked up this particular version at a second-hand shop some time ago, but it does show that for people who do go out and search this stuff down, the melto2 is a useful tool to have in your artillery.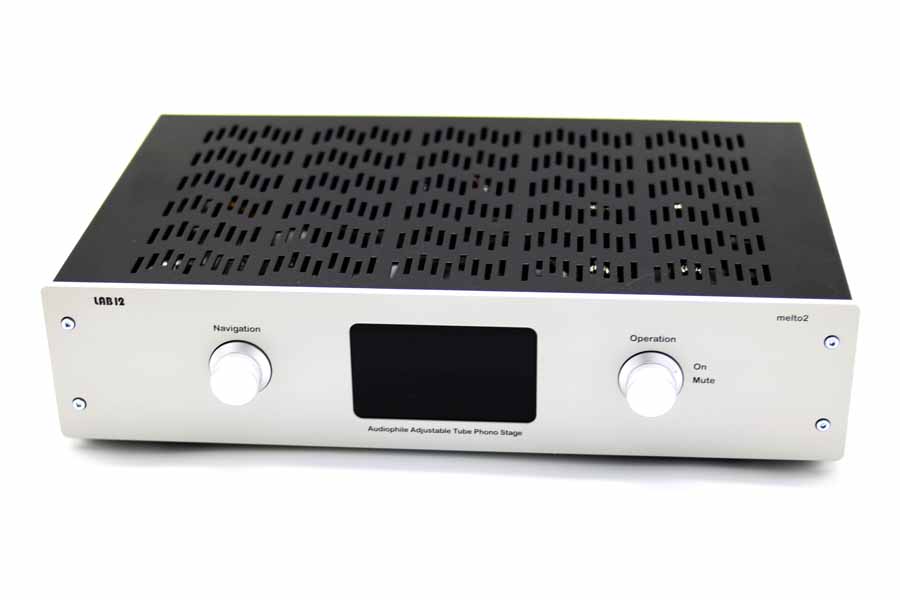 Another delve into the record shelves and I pull out Daft Punk's Random Access Memories, again a record that gets a lot of play here at Hifi Pig Towers. It really is a tour-de-force in what can actually be achieved with electronic music, which, let's be fair, does have its fair share of detractors in the audiophile world. I'm particularly enthralled here with the perception that there is more air around noises and "instruments" on the track Motherboard and the open-spaciousness I'm hearing on Fragments Of Time. I'm also aware again of the very low (imperceptible) noise-floor of the system allowing me to delve right into the recording and pick out little nuances previously veiled (" oh, no he's going to use the phrase "a veil has been lifted" I can sense it!") to an extent. Again, I'm aware that the track feels to have more space – this is not a clinical kind of thing and the word I'd use is, perhaps, organic…or natural. Whatever, it's a nice sound that feels very unforced, and whilst there is masses of detail coming through the speakers I'm not feeling overloaded by the detail, a characteristic that over the days led to me spending more and time listening to the system without once feeling fatigued. I know that is a bit of a cliché too but the melto2 really does produce a sound that is easy to get on with without sacrificing detail and (oh god he really is going to use it!) …micro-detail. I really am able to pick a record to pieces should I choose with the Lab12 in place but equally I'm able to just sit and enjoy my records. This is a good sign to me.
CONCLUSION
In the time I've had it in the main system and in the mid-priced system I've fallen in love with this phonostage and what it brings to the music that I'm hearing, so much so that it now sits in the main system having replaced a unit costing somewhat more than the asking price of the melto2. Yes, I bought it. I'll rarely if ever use the different curves, and chances are that that particular setting option will never again move away from RIAA, but some will find this feature invaluable – in my Decca experiment outlined above it certainly works! Likewise, the mono setting, though I'm sat looking at the rack and thinking "I could add another turntable to the set up now, or add another arm and cartridge to the Origin Live record player."
Sonically this is the easiest to get on with phonostage I've heard in our system. It is quiet to the point of silent in operation, allowing me to really get into a recording's detail, but at the same time it is relaxed, unhurried and natural sounding in its delivery.  There is a definite feeling to music having more space around individual instruments and those instruments sit in the soundstage with a solidity that is uncanny.
I've outlined a few records I listened to during the evaluation process but the melto was completely unfazed at whatever style of music I played through it, being equally at home with Dutch gabber from the early 90s to Miles Davis and everything in-between.
There is little to criticise here: set up is simple, build is great, sound is wonderful and perhaps all I could suggest to Lab12 is they bring a more basic version out without the mono function and without the different curves, though I fully understand why they have chosen to include them.
AT A GLANCE
Build Quality: Simple and elegant styling allied with good build quality and materials. The OLED is easily visible from your sitting position.
Sound Quality: Exceptionally good sounding with an organic and mellifluous presentation that manages to still have all the detail present in the recording. Very low noise-floor and very un-fatiguing sounding.
Value For Money: Even with the features I'm unlikely to use very often I feel the asking price is exceptionally fair for the sound I'm enjoying.
Pros: Good looks. Simple set up. Super sound. A bit of a Swiss Army knife of a product for those that need or want those EQ curves. Remote set up is very useful.
Cons: For me, some of the features are superfluous.
Price: 3750 Euros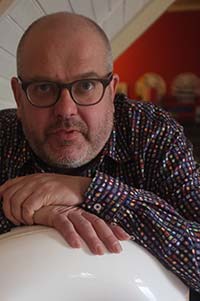 Stuart Smith
Much as Stuart has said, this phonostage from Lab12 delivers what it promises. I'm not a technical kind of person and the features like Columbia and Decca curve are not going to be of use to me other than the very rare occasions we come across something rare and old in one of the many Brocantes here in Brittany, but I understand that they may well be of use to serious collectors.
Looks-wise the melto2 is understated and looks great on the rack, with a retro kind of feel to it, and build is solid.
Sonically is where I concentrated my attention on the melto, and this is where it shines. I found it easy to listen to and as Stuart has mentioned above it is packed with detail, whilst at the same time sounding honey smooth, with a rich sound that I found quite addictive. With every kind of music I listened to, be it Def Leppard or Daft Punk, I thoroughly enjoyed the melto, finding it dynamic and thoroughly enjoyable. Phonostages are one of the bits of kit that kind of play a supporting role in a system and, when they are right, they just make everything sing.  This one is definitely right…I'd go as far as to say it's deserving of a Best Supporting Actor Oscar!
If vinyl is your passion and you are looking to upgrade your phonostage, and whether you feel you need all the features it offers or not, then the melto2 from Lab12 should certainly be on your audition list. Definitely an Outstanding Product in my eyes.

Linette Smith