Leema Acoustics' new high-end Libra DAC will be shown for the first time in mainland Europe at High-End, Munich. The Welsh company will be at High End this year with a wide range of Welsh-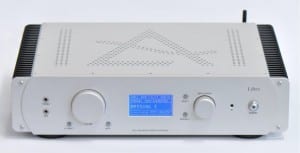 made hi-fi, including the new Libra DAC (£6,000).
Based in Halle 1, S10, Leema Acoustics' Lee Taylor and Mallory Nicholls will be debuting the new Libra for the first time in mainland Europe. The new flagship DAC will be joined by the Hydra II stereo power amp (£ 3,595), plus both the Xone 2.5 floorstanding speakers (£1,750) and the diminutive new Xen 2 micro monitor (£1,295).
In addition, Leema Acoustics will also have selected models from its wide range of hand- made hi-fi on static display. The new Libra DAC is expected to be in retailers in the weeks that follow High End.