Limetree is the affordable branch of well known audio brand Lindeman. Here Ian Ringstead has a listen to their headphone amp costing £595.
Until recently the brand Limetree was a mystery to me and although I'd seen mention of it on the internet, I took no real notice until now. The brand is a less expensive offering from the highly regarded German company Lindemann which make high-quality audio components. They are celebrating 25 years in business and are based in Bavaria in southern Germany, a beautiful part of that country I am familiar with having had several holidays there in the past.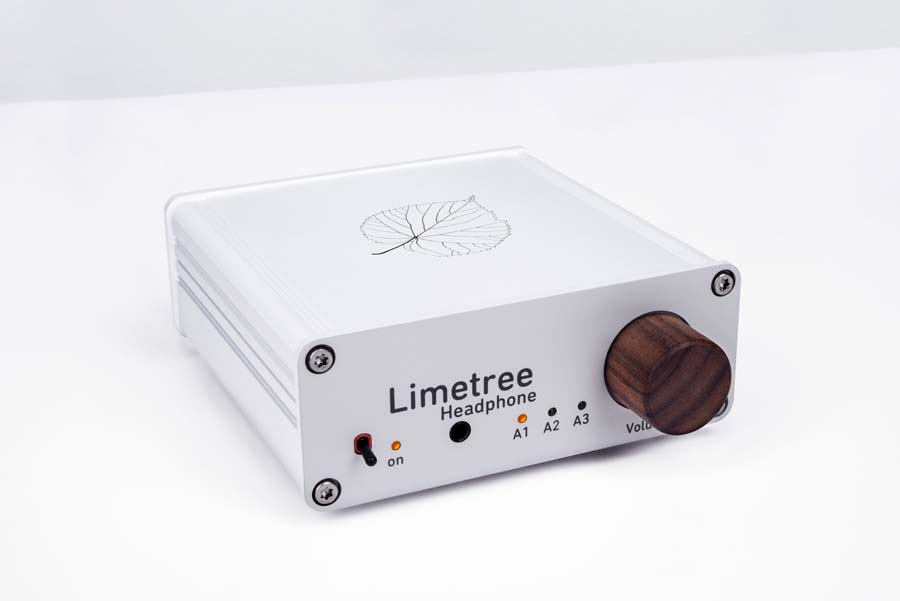 Lindemann's philosophy is like any high-quality audio manufacturers goals – music should be as natural as is possible and that a good Hifi system should be all about the music and not the equipment. Music should touch our souls and speak to our heart and mind as the composer or artist intended.
The Limetree series was introduced earlier this year and aims to offer cutting-edge technology at affordable prices (including a phono preamp, headphone amplifier, USB- DAC, network player and then some). I gather more is to follow.
To quote Lindemann "The careful optimisation of all circuit details and the targeted selection of top-grade components are the basis for each true high-end product. A lot of fine-tuning is required to understand all sonic influences and to optimise the result accordingly. True progress in sound quality on an ultimate level can only be achieved by a deep insight into the coherencies and their consistent realisation in the circuit design ".
BUILD QUALITY
The Limetree components are all housed in very smart looking compact aluminium cases with the logo embellished on the top. This is a drawing of a lime tree leaf that was personally done by the owner Norbert Lindemann and I think is a lovely simple touch to identify the brand. The front panel is very simple with a single toggle switch on the left and power LED, a 3.5 mm headphone socket next to it, then a row of three LEDs for the analogue inputs and finally a volume control made from American walnut which contrasts well with the aluminium finish. I asked why they hadn't used lime tree wood and they said they had tried it but due to its lighter colour it had not kept its finish and got dirty with repeated use from being touched. In any case, the American walnut looks great. On the rear panel are a DC power input, three pairs of RCA inputs and a pair of RCA outputs. Underneath the unit is a set of microswitches that allow you to alter the impedance to match your headphones and get the best sound from them. That's it, all very neat and simple.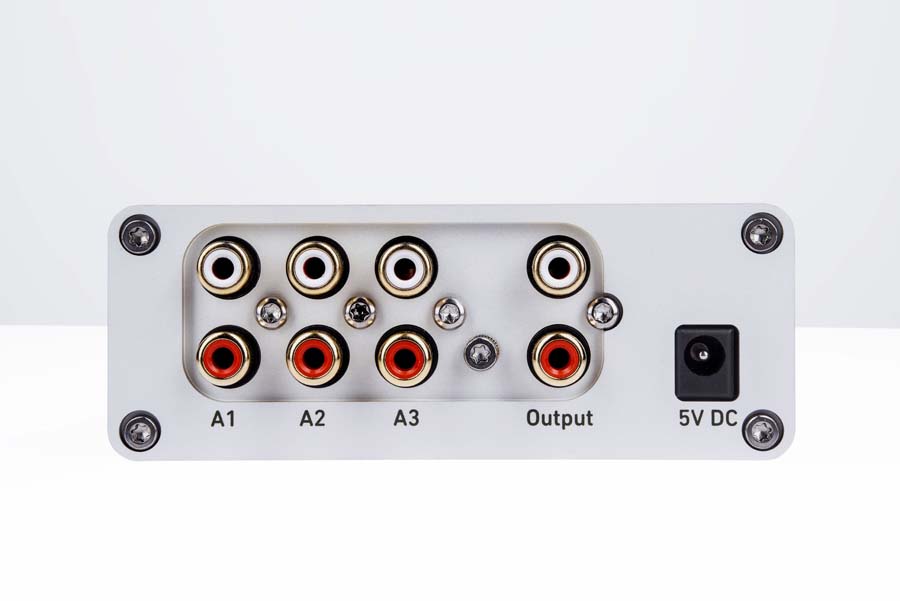 The circuit of the amp is designed around the best available JFET-OP-AMPs by Burr-Brown with a high-quality analogue volume control and a high current so-called diamond buffer. This buffer works in class A mode and without negative feedback when used as a headphone amp. The circuit layout has been very carefully designed and laid out for the best possible performance. Resolution is stated as second to none. The noise and distortion figures are exceptional and on the limits of modern measuring equipment. The best components are used throughout from the studio grade volume potentiometer to the closely toleranced capacitors and resistors from Japan. The power supply is an external medical grade wall plug transformer which ensures very good isolation from line disturbances. Due to the elaborate onboard filtering and special voltage regulators, Lindemann was able to make an exceptionally low noise power supply with a ripple voltage below 10 microvolts.
In use, the Limetree headphone amp was simplicity itself. To switch on you just had to flick the toggle switch up and the yellow power LED lit up to indicate it was on. To change inputs, you held the toggle switch up for about 3 seconds and the unit would cycle through the inputs and you simply let the switch go when the desired input had been reached. The headphone socket is the standard 3.5 mm, understandably due to the unit's compactness. The insertion of a jack-plug automatically muted the audio output. Connections on the back were good quality RCA phono sockets. I loved the simplicity of the unit's design and it performed flawlessly. It isn't remote control but that would be churlish of me to criticise as the exercise does me good to get off my chair and anyway the volume control is so tactile being wood and has a lovely smooth action.
I connected the Limetree to my Temple Audio monoblocks as the Limetree is not only a headphone amp but also a pre-amp. I've had passive pre's in the past such as the Tisbury Audio which I reviewed previously and good as that was, especially for its bargain price, it was not a match for the Limetree sound-wise in my system. Now let's put that in context. Passives can be excellent and there are some models out there that are brilliant but cost thousands of pounds. I applaud these expensive designs, but their high price excludes my wallet and value for money is always a priority for me.
SOUND QUALITY
Lindemann has gone all out I feel and achieved their aim of making a superb sounding product at an affordable price for the masses. The moment I switched the Limetree on and turned the volume up I thought "this is great". It's the same as when I go to any shows and walk into a manufacturers room and I am instantly impressed. You don't have to sit there for hours and ponder, thinking do I like it? It's a gut feeling I have acquired with over forty years' experience. I know Stuart and Linette are the same when they go to shows or review products. Trust your instincts.
As you can tell by now,  I was smitten by the Limetree. It blended so well with my Temple Audio amps which are also super compact and drove my Audio Physic Avanti's like an F1 driver. Precision and power sprung to mind, along with great dexterity. The music flowed so easily and everything I played impressed with its fluidity and it was taut without being strangled. My Temple Audio amps played their part in this presentation of course, but having used them with other pre-amps they showed this quality but not to the extent as with the Limetree. The Limetree was the icing on the cake due in no small part to the synergy it showed with the amps.
I used my recently acquired Luxman D-05 SACD player and my Luxman PD 300 turntable with the superb Gold Note PH-10 phonostage and PSU-10 power supply. They both performed beautifully through the Limetree which highlighted their own qualities rather than forcing its own character on proceedings.
My musical tastes are varied, but we all have favourite genres and artists, so I played a lot of jazz and progressive rock interspersed with modern artists such as Christine and the Queens. The quality of the music production and engineering is important to me, so when an artist is well produced it really adds great pleasure to my listening experience. A case in point is Christine and the Queens' new album "Chris" which I love. She is a very talented singer with a quirkiness that to me is infectious and her songs are fresh and interesting. The bass on the latest album is prodigious but not overblown and blends well with her voice and other instrumentation. Some albums can sacrifice quality if overproduced but this album is very well executed. Supertramp is another favourite band of mine and every album they have made never fails to deliver in quality of sound or musicality. The Limetree was a window to the sound and I didn't feel it was getting in the way of the music delivery at all and giving an uncoloured portrayal of the music.
The headphone stage was just as good. I don't use headphones at home much unless my wife is watching the TV or not keen on my music selection, but I do use headphones most days when at work in my lunch break to relax. I use Sennheiser Momentum 2 over-ears because they are closed back to avoid disturbing anyone else and because they sound fabulous for the money. At home I also have a pair of Sennheiser HD580's with upgraded silver leads that are also highly detailed and suit my ear very well. The impedance switching on the Limetree is a useful feature to match your headphones as different models can vary considerably in this aspect, and obviously, some people have several pairs of cans on hand. The Limetree had the same uncoloured clean and open detailed sound through both my Sennheisers and I could listen for long periods without any listener fatigue. Noise was incredibly low with no hum either through the jack socket or RCA outputs.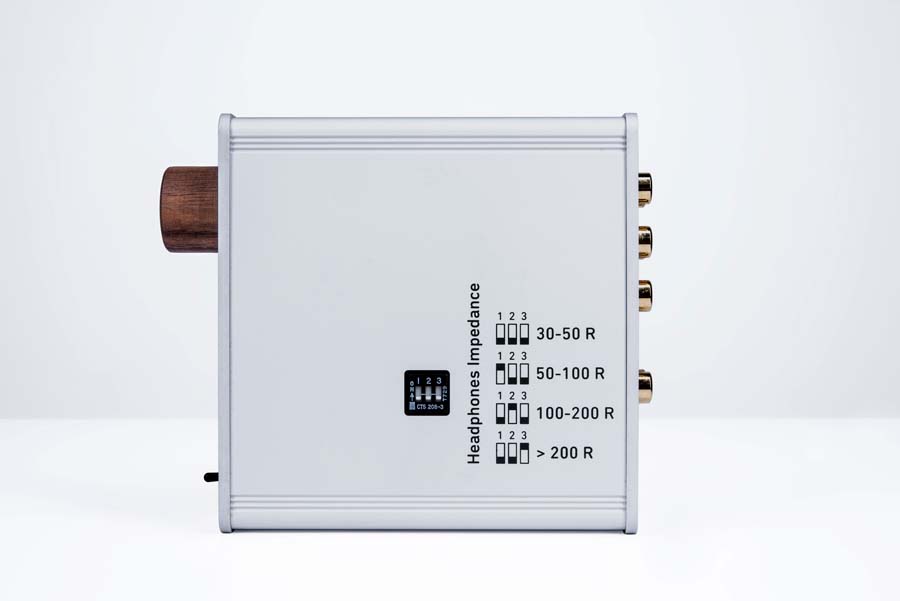 CONCLUSION
As you can see, I was rather taken with the Limetree headphone amp. In fact, I liked it so much I bought one due to its perfect match in my current system. I only have two main source inputs, turntable and CD – I've yet to embrace streaming or downloading. The limited inputs were therefore not a restriction. Many people who buy this unit may primarily want it for the headphone stage and maybe use it in a second system or compact office/study environment. It's a testament to the Limetree's quality that I chose to use it in my main reference system because it's just so good. If funds were unlimited then yes, I may well spend more and Lindemann do some rather tasty high-end units costing several thousand that have been highly praised – one day possibly.
AT A GLANCE

Build Quality: For the budget excellent with very high-quality parts and expert design. It should last for years
Sound Quality:  Sublime
Value for Money:  Exceptional given its performance and price
Pros:
Simple, compact and truly excellent sound with an equally great headphone stage. A pre-amp and headphone stage in one unit that is cute as well.
Cons: 
Nothing unless you require more than two inputs and greater flexibility.
Price: £595
Ian Ringstead
Review Equipment:  Luxman PD300 t/t, Jelco SA750 arm, and Ortofon Quintet Black, Gold Note PH-10 and PSU-10, Luxman D-05 sacd player Temple Audio mono blocks with supercharge power supplies, Way and Missing Link silver interconnects, Audio Physic Avanti iii speakers, TQ Ultra Black speaker cables Hi Fi Racks Podium slimline rack. Room treatment by GIK.