Ok, Lindy is a new name to me but they are apparently pretty well known among computer types…read youngest son Harry… so I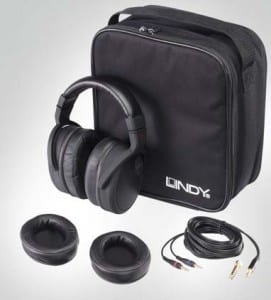 was a bit sceptical about having a go with these budget (£84.96) headphones.
Lindy have been providing technology products such as petrol lamps and electrical appliances since the 1930s and have offices throughout Europe, the US and Australia. These headphones are designed, developed and voiced in the UK and when I opened the box I was a little taken aback. Packaging is very good and inside you are presented with a foam lined and sturdy looking carrying case which contains the headphones themselves, a spare pair of ear pads and the removable cable.
The cable seems of reasonable quality and pushes into the bottom of each can with a satisfying clunk. At this price-point I suspect that after-market cables are not something that would be a consideration, though it is possible.
The headphones themselves are lightweight and plasticky but they appear to be pretty robust. They're an over-ear design, open back (also available in closed back), the earpads are well padded, as is the headband and the headphones feature a "vented driver" enclosure designed to get rid of standing waves reflecting back to the listener.
The 42mm drive units have Copper Clad Aluminium Wire voice coils resulting in a 64 Ohm impedence and a sensitivity of 100dB.
The Sound
I'll be absolutely honest here and confess that I've put this review off for ages as I really wasn't relishing trying out a pair of headphones that are decidedly on the budget side of things after having been lucky enough to have experienced some truly outstanding cans in the recent past. However, perceptions can be completely wrong and so it is with the Lindys.
OK, these aren't going to compete with the likes of the Audeze or Oppos of this world, but the truth is they are pretty good…and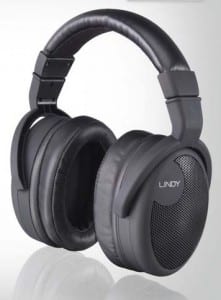 particularly for the modest asking price.
Playing the Tresor 109 compilation rewards you with a solid and deep bass response that, whilst powerful, doesn't completely overshadow everything else that is going on. The top end is good and crisp, but there is a feeling that the mid-band is a little muddy when compared to the best out there. This results in a slightly nasal sound on vocals when there's lots of other things going on in the background of a tune, but when there is just a vocal they're pretty clear. The vocal on David Crosby's Croz album feels a little further back in the mix than it should and likewise on Gil Scott-Heron's Back Home tune.  I am being hyper critical here considering the price of these but it needs to be said.
Popping on Massive Attack's Be Thankful For What You've Got plays to the Lindys' strengths. Bass is hard-hitting and deep, not as fast as some headphones I've had the pleasure of hearing, but tuneful and fairly easy to follow. This is a feature that is going to appeal to people who enjoy the likes of dub and bass heavy music. NWA's Alwayz Into Something is another tune that also plays to the Lindys' strengths with bass being deep (perhaps a little overblown) and dominant – ironic really given this is a Dr Dre tune. Playing a collection of old Acid House I thought they were great and ended up listening through the whole collection without really finding anything wrong at all…but then this music is all top end and bass.
At the start of Jeff Buckley's version of Lilac Wine, you get a good insight into the singer's distinctive vocal style as well as the spatial effects on his voice. You also get to feel the emotion of the tune. When the music comes in there's a little of that muddying, but this is perfectly listenable stuff and had I not been spoiled by much more expensive audiophile offerings, something I could live with. Out of the head experience is pretty good but not outstanding and soundstaging isn't too bad at all.
Comfort
Good breathable earpads that are really well padded, along with the Lindy's well padded headband make these headphones really comfortable and being so light you can wear them for long periods without any bother. They are quite tight on the head but not uncomfortable and you can shake your bonce about a good bit without shaking them loose, so good for the more active folk out there.
They are open back but don't leak sound too badly at all so youd probably get away with wearing these on public transport too.
Conclusion
These are not the best headphones in the world and for the asking price they were never going to be. However, they sound pretty reasonable, offering good powerful bass and tops. Things get a little confused when there is a lot going on in a track and this is brought out in the mid-band in particular.
For fans of dance music and the bassheads amongst Hifi PIg's readers, these offer a dynamic and powerful sound (particularly in the bass department) that conveys enough of the rest of the musical information to make them perfectly usable and as such I'd recommend them for people who use headphones only once in a while and don't want to spend a small fortune.
For the money it's hard to be overly critical of what represents a good package, with good accessories and a sound that makes them well usable.
Stuart Smith
Sound – 7.25
Comfort – 8.15
Fit and finish – 8.00
Value – 8.9
Overall – 8.08
Recommended for those who like bass and tops to be dominant and those looking for a cheap but very usable headphone.