Linn has announced the launch of the Akurate Exaktbox which is available for Linn loudspeakers and now for other manufacturers' loudspeakers with the launch of support for the Bowers and Wilkins' Nautilus.
The Akurate Exaktbox delivers Linn's Exakt technology to any loudspeaker. It is software-configured to optimise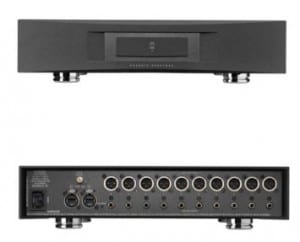 performance for any loudspeaker and amplifier combination.
In a system using Akurate Exaktbox, the loudspeakers are run actively, with separate amplifiers for each drive unit. The original analogue crossover in the loudspeaker is bypassed and instead, the Akurate Exaktbox performs the crossover digitally, while applying Linn's Exakt technology to "eliminate distortion, correct for drive unit variation and optimise the loudspeaker's performance for the room".
Exakt Link
In order to deliver the digital signal losslessly to the loudspeaker, Linn developed a new protocol — Exakt Link. Exakt Link transmits losslessly 8 channels of 24-bit/192 kHz Studio Master with exceptionally low jitter and "extreme precision synchronisation between loudspeakers".
Up to thirteen sources can be connected to the system via the Akurate Exakt DSM with inputs including HDMI, Toslink, S/PDIF, XLR and RCA phono available.
Upgrading to Exakt requires a Klimax or Akurate DSM partnered with a Klimax or Akurate Exaktbox.
Available to audition from 23rd September at Linn Specialists nationwide, the Akurate Exaktbox is £4,000.
The Klimax Exaktbox is currently available and priced at £10,000.