John Scott dusts off his copy of Love's Forever Changes album.
"Forever Changes was reputedly named from a story that Lee had heard about a friend of a friend who had broken up with his girlfriend. "

Arthur Lee began his musical career in a variety of high school bands with his friend Johnny Echolls.  Both Lee and Echolls were natives of Tennessee who moved to Los Angeles as children and would find themselves at the heart of the psychedelic vortex that was 1967's Summer Of Love.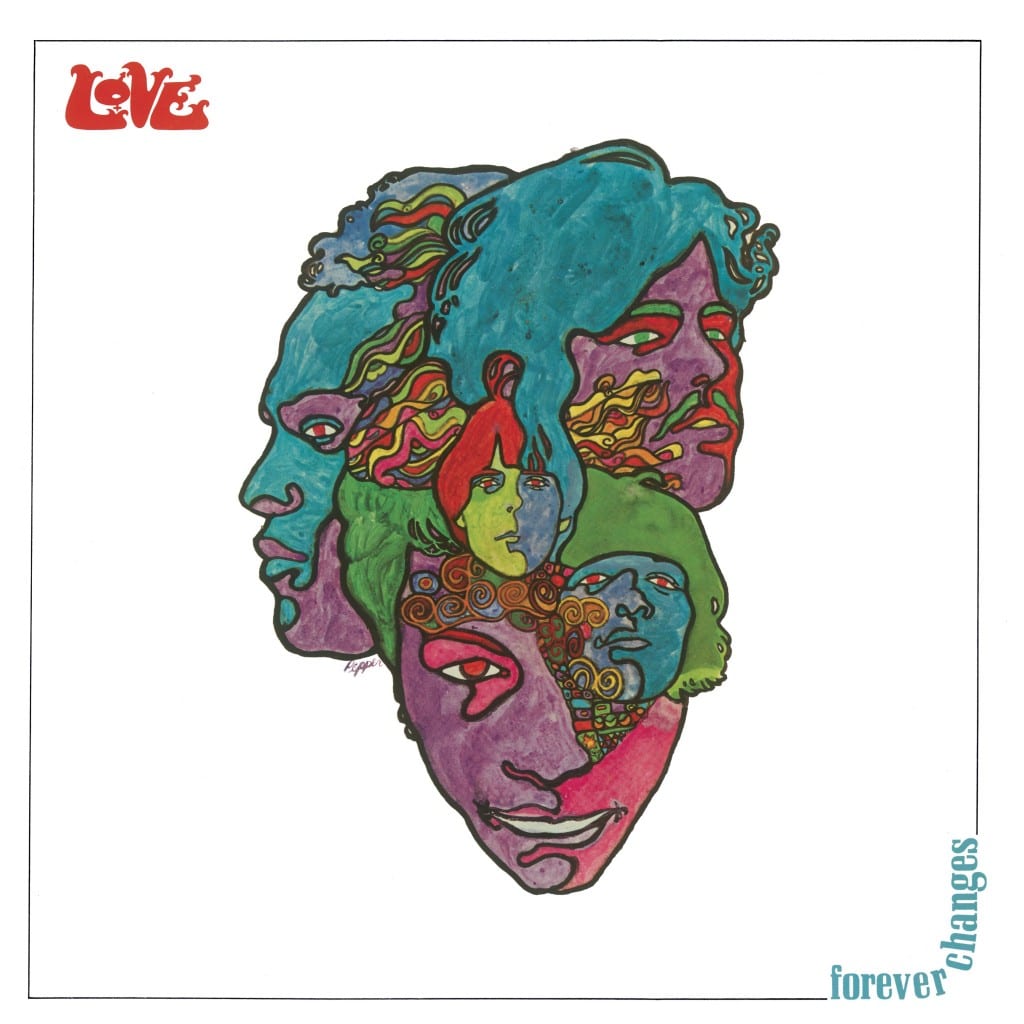 Lee's first recording, The Ninth Wave, was released on 1963.  He went on to record a number of other tracks including My Diary, which featured a pre-Experience Jimi Hendrix, before forming the first incarnation of Love with Echolls on guitar and vocals, Bryan McLean, also guitar and vocals, Ken Forssi on bass and Alban "Snoopy" Pfisterer on drums.  During the recording of the band's second album De Capo, Pfisterer was moved to harpsichord and organ, being replaced on drums by Michael Stewart.   Tjay Cantrelli was brought in on saxophone and flute to expand the band's sound.
Although Love  had some success with their first two albums, released in quick succession in March and November 1966, a combination of drug abuse issues and ego clashes, mainly between Lee and McLean, had left the band in pretty bad shape and Pfisterer and Cantrelli quit the band soon after the release of Da Capo.  When it came time to record their third album, it was clear that Lee and McLean had the songs but that the band was in no real shape to record them.  Neil Young had been slated to produce the album but called off due to other commitments.  Lee took over as producer along with Bruce Botnick who had engineered the previous albums.
When the recording sessions began in June 1967, the band was in a barely-functioning state and so LA session musicians Billy Strange, Don Randi, Hal Blaine and Carole Kaye were brought in on guitar, piano, drums and bass to start work on two songs, Andmoreagain and The Daily Planet  which the Love musicians then added some overdubs to.  The use of the session musicians, known collectively as The Wrecking Crew,  on these two cuts apparently gave the band a bit of a shake and they realised that they needed to get their act together if the band was going to continue.  After extensive practicing, the band came back to the studio in August and worked through to September to produce the remaining nine cuts on the album. Don Randi was retained to play keyboard parts and a final session on 18 September saw the addition of the string and horn parts after Lee had spent three weeks singing these to arranger David Angel.
Forever Changes was reputedly named from a story that Lee had heard about a friend of a friend who had broken up with his girlfriend.  "You said you would love me forever" she said.  "Well, forever changes" he replied.  On release in November 1967, the album stalled at number 154 in the Billboard 200, doing far worse commercially then its predecessors.  Over the years, however, it has been reappraised and is now regarded as the band's masterpiece and one of the defining albums of its era.
If Arthur Lee's name is the one most closely associated with Love, it is. Bryan McLean's song Alone Again Or that is arguably their best known song.  Alone Again Or opens the album with a Flamenco-influenced acoustic guitar, followed by rising, staccato strings and rousing brass.  A trumpet solo adds a mariachi feel to produce something that is definitely of the sixties but sounds like nothing else.
A House Is Not A Motel opens gently with 12 string guitar, bass and drums but ends in a stinging electric guitar battle between Lee and Echolls.  Lee's lyrics are abstract but turn into an apoplectic, apocalyptic vision where bathtubs run with blood.  Forever Changes may have been written during the Summer Of Love but it is no hippy dippy peace and love fest.
Andmoreagain, one of the Wrecking Crew cuts, is on the face of things a gentle love song but Lee's later comments on the song hint at a dissatisfaction with the mundanity of every day life.  "You wake up in the morning and watch I Love Lucy, eat your breakfast and do more of the same thing every day, same as yesterday only a day later."
The Daily Planet is the second Wrecking Crew song featuring a tight driving bass but the overall sound is not out of character with the songs produced by the actual band.  Musically upbeat, Lee's lyrics again hint at something darker.  The darkness deepens on The Red Telephone, a reference to the Presidential communication that would precede the commencement of a nuclear strike.  The lines "They're locking them up today and throwing away the key" were eerily prescient for Lee himself who would be sentence to a 12 year prison term in 1996 for the negligent discharge of a firearm.  He served five and a half years.  The lyrics of The Red Telephone were also parodied by The Bonzo Dog Band who turned "we're all normal and we want our freedom" to "we are normal and we dig Bert Weedon".
On Maybe The People Would Be The Times Or between Clark and Hillsdale, Lee omits the last word of every line, leaving the listener to choose a word for themselves.  That word, provided the listener, chooses the obvious one, starts the next line; suggesting that we really never had a choice at all.
Live And Let Live once again juxtaposes gentle instrumentation with dark lyrics.  "The snot has caked upon my pants" Lee sings.  "It has turned into crystal.  There's a bluebird sitting on a branch, I guess I'll take my pistol.  I've got in in my hand, because he's on my land."  Lee intended this as a commentary on the removal of land from the Native Americans.
If Bryan McLean holds claim to  Forever Changes' signature song, it is Lee's vision of alienation and disassociation that characterises the album as a classic and made it retrospectively such an influential and popular album.  Love would never better Forever Changes.  The line up split and subsequent Love albums were basically just Lee and a succession of session musicians.  Following  his release from prison, Lee toured as Arthur Lee and Love.  A live concert, recorded at London's Royal Festival Hall on 15 January 2003, was released as The Forever Changes Concert and was enthusiastically received.  Johnny Echolls would join Lee for later performances.  Lee contracted leukaemia around 2005 but did not disclose this at the time.  His illness caused him to pull out from further touring and he died of the disease on 3 August 2006.  Forever Changes will forever remain as his legacy.
VITAL INFORMATION
Released -November 1967
Recorded -June to September, 1967 at Sunset Sound Recorders
Genre –      Folk rock, Psychedelic pop
Length – 42:51
Label – Elektra, Rhino.
Producer – Bruce Botnick, Arthur Lee
TRACK LISTING
SIDE 1
Alone Again Or – 3:16
A House is Not a Motel- 3:31
Andmoreagain – 3:18
The Daily Planet – 3:30
Old Man – 3:02
The Red Telephone – 4:46
SIDE 2
Maybe the People Would Be the Times or Between Clark and Hilldale – 3:34
Live and Let Live – 5:26
The Good Humor Man He Sees Everything Like This – 3:08
Bummer in the Summer – 2:24
You Set the Scene – 6 :56 
John Scott