UK Loudspeaker manufacturer Magnific Acoustics make just two models, Ian Ringstead takes a listen to the company's £2500 M521 standmount. 
Magnific Acoustics are based in Loughborough and are a husband and wife team keen to let the world know about their unique design. The female side of the team is Natalia Guzakova who, along with her husband Mike, hails from Russia originally but are now happily settled here in the UK. Like many new business they have daytime jobs and this speaker came out of a passion for music and Natalia's fathers dream/ design idea back in the 1970's. He felt drive units needed to be light and efficient in order to work at their best and certainly many years ago when low powered valve amps or transistor amps were the norm this certainly helped. Nowadays this isn't a problem, but efficiency is not a bad thing if the speaker is designed correctly and can handle real world wattages. Modern materials with more powerful magnets mean many more ingenious designs can be conjured up.
The M521 is classed as medium sized and yes it is, but at 480mm high by 280mm wide and 300mm deep it is quite a presence in your average sized living room. When I saw them at Whittlebury they immediately stood out in the small room and on their solid metal stands (not included by the way but which are an essential accessory) certainly take over your room. This is not a criticism of the design, just an observation from an aesthetic point of view. When installed in my living room the same was noticed and my wife did not appreciate the size, but she didn't complain about the sound (a good thing in my books).
The speaker is necessarily fairly big in order to accommodate the light-weight paper cone bass mid unit (200mm) and silk dome tweeter. The drive units come from an Italian company called 18 Sound, the crossover is first order and Magnific's own design. They use Jantzen Audio and Clarity Cap components and are very proud of this design. Power handling is 200W and can be used with amps from 5-100W.Impedance is 8 ohms , frequency range is 30Hz to 20kHz with a 95dB /1W/1 metre efficiency. So all in all an easy to drive design that will go loud.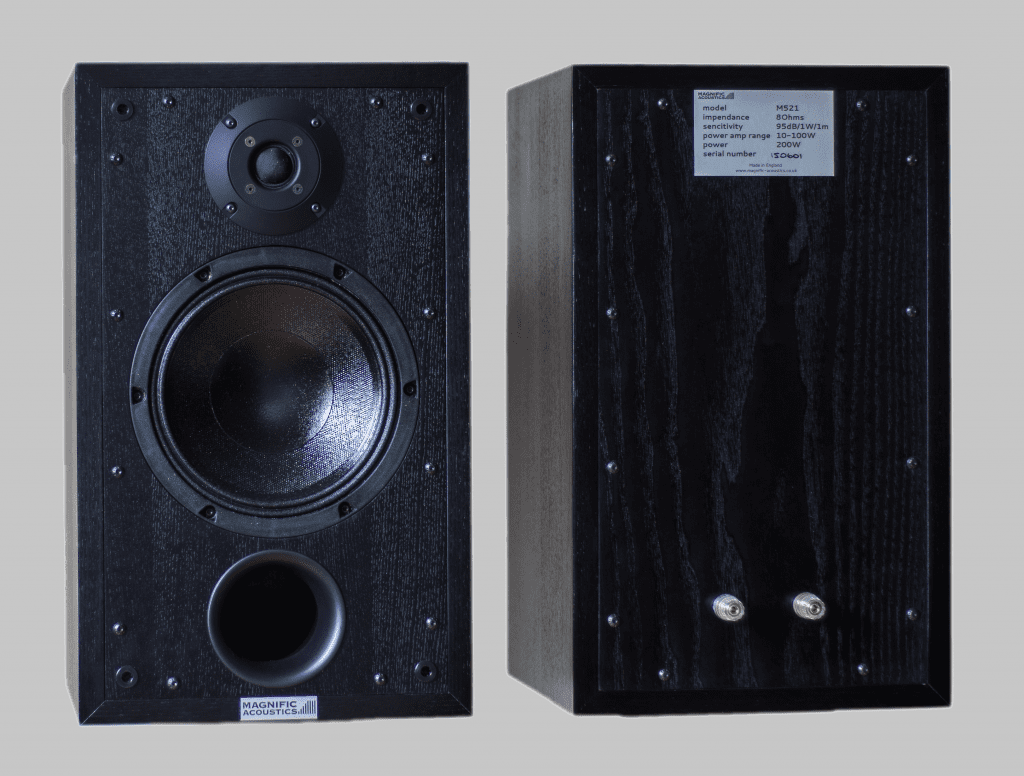 The pair I received were finished in black stained ash real wood veneer and can be ordered in other finishes with cherry and American black walnut as standard options. The fit and finish is excellent and the speaker has a standard black cloth detachable grille. Behind the cabinet are a pair of good quality gold plated binding posts. The tweeter is above the bass/mid unit and the cabinet is front ported with an 80mm opening. If you look down the port you can see a perforated baffle. Magnific state it is an acoustic resistance panel but because it is their own design they prefer to call it an acoustic registration of speakers. I can only surmise that this panel restricts and controls the airflow within the cabinet especially aiding the bass performance.
Magnific Acoustics aren't the first company to try this type of approach with acoustic resistance, but they certainly seem to have hit upon a clever way of dealing with an age old problem with ported loudspeaker cabinets, i.e. chuffing from the port and poor bass clarity. Ports are there in order to improve sensitivity and aid bass performance but unless the airflow out of the cabinet is controlled properly it has bad side effects. I've listened to countless speakers over the years and it is immediately obvious when a designer doesn't get the cabinet/port design right. Many blame rooms and positioning as the culprits but I firmly believe if the speaker is designed correctly in the first place then it will sound good in most locations unless the room is truly dreadful. My living room is average in size and typical of what most people have or can afford. I have looked at room treatments but practically these are limited and not guaranteed to work.
SOUND
Now to the sound. The first thing that struck me was the control these speakers have over the music, not in a vice like grip way, just composure. They went about their job confidently and it took a few hours listening to really appreciate their qualities to the full. Initially you might think they sound dull but that is down to the recording. When I listened to complex jazz and live recordings like Lee Ritenour or Fourplay the skill of the musicians was obvious and all the intricacies of the interplay between the instruments and backing singers were clearly portrayed. I know these recording extremely well and revelled in the detail and ease at which I could hear everything. Now my sources are not super expensive, a Sony CDPXE 3000 and currently a Project RPM3 with a Sony TAFE3000 amp. The set up sounded good but when I then substituted the Sony amp for my Tisbury Audio passive pre and Meridian 556 power amp the sound took on a whole new perspective. Grip and control were greatly improved which shows a good amp with plenty of current is definitely worth having.
Although these speakers will work with lower powered amps they love a quality amp whether it is valve or transistor. They portray detail very well and are speedy when required, but they don't shout at you. I could listen to them for hours and not feel fatigued. The sound field always stayed within the boundaries of the speakers but depth was well portrayed. Female vocals were lovely and on Clannad's albums Maire Brennan's voice sounded sublime being crystal clear. I love Irish music or Celtic in general, maybe it's the Irish blood in my veins from my dad's side (he was born in Dublin of an Irish mother and English father).
I tried rock and other forms of music and like any good product the M521 performed admirably. The speakers cost £2500 ,so they are not cheap, but when you consider the quality of the crossover components along with good drive units and quality Missing Link silver wiring in a very nicely made real wood cabinet then I feel they offer good value.
The design is intended to control the bass output, so it is accurate and may seem lacking on first listening, but persevere and you will be rewarded with clean lows that don't boom. I have always been an advocate of tight accurate bass and would rather sacrifice some lower end if the speaker sounds better in the room. Too much is greed and we all know what greed does to you if not controlled. I prefer lean and mean like my steaks.
Natalia and Mike have done a great job in wanting to bring to our attention a new design that is truthful and was her father's original brain child back in the 70's. Modern methods and materials with sound theory and maths have born fruit I feel. As a new venture Magnific Acoustics have made a good first attempt to enter a very competitive arena. This is an honest design that does not try to impress by being brash but just gets on with producing long term listening pleasure. In a larger listening room they wont seem out of place unlike my smallish living room, but credit due to them that they still worked well. I heartily recommend anyone interested in them to contact Magnific Acoustics and arrange a trial. They will be only too happy to oblige.
Sound quality – 8.7/10 
Build quality – 8.5/10 
Value for money – 8.4/10 
Overall – 8.53/10 
Pros:  
Great sound with good control, nice build, efficient and easy to drive. 
Cons:      
Not small and need good solid stands to work at their best, so factor that in.
Ian Ringstead
Designer's Comments
Loudspeaker design is a skilful art and there are many ways that a good sound can be achieved. A designer has to contend with many issues such as cabinet resonances, crossover irregularities and  cone break up to name but a few. Many materials can now be used to try and overcome these issues, but getting the balance right requires skill and a lot of trial and error.
At Magnific Acoustics we use a principal we call  Acoustic Registration to get around the resonance problems. These resonances particularly cause problems in the 125Hz and 430Hz  which create drive unit deformation of the cone and stationery wave effects, thereby ruining the sound. A perforated baffle inside the cabinet controls the airflow and allows the drive units to perform at their best.
A fast  light weight paper cone driver is used  for the bass /mid unit that produces a linear response over a wide frequency range. The silk dome tweeter was chosen for its smooth linear response to provide hours of fatigue free listening.
The crossover uses high quality components from Jantzen and Clarity , and silver wiring from The Missing Link for far greater musicality.It is set at 4400Hz first order, being higher than a lot of designs, in order to achieve a good balance and compromise between the tweeter and bass/mid unit that we use.
Mikhail Martynov