American brand Martin Logan are famed for their electrostatic and hybrid designs but the Motion 40i use a Folded Motion tweeter allied to more conventional drive units. Ian Ringstead tries out this interesting speaker costing £1995 and distributed in the UK by PMC Distribution.
Martin Logan as a company go back to the early 1980's and was a manufacturer whose products drooled over as an enthusiast. I remember hearing a pair of CLS full-range electrostatic speakers at a local audio show in Chesterfield and wishing I could take them home. Later on, when the American comedy series "Friends" was aired, I got very excited with the episode in which Chandler and Joey refurbished their apartment with Lazy boy recliners and had a pair of Martin Logan Aereus loudspeakers, which to a geek like myself had me in a frenzy of ecstasy. They were a major eye-catching product that looked and sounded fabulous. Martin Logan is famous for their electrostatic speakers, but some years ago they started producing hybrid designs with a moving coil bass driver and an electrostatic panel for the mid and upper frequencies.
BUILD
The Motion 40i are a full range floorstander that uses a Folded Motion tweeter, 5.5-inch aluminium cone midrange driver, dual 6.5-inch aluminium cone woofers with a rear-firing bass port, and a proprietary Vojtko crossover network, named after Joe Vojtko who is their chief designer on the technical side. The dual woofer design allows for a more vibrant, tighter and extended bass performance. Dispersion is aided by the driver unit's design which has a drive-stabilizing dust cap on the bass units, a stiffened motor suspension and the bass units are located low down on the front baffle to control the bass and tighten it up. The speaker's enclosure sports a reinforced baffle and a fabric grille. Available in three stylish finishes: gloss black, matte white, and red walnut.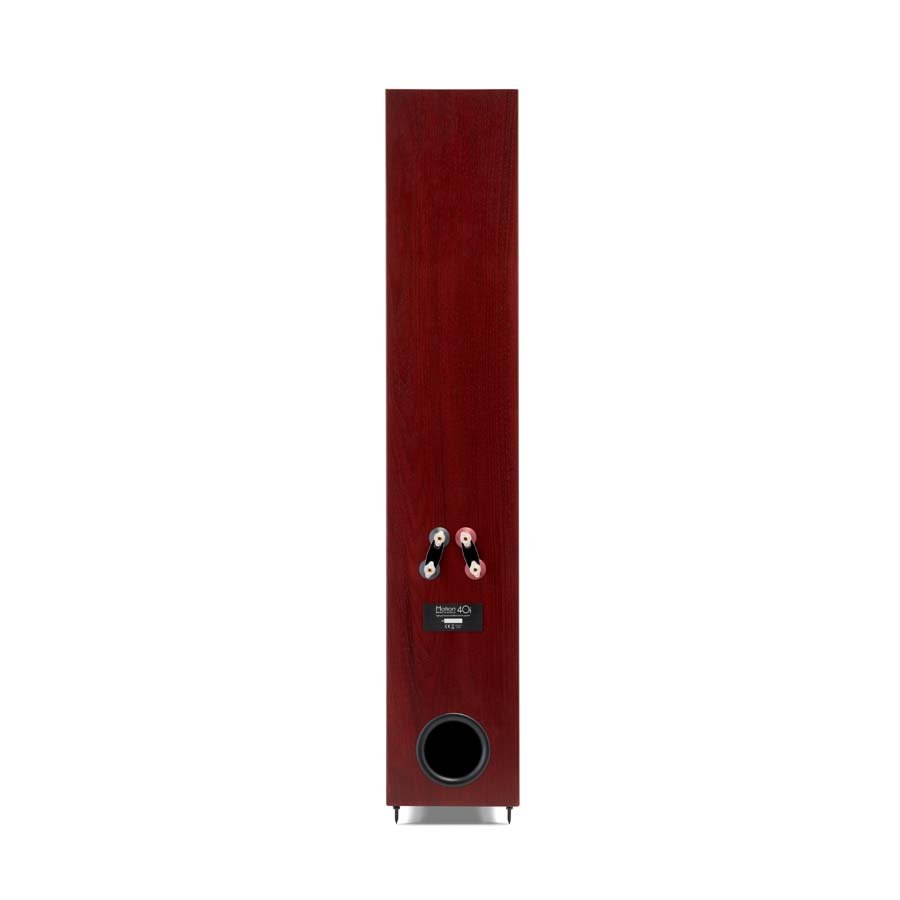 The signature Folded Motion tweeter has an extremely low mass diaphragm that "squeezes" air, thus demanding significantly less excursion than the typical 1-inch dome tweeter. Its folded design allows for a much larger surface area (compared to that of a regular 1-inch dome tweeter), controlled dispersion characteristics, and vanishingly low distortion. This very clever design replicates very successfully a lot of what the larger, dynamic electrostatic panels do in Martin Logan's high-end models in a small space.
The custom-built drive units are low distortion designs and use high power magnets to control the aluminium cones. This allows them to have much higher excursion rates so maximising power handling capabilities. The dust cap is concave to aid rigidity and reduce cone break up. Aluminium has been used in drive units for some time now because it has excellent damping properties and integrates with the Folded Motion tweeters superbly. Being metal, the aluminium dissipates heat away from the voice coil exceedingly well, thus reducing distortion and safeguarding the unit.  I lost count of the drive units I had to replace because customers burnt them out through overzealous use of the volume control.
To deliver accuracy in the critical midrange, mid-frequency drivers feature a specially engineered "stiff" suspension. Stiffening the suspension (the spider and surround) raises the driver's resonant frequency and optimizes its performance to achieve a natural roll-off and inherently operate within an ideal range for a mid-frequency reproduction (as opposed to a comparably sized woofer). The crossover design is very carefully thought out so that the custom drivers whose frequency ranges are tightly controlled by the components on the crossover work in unison, thus being synchronized, rather like the synchromesh in a car gearbox allows the driver to change gear very easily as opposed to the original cars where you had to double-declutch, a tricky manoeuvre that could take some getting used to. The crossover is kept as simple as possible and made of high-quality components so as not to compromise the sound. Listening of the designs are done in real-world test conditions so that the designers are assured they will sound great in peoples home environments. Speaker design has changed considerably over the last 40 years and where a manufacturer would at one time have used an anechoic chamber, if they could have afforded to, to take measurements, computerised analysis is now used and is a lot cheaper.
The cabinets are very solid, made from MDF, a popular material because it is very stable and machines easily. Interestingly the top of the cabinet slopes back from the front edge to the rear, a feature that must have worked well in the design stage. As you would expect the finish is excellent and finished off with smart looking magnetic grilles. Premium gold-plated 5-way binding posts assure a stable connection while accommodating a wide range of connections. Two sets of binding posts accommodate bi-wire connections to increase signal carrying conductors and allow each portion of the crossover to be directly coupled to the amplifier.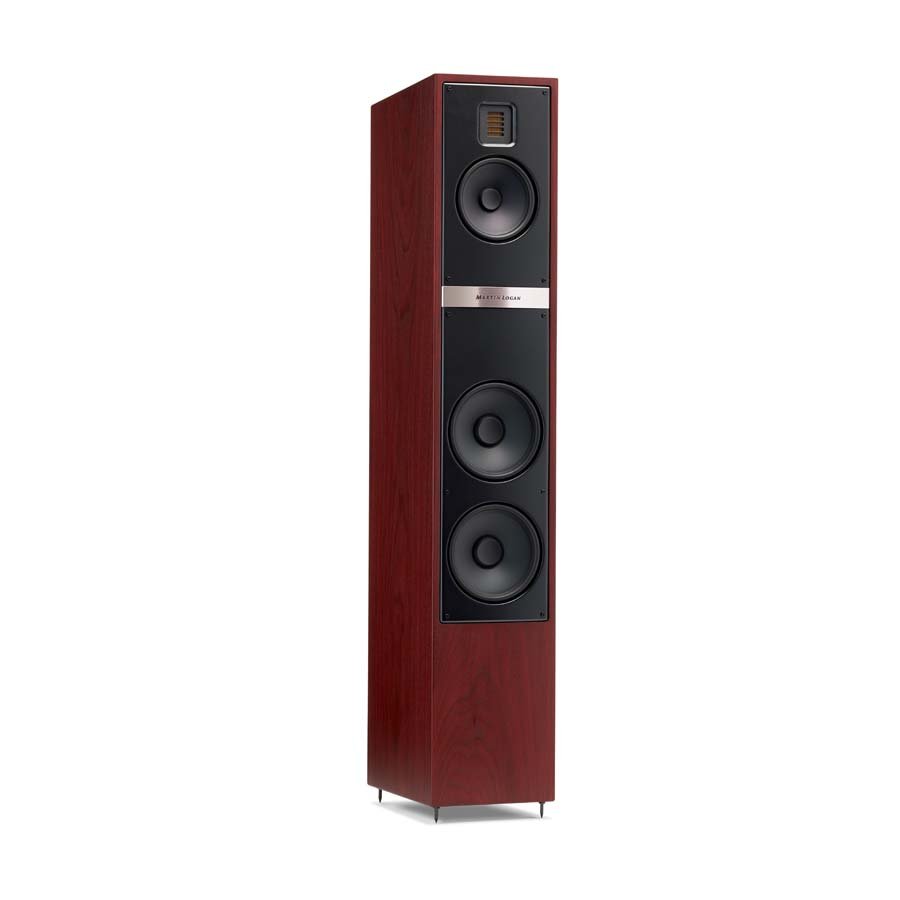 SOUND QUALITY
Having a rear-facing port I kept the speakers about 30cm away from the back wall of my living room with my GIK bass traps behind them, I used the neat screw-in rubber feet so as to not damage my solid oak flooring and the speakers didn't wobble or pose any stability issues. With reasonably sized floor standing speakers, I get nervous that they might boom in my room but the Motion 40i's behaved just as Martin Logan's publicity material promised. Bass was tight and well extended with very good definition. I tried Billy Cobham's album "Picture This" on vinyl because it's great music and a tough test and workout for your system. Classic jazz-funk from 1987 on the GRP label there are musicians of legendary status, George Duke on keyboards, Grover Washington Jnr on soprano sax, Randy Brecker on flugelhorn and Ron Carter on bass, the list goes on. Superbly recorded the dynamics and stereo placement have always impressed me whenever I listen to it. The Motion 40i's didn't take long to warm up and sound good to my ear, a blessing as I hate long run-in periods. Top to bottom the frequency range gelled well and I spent all the time I had the Motion 40i's just enjoying the music which is how it should be.
The skill of the designers to produce a moving coil speaker as opposed to an electrostatic and still maintain accuracy is no mean achievement. Integration of several drivers takes a lot of time, patience and experience to get the balancing act right. Rather like a marriage or family, compromises have to be made and juggled to keep harmony. The drivers along with the Vojtko crossover prove that in the solid cabinets. Like a recipe you need to understand the ingredients and blend them skilfully, knowing what does and doesn't work. Martin Logan are savvy enough to realise that there is more than one way to design a good loudspeaker and don't stubbornly stick to one method. Electrostatic speakers are superb in the right rooms and systems but are not easy to integrate. I've sold them in the past but soon realised that they can throw up as many problems as they are trying to solve. Dynamic speakers are generally less accurate but dominate the speaker industry for a whole host of reasons, cost and practicality being the prime arbiters.
In our busy lives, my listening time is precious to me and something I jealously guard like a dog would its food bowl. That's probably a good thing because if I listened to my system all the time every day then I would take it for granted and not respect it the same, (familiarity breeds contempt as they say). I could rely on the Motion 40i's to deliver a very enjoyable experience every time I switched my system on. I use Audio Physic Avanti iii's that satisfy my every need and really thrill me but the Motion 40i's filled the void very well whilst I had them. I had to move my Avanti's out of my listening room which is no mean feat (as they are very heavy) to accommodate the 40i's and do them justice. Soundstage and depth were very good but not state of the art to the trained ear, and they lacked the true slam and bass impact my Avanti's continually surprise me with, but hey, at a fifth of the original cost of the Audio Physics they sure do a great job. The folded motion tweeter is a gem, never sounding harsh and is well extended which aids the illusion of airiness. Vocals were clear and articulate and Stevie Nicks and Christine McVie were sublime on Rumours.
Integration is excellent with this design and suited my average-sized living room very well. Martin Logan do bigger models in the series that a larger room or bass fiend may want to play around with. Like cars, you find a model that suits your requirements and stick with it.
CONCLUSION
Martin Logan has proved that they are not only adept at producing superb electrostatic loudspeakers but that their skill has been transferred to great dynamic speaker designs as well. They have realised that not everyone can or wants a larger electrostatic design in their home, especially elsewhere in the world away from the USA where space is often more of a premium. On offer here with the Motion series is a range of dynamic speakers that can take on their rivals who in many cases may well have been making dynamic designs for a lot longer. The Motion 40i is definitely worth seeking out for an audition along with other models in that range.
AT A GLANCE
Build Quality: Excellent solid design that is very well finished and looks smart in its various finish options. Good components used throughout.
Sound Quality: Clean, uncoloured sound that for a larger floor standing design has very good bass control, clear mid-range and a smooth extended treble.
Value for Money: Stiff competition from many competitors, but worth seeking a dealer out for an audition as a viable alternative.
Pros:  Not too big and are room friendly with an easy on the ear presentation.
Cons:  Stiff competition.
Price: £ 1995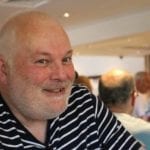 Ian Ringstead 
Review Equipment: Luxman PD151 with AT VM95SH, Luxman D-05 SACD player, Manley Jumbo Shrimp preamp, Lime Tree audio phono stage, Temple Audio mono blocks and power supplies, Audio Physic Avanti iii speakers, a mixture of Chord, Tellurium Q and Missing Link cables and power block, Hi Fi Racks Podium slimline rack.
Specifications
Frequency Response
40–25,000 Hz ±3dB
Recommended Amplifier Power
20—300 watts per channel
Horizontal Dispersion
80°
Vertical Dispersion
80°
Sensitivity
92 dB/2.83 volts/meter
Impedance
4 Ohms Compatible with 4, 6, or 8 Ohm rated amplifiers.
Crossover Frequency
500 & 2,600 Hz
High Frequency Transducer
1″ × 1.4″ (2.6cm × 3.6cm) Folded Motion Transducer with 5.25″ × 1.75″ (13.3cm × 4.4cm) diaphragm
Mid Frequency Transducer
5.5″ (14cm) aluminium cone in a non-resonant asymmetrical chamber format. Cast polymer basket. Rigid structured dustcap reduces cone break-up.
Low Frequency Transducer
Two 6.5″ (16.5cm) aluminium cone woofers in a non-resonant asymmetrical chamber format. Cast polymer basket. Rigid structured dust caps reduce cone break-up.
Components
Precision Vojtko™ with custom air core coil and low DCR steel laminate inductors. Polyester film capacitors in series and low DF electrolytic capacitors in parallel
Inputs
Custom 5-way bi-wire tool-less binding posts
Weight
49 lbs. (22.2 kg)
Dimensions
42.5″ x 7.6″ x 12.8 "
(107.9cm x 19.2cm x 32.6cm)