McIntosh Laboratory has launched the new C2500 – a valve preamp with 15 inputs. Designed to offer flexibility with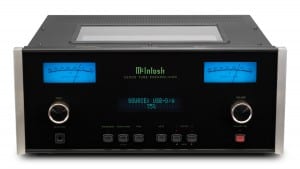 both digital and analogue source components, the new C2500's input complement includes two dedicated phono inputs (MM and MC) and five digital inputs, with D/A decoding at up to 32-bit/192kHz resolution.
The five-strong digital input suite in the McIntosh Digital Engine includes two coaxial and two assignable optical inputs at 24-bit/192kHz resolution, plus a dedicated asynchronous USB 2.0 input operating at up to 32-bit. The preamp's analogue inputs include six line-level, two balanced, plus the aforementioned Moving Magnet and (adjustable) Moving Coil inputs. The C2500 also includes McIntosh's new internal High Drive headphone amplifier, which offers increased gain and output power.
Internally, the C2500's power supply, digital and control circuitry has been isolated from the analogue section and the C2500 boasts the best measured performance of any single-chassis McIntosh tube preamplifier.
The C2500 contains six dual-triode tubes (12AX7A) and further features include assignable tone controls (as needed), and the ability to connect up to three power amplifiers, two of which can be switched on and off for simple multiroom configurations. A Home Theatre Pass Through feature also allows for integration into existing multichannel home theatre systems.
The C2500 sells for £7,495 and is available now.