McIntosh, who have been producing audio for over 65 years, has announced the MA7200 Integrated Amplifier and MAC7200 Receiver.
MA7200 Integrated Amplifier (Available exclusively for countries outside the US and Canada) has 200 Watts per channel and 14 total inputs, McIntosh say: "the space-saving MA7200 Integrated Amplifier can easily become the core of a 2-channel home audio system".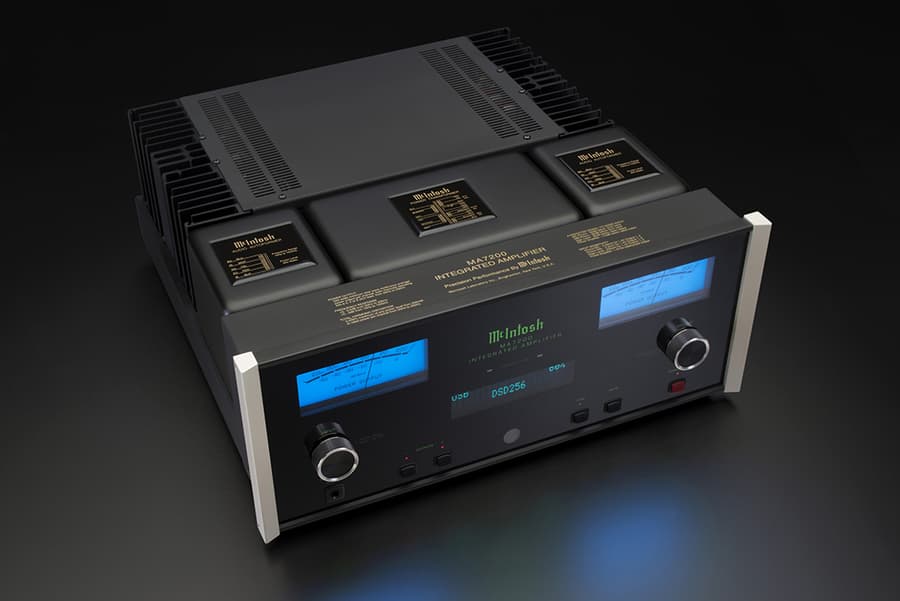 Making up its 14 inputs are 8 analogue connections (5 unbalanced, 1 balanced and 1 each of Moving Coil and Moving Magnet) along with 6 digital (2 each of coaxial and optical plus 1 US​B and 1 proprietary MCT for use with their series of SACD/CD Transports). The digital inputs are housed in the DA1 Digital Audio Module, which can easily be replaced by future modules to keep the MA7200 current with the latest digital audio technologies. The DA1 comes with an 8-channel, 32-bit Digital-to-Analogue Converter (DAC) used in Quad Balanced mode. The USB input accepts PCM signals up to 32-bit/384kHz and supports up to DSD256 and DXD 384kHz.
McIntosh expanded further: "The MA7200 is part of our line of next generation integrated amplifiers and features many design improvements including new, more powerful control microprocessors; some of the latest audio-grade circuit components; and the addition of our Headphone Crossfeed Director (HXD®) technology. The MA7200 is full of other McIntosh technologies including Autoformers to deliver the full 200 Watts to each of your speakers regardless of their impedance, Power Guard®, Sentry Monitor™, Home Theater PassThru, Monogrammed Heatsinks™, bass and treble tone controls, High Drive headphone amplifier and gold-plated speaker binding posts. ​​​​​​​​​​The MA7200 is available exclusively for countries outside the US and Canada".
The MAC7200 Receiver builds upon the MA7200 Integrated Amplifier by adding a built-in AM/FM Tuner. McIntosh has been making tuners since the 1950s and they are one of their hallmarks, with the MR78 model from 1972 considered a classic in the audio industry. The built-in AM/FM tuner in the MAC7200 Receiver comes from that same line of McIntosh tuners . Its advanced signal quality monitor can display the multipath and noise levels of the incoming RF signal to help fine tune antenna placement for optimal reception. Dedicated Preset and Tuning knobs enable easy operation. The FM tuner includes Radio Data System (RDS) support, allowing it to display optional information sent by radio stations such as the station's name and call letters as well as the name of the artist and song being played. It features 20 presets for each radio band as well as a remote AM antenna. The MAC7200 is available worldwide.
Pricing and Availability
MA7200 is available exclusively for countries outside the US and Canada while MAC7200 is available worldwide. Orders for both can now be placed with shipping expected to begin in September.
Suggested retail price (VAT, shipping and any customs duties related to current standards of individual countries are excluded):
MA7200: Contact the McIntosh distributor in your country for local pricing
MAC7200: $7,000 USD