TWO-CHASSIS MCINTOSH C12000 PREAMPLIFIER REVEALED
The new McIntosh C12000 Preamplifier has both valve and solid-state outputs, in a two-chassis design.
The new McIntosh C12000 Preamplifier has a two-chassis design that isolates the audio section from the control and power sections.
MCINTOSH C12000 PREAMPLIFIER
In addition to twelve analogue inputs, six balanced, four unbalanced and two phono inputs, the McIntosh C12000 Preamplifier offers both valve and solid-state output for maximum flexibility with partnering equipment.
TWO CHASSIS PREAMP
The preamp comprises the C12000 Controller Module and C12000 Preamplifier Module. All power control, data ports and external control connections reside in the C12000 Controller, where dual isolated power supplies drive the left and right channels, while a dual microprocessor governs the control system.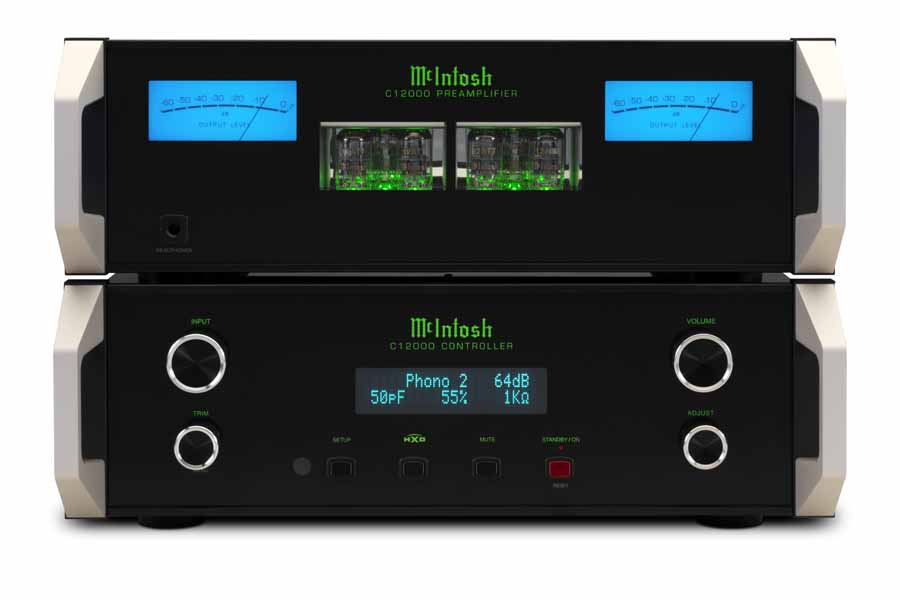 DUAL MONO OPERATION
The C12000 Preamplifier Module houses the audio connections and circuitry. Inside, the left and right channels are electrically and mechanically isolated to allow true dual-mono operation. The controller and preamplifier units are connected via high-performance umbilical cables.
MCINTOSH C12000 PREAMPLIFIER CUSTOMISATION
User adjustment options have increased over previous McIntosh preamps, increasing personal customisation. The McIntosh C12000 preamplifier has programmable phono inputs with adjustable capacitance and resistance-loading for greater compatibility with turntables. The phono stage utilises four 12AX7A valves (two per channel), in a fully balanced configuration with RIAA equalization.
BALANCED CIRCUITRY
The C12000 employs fully balanced circuitry to match the performance in any of McIntosh's Quad Balanced amplifiers. The preamp has classic McIntosh features, including black glass front panels, iconic blue meters and custom-machined brushed aluminium handles. Both units feature a stainless steel chassis, polished to a mirror finish, plus hairline brushed black titanium stainless steel. McIntosh's high-output, high-drive headphone jack with user-selectable Headphone Crossfeed Director (HXD®) technology is also included.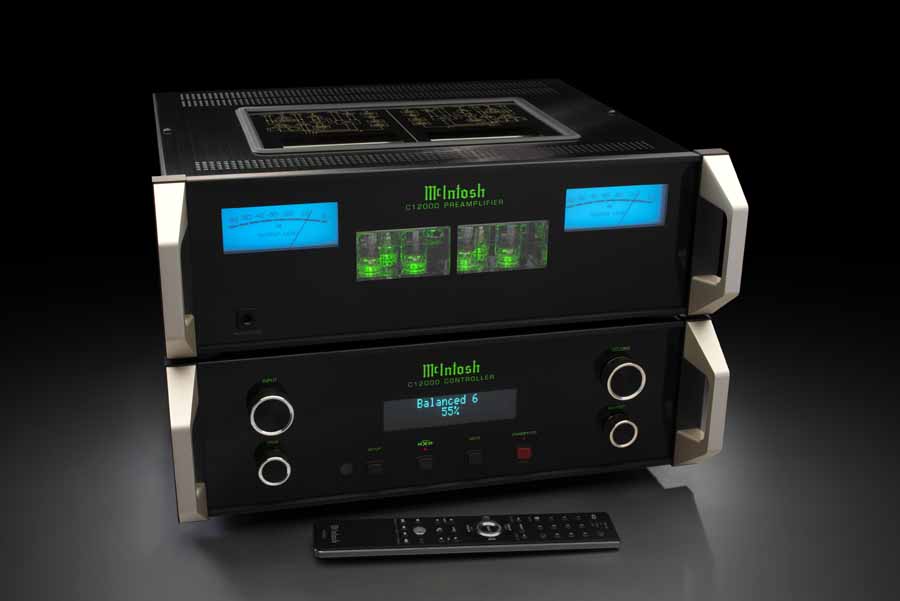 MCINTOSH C12000 PREAMPLIFIER PRICING AND AVAILABILITY
Orders for the McIntosh C12000 preamplifier can now be placed with authorised McIntosh dealers with shipping expected to begin in early 2022 in the UK. The price is £8,495 per unit and £16,990 for the complete preamplifier and in the UK it is available through Fine Sounds UK's network of dealers.
Shipping in the USA will begin in December with the price at $8,000 per unit, $16,000 for both.
HiFi Pig Says: The McIntosh green glow and blue VU metres stand out with the classic styling of this new preamp from the iconic American brand.