As we reported recently on Hifi Pig, McIntosh Laboratory has launched a dedicated headphone amplifier for
the first time in its history. Here's a bit more information.
The new MHA100 headphone amplifier has four digital inputs, remote control,  and was first unveiled in January at CES 2014, Las Vegas – it's now available in the UK from Jordan Acoustics, McIntosh's UK distributor.
The MHA100 employs a new adaptation of McIntosh's unique autoformer technology which offers three selectable headphone impedance ranges: 8-40; 40-150 and 150-600 ohms. T.
It also features McIntosh's new Headphone Crossfeed Director (HXD) technology, which allows high-quality recordings played through headphones to image like conventional speakers. "HXD improves the sound localisation for headphone listening and restores the directionality component of the spatial sound stage normally experienced with loudspeaker listening" says the company's pres release.
The internal McIntosh Digital Engine, offers four digital inputs (coaxial, optical, balanced digital AES/EBU and USB), allowing decoding at up to 32-bit/ 192kHz resolution and upsamples digital signals to 192kHz with 32-bit resolution, before the D/A process begins. Two analogue inputs (including balanced) have also been appointed.
Electronic input switching is also included. The preamplifier uses logic circuits controlling electromagnetic switches on all inputs and operating functions.
The MHA100 is also perfectly suited to computer-based systems and desktop working say McIntosh and compared to McIntosh's other amplifiers, the MHA100 is considerably more compact and fits neatly on a desk or anywhere else in the home.
The MHA100 is more than just a headphone amplifier, too: 50-watt stereo speaker outputs (with less than 0.005% distortion) are included for use with loudspeakers.
The power amplifier uses ThermalTrak1 output transistors for lower distortion and cool operation and McIntosh's patented gold-plated output terminals deliver high current output and accept large-diameter wire and spade lugs. Loudspeaker listening is automatically switched off when headphones are connected.
The MHA100 also benefits from four forms of protection. McIntosh Sentry Monitor power output stage protection circuits. The Sentry Monitor also protects headphones in the event of an impedance mismatch. Built-in thermal protection circuits guard against overheating, and direct current detection and protection is provided for both headphones and loudspeakers.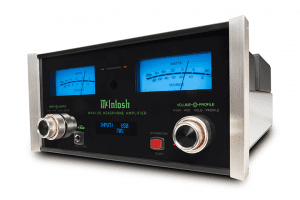 Further features include tone controls plus McIntosh's Power Guard® technology: a waveform comparison circuit that continuously monitors both input and output signals, dynamically adjusting them when necessary, in order to avoid potentially damaging clipping.
The MHA100's multifunction OLED display indicates source selection, volume levels, trim settings and set-up functions and the famous illuminated power output meters are peak-responding, indicating the output level. A remote control is also included.
Specifications
Headphone power output: (high) 1W; (normal) 250mW
Headphone output impedance: 8-40; 40-50; 150-600 Ohms
Power output per channel: 50 watts
Speaker impedance: 8 Ohms
Rated power band: 20Hz to 20kHz
Total harmonic distortion: 0.005%
Dynamic headroom: 1.5db
Frequency response: +0,-0.5dB 20Hz to 20kHz; +0, -3dB 10Hz to 100kHz
Sensitivity (unbalanced): 300mV
Sensitivity (balanced): 600mV
Input impedance (balanced/unbalanced): 25K/25K
Damping factor: >150
Preamp output: 3V (8V max)
Preamp output impedance: 500 Ohms
Voltage gain: 36.5dB
Power Guard: <2% THD with up to 16dB overdrive at 1kHz
Digital audio specifications
Coax input sample rate: 16-bit, 24-bit  32kHz to 192kHz
Optical sample rate: 16-bit, 24-bit  32kHz to 192kHz
AES/EBU sample rate: 16-bit, 24-bit  32kHz to 192kHz
USB sample rate: 16-bit, 24-bit  32kHz to 192kHz
Connectivity
Headphone output: 1x ¼"
High level inputs unbalanced: 1 stereo
High level inputs balanced: 1 stereo
Digital USB input: 1
Digital coaxial input: 1
Digital optical input: 1
Digital AES/EBU input: 1
Preamp output: 1 stereo
General specifications
Tone control: five-step bass boost control: 0 to +12.5dB (in 2.5dB steps) @ 40Hz
Power control in/out: Yes/Yes
Dual-layer chassis and output meters
Output autoformer (headphones)
Standby power requirement: <0.25 watts
Dimensions (WxHxD): (29.2cm) x (14.1cm) x (45.7cm)
Weight: 12kg
Price and availability
The MHA sells for £4,995 and is available now.