Meridian Audio have announced the opening of its first boutique in Kuwait. Opened in partnership with Meridian's distributor for Kuwait, Electronic Technologies Co., the latest Meridian boutique is situated in the exclusive interior design centre, The Creative Design Mall, in the Shuwaikh district of Kuwait City.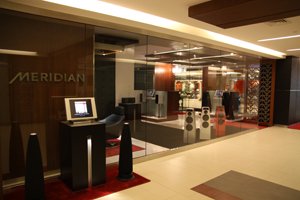 The new boutique is the company's first dedicated showroom in the Middle East and offers a "unique retail experience in Kuwait City" and has a number of interactive zones for customers to enjoy:
John Buchanan, Meridian's Director of Sales and Marketing, commented: "This new boutique in Kuwait City marks an important business development for Meridian in the Middle East region. We look forward to building Meridian's brand presence in Kuwait where demand for our luxury technology offerings has been increasing steadily since 2008."
The company now has standalone boutiques in England (Oxford), India (New Delhi and Bangalore), Mexico (Mexico City), Chile (Santiago), Taiwan (Taipei), South Korea (Seoul), Singapore plus two in Russia (Moscow). Meridian's first concept store opened in Thailand (Bangkok) in 2009.