Meters Music, the British audio brand from Ashdown Engineering, has released Meters Cubed, a desktop wireless speaker system that combines a compact design with a "powerful sound performance that belies its small size". Cubed also features Meters Music's signature, fully-functioning VU Meter.
The first in their wireless range of loudspeakers, Meters Cubed consists of three, desktop-mounted (90mm) cubes: one amplifier unit and two stereo speakers containing 2.5in drivers and delivering 10 watts per channel. The illuminated VU shows the music playback level status.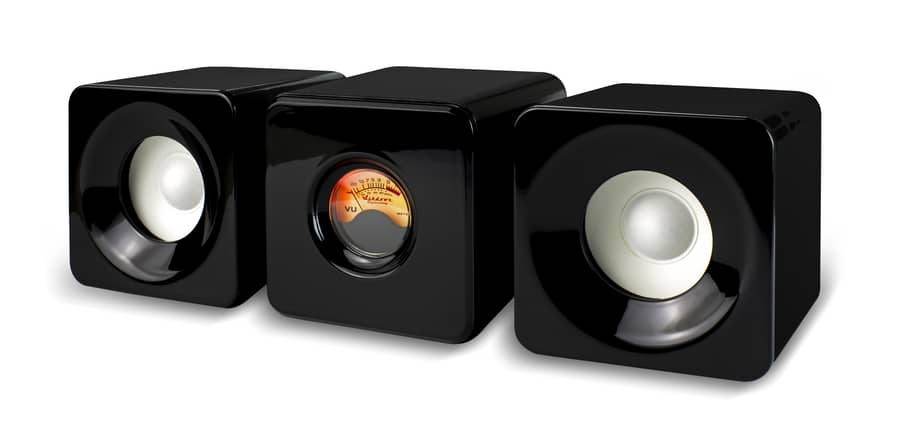 Designed for streaming wirelessly from handheld devices, Meters Cubed features Bluetooth 4.0 technology, allowing you to stream your music from a smartphone, tablet, laptop, PC or Mac. Meters Cubed also features an auxiliary 3.5mm jack input for wired connection to non-Bluetooth devices. With a diameter of just 90mm (cubed) and rounded styling, the mains powered Meters Cubed takes up little desk spaceand uses mSound DSP Sound Enhancement Technology.
• Wireless Bluetooth Technology for wireless streaming from your MP3/mobile device
• mSound DSP Sound Enhancement Technology
• Trademark Ashdown VU Meter
• 2 x 2.5in High Power True RMS 10W+10W Stereo
• 3.5mm Jack Aux-In to connect and play from your MP3/mobile device, desktop or laptop computer
• Mains Power Supply
• Available in Black or White Finish
Available: Now Price: £199.99