This is one of the more, errr, 'controversial' CDPs of recent years. It got a thorough online blasting by that Lampizator chappie, who discovered that the DAC chipset used was a cheap and cheerful variety rather than the upmarket leading edge hi-tech item that was claimed! Nonetheless it received many very favourable reviews and online comments by others and even Lampizator gave it 10/10 for sound quality!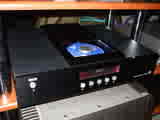 It's a top loader with a neat sliding dark plastic panel, and a magnetic puck is supplied to hold a CD firmly in place.  A remarkably hefty item as well, it definitely inspires confidence.  Balanced (XLR) outputs as well as RCA.  Switchable by remote (when a CD is not playing) between the standard Red Book 44KHz and a choice of 88 or 196KHz upsampling.
I spotted one on a well known auction site and I thought it was worth a punt just to hear it for myself.
Well – I'm very, very glad that I did!
It has the stunning sheer in-room presence, focus and speed of the Krell 25S CDP that all too swiftly left my shelves (due to a fault developing).  Marvellously musical, it just sounds right.  Perhaps it favours large scale music more, with real weight, heft and definition to the bass as well as impressively free dynamics.
It has two 12AX7 in a tastefully blue-lit, easy access compartment to the rear right of the top plate. You can just see the tops of the valves peeking out in the photo!  In fact, I believe that it doesn't have a full valve output stage, but a "valve buffer" affair to pass the signal through.  Valve rolling seems to have little effect on the sound.
It does have slightly higher noise levels than ideal, although this is only noticeable when I have to really crank up the volume on a recording cut at a low level. Trying different valves, even low-noise types, had no noticeable effect on this.  But most CDs are just fine.
I had the opportunity to directly compare this with fellow Hifi Piglet, Paul's Consonance Droplet 3.1 CD player (see Hifi Pig review).  The similarities between the two players, both in terms of functionality and sound quality, were quite remarkable.  Was the MHZS made in the same factory as the Droplet, and is in effect a model down?  It seems quite plausible to me.  Yes, the Droplet was better in pretty much every way, but not by a huge amount.  And considering the price differential the MHZS is remarkable value.
I loved this player and kept it far longer than is usual, box-swapper that I am.
These often go for stupidly low prices – I paid £260 on eBay –  presumably because of the afore-mentioned controversy.  It is definitely well worth keeping your eyes peeled for one of these!
Want to read more hifi reviews?