David Robson continues his Chord Company "Cable Doctor" series of reviews, where specific cable combinations are recommended for his system by Nigel Finn of Chord. Previously he has focused on the entry level C Line and Clearway cables but now moves up to the new Shawline series interconnects and digital cable, along with the Epic Twin speaker cable. 
Earlier this year I was asked to do a series of articles based around Chord cables and interconnects. This "Cable Doctor" series was to start with the lower end of the cable market and slowly work up to improving my system sound. I thought what a great idea, to do within a few months what most of us do over several years. Unfortunately the system I started this series with has changed a little due to a slight accident (don't ask! The lady of the house is still scowling). So I have lost a little in the way of consistency for the articles, but the front end is still the same.
Chatting to Nigel Finn from Chord we decided to put a slight twist to the Cable Doctor idea, that to push my hifi system with the use of the upper levels of cable performance, and a price point that people don't normally go to in relation to the equipment cost.
Chord Shawline Digital 1m (£200)
The Chord Shawline Digital is built to Chords high standard or workmanship and finish. The bright red nylon woven outer sheathing terminating in shrink wrap, and their Chord VEE 3 RCA connectors which are all silver plated and have the directionality of the cable printed upon the sheathing.
I have found some of the better sounding cables have been made with metal free outer RCA plug. I don't know if this is just by accident or manufacture process, but better it has been.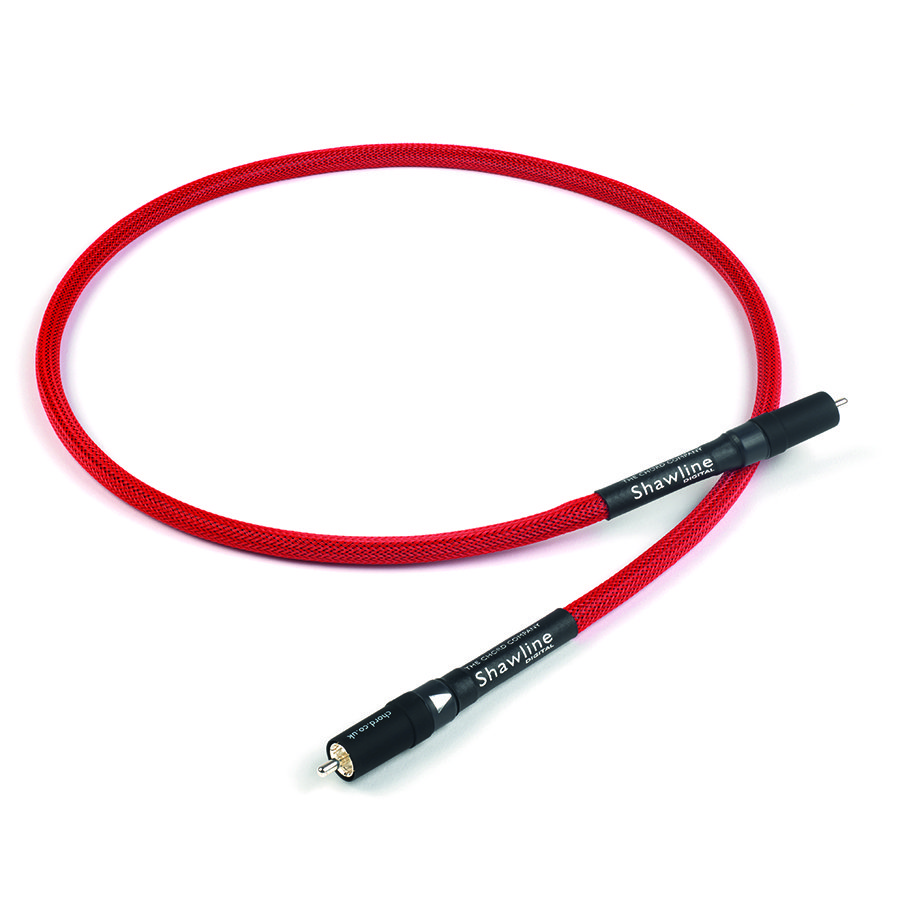 The new range of Shawline cables have been designed on the same principles as the top specification Sarum cables utilising the Tuned ARAY methods in their manufacture and design. This design theory has been created to carry as much information that is available with as much accuracy as possible; this gives the DAC less work to do, thus improving the sound, or so goes the claim.
Having had this Digital cable running in for some days the initial sound, which had a slight fuzzy edge to the treble making cymbals fizz a little, completely relaxed and bedded in and lost that unnatural sound. Once the sound had smoothed out and settled, it began revealing a rounded warmth with plenty of detail coming through to my Russell K Red 50 Speakers.
To kick off proceeding I put Fleetwood Mac's album "Penguin" into the CD draw. The smooth bluesy "Revelation" sprang to life with a good organic and natural sound; the finger drums (I think) are clearly defined. Bob Welsh's lead guitar hunts out from the speakers, and John McVie's basslines are clean sounding and tight, and hold the music together with a clear confidence. The following track "Did you ever love me?" has steel drums panging out; the detail in their tone and metallic skin has good resolution with Christine McVie's silky vocals not being interfered with by anything else going on with the music, the Shawline Digital carrying enough information for the system to keep everything separate and in its correct place.
What I have noticed using the Chord cable is a slight lift in the higher frequency range, this does not come through as sibilance, more a lengthening to the decay of the sound in the upper reaches. This is apparent on Diana Krall's "Wallflower" album. The recording I have on CD has always left me a little cold, as it comes across a little dull and lifeless. The slight rise in the higher tones gives tracks like "Wallflower" some extra detail and life. The piano in "I'm Not In Love" makes for a more believable reproduction, and what seemed like Miss Krall had been using a cardboard microphone had now a bit of vocal sparkle. These are not huge differences in a night and day fashion, but a very subtle difference between an album that once made me quickly skip tracks, to one where I just let it play through. The duet with Bryan Adams "Feels Like Home" has the pair's vocal talents separated well within the soundstage, Krall's deeper female tones keeping Adams gravelly voice in good company. This is possibly the best I have heard Bryan Adams voice. The qualities in the Shawline cable allowing a natural rendition of the singer's talents and the smooth flow of the music come out to play.
Next up a bit of Phil Collins, "In The Air Tonight" has been in my CD collection from the early 80's, and although Phil's music has quite a lot of people split and either love or hate it Marmite fashion, I quite like the varying styles within the album. "The Roof Is Leaking" starts with atmospheric Cricket chirping sounds, the Shawline Digital enabling the soundstage to wander into the listening area and the chirping sounds giving a surround sound 3d feel. The track then blends in to the next one, "Droned" has an African beat to it, an instrumental, drums are defined and rhythmical and have a nice realism and feel, probably again due to the slight improvement in detail due to the raised high frequencies. There are no real downsides to the Shawline cable, I usually find one or two things that are a negative, but this Chord cable really doesn't seem to add or leave out anything that isn't already on the recording. The Album features quite a lot of drumming and drum lead tracks, which you would expect from Mr Collins being a successful drummer himself. They all seem to kick and have the right tightness attributed to them. Other finer details too are not left out of the recordings either. As drumming goes, the title track, which was recently featured in a chocolate advert being played by a Gorilla and is well known in its own right, comes across as  a very "Live"  performance; it has a very atmospheric presentation and as Mr Collins tears at the skins you can feel like your "There"!  time to turn down the lights, and turn the volume up!
Pros.
Great detail and resolution, uncoloured sound, represents good value for money and does exactly what it says on the tin
Cons.
Nothing of note
Chord Shawline RCA 1m (£200).
Having tested and reviewed the Chord Shawline Digital RCA previously, I was looking forward to a similar sound and sonic experience from the Analogue RCA. I swapped around my own Digital Cable for the previous Chord test cable and replaced my own reference RCA cables for several days before then replacing my cables for the Shawline RCA set. Who needs Yoga when you get a full workout messing with the cable monsters!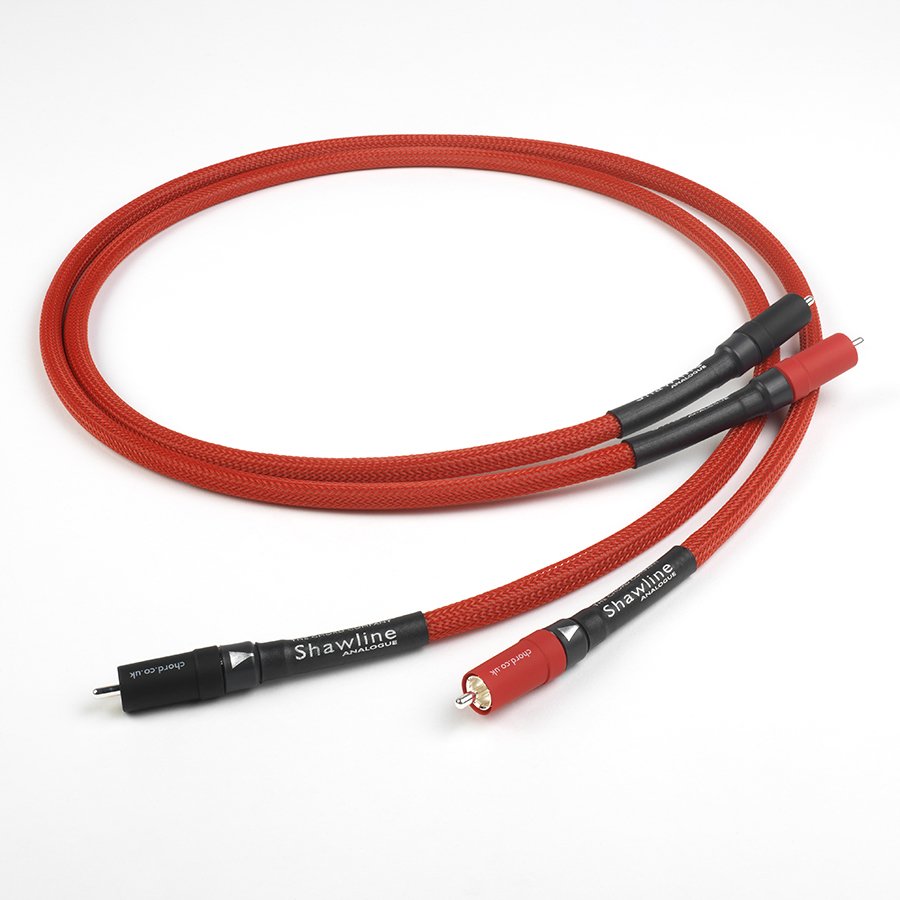 Like the Digital cable before, the Shawline is virtually identical in appearance, having the Chord VEE 3 RCA plugs which have PTFE insulation and are fully silver plated inside the connector housing, thus giving a very good connection between the cables and equipment. The cables are also marked for direction of signal path. Even on cables that do not have these directional marking, it's my belief that consistency is always a benefit within cabling and I always mark one end just so I can always have the cable facing the same way. Like the high-end Sarum cables the Shawline uses the Tuned ARAY conductor geometry.
As this "Cable Doctor" series progresses from the lower end or starter "C" series to this the Shawline range and onto the Epic level, this Shawline is probably the type and level of standard that would be consistent with the rest of my system, and be a reasonable cost against performance. Those who frequent Facebook groups will know the ongoing battles between the believers and none believers on the cable debate. Having been lucky enough to try several types of brands from very reasonable to expensive handmade exotica, it's my belief that most Hifi enthusiasts should be looking to push their equipment performance via use of cables and mains supply products. Asking your local dealer to loan out a small bundle is the key, even to hear a worse sound so that you at least know the differences in sounds and what changes can occur with a simple cable change. If you have a group of friends or a good local dealer, why not set up a "Cable Bank"? where for a deposit you can take away some cables and then bring them back if they don't suit, or pay the balance and keep?
Anyway, on with my testing.
One of my favorite test albums is The Eagles and "The Long Run" the title track has a bouncy bass line and fine guitar backing. The Shawline has a great positive effect on this type of music, giving a rhythmical and tight portrayal of the track. The RCA doesn't ever sound congested or cluttered and separation on the sinister "Disco Strangler" which builds from a single guitar riff to the full set of The Eagles crew is excellent. Bass, Cymbals, Drums and Tambourine all clearly separated within the soundstage. Like the previous Shawline Digital Cable there is a very slight rise in the upper frequencies, which is actually an enhancement in quality as it brings even more detail and resolution into the sonic picture without it becoming harsh or frosty and yet remains smooth. This gives the cable good dynamic range as the RCA balances on the warm side but never sounds dull. It has a very accurate sound to my ears.
Going to a similar style of music, but not as well recorded I put "God Willin' & The Creek Don't Rise" by Ray LaMontgne. The self-titled track has a wide and atmospheric opening. Electric slide guitar protruding from the silence with a big drum accompaniment then Mr LaMontagne's husky vocals leaving the speakers with good emotion attached, the Shawline RCA allowing the drums to extend outward, giving a feeling of space and depth to what feels like an outdoor rendition of the song. It's a pity that some of the finer details in the recording are not as well recorded as some cymbal sounds are lost, this is inherent the recording though. What is great on this album, and the Shawline majors in, is the detail and realism brought out from the recordings. "Are We Really Through" is played very simply with Guitar and Vocal. Ray's voice plays out with a liquid and smooth honey like texture sprinkled with a little grit. I'm waiting for the feeling of his breath on my skin, such is the inflection and nuances the cable provides. "Beg Steal Or Borrow" has a faster tempo to the track, the Audiolab CDQ usually majors on timing and the this is borne out by the added Chord cable. The foot tapping country music has carried the tuneful verve to the tips of my toes.
Moving genre to rock, Steven Wilson of Porcupine Tree fame gets an outing. "Hand. Cannot. Erase." This album has come across a little congested in the past. This annoyed me greatly, and it reminded me of Freeform Jazz (A little pet hate). Playing this album from the beginning for those not familiar with it, track 1 is an instrumental and flows prog-like into track 2. "First Regret + 3 Years Older" the sound effect of a children's playground moves to a crescendo of guitars and drums firing out of the sound-space between speakers.  There is an extra level of grip on the music that doesn't castrate or strangle the track, nor does it allow it to arrive at your listening box in a big hit of mush. Each strike or pluck of a string is held in its own company. This seems to make the pieces of music flow and become enjoyable. Track 6 "Home Invasion" starts like what could be described as the intro to some epic Sci-Fi film or a high octane spy thriller. The Chord Shawline cables manage to catch and convey the tension and drama of the piece perfectly, the driving bass drum and rhythms, slap of sticks on the skins crack out with menace and yet doesn't cloud the delicacy of the cymbals in the background tinging away.
Chords goal for this range of cables was to design a cable that does "Nothing", this has always been a goal for Hifi enthusiasts and manufacturers alike. To have a cable that does nothing but carry the signal without adding or taking away anything from the original. Well I'm convinced that the engineers have cracked that target. I doubt that Sherlock Holmes would find anything missing from the original recording. I really can't find anything to criticise, these Chord Shawline RCA cables seem to do exactly what the engineers designed them for, "Nothing"!
Pros.
The very small differences between these cables and my reference ones do add up to provide a great all round performance. The nice warmth and extra little details provide a relaxing and entertaining presentation that I think would benefit most systems.
Cons.
Nothing, just what the doctor ordered
Chord Epic Twin Speaker Cable. 3m. Factory Terminated. (£400)
This speaker cable sits in the upper middle of the Chord range of cables. Price wise it is around that 10% range of my system value, which is spoken about as a ball park figure as a reasonable amount to spend on system cabling compared to cost of your main system. This Cable Doctor series of reviews will later allow me to push past that 10% figure to see how far you can reasonably push performance with regards to various cabling options.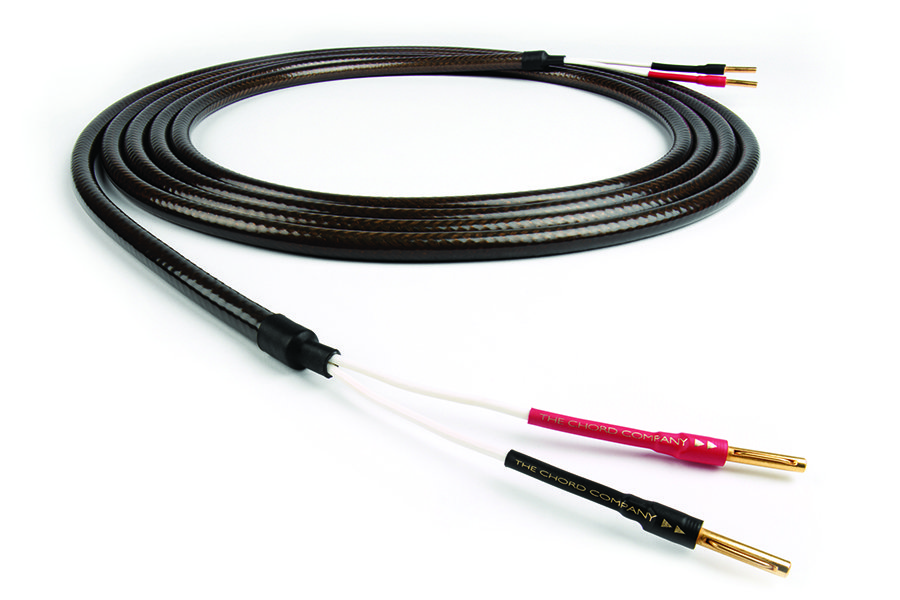 The Chord Epic Speaker Cable arrives in a very nice custom made circular black nylon bag, the cable inside is separated by 3 nylon leaves allowing for 4 cables to be carried at the same time and tagged with cable type, length and termination option. This is a nice touch and the presentation gives you confidence that these hand-made cables you have purchased are a high quality product.
Inside the brown/grey cable the main conductors are 12awg silver plated twisted Oxygen Free Copper and are sourced from Chords Oddyssey cable. Information taken from Chord's database tells me that the conductors are spaced with a PVC jacket for mechanical damping before a foil and metal braid shielding is applied.  Outer jacket is translucent PVC to provide further mechanical damping. The cable is relatively stiff and is assembled to a high standard. The banana plugs are the single plug with a single sprung bar. These are not always the easiest to fit as the speaker wire that enters the plug is slim and getting a good grip isn't easy. One (why is it always one?) refuses to go in. It takes a little fiddling with a pair of pliers but it eventually slides home. It's no big deal as at least you know you have a good solid connection to the amplifier's speaker terminals.
After running the cables for several days and getting a couple of hundred hours of music through them, I settle back to fully finding out how they fit into my system.
Going to an old favourite The Eagles classic, "Hotel California", the familiar sound of the lead Guitar and bass initiate with accompanying crisp cymbals followed by the thud, thud of drum. Throughout the song what strikes me is the way the bass guitar is tight and defined, the sound is clearly being transferred well from the CD to the speakers, there seems to be an extra little level of detail from the metallic lead guitar too. In fact there is another guitar that I really don't think I've heard before from the left channel at about 1m43s. Maybe it has become a bit more forward with these Epic cables? I have heard the soundstage a little wider and deeper before with this track, I have also heard a bit more projection from the vocals. Although the track doesn't seem boxed in or two dimensional either. "New Kid In Town" has a metronomic cymbal tick from the right hand side, with poor cables this is just that, a tick, The Chord Epic has a properly defined metal transient to it. There is only one little niggle for me, some of the drum sounds including the bass has a slightly soft edge to its presentation. It's not a deal breaker by any means and it doesn't seem as apparent on the following "Life In The Fast Lane" and "Victim Of Love"; the drums in these kick out like a stung mule, and the punch in your gut feeling tells you it is all there. Separation of instruments is good, with the speakers having that "disappeared" mode to them and music being out there and not too confined between the speakers.
Swapping CDs to some "Ella and Louis" on the Verve label, an album which has re-written my views on "old" recordings. If only all recordings could be preserved this well! "It's A Lovely Day" has Ella Fitzgerald's vocals sublimely laid out, and held fixed in the air forward of the speakers. There are fine nuances in that voice, which produces good emotion and feeling. Mr Armstrong's throaty rumblings seem more closely recorded on the microphone and the Chord Epic allowing the music to portray this technique. Louis's voice carries and extends the SSSSSSS sounds, again this can sound like the scraping of chalk on a chalkboard with other cables but the Chord Epic has it more like a hot poker being dipped into cold oil – it has a more natural presentation. I do think these speaker cables have a slightly elongated treble that glistens and makes for a more involved sound. I usually shy away from bright sounding equipment as I find it a bit tiring, but with the Chord and I'm happy to listen and relax.
Giving Annie Lennox's "Diva" an outing which can trip up some set ups I've run. This early 90's album which has deep electronic bass and digital instruments can sound a bit strained and a little too fake at times. What is silkily powerful is Annie's voice. Track 5 and "Cold" has her vocals held in check centrally at 12 O'clock. Muscular deep noted pulsing away, I feel her performance is a little withdrawn into the rear of the soundstage; it's also a little warm, which is surprisingly opposite to what I was expecting. It's possible that the speaker cable doesn't mask any recording flaws, and this is what I'm hearing. Moving on to "little Bird" which has a big heartbeat and sweet vocalisations, and I think showing Annie Lennox's pedigree at it's best. The track is still a little confined, but it's a better rendition. The music takes more of a centre stage to the proceedings and has strong verve and pace. The Chord Epic does like a bit of a party and pulls no punches with overly processed recordings.
Conclusion
Pros
A sweet sounding cable that's well engineered. It brings added detail to the overall sound and this helps the Chord Epic to give a great lively performance, with the rhythmical and deep bass this cable really likes to Party
Cons
It's possible for the top end to go slightly over the top with some recordings and poorly recorded bass can be a little rounded
Chord Shawline Loom and Epic Speaker Cable
Having looked and listened to the Chord Shawline Digital, RCA and Epic speaker cables in isolation, I now have the task of seeing how these cables work as a loom.
In the past, I'd always be reluctant to stick with one cable manufacturer; it just wasn't in my blood to do it. I'm talking early on in my hifi hobby! Back then the better end of the cable market was out of my reach financially so trying to cobble together cheap cables that sounded well together became a bit of a game. Now I'm in the fortunate position to try out what was once beyond me for real.
I'm not going to go into a track by track review, you have probably had enough of my CD collection by now, what I will say is these cables together work hand in glove with each other. What may have seemed a little foible in isolation seems to be overcome when partnered. The heightened details, fine tempered midrange and rhythmical bass come together to produce a relaxing and musical rendition of your favourite tracks. There is no hiding place though, what comes off your record collection ends up at your ears and your best will sound great, the poor, muddy or scratchy stuff will remain just that. In a market where technology is giving us better and better value for money, these Chord cables are playing a good game, they are a must listen or demo to those who may be looking for an upgrade from the £20-£100 cable bracket. They seem at this price point not to have any compromises that lower priced or lower specification cables have.
The Digital or RCA don't to my ears impregnate the sound with any voice or fingerprint of their own, they just seem to let the music flow out as it was meant to be. That may be that these cables have the right synergy with my mid-price system. On a very high end Hifi you may be able to detect more, but it's horses for courses for me, and these work.

David Robson