At £885 the Minute EL-34 valve certainly looks to offer good value for money with its separate power supply. Add another £150 and you get a full compliment of cryo'd valves. Ian Ringstead takes a listen. 
I came to be reviewing this amp by chance as I saw it on Intimate Audio's website when I was checking out the D-108 speakers I have just reviewed. I spoke to Duncan Saul of Intimate Audio as soon as I saw it because he recently decided to import it and distribute it here in the UK.
The Minute is made by SAC of Thailand, a company I hadn't come across before so I decided to investigate. SAC make quite a range of interesting valve equipment and design and manufacture their own transformers. Other products in the range are an all valve phono stage, headphone amp, passive pre, powered pre amp and power amps. An interesting company that deserves to be heard more of over here I feel.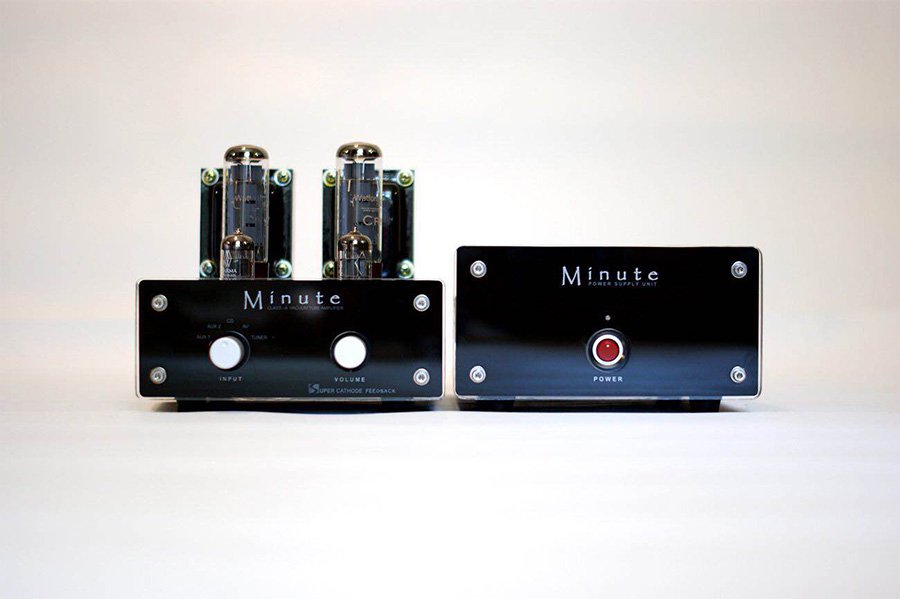 DESIGN AND CONSTRUCTION
The Minute as it name suggests is not a big heavy valve amp but a compact two box affair of power supply and main amp. This makes locating the amp easier on a rack and is not back breaking, unlike the recent Primaluna integrated I reviewed which was 34Kg. The power supply connects to the main amp by an umbilical cable and can be placed on a separate shelf if you so wish. The front panel control layout is neat and simple with just a selector switch for the five line level inputs and a volume control. On the back are five sets of RCA inputs sockets, the locking power socket for the umbilical lead from the power supply and a stereo set of good quality gold plated multi way binding posts. The power supply simply has an on off switch in red on the front and an IEC power inlet socket and the power out socket on the back. The units are in black and have a nice perspex front panel on the front making a neat styling touch.
The philosophy of SAC is that the Minute SMART Amplifier delivers a great tube amp sound with stunning dynamics, accurate rhythm and pace, incredible transparency and great ambiance, all of these being in a remarkable compact package and affordable price.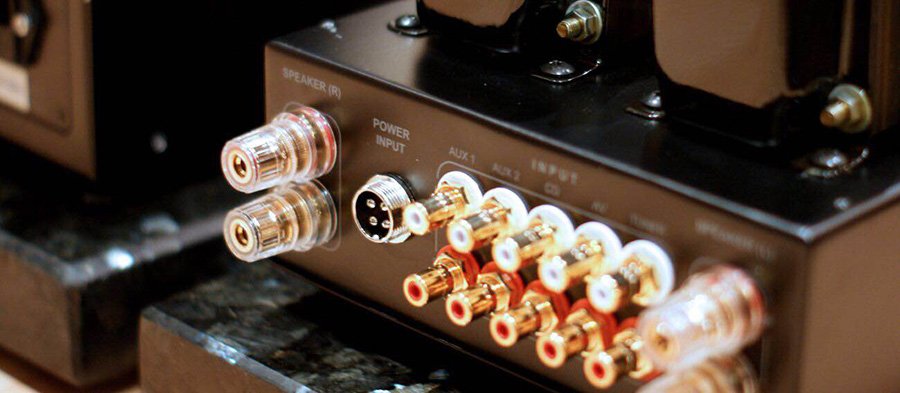 The  Minute EL-34SE uses a "Super Cathode Feedback" circuit. This circuit greatly reduces harmonic distortion and is a different approach to the more conventional "Global Negative Feedback" improving sonic performance without disturbing other circuit parameters. By having the output transformer with a dedicated cathode feedback coil that's connected directly to the cathode of the output tube, the feedback current path is totally isolated from the other components. The cathode feedback coil is virtually free from back EMF induced by loudspeakers or any other kind of spurious noise, phase shift from any network circuit; therefore, only a pure feedback signal is applied back to the cathode of the EL-34. This technique reduces THD by the factor of 10 times. Total Harmonic Distortion of the Minute is less than 0.3% at 1 watt RMS while most conventional SE amp like 300B will start producing more than 1~2% of THD at the same output level. SAC fine tune the circuit and output transformer so that the combination will produce a very pure signal which is absent of higher than 4th Harmonic distortion at regular listening levels.
SAC design and make the output transformer so it isn't affected by any grounding issues and is a big improvement on their previous designs. The stereo image also improves with their new output transformer since both loudspeakers are totally isolated from one another because they are floated in respect to each other (in conventional SE design the grounding path of each loudspeaker shares the same path and signal can be mutually coupled causing weak stereo separation).
Besides the use of all high quality power supply parts like an Ultrafast recovery rectifier, Electro-static shield hand wound power transformer and high quality capacitors, SAC decided to use a separate power supply unit. The concept is very simple; by keeping all noise generators away from the main amplifier unit and shield all noise within the power supply casing. This new radical design for such a small amplifier has proved to be a great way of reducing hum and noise to a very low level, and also improves the tonal characteristics and clarity of the main amplifier to exceed that of a tube rectifier.
Additionally, by separating the power supply unit from main amplifier, SAC are able to reduce the heat exchanging between the two sections. When heat is reduced, both units run cooler and can be operated for extended period of time without the need for forced air-cooling or air-conditioning. This also greatly extends the life expectancy of all elements in the amplifier.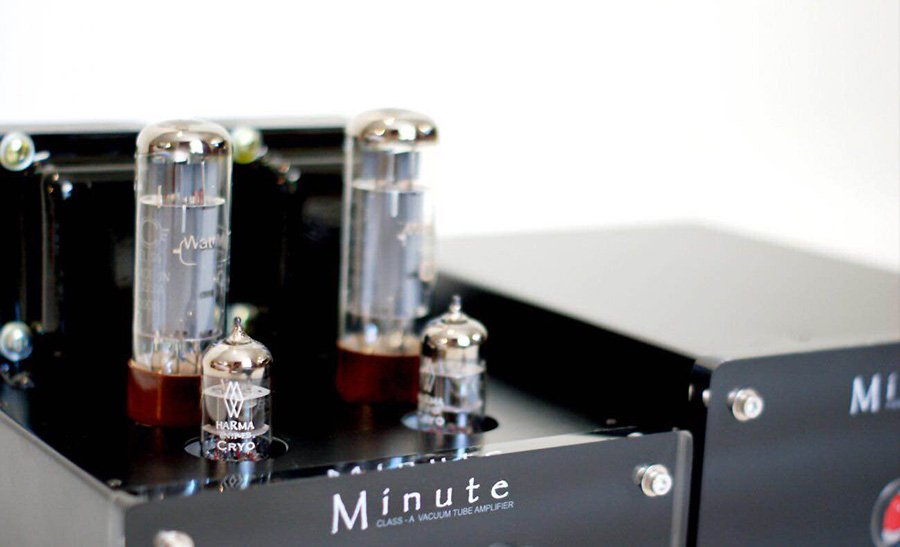 Another improvement in the design was to make the circuit perform best at any given volume control setting. A conventional integrated amplifier will have insufficient bandwidth at low volume control setting. This problem can be easily observed as " a less detailed sound when listening at low volume levels". With the Minute EL-34, SAC use a special proprietary circuit and layout together with tube adjustment to totally eliminate this problem. At any given volume control setting, the amplifier will have the same frequency characteristic (no HF roll-off) displaying full detail and transparency.
SOUND
Duncan not only sent me the standard set of valves as supplied by SAC but also a set of cryogenically treated valves to play with and tube roll. I started with the standard valves and after 30 minutes or so warm up listened critically. I was presented with a vibrant sound stage that was certainly entertaining and with the Intimate Audio D-108 speakers there was plenty of power on tap. I also tried the amp with my Triangle Esprit EX speakers with excellent results, so unless you have inefficient speakers or a large room then system compatibility should be fine. As SAC say in their design philosophy the amp works well at lower volume levels and the sound field doesn't collapse like a lot of amps where you have to turn the volume up again to provide some life and impetus to the sound. My recent experience with modern valve amps is that they are a different beast to those of yesteryear. Careful component choice, thoughtful circuit design and excellent output transformers all have a huge effect on the end result.
Also when I tried the cryogenically treated valve set it was instantly noticeable the improvements wrought by the superior valves. Detailing improved and the overall sound was even more satisfying, with excellent depth and top to bottom range with sparkling treble, lovely midrange and good bottom end. I would definitely consider buying the better valve option over the standard set as the cryogenically treated valves are all electronically tested and matched as sets to guarantee quality and consistent performance. Not cheap, but worth it if you like what the Minute does anyway.
This amp can rock no doubt about it, as any good modern amp should. Valve amplifiers have certainly come of age now; you only have to go to shows to see how popular they are again. The beauty of the SAC Minute is that it doesn't cost an arm and a leg unlike some more famous makes out there and offers fantastic value for money if you want to dip your toes into the valve world. It is also very practical and won't take up loads of shelf space or require a weightlifter to handle it. Biasing is automated so no fiddly set up is required either.
So there we have it, for just over a grand you can have a compact, very well made, great sounding valve amp that I am sure will give long reliable service. Don't be put off by the lowish power output rating at 10 watts RMS per channel, as valve watts in my experience always sound a lot louder than transistor watts.
Build Quality:  Well made, minimalist layout and a neat simple design
Sound Quality:  Excellent with all types of music.
Value for Money: Very good compared to the competition
Pros:  
Compact very nicely made two box amp ideal for beginners 
Great sound with the ability to tube roll with cryogenic tubes and upgrade easily 
Great value for money  
Cons: 
Low power may put loudness addicts off or those with large rooms or inefficient speakers
Price: 
£850.00 + £35.00 insurance & 48HR courier to mainland UK.
Upgrades: 2X EL34 Svetlana Winged 'C' CRcryogenic valves and 2X matching Harma 6N1P Cryogenice valves: – £150.00 inc. VAT
Ian Ringstead
Specification

5 selectable RCA inputs, EL34 output tube operating with Super Cathode Feedback circuit running in pure Class-A in all stages.
Output Power: 10watt/RMS per Channel
Total Harmonic Distortion: Less than 1.0% at 6 watts/RMS, less than 0.3% at 1 watt/RMS
Intermodulation Distortion: Less than 0.3% SMPTE
Frequency Response:           15-30,000Hz (-1.0dB) at 1W/RMS power, 30-30,000Hz (-1.0dB) at 10W/RMS
Cathode Feedback: Super Cathode Feedback
Circuit Gain: 42dB
Damping Factor: 3.2
Output Impedance: 2.3 ohm
Signal to Noise figure (SINAD):     below -87dB, Hum less than 2.5mV
Power consumption: 100 watts
Power requirement: 220-240V at 50/60Hz (stock version), 110-120V at 50/60Hz (special order)
Power Supply Unit Dimension: 19 x 26 x 10 cm. (W x D x H) Weight: 4.5 kg.
Amplifier Unit Dimension : 19 x 29 x 19 cm. (W x D x H) Weight: 5.5 kg