MISSION LX CONNECT COMPACT WIRELESS HIFI SYSTEM WITH AUDIOLAB ELECTRONICS
Mission LX Connect is a compact HiFi system with the convenience of wireless speakers and electronic design by Audiolab.
British loudspeaker manufacturer Mission has launched a new stereo wireless speaker system, the Mission LX Connect., it features the electronic engineering of Audiolab and comes in at under £1000.
MISSION LX CONNECT
Central to the LX Connect's design is the LX-2 MkII, a pair of Mission speakers launched in 2020 as part of the LX MkII Series. To create the LX Connect, Mission has taken the LX-2 MkII, enhanced its design and added a suite of high-performance technologies to create an active wireless speaker system.
There are many different types of stereo wireless speakers on the market. Some connect wirelessly to a source device such as a smartphone or computer, but have cables between them, with one primary speaker feeding the signal to the other. Others, like the LX Connect, offer 'true wireless' stereo with fully wireless transmission that removes a need for a connecting cable between the speakers. The Mission LX Connect is different. It incorporates a third box, a 'Hub' that contains DAC, preamp and wireless transmission technologies. Source devices connect to the Hub, which transmits the audio signal wirelessly to the two speakers via uncompressed Wi-Fi. The speakers themselves have no cables, other than a power cord to connect them to the mains.
THE HUB
The hub connects to source devices, PCs and Macs, Android and iOS devices, music players, media boxes and so on, via asynchronous USB, S/PDIF (coaxial and optical) and HDMI digital cable connections, or wirelessly over Bluetooth. There is no built-in Wi-Fi networking, Mission says this is to maintain operational simplicity, without requiring a dedicated app and to avoid the potential instability of relying on a busy home Wi-Fi network. Instead, simply connect the Hub to a computer or smart device on your home network and use your preferred streaming app to drive the LX Connect.
The Hub itself is a compact unit (55x235x231mm), easy to station conveniently near any source device. This might be a desktop or laptop computer, or perhaps a tablet, connected to the Hub via USB or Bluetooth. Or it could be a TV, media box or games console in an AV environment, hooked up via the Hub's HDMI ARC input. It even includes a line-level RCA-stereo analogue input, so you could connect a CD player or a turntable (with the addition of an offboard phono stage).
LX CONNECT DAC
Mission has utilised the audio electronics skills of sister-company Audiolab, to create the Hub. It incorporates a high-performance DAC stage based around the ES9018K2M DAC chip from the Sabre32 Reference family, accompanied by proprietary circuitry to make the most of ESS Technology's 32-bit HyperStream architecture and Time Domain Jitter Eliminator for ultra-low noise and high dynamic range.
The DAC stage supports hi-res PCM up to 32-bit/384kHz over USB and 24-bit/192kHz via the coaxial and optical inputs; DSD (up to DSD256) is also supported over USB. An RCA-stereo output is provided with fixed and variable output options, fed by a high-quality analogue stage – this enables the Hub to perform as an off-board DAC/preamp to connect to an external amplifier or feed an active subwoofer to augment the LX Connect speakers. A headphone amp is also included, again derived from Audiolab.
BLUETOOTH 5
Bluetooth reception complies with the Bluetooth 5 standard for optimum quality, reliability and range, and includes decoding for aptX HD, aptX LL (for AV media), regular aptX, AAC and SBC.
The two LX Connect active speakers can be placed up to 20m away from the Hub, the Hub transmits to them wirelessly on frequencies between 5.2GHz and 5.8GHz, switching automatically to ensure the most stable connection and eschewing the crowded 2.4GHz band to avoid interference. The Hub can transmit hi-res audio up to 32-bit/192kHz to the speakers.
The uncompressed Wi-Fi signal from the Hub is processed within the speakers by Mission's bespoke Music Connect signal processing technology and passed to the 60W Class D amp circuitry that resides in each speaker. Music Connect also allows the user to select optional EQ adjustments. Three Bass EQ settings allow for stand mounting (0 default), close to rear wall siting and/or shelf mounting (-6dB), and free-space positioning (+6dB), adjusted by a switch on speakers' rear panel. In addition, the user can select Music or Movie mode via the Hub – Music offers the optimal balance for audiophile listening while Movie offers a mild enhancement of bass and midrange to bring dialogue and effects to life when watching films or TV.
Further sonic tailoring options can be applied via the Hub, including a choice of three digital filters and four DSD bandwidth settings (applicable to the stereo-RCA and headphone outputs), left/right channel balance and adjustable delay – to sync a subwoofer with the LX Connect speakers, for example. The Hub includes an OLED display with adjustable brightness and can be controlled using the included remote or by touch-sensitive controls on the unit itself.
MISSION LX CONNECT SPEAKERS
The Mission LX Connect speakers, like the LX-2 MkII passive speakers on which they are based, have drive units positioned according to Mission's Inverted Driver Geometry (IDG), with the bass/mid driver sited above the treble unit rather than below to aid time-alignment – a Mission trademark since the 1980s. The 130mm bass/mid driver is a new version of Mission's DiaDrive bass/midrange unit, where the usual cone and dust cap arrangement is replaced by a seamless curvilinear diaphragm. This is driven directly by a secondary sub-cone connected to the voice coil.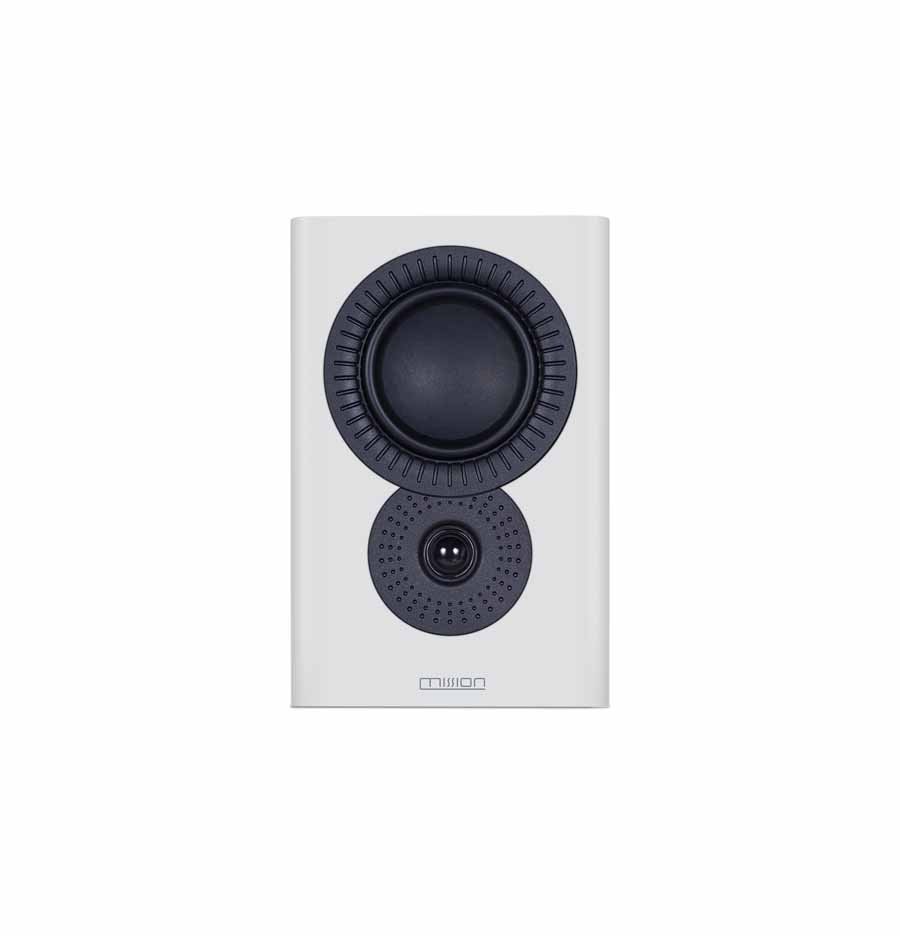 The diaphragm itself is fashioned from an advanced dual-layer fibre formulation, selected for its reduced susceptibility to hygroscopy as well as being very stiff for its mass with excellent self-damping, while the driver surround incorporates 'comb-tooth' serrations to help scatter interfering reflections. A high-strength ferrite magnet ensures that the magnetic field is directed precisely within the area of voice coil excursion. The treble unit incorporates a neodymium magnet and 25mm microfibre dome. Modelled closely to the acoustic performance of the LX2 MkII, the two drivers are knitted together by a 2nd order (12dB per octave acoustic) Linkwitz-Riley DSP-managed crossover.
The drivers are housed in a cabinet measuring 305x200x250mm (HxWxD), the same size and construction as the LX-2 MkII. Differences are more apparent around the back, with the LX-2 MkII's single reflex port replaced by two smaller ports above a range of sockets and controls. Here reside a power switch and IEC socket, a USB update port, the bass adjustment switch and buttons for Hub pairing and left/right balance sync. A further switch designates each speaker as left or right in a stereo pair or switches the speaker to mono, enabling the speakers to go solo in a simple multi-room set-up.
ROON TESTED
The Mission LX Connect is officially 'Roon Tested', meaning it has been put through its paces rigorously by Roon and certified for use in a Roon audio environment – for example, when connected to a PC or Mac running Roon software. LX Connect purchasers not yet using Roon but interested in trying the platform can get a free 60-day trial by registering at the Mission website.
MISSION LX CONNECT PRICE AND AVAILABILITY
The Mission LX Connect wireless speaker system is available from October at an RRP of £999. The speakers are available in a choice of soft-touch matt black or white, and the Hub comes in black.
HiFi Pig Says: This looks like a good option for a bedroom or second system or a starter system that isn't too expensive.