The Baby Reference V2 is the latest incarnation of this British company's TVC preamplifier and costs £6120 in standard form. Stuart Smith tries it out for Hifi Pig.

First of all I should stress that this is my own personal unit and not a unit that has been sent out solely for review purposes. I bought the V2 on the back of being loaned the V1 unit for a couple of months and have had opted for the 31 position volume control over the standard 24 position control – a 46 position control is also available. I also opted for remote control on the unit that controls just the volume.
FIT AND FINISH 
The Baby Reference V2 arrives well packed in a plastic Gator case. Taking it out of the box the unit looks and feels well finished. I'd opted for the front panel to be powder coated a burgundy red to match the loudspeakers in our system but you can have other colours. The preamplifier has a good weight to it and sits firmly on the rack even with lots of heavy cables coming out the back.
You can specify the inputs and outputs to an extent and I went for four unbalanced RCAs and two balanced XLR inputs and one of each for the outputs. There is a pair of switches for ground lift and an input for the remote control power supply.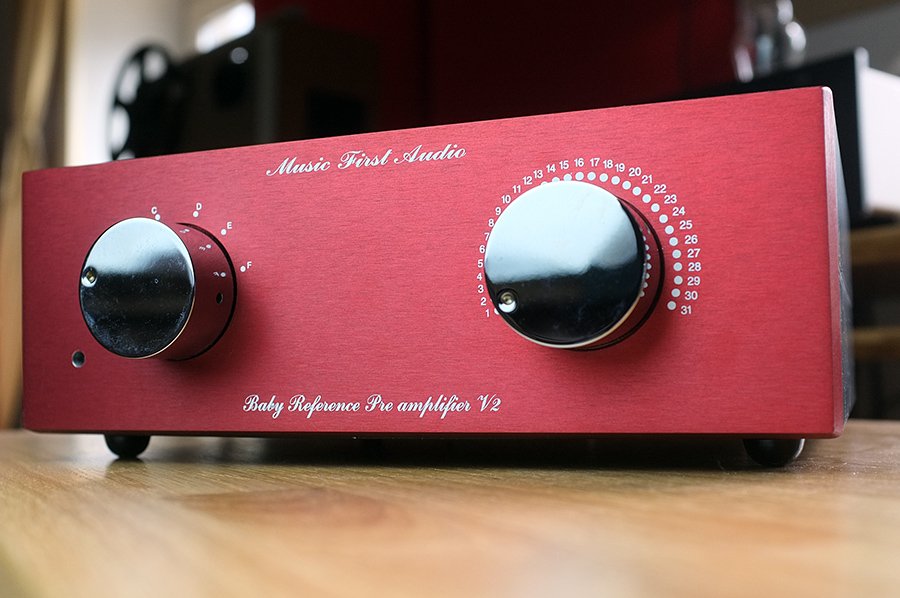 Round the front there's the volume knob and source selector switch. At 25cm width the Baby Reference V2 is less wide than a standard hifi component but it looks great on the rack. Simple and understated elegance is how I'd sum up the appearance. The knobs on the front feel solid and purposeful. Looks-wise there's not a lot of difference, if any, between the V1 and V2. 
The V2 designation uses RX63 transformers from Stevens and Billington who have been making audio transformers since 1963, indeed Jonathan Billington is the owner of Music First Audio. There's a new shielding can and combination of lamination materials, a new system of vibration isolation and "improved left/right channel isolation".
I took a look inside the box and everything is nicely laid out with neat and very tidy wiring throughout.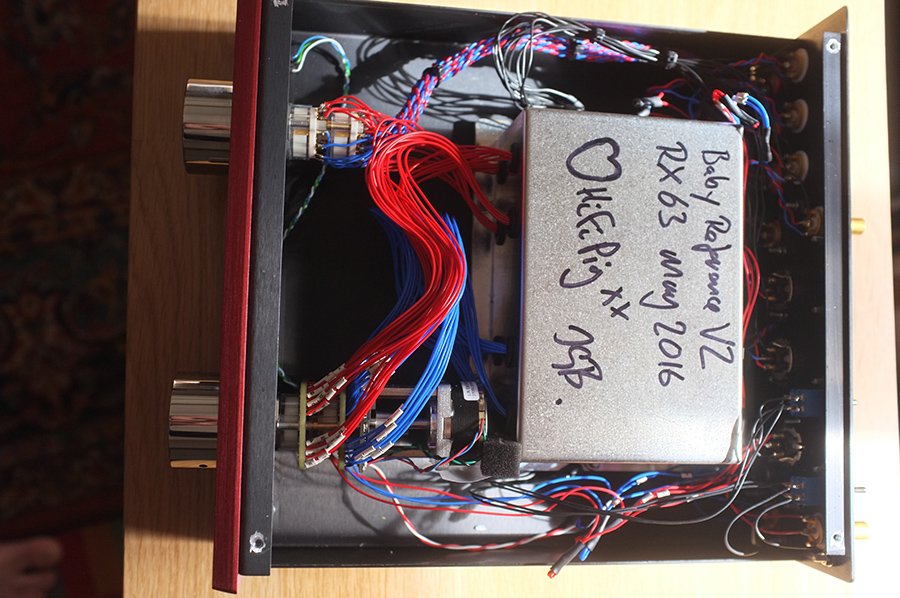 £6000 seems a lot to demand for what is essentially a volume control and source switch, but there's clearly a hell of a lot of work goes into the winding of the transformers and the actual putting together of the unit which goes a long way to justifying the pricepoint. The Baby Reference is a frill-free component that is simply there to do its job… though the remote control is a useful feature I feel.
Regular readers will know I'm not all that interested in the science or engineering behind a product – they either do their job in the system or they do not. If you want to know more about how TVCs work then the internet is your friend. 
SOUND 
For the last few months since the Baby reference arrived I've been using it with a pair of Merrill Thor Class D power amplifiers, our Avantgarde Duo XD loudspeakers with the front end being the Lampizator Big 7 DAC being fed by files from the computer. Cables have been a mix of Tellurium Q, Vermouth Audio and Chord Company, with power conditioning via a Lab 12 gordian unit.
My needs are a little different to the normal audiophile in many ways and what I am looking for in the reference system is transparency so that I can put new gear in there and hear what its effects are immediately and this is where the combination of the Baby Reference V2 and Class D power amps really come to the fore. That said, we do a LOT of our listening purely for the satisfaction of listening to music and whilst the reference system needs to be a tool, it also needs to be enjoyable and musical.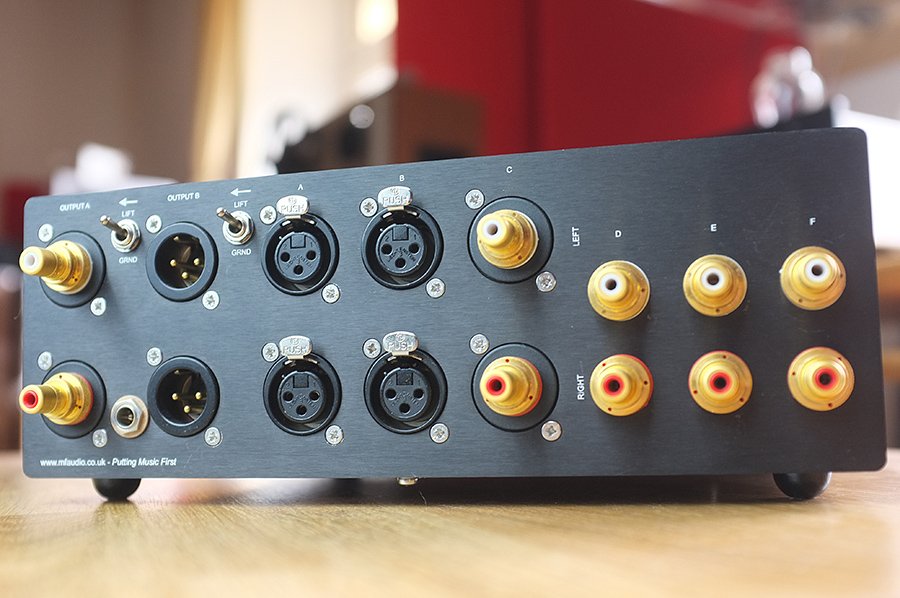 My previous preamplifier was the excellent Coffman Labs G 1A, a valve based pre which, whilst being a great performer, certainly added a healthy dose of its own flavour to proceedings. I remember when I first reviewed the Thors that I said I was pleased to have something that added a little of its own character, but then once I hooked up the Baby Reference I realised I'd been missing out on a whole layer of detail and accuracy that is there in the music.
With acoustic instruments and simply recorded music the baby Reference V2 allows the music to flow with a naturalness that is uncanny. There is a real feeling for the recording space and a depth to the soundstage that is organic, precise and uncoloured. If you are looking for a preamplifier that adds fireworks, bells and whistles to make it appear like it is doing something special to your system, then you need to look elsewhere I'm afraid. The Music First preamplifier is one of those products that slots into your system and just lets the music flow through it without adding or taking anything away.
I'd like to talk about sparkling highs and beautiful midband tones, but that would be missing the point I think. What you are hearing is what is coming out of the DAC (which does add a little of its own flavour it has to be said) and little more.
I plugged in the hORN Mummy speakers we have here and played loads of different genres from Jazz to Techno and again the effect of the Baby Reference is to add nothing. Bass is reproduced as it is on the recording and that is really what I'm looking for in a product.
On poorly recorded or reproduced music you certainly know about it.
I could bang on about a million different tunes we listened to and how they sounded with the Baby Reference in place, but I don't think I need to as I'm sure you're getting the general feel for this preamp from what I've outlines thus far. We do listen to music a lot here at Hifi Pig Towers and it seems that we're listening to an awful lot more purely for pleasure since the arrival of the new Baby. And that's the crux of it really I think; If a product connects you with the music and the musicians on a level that is emotional and inspiring then you know you've found the product for you. Being so transparent, quiet and open allows you to fall into a recording and experience the full effect of what the musicians and engineers are trying to get across and whilst it may sound that I'm saying that the Baby Reference V2 is cold and analytical that's to miss the point a bit. The preamp is just letting through what your source is putting into it and feeding that through to your amplifiers.
CONCLUSION 
This review could have been a lot longer, but it doesn't need to be to get across to readers what the Baby Reference V2 brings to the table. Imagine looking through the windows in your home. Yes you can see the landscape and everything that is going on out in the garden, but now clean the windows inside and out and whilst there is still the same things out there, the view is better somehow…and that's sort of what this preamp does. It allows you to experience the finer details in a recording like no other preamplifier I've yet heard.
I've mentioned the Class D amps we use in this review quite a lot and I reckon that the Baby Reference V2 with this technology is a match made in heaven, though there is no reason it will not work with other classes of amplifiers.
£6000 or so is a lot of money for a preamplifier of course, and especially one that is so basic in its functionality, but if you are looking for a preamplifier that opens up your music collection and allows you to experience the full intention of the musicians then I can't think of a better one. Music First Audio will offer you a 30 day trial too.
Stuart Smith
Sometimes the simplest things are the most beautiful to use and look at and, for me, that is what the Music First Audio Baby Reference V2 is all about. Essentially, all it has to do is be a switch and a volume control for your amplifier(s) and that's what it does. Perfectly. It has the classic 'form follows function' kind of styling that I love in electronics.
Simple to use, it has a very satisfying feel to it. Quality components, put together well, by someone that wants everything to be as it should, delivers a high quality product. The only frills I guess are that you can have it in a range of colours or a shiny chrome finish so that your Baby looks good on the hifi rack.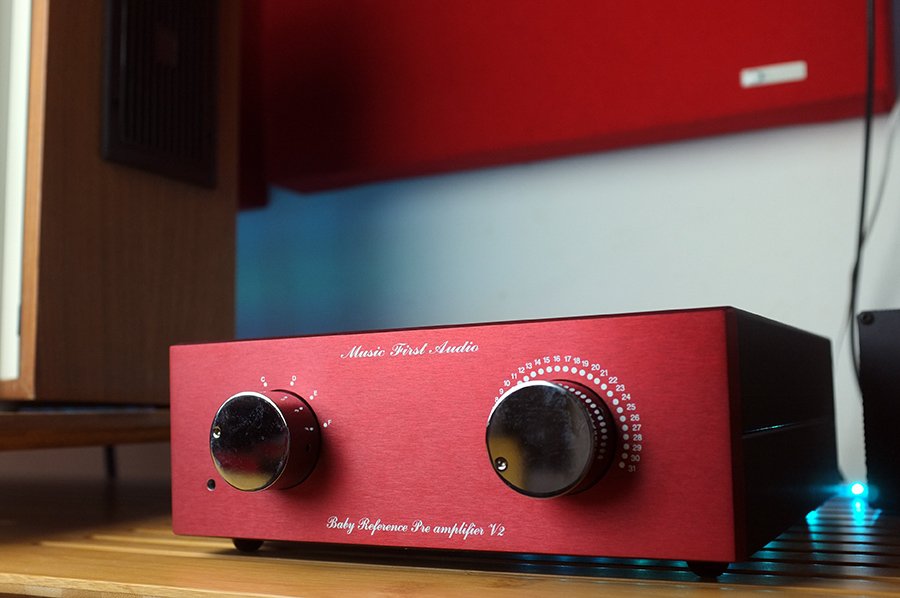 When you put the Baby V2 into your system its a bit of a 'new glasses' moment. It does nothing to alter your music so you hear exactly what you are meant to hear. This may sound like a simple thing to achieve but we have all heard systems that make things sound just wrong. As Stuart said, with our Merril Audio Thor Class D amps and super-sensitive Avantgarde Acoustic Duos the baby V2 works wonderfully. There is no colouration of the music at all and when things are meant to be silent, they are completely silent, no hiss, no hum, nothing!
Yes, £6k is a lot of money but, to be fair, with the revealing quality of this little Baby, you are not going to put it with anything other than high quality equipment of a similar or even higher end price band.
The Baby Reference V2 is thoroughly deserving of its Outstanding Product Award for doing exactly what it is supposed to do, perfectly.
Linette Smith 
AT A GLANCE 

Sound Quality: A highly transparent tool that lets you hear the recording as it was meant to be heard without adding a flavour of its own 
Build Quality: Good looking on the rack and well enough put together. This is a no frills design where the emphasis has been put on the sonics and internal components rather than the box they come in 
Value For Money: Not at all cheap by any stretch of the imagination but pound for pound sonically it offers good value 
Pros:
Transparent
Adds little or nothing to the sound
Silent 
Cons:
Not cheap
Needs suitable partnering equipment before and after the pre 
Price : £5100 GBP plus VAT, $6885 USD plus local taxes
SPECIFICATIONS
Weight: 5Kg 
Width: 250mm
Height: 96mm
Depth ( inc connectors ) = 300mm
4 pairs RCA inputs
2 pairs XLR inputs.
2 pairs outputs. Any combination of RCA and XLR
Ground lift switch
31 position volume switch 0dB – 60dB of attenuation plus mute
Attenuation unit RX63
Optional remote control and headphone output