Janine Elliot takes a listen to the brand new Music First Audio SENLAC SJE Monoblocks costing £4900 plus VAT.
I love mono-blocks. Maybe it's the idea of twice as many units stacked on my rack or the fact there are two completely separate power supplies and amplifier circuits.  To be sent two Class AB mono-blocks from the company that makes one of the fastest and purest passive TVC preamps out there was only going to get me extremely excited, especially after reviewing their very able two-box Reference MM Phono Amplifier a while back.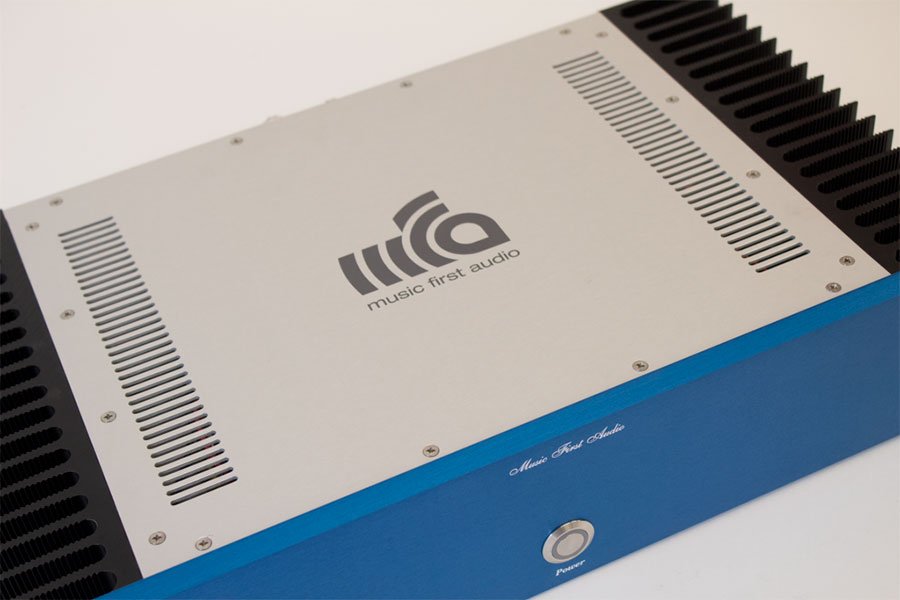 Music First Audio brought the idea of passive preamplifiers back into the limelight back in 2003 and reviewers and audioholics around the world have loved the speed and accuracy of the products over the years. I have to admit I use the Baby Reference every day, and am unlikely to want to change it. Having that detail and truthfulness in the preamp stage does mean that the power and speakers do need to be equally fast and accurate. My speedy Wilson Benesch speakers were fortunate to have heavyweight brothers along for this review, namely the £15,000 Avid  Reference Four stand mounters, which are particularly fast and accurate loudspeakers. The MFA mono-blocks retail at £4900/pair plus VAT which, when you realise that works out at under £3000 per channel 'all in', means this is exceptionally well priced and a very ably sounding product.
Yes, rather than wading through thousands of words about my favourite vinyl and digital recordings, I have started the review with the all-important thumbs up. I don't want to slow you down reading about one of the quickest sounding amplifiers I have reviewed. Speed is, of course, just one factor in the "ingredients" of any good amplifier and I was pleased to have the time to leisurely listen and get a taste for all its merits. Fins are a key part of this amplifier, and whilst not forming the front panel like the distinctive aged Quad 405 it is none the less a significant portion of the design. Side views give a likeness to that icon, but that is as far as the likeness goes, apart from perhaps the Class AB form and the fact that CEO Jonathan Billington has a love for anything Quad. Sonically these are like chalk and cheese. The Quad was a tractor compared to the speed from this unit. This is a Lamborghini Aventador rather than Lamborghini DL25 farm tractor from the past. As well as cool looks (I am talking about the MFA, not the Aventador) this is extremely cool in operation. Build quality is exceptionally good, though those two fins mean that holding the amplifier is probably best done central. The front panel has a significant 10mm faceplate, available in silver, black or blue, to match the Baby Reference, though as yet there is no red faceplate.
I mentioned the MM phono amplifier earlier, and MFA was fortunate there to employ the skills of Nick Gorham from Long Dog Audio as a collaborative product. Jonathan has decided to engage Nick again for the SENLAC, though this amplifier is a thoroughbred MFA product. Having said that, it does mean the SENLAC SJE will have had Nick's work on his own 200w power-amps as a starting block for ideas for this 100w baby. I first met Nick at the Whittlebury Hall show a number of years back, a gentleman with distinctive long beard who wouldn't look out of place on a Harley Davidson or coming down a chimney in December. When he was asked to work on an amplifier the main constraint was getting the 'big version concept' into a small enough package to fit inside the casework that Jonathan wanted to use. He made sure a good part of that case work was given over to the heatsinks at either end, but inside there is still enough room for 3 circuit boards, a 300va mains transformer and 27000uf of capacitance in the power supply. This amplifier is Class AB simplicity, or rather as Jonathan put it to me "complex simplicity". There needed to be enough components to get it to work well, but it needs to be simple enough that it doesn't change the sound nor slow it down. As Nick puts it so eloquently; "I try and design stuff to do as little damage as possible". Whilst he hasn't made the amp overly complex, he hasn't gone to the other extreme either. "I have not removed 50p parts just to save board space if the circuit was better with them". The main constraint was getting the big version concept into a small enough package.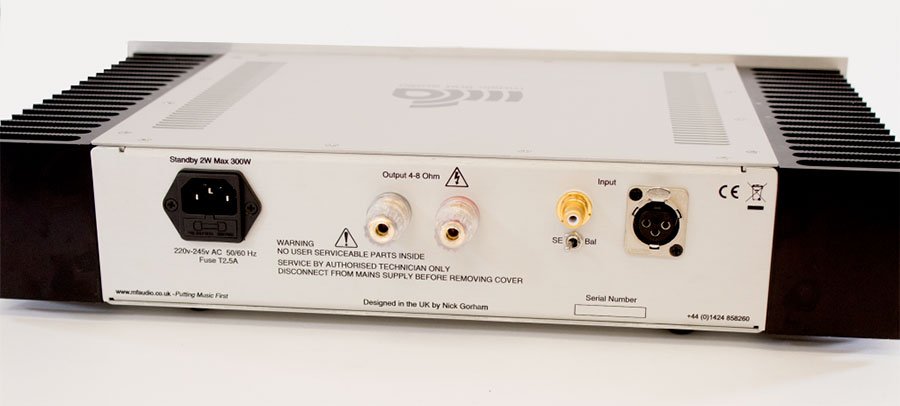 Boy, this is a quick sounding amplifier making sure initial transients are all there as fast as possible. Combining this amp in the review with the Baby Reference was therefore ideal.  Allowing balanced inputs from source to power gave me the best opportunity to test the unit, and I used Ecosse cables throughout, apart from Nordost Red Dawn XLRs from pre to power. Those too are exceptionally quick sounding and so are ideal soul mates. Nick makes use of high performance MOSFETs that are available on the industrial market, but haven't been picked up in the audio world that much. With a passive pre-amp on MFA's books a power amp that was equally as quiet was essential. It ticks that box (or rather two boxes), too. This is an exceptionally quiet amplifier. The IXYS MOSFETs have excellent electrical and thermal properties, and this amplifier only gets warm after several hours of use, unlike my Krell that could double for a central heating unit. They could therefore be placed one above the other, though the small rubber feet and overhanging faceplate mean that they are best put on separate shelves or side by wide. The beauty of using these particular MOSFETs also means that it negates the need to have to stack amplification stages in parallel in order to give sufficient power at the output, meaning fewer components and therefore less of a detrimental effect on the sound. This a feisty amplifier with the output pair running at 450mA idle current meaning the SENLAC operates in class A up to around 6 Watts and then all in up to 100WRMS 8Ω (190W into 4Ω), which is more than enough for most. This mono-block is high quality all the way from in to out. Even at high neighbour-testing levels the output was very well controlled and clean.
Whilst the front end of the amp is not that unusual, all the current sources and gain stages have cascades to prevent distortion and to reduce memory distortion. Nick believes that this and the single output devices are the key to producing clarity to the mid and high frequencies that to his ears compares with single ended valve designs, and tailored with the low output impedance and current capacity have all the characters of a good transistor design.
To the left of the front plate is labelled the important description "100W Class AB SLN". The SLN indicates that it is super low noise. It also has SENLAC SJE printed on the right hand side; further interesting stories explain this fact. Firstly Senlac is a hill near the town of Battle, near Hastings, East Sussex. This hill is generally accepted to be where King Harold Godwinson set up his army before the Battle of Hastings on 14 October 1066, and where the Norman William the Conqueror (also known as William the Bastard – the only thing I remember from my history lessons at school) set his army at the bottom of the hill. The rest is history, with William winning and having himself crowned King William the First on Christmas Day in Westminster Abbey.  If you didn't already realise Hastings is where Music First Audio is based, a lovely southern England coastal resort where I too  'camped' at in a caravan one wet summer in my youth. The "SJE" refers to the initials of a friend of Jonathan Billington who passed away, a gentleman called Stewart James Emmings, who looked after his collection of Nagras, and who previously worked for the British Film Institute. The Muppet Show was his last job, digitising the original shows.  This mono-block is no Muppet, however. It ticked so many boxes for me; speed, detail, soundstage. It allowed the music to speak and therefore the music could mean so much more. It could portray the music with accuracy and therefore with realism and gusto. All amplifier stages are discrete components, with only op amps used in the balanced input stage and in the DC and HF detection circuit to save the loudspeakers if someone does something stupid. The RCA/balanced switch at the rear connects to a relay to switch between single ended and balanced sources. The rear of the unit has decent quality gold plated RCA plugs plus a Neutrik XLR, and sensibly the on-off switch (with delayed start relay) is at the front. Many will know I don't like switches at the back!
The Sound
Did I mention that this is an exceptionally fast amplifier with particular attention to detail and accuracy. Playing "The Oak And The Ash" (The King's Singers) the throaty vocals were very clear and I felt closer to the performers, hearing more information in the music than I had noticed before.  What was particularly noticeable in all the music I played was that extended reverb time and detail. My own studio recorded album "Boxed In" showed more reverb at the ends of phrases, particularly the vocals than I thought I had put in; sounds don't disappear or get mangled up as they do with some power amps. In "The Hut of Baba Yoga" (Pictures At An Exhibition (The Minnesota Orchestra) there also was an extended depth to the hall reverberation, and also a clarity from the brass that was quite compelling. Similarly the percussion was crisp and detailed, with the kettle drum particularly clear. "Walking on the Moon" (Yuri Honing Trio) continued that detail and speed with the percussion, particularly the snare drum, which I could hear sympathetically vibrating as a result of other instruments.
I recorded piano, violin, viola, cello and harp for a forthcoming album by an up and coming vocalist a few weeks ago at the studio run by the lead member of one of my favourite bands from the 70's, the symphonic rock band "The Enid". I was graced by the company of the main artist from that band, Robert John Godfrey, who was kind enough to give me some of his albums. His music is very piano Rachmaninov inspired – my favourite composer – so no wonder I liked his band. The music is romantic, sad and joyful, sweet, powerful and orchestral in conception. One of the albums is "The Art of Melody" featuring himself plus the CBSO (City of Birmingham Orchestra) on a number of the tracks. Whilst musically this album is limited, it uses many of his idioms from other albums, notably from 'In the Region of the Summer Stars'. Track 7 "The Mirror of Love" particularly uses the distinctive descending piano pattern that appears in so many of his music and the sweet Rachmaninov-inspired melody I remembered from 1976 when I first heard the band. This album has a very well recorded piano and orchestra, though some of the tracks used synthesiser sounds which the MFA power amp was able to show up quite easily. Nothing gets past this amplifier. Track 6 "The Art of Melody" is studio created and track 8 is the very same music but featuring the CBSO, just as happens in tracks three and seven ("The Mirror of Love"). The studio album "Aerie Fairie Nonsense" and my favourite album "In the Region of the Summer Stars" show their age through the SENLAC SJE, especially the electronic instruments, sounding somewhat like Wendy Carlos tracks in the film A Clockwork Orange. If you want sweetness and slowness, then this amplifier will be too detailed for you. But don't think this amplifier has no heart. What it did in my few weeks of listening was open up the sound to give more of the music than I thought I had; I was right there with the musicians and I felt every breath of the singers. Vocals and mid frequencies are particularly musical and offer valve-like properties, though with much more precision. Acoustic guitars are often used as test discs as nearly any hi-fi sounds exciting due to the bright sounds and naturally quick transients. However, I was still impressed playing John Van der Veer's "The Arc"('Music for five Acoustic Guitars', Naim records). I could hear the fingers on the fingerboard as well as the sound coming out of the sound hole.  I remember recording an acoustic guitarist on BBC Radio3 "In Tune" with a pair of AKG414's in front of the player with an added microphone near the fingerboard to hear the important moves across the frets and strings. I thought it sounded great but the producer wasn't so happy. For me the sound became alive and real. I similarly heard that detail in the Arc album highlighted by the speed and accuracy from this power-amplifier and pin sharp Avid speakers. You became engrossed in the music and driven by the personality of the musicians. That detail and speed can perhaps come across as brightness on the guitar tracks and possibly impinge on your enjoyment if played too loud on any fine audio players, but in the beautiful track 'Cantora' the clarity of delivery of sound enabled me to easily pick out the 5 guitars and position them very precisely across the stage.
I love playing Eastern flavoured music, such as from Dadawa, in my reviews. This time I decided to use the "I-Ching of the Marsh and the Moon" (Chesky Hybrid SACD 265) performed on the Yong Ching (Chinese Dulcimer), Bamboo Flute Er-Hu (Chinese 2-string violin) and synthesizer. This type of music is best played at low level and where some amplifiers (and preamplifiers) may find such things difficult to operate with any panache, this combination made for beautiful melodies and lush harmonies. This album has a very noticeable clarity and detail from close mic'ing of the eastern instruments, all aiding in the enjoyment. The excellent close mic'ing of the Eastern instruments allows for great detail of initial transients through to final decay turning this music into a jewel of exploration, all possible at low level as well as high. These tracks include ambient street noise, which one might find annoying, as well as all the instruments, but just seemed to work here and give a greater depth and understanding to the music. The reverb was highly convincing through the amplifier; the album being performed in New York City's St. Peter's church. Moving to classical music, and Netherlands Bach Orchestra with "An Wasserflussen Babylon" ('Death and Devotion', Franz Tunder) the soprano singer Johanette Zomeris has an annoying high pitch fizz ending a lot of her words. OK, here again I shouldn't be playing annoying music but the point is that this amplifier really brings the musicians or traffic noise into reach of me in the room with a clarity and zest that makes it more meaningful than I have found on many an amplifier. I guess if something sounds wrong but you can't quite focus in on it then it will quite simply feel wrong. This SENLAC makes all those impurities sound pure and therefore not becoming a problem for me. This amplifier is extremely accurate but that doesn't mean it isn't musical; if it portrays the music exactly as it left the DAP or vinyl disc then you have perfection. Mids and vocal are extremely accurate and sensitive. Only the top end can show a little too much bite particularly if the preamplifier is brittle at those frequencies.
Conclusion
This mono-block was surprisingly responsive and detailed creating an accurate performance of all the music and noises I played through it. This amplifier had an excellent transistor bass-end grunt and valve-like mid warmth that made for a very enjoyable and realistic portrayal of music. The speed of transients and longevity of sound was a noticeable feature and I was very sorry to have to pack the two units carefully back into their little boxes. For the price of £ 5880 this is a steal.
AT A GLANCE
Build Quality:  Excellent build and lovely to get a choice of colours.
Sound Quality:  An exceptionally fast, detailed and honest portrayal of the music.
Value For Money:  At £5880 including VAT this is an excellent price for a Class AB mono-block with such a clean performance.
Pros
Fast and accurate
Excellent at all frequencies especially lower and mids
Doesn't get hot
Excellent price-point.
Cons
Nothing of importance
Feet could be bigger so you can stack two together
Price: £4900 Plus VAT
Janine Elliot
Janine has suggested that the SENLAC SJE Monoblocks are put forward for Hifi Pig's coveted Outstanding Product Award and so they will now be sent to a second reviewer to complete the process.
Specification
Power output: 100W/8 Ohms, 190W/4 Ohms
Bandwidth: 5Hz to 100kHz +- 1dB, 20Hz-20kHz += 0.05dB
Sensitivity: Gain 28dB, 1 RMS for full power output (single ended and balanced)
Distortion:less than 0.002%, more like 0.0004% @ 1kHz 1W
Signal to Noise Ratio: 92 dB Ref 1W RMS