Commencing on the 1st November, Hi-fi and Custom Installation specialists Music Matters will be hosting a month long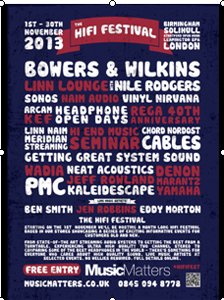 series of events based in their Midlands branches and London store showcasing a series of events for customers old and new – The Hi-Fi Festival!
"We're delighted to be hosting this four week Hi-Fi Festival as its something we have wanted to do for quite some time. Many of our customers have enjoyed the events we have recently run both in our stores and at the wonderful Shakespeare Hotel in Stratford-upon-Avon. A festival event of this type, covering a wide range of topics will appeal to our loyal customer base and win us some new friends' said company co-founder Rod Ardern.