Musica Bella Audio is a line of affordable vacuum tube audio products produced by Response Audio NY that is sold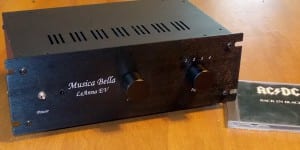 direct and available world wide. Response Audio has been producing custom designed tube products since 1998 and released the Musica Bella line in 2007.

The pictured product here is the sub-$1,000 LeAnna EV (Econo Version) vacuum tube linestage. "The LeAnna EV is a class A, vacuum tube preamp designed around a single 12AU7 tube per channel and equipped with a high/low gain switch, high-current toroidal transformer and quality parts throughout". It comes with four inputs and two outputs. The power supply on the EV is solid state. Other models in the EV line include a MM phono stage and a single tube buffer stage.